"Talking Brook: 'Yaron Brook Show: Greta Thunberg & the Power of Moral Idealism'"
How much of a crusader is Greta Thunberg?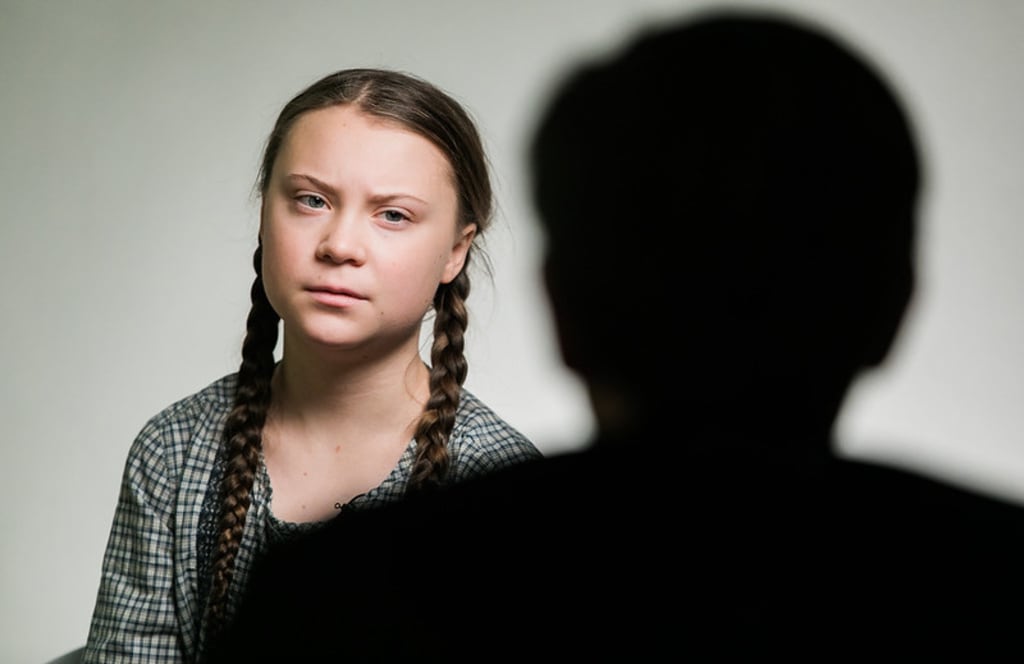 As a diver leaps into the watery deep, Dr. Brook jumps into the topic of climate change. He says that he will handle the new, youthful face of the environmentalist movement, Greta Thunberg, with respect. He says that he can do it with better temperament and judgment than the right and with more truth than the left. Dr. Brook finds that Greta is just a byproduct of the vicious lies taught in schools that the world is going to end "tomorrow." From kindergarten, the ideals remain because most parents "don't challenge [their child's] teachers." He's correct about how the youth are hooked at a young age on environmentalist propaganda. Movies like Fern Gully: The Last Rainforest (1992) and Avatar (2009), and television animated series such as Captain Planet and the Planeteers (1993-1996) all serve to reinforce what is taught in schools to children.
In a moment of passion and rage that he experienced at 16-years old, Dr. Brook was pissed off after reading Atlas Shrugged (1957). Upon reading this monumental work, he looked at the world around him, and saw the "irrationality and short-sightedness." Back to Greta. Dr. Brook finds her to be wrong, but presents herself as energized and sincere. He admonishes people who poke fun at her Asperger's syndrome, and that people should stop it, because her condition is a nonessential.
Dr. Brook then compares Greta to Joan of Arc. Greta gets the fifteenth century "Maid of Orléans" treatment from the good doctor because she is, in a false way, exposing hypocrisies around her. Dr. Brook says that Greta brings "moral fervor." Dr. Brook sees Greta as powerful and motivating. In front of all of those much older folks, Greta stood up on what she thought was principle. In context, Dr. Brook says that Greta should be generally angry at the propaganda of climate change. Though she has little on facts, she shows herself to be a cogent force in the world. Dr. Brook says that the altruism about him when he was Greta's age enraged him. The "moral fervor" is what continues in the world considering the "horrific nature of what is going on around us."
The "whole spectrum of politics today" on both the left and right hate money. Greta does too, and she is a socialist by association. She's not explicit about it, but her stance and the rhetoric she spews is inline with the statist expression of collectivism. She stands up to say that she is speaking to a room full of "incompetent fools" to Dr. Brook. She doesn't care about the Asian and African countries with hundreds of millions of people yearning for the benefits of fossil fuels. A critique animates Dr. Brook when Greta says that there is "climate justice." The good doctor quickly cuts down this idea as an anti-concept. He says that there is no such thing as "climate justice" and that the real justice would be to denounce Medicare, Medicaid, and Social Security. Greta is in the intellectual lead, because people continue to comment on her facial features rather than her ability to convey a persuasive message.
Dr. Brook addresses the "moral fiber" of Greta. She speaks to a generation of people who scurry about like rats in a cage, frightened at the pseudoscience of the day. Free-marketers and capitalists could learn from Greta in the way that she pushes her ideas with power and grace. Dr. Brook understands Greta's position of outrage at the world around her. To understand your enemy allows you to have an advantage in the war of ideas. Dr. Brook points out that it is evil what Greta speaks, but she does it with enthusiasm, reverence for ideas, and measured assertions. She's completely wrong, but that shouldn't give anyone the impetus to underestimate her. Dr. Brook sees fifteen and sixteen-year-olds who cower at the notion of the future in terms of climate change. They lack the appreciation for how clean the water and air is, and how the longevity of life and the standard of life actually remain cornerstones of human flourishing. Dr. Brook says that wealth can only be created under the correct environments. Even with the mixed economies of the world, including the United States, there is particularly the opportunity for millions of people to enjoy the fruits of the minds of today's geniuses.
The real solutions include nuclear power and allowing individuals to use fossil fuels. Dr. Brook says that "we need answers." We actually have them but we just need to fight against the climate hysteria with the same passion and drive as Greta. Dr. Brook says the fight is over, whether you accept the cause or not. He keeps the conversation squarely focused on Greta's ideas and disregards her syndrome. Greta has snatched the moral high ground in Dr. Brook's estimation.
Super Chats capture Dr. Brook's attention. Environmentalists are mostly socialists or communists, but that is an old idea to Dr. Brook. He says that Ayn Rand "nailed" the ideas of ecological fallacies vs man's survival in the 1960s. Dr. Brook paints an individualistic picture to go up against the group-think that is so common in the culture. Original Sin, Christianity, and other ideas and faiths become baked into the ideology of environmentalism. To commune with nature "we must sacrifice." All of the selfishness and materialism that exist in the earth is based on the opposite of the environment. People are not anti-capitalist because they fail to understand the social system. They hate the selfishness involved in capitalism. Dr. Brook says that Greta is at the threshold to adulthood at the age of fifteen. As her "eyes open" she takes in the various aspects of the people and things around her.
Dr. Brook says that Greta is not an independent thinker. He suggests that she could abandon all science and become a religionist. He then takes a Super Chat that concerns the sour turn that Dr. Brook has taken in the past few years. He cites President Trump as the reason for all the "nutty" activities that occur in the wake of the current president. Dr. Brook illustrates that Trump has done some good like removing the US from the Paris Agreement. Anyone who holds that Trump is a reason to be engaged, and who is disappointed in Dr. Brook is a "creep." Dr. Brook calls Greta a teenager in the context of a burgeoning mind, but a child in the sense of recognizing that she should not yet have sex with adults.
The documentary Inside Bill's Brain (2019) deals with Bill Gates' attempts at solutions rather than him running around with his hair on fire. A Super Chatter asks why Steven Pinker gets Ayn Rand wrong. Dr. Brook responds to the fact that Pinker is not a philosopher and is not equipped to deal with rational philosophies. Dr. Brook brings to light Dr. Gregory Salmieri's work with the late Dr. Allan Gotthelf A Companion to Ayn Rand (2016). The fight is for the positive to change the culture, Dr. Brook says. He says that innovation ought to thrive and "let the best technologies win." Dr. Brook demonstrates that the lesson of Greta is to take the idea that the world is black and white, have passion informed by individualism and facts, truth, reality, and reason." What this boils down to is the notion that General Brook is commanding the troops to work on principle, and to let no one stand in their way of advancing the cause for liberty.
opinion
About the author
I am a forever young, ego-driven, radical hipster from Delaware. Investor. Objectivist for life. Instagram: @skylerized
Twitter: @SKYLERIZED
Reader insights
Be the first to share your insights about this piece.
Add your insights