Suella: Goes to synagogue and a big fan of chicken schnitzel
But protest against genocide and it's a 'hate march'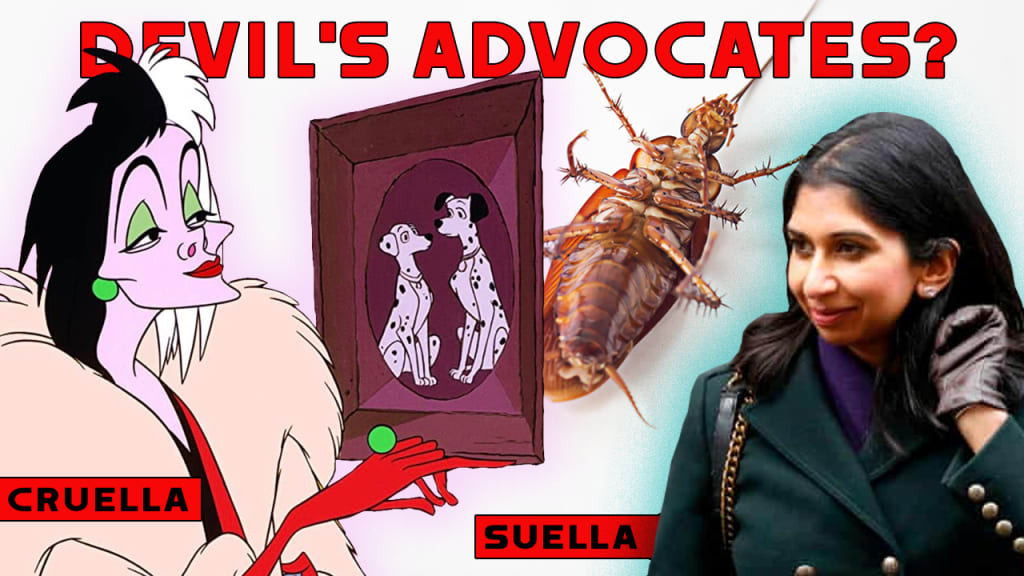 Apparently Suella Braverman is Britain's home secretary, not something I was totally aware of as I've virtually abstained from "politics" decades ago and generally have very little regard for the people who seek public office. If someone emerged on the political scene who genuinely had a sense of justice and a desire to serve the people of our country I'd take an interest… but sadly I feel very few of them do.
And from what I've read recently Braverman is really not someone I'd consider to be inclined to serve my interests or those of most British voters.
According to Braverman's assessment I now take part in "hate marches" because, as an educated individual with an interest in history and an intolerance for injustice, I have taken part in rallies condemning Israel's genocidal ethnic-cleansing of Palestine, which it has occupied since the end of WW II.
Since the 7 October false-flag incursion by "Hamas" insurgents across the most sophisticated and technologically equipped border in the world between Israel and the Palestinian enclave of Gaza, which sets alarm balls ringing if a cockroach gets too close to it, Benjamin Netanyahu's government in Jerusalem has claimed the right to "defend" itself by terrorising the 2.2 million Palestinian civilians trapped in the world's biggest open-air prison, a quarter of the size of London.
But our government in Westminster refuses to condemn it and, when the people of Britain have the audacity to demand an immediate ceasefire by taking to the streets, Home Secretary Braverman says they are participating in hate marches.
A report on The Guardian website, dated 30 October, says that in words "that will anger some peace campaigners", the home secretary said "tens of thousands of people" had taken to the streets and had "chanted for the erasure of Israel from the map".
Pardon, but what total nonsense. I've spoken to many of my fellow protesters who, unlike me, are of Palestinian origin, and they don't want anything more than for the genocide to stop, they are long past worrying about Israel's occupation of land their ancestors have called home for centuries, long before the end of WW II when the Israeli occupation began. They just want their children to have a future free of fear.
So, I decided to take an interest in Braverman's background and do a bit of research on her because her statement seemed to echo the rhetoric of a rabid fascist.
According to The Guardian, Braverman said: "We've seen now tens of thousands of people take to the streets after the massacre of Jewish people, the single largest loss of Jewish life since the Holocaust, chanting for the erasure of Israel from the map."
But that's not something I've witnessed… and recently I've done a lot of research on the subject… but such strong rhetoric is the justification for her to repeat her previous demands that police take a "zero-tolerance approach to antisemitism". But I fear this is not what Braverman is really calling for at all, I'm inclined to believe her goal is to force through legislation that outlaws any form of protest against government policy whatsoever, whatever the cause of it, and the "antisemitism and terror" card is how it's going to be achieved.
But it's significant that Braverman mentions the Holocaust because many people will be unaware that a significant number of the ancestors of families now living in Israel came from Europe before the end of WW II, expelled from Germany during the acts of genocide carried out by Adolf Hitler's Nazis.
I say it's interesting because the acts being carried out in Gaza now, and for much of the past 75 years, in the name of Israel by successive Israeli governments, seem to closely mimic the Nazi's disregard for Jewish life.
The chant that seems to upset Braverman so much is "from the river to the sea, Palestine will be free" but it's simply a slogan that has been used for decades by pro-Palestinian campaigners that refers to the territory between the River Jordan and the Mediterranean Sea in historic Palestine, the ancestral homeland of the Palestinian people before the occupation..
"Some supporters of Israel have said it in effect calls for the destruction of Israel and the murder of Israelis," The Guardian notes, but quite frankly this is an absurd twisting of words.
Palestinian people want to be able to live and prosper in their ancestral homeland, a concept the late Palestinian Liberation Organisation leader Yasser Arafat championed but in the interests of peace and an end to hostilities he eventually realised the only solution was to compromise and for Israelis and Palestinians to work together to live in harmony.
But that's really not the Israeli government's stance at all, it wants the "ethnically-inferior" Palestinians out… just like Hitler wanted the "ethnically-inferior" Jews to be exterminated.
Either way you look at it it's a perverse way of thinking and at this point I believe it's important to point out that all human life is sacred, no matter where we are born or our ethnic heritage, we all share the same planet and are all deserving of the same rights. There is no ranking system as to whose life is more important, we are all equal whether our politicians accept it or not.
Braverman echoes Israel's use of the Hamas incursion across the border on 17 October as justification for the genocide taking place now... but the civilians in Gaza are too pre-occupied with their struggle to survive to give a rat's behind about Hamas, which came to power in Gaza 17 years ago when the last elections were allowed to take place there in 2006.
In its early days Hamas, according to some former Israeli officials, was seen as a counterweight to Arafat so Israel supported it as a way to break the PLO's hold on the region. Was that because the PLO was pushing for a peaceful solution to the crisis and really didn't fit in with Israel's plans any longer?
Retired official Avner Cohen, who worked in Gaza in the 1990s and oversaw religious affairs in the region, was even quoted in 2009 as saying: "Hamas, to my great regret, is Israel's creation."
So, I'd just like to point out to the UK home secretary that: Israel created Hamas, supported it to an electoral victory in 2006, then prevented the people of Palestine from having any further say on the matter… not even now.
And, why have no elections taken place in Gaza since 2006? Well Suella, it is my contention that the answer to that is quite simple... Israel has its cronies in control in Gaza to enforce a policy that affords Netanyahu all the justification he requires to blitz the place to the ground.
As for what happened on 7 October, well it was also an unconscionable act of terror by Hamas, but remember this is an organisation Israel supported to take control of Gaza and the last elections to take place there were in 2006.
Hamas is a terror organisation and I join all people with a zero-tolerance to hate and ethnic-cleansing in condemning the actions they were responsible for in Israel on 7 October... and all hostages, allegedly taken by them, must be released immediately, no questions, it must happen.
But my grave concern is that Netanyahu's Israel was behind that too and allowed the incursion to take place by virtually removing the Israel Defence Forces from that part of the border, allowing free-rein to Hamas to create the carnage that now provides Israel's justification for genocide in Gaza.
If I am correct in my assessment, Netanyahu is guilty of sacrificing his own people as a means to justify the end… the total obliteration of Palestinians in Gaza.
Even if there is a ceasefire, which Israel and Hamas miraculously abide with, the only route to safety for the Palestinians is to leave their homeland via the "Rafah crossing" to Egypt from where they will hopefully be granted asylum in some foreign land, thousands of miles from their ancestral homeland where they will have to start afresh and build a new life for themselves.
I suspect it is an option most Palestinians in Gaza would take, even though it means they would probably never be able to return to live in their homeland. So either way you look at it from the Knesset's perspective in Jerusalem it is job done… the Palestinian population that once called the area "from the river to the sea" home has been cleansed and Israel's occupation is complete.
And so back to Braverman, why has she chosen such rabid rhetoric regarding marches condemning the Israeli genocide in Gaza? Well, would it really come as a surprise to anyone that her husband, Rael Braverman, is in her own words a "very proud member of the Jewish community"?
According to a report on The Jewish Chronicle website they met through a shared love of politics and their first date was her giving him a tour of parliament. They became engaged in 2017, got married in parliament in 2018, and now have two children together.
So Suella, how would you feel if your children were trapped in Gaza right now and victims of incessant terror bombing?
The Jewish Chronicle report continues "her family contributes to the Bushey Synagogue" and goes on to add that at an Asian-Jewish Business Network dinner recently she said: "We are fans in my household of Larry David and Jackie Mason. I'm the number one supporter of Friday night dinners at my husband's family – including chicken schnitzel."
Braverman, aged 43, was born in Harrow and raised in Wembley but said she had been "struck by the tangible energy and passion" of Israelis while visiting the Jewish state.
She is the daughter of Uma (Mootien-Pillay) and Christie Fernandes, both of Indian origin, who immigrated to Britain in the 1960s from Mauritius and Kenya respectively. And, wouldn't you know it, they named her Suella after the character "Sue Ellen Ewing" from the US television soap opera Dallas, which her mother was a fan of. Her father is of Goan Christian ancestry and she is the niece of Mahen Kundasamy, a former Mauritian high commissioner to the UK.
As a child she attended the Uxendon Manor Primary School in Brent and the Heathfield School, Pinner, on a partial scholarship after which she read law at Queens' College, Cambridge, where she was chairman of the Conservative Association.
She also lived in France for two years as an Erasmus Programme student and then an Entente Cordiale Scholar, where she studied for a master's degree in European and French law at Pantheon-Sorbonne University.
So… born in Harrow, grew up in Wembley, educated at a "fee-paying" school, graduated from Cambridge, enrolled in the Erasmus Programme and specialised in European and French law at Pantheon-Sorbonne University in Paris.
It's not your average path to being "called to the bar" is it? But, the next chapter came in 2005 when she became a barrister affiliated to Middle Temple, one of the four "inns of court" entitled to call their members to the Bar of England and Wales.
Her rise to the corridors of Westminster then included the founding of the Africa Justice Foundation in 2010 alongside barristers Cherie Booth and Philip Riches.
Ah… Booth? Isn't that the now Cherie Blair, wife of Tony "Let's Invade Iraq" Blair?
Just like a cockroach approaching the Israel-Gaza border, Braverman's CV sets off alarm bells deep inside my brain and after reading it I'd seriously question the motives behind her incredible condemnation of people protesting against Israeli genocide and occupation of land from "the river to the sea".
This weekend rallies calling for an end to the Israeli "holocaust" in Gaza will coincide with Remembrance Day day services across the UK and if Braverman wants to push through legislation to curb all such gatherings going forward, as I suspect, then it would serve her interests well if feelings were to run high and trouble break out. She would then no doubt blame Hamas and the screw would come down on all of us with legislation rushed through to stop all marches and acts of protest.
So I hope at the weekend cool heads prevail and all these events are shown respect… they all mark our sadness and despair at the needless loss of life caused by the war mongering of the powers that be in this world… please don't let them use this weekend to divide us further!
About the Creator
From Covid to the Ukraine and Gaza... nothing is as it seems in the world. Don't just accept the mainstream brainwashing, open your eyes to the bigger picture at the heart of these globalist agendas.
JOIN THE DOTS: http://wildaboutit.com
Reader insights
Be the first to share your insights about this piece.
Add your insights