Solidarity Against White Supremacy 8/27/17
Support H.R. 3660–the No Federal Funding for Confederate Symbols Act.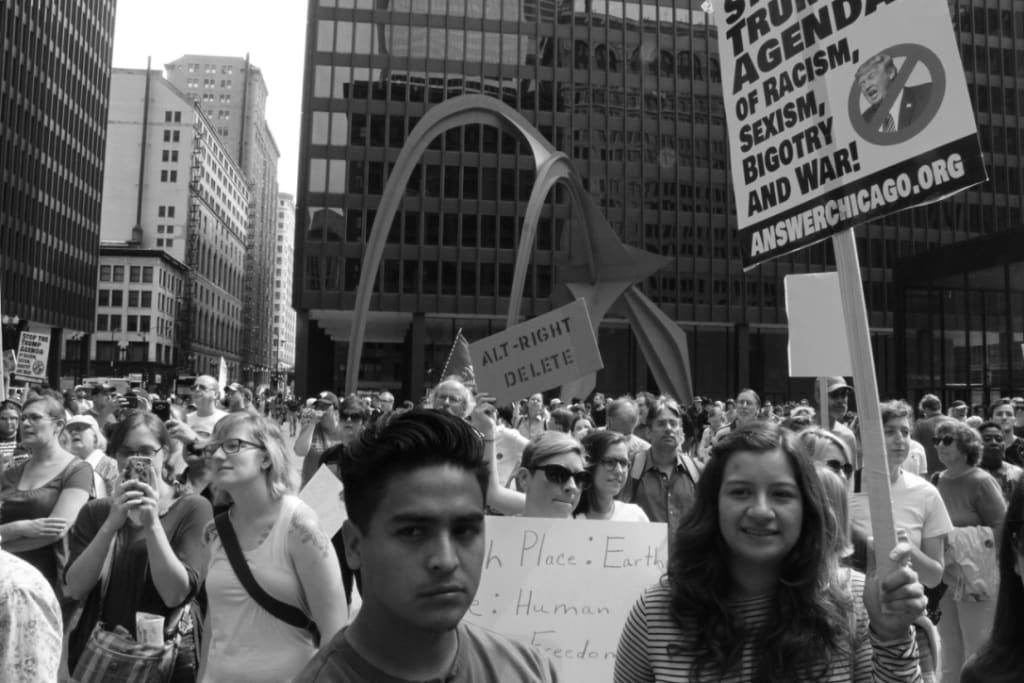 Federal Plaza. Downtown Chicago. 2017.
I took a new friend to today's demonstration at the Federal Plaza on Adams and Dearborn that consisted of an estimated 3 thousand plus citizens toward Trump Tower in Downtown Chicago. This protest was in response again to the Trump/Pence regime's consistent indifference of not discrediting Neo-Nazi/Confederates for the violence in Charlottesville, while at the same time condemning counter-protesters as equally to blame for the bloodshed. Furthermore, the 45th president continues to show his incompetence and blatant disregard for Americans on a regular basis such as pardoning ex-sheriff Joe Arpaio, passing the ban on trans Americans in the Armed Forces and the delayed aid to the victims of the Hurricane Harvey disaster in Texas.
Aside from Chicago, numerous counter-protests have been popping up around the major cities of the United States in response to Alt-Right rallies organized by known white supremacy groups. The main drive for these surges in counter-protests such as the one today was to ensure what happened in Charlottesville, Virginia did not happen again to non-violent protesters such as Heather Heyer and others. As the speakers of the organizers kept reminding the public that they, in fact, had the advantage in this fight. When good people stand together, they outnumber the racists and the bigots, and that was precisely why more white supremacy groups were canceling their rallies as a result.
Speakers also spoke out condemning fascist sympathizer's principle that hate speech was permissible because it is protected as "Free Speech." Let it be made explicitly clear, as clear as the gun-toting, Home Depot torch wielding, and the vein curdling screams of the vicious bigots threatening to murder the innocent that hate speech is not free speech! The illogical belief that your way of life is at risk simply for co-existing with another people is foolish and is not a justification for a bloody genocide. You wouldn't threaten a police officer, you wouldn't threaten a judge, you wouldn't threaten the President without there being consequences—so why is America allowing others to do it to people of color, immigrants, and the LGBTQ? Citizens must not become complacent, the pressure must remain until not just these extremists are disenfranchised, but until fascism in America is as good as dead.
One of the groups attending the march was known as the Chicago Area Peace Action. The speaker that represented Chicago Area Peace Action wanted to inform the public of a recent bill floating around Congress called the H.R. 3660. The bill is in need of funding and he urged the public to contact their state's congressman to sway them into sponsoring this bill. The H.R. 3660 would defund and dismantle monuments of white supremacy sending a solid, clear sign that white supremacy has no place in this nation. For more information, you can visit CAPA's website at www.ChiPeaceAction.org, or contact the House of Representatives by dialing (202) 224-3121.
If you are curious of the other organizations that endorsed this protest, please check out the list below:
ADAPT
AFSCME Local 1989 @ NEIU
AFSCME Local 2858 @ Department of Human Services
Al-Nahda Cultural Center
American Assoc. of University Professors, University of Chicago
ANSWER Chicago
Arab Jewish Partnership for Peace & Justice in the Middle East
Asian Pacific American Labor Alliance of IL
Black Lives Matter Women of Faith Chicago
Black Youth Project 100
Chicago Alliance of Charter Teachers and Staff Local 4343
Chicago Area Peace Action
Chicago Campaign to Expose Crisis Pregnancy Centers
Chicago Islamic Center
Chicago Justice for Palestine
Chicago Teachers Union
Cook County College Teachers Union, Local 1600
Democratic Socialists of America
Fight for $15
Food and Water Watch
Friends Who March
Gay Liberation Network
Hispanic Action Coalition USA
Indivisible Chicago
Indivisible IL
Indivisible Oak Park
International Socialist Organization
Jewish Voice for Peace
Mom & Baby
Mujeres Latinas en Acción!
National Association of Letter Carriers Branch 825
National Nurses United
Northside Democracy for America
Palestinian American Congress
Party for Socialism and Liberation
The People's Lobby
Planned Parenthood IL
Protect Rogers Park
Reclaim Chicago
Refuse Fascism Chicago
Resist, Reimagine, Rebuild Chicago (R3)
SEIU Healthcare IL/IN/KS/MO
Smash White Supremacy Coalition
Socialist Alternative
Solidarity – Chicago
Tzedek Chicago
UIC Graduate Employees Organization Local 6297
Veterans for Peace
Westside Democracy for America
Women's March on Chicago
Workers World Party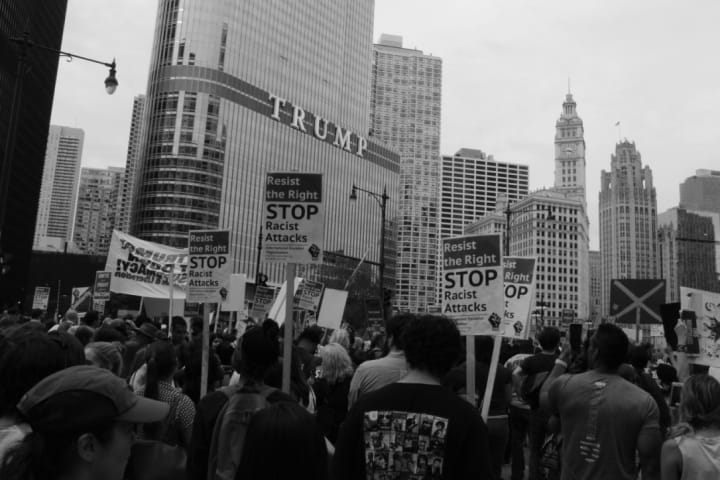 About the Creator
I'm an artist who paints, write, draws comics and make jokes at just how messed up things really are. I believe if you can face the horrible truth in life then you can find happiness much easier.
Reader insights
Be the first to share your insights about this piece.
Add your insights