Say Her Name
Black Female Victims of Police Brutality & Anti-Black Violence Movement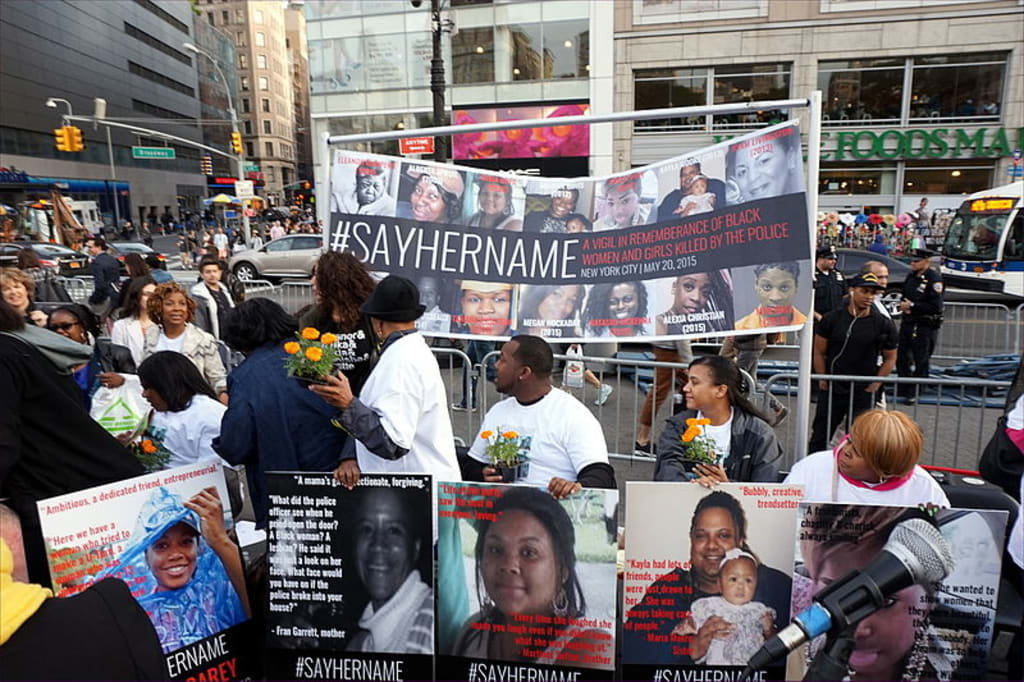 Say Her Name
Black Female Victims of Police Brutality & Anti-Black Violence
A movement founded in 2014 by The African American Policy Forum, www.aapf.org
While we mourn the loss of black men to police brutality and anti-black violence we also mourn the loss of all the many women and girls lost. These are just some of the victims:
Pearlie Golden May 6, 2014 Age 93 Killed by a police officer in Hearne, Texas
Michelle Cusseaux August 13, 2014 Age 50 Killed by a police officer in Phoenix, Arizona not because he thought she was holding a weapon but per the police officer "because he felt threatened by the look on her face".
Tanisha Anderson November 13, 2014 Age 37 died in police custody after being slammed to the pavement in the middle of the street in front of her home in Cleveland, Ohio. The coroner ruled her death a homicide.
Natasha McKenna February 8, 2015 Age 37 died in police custody in Alexandria, Virginia
Mya Hall March 30, 2015 Age 27, Baltimore, Maryland for "failure to obey safely exiting the campus" after making a wrong turn and hitting a fence.
Alexia Christian April 30, 2015 Age 26 Atlanta, Georgia shot 10 times while handcuffed in the back of a police car.
Joyce Curnell July 22, 2015 Age 50 Charleston, South Carolina died in police custody after apparently vomiting for hours and being refused any water.
Ralkina Jones July 26, 2015 Age 37 Cleveland, Ohio. Died while in police custody.
India Kager September 5, 2015 Age 27 and a Navy veteran, Virginia Beach, Virginia. India and the father of her four month old baby were shot to death in their car, while parked. The baby, unharmed, was in the back seat.
Kisha Michael February 12, 2016 Age 31 shot and killed by Inglewood, California police officers.
Korryn Gaines August 1, 2016 Age 23 Randallstown, Maryland. Shot and killed by police. Her five year old son was also shot but survived.
Deborah Danner October 18, 2016 Age 66 shot and killed by police in her New York City home.
Michelle Shirley October 31, 2016 Age 39 Torrance, California shot and killed by police.
Charleena Lyles June 18, 2017 Age 30 killed by Seattle, Washington police after she had called the police to report a burglary at her home. She was three months pregnant with her fourth child.
Decynthia Clements March 12, 2018 Age 34 Elgin, Illinois. Shot and killed by police.
Pamela Turner May 13, 2019 Age 45 Baytown, Texas. Shot and killed by a police officer while laying on the ground after the officer had tased her.
Atatiana Jefferson October 12, 2019 Age 28. Killed by Fort Worth police who entered her home and shot her while she was playing video games with her nephew.
Breonna Taylor March 13, 2020 Age 26. Louisville, Kentucky shot and killed her in her home while she was sleeping.
All of these women left behind family and friends who loved them. Many left behind young children. They were EMT's, postal workers, and our neighbors. There are many others: Gabriella Nevarez, Aura Rosser, Meagan Hockaday, Sandra Bland, Janisha Fonville and more like Tamir Rice, a 12 year old shot and killed by police.
The #SayHerName movement "seeks to raise awareness for black female victims of police brutality and anti-black violence in the United States".
I encourage you to educate yourself on each of these women. Go to the www.aapf.org website and sign up for their newsletter.
Kimberle Crenshaw, activist and co-founder of www.aapf.org is fighting for the 70 women that have been killed by police or died while in police custody in just the last three years.
Kimberle Crenshaw's "Say Her Name: Resisting Police Brutality Against Black Women" is available in kindle edition on Amazon: Say Her Name https://amzn.to/2V2qOD0
If you are the family member of a Black woman killed by the police and are interested in joining the Network, please email them at [email protected] .
By Paula C. Henderson