Sadiq Khan: Calls Protesters Far-Right, Tories, and Anti-Vaxers.
Khan's Question and Answer Session.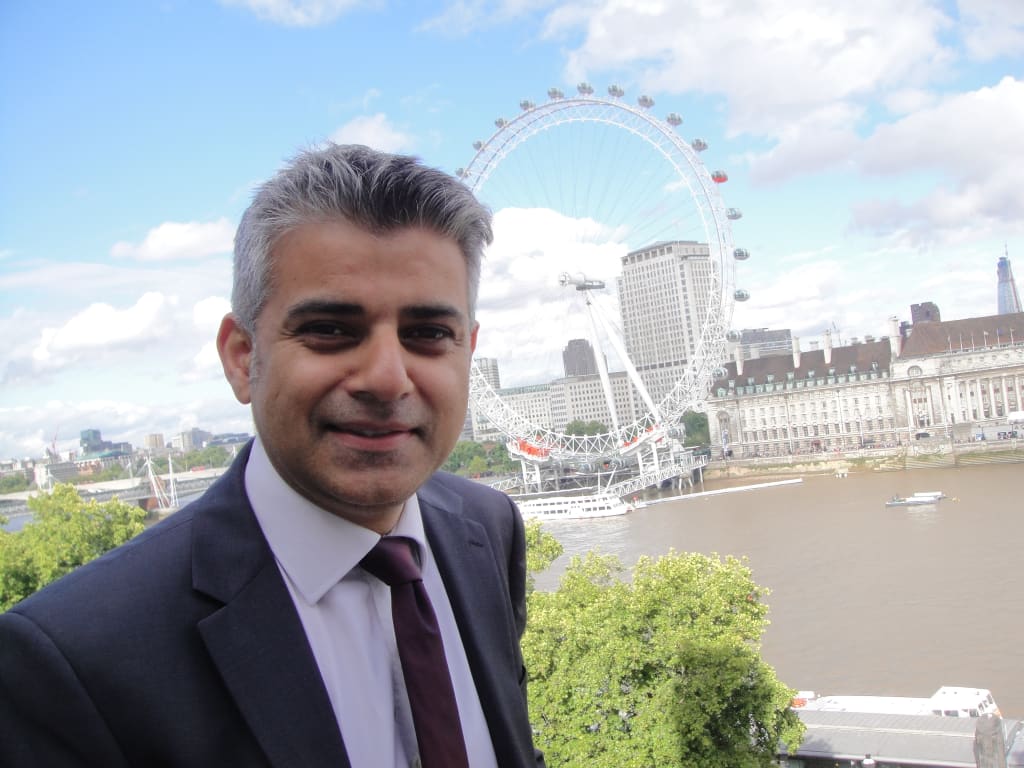 London Mayor: Sadiq Khan.
London Mayor Sadiq Khan was holding a question and answer session at Ealing Town Hall. It was a time for the people of London to ask questions of their Labour Mayor.
A number of protesters had gathered in the hall and outside to protest 'ULEZ' areas. These are 'Ultra Low Emission Area' Khan's project to minimise pollution in the capital. If a vehicle emits high carbon monoxide the owner is charged 12 Pounds and 50 Pence.
If you think about it logically Khan is correct to have these areas. Poisonous fumes from cars that are not electric or hybrid cause many illnesses and deaths. The amount you have to pay for taking a vehicle that does not fit the model of clean air expulsion is nothing. Nothing compared to all those who suffered from these fumes and often die or become seriously ill.
Khan has also urged Sunak to hurry up with a vehicle scrappage scheme across the home counties. Sunak is supposed to be allocating millions for such a scheme.
When asked what the government thought of Khan's outburst about protesters a spokesman said He "must justify his decision". Whether that "decision" was talking about ULEZ areas or Khan's description of protesters has not been clarified.
Protesters inside Ealing Town Hall turned up with placards showing Khan as Hitler or Stalin. Referencing the ULEZ zones as dictatorial. Of course, the protesters have a right to their views. They fear as these zones expand their right to free movement across London will be hampered. Of course, they are correct in thinking this. However, the right of people to breathe clean air is also paramount. Where the 12 Pounds 50 goes should be spent on things that benefit London's population.
Responding to Khan's accusations protesters said "We are ordinary people. We have come here to alert Mr. Khan to worries. We are not necessarily far-right, Tories, or indeed anti-vaxers". That's as maybe but there may be an element of those in them too particularly climate change deniers.
In a democracy like the UK is supposed to be you are going to get different views. That is what democracy is all about an open and fair forum for different views. However, whether the UK is still as open to freedom of expression is open to question.
Khan is not the only Mayor to have tried clean air zones. Andy Burnham tried it and met huge protests from drivers and delivery drivers. These people drive for a living and prohibiting them from certain areas of Manchester will of course affect their livelihood. That said Burnham like Khan has the right to set up clean air zones limiting the amount of pollution in the city. A charge for filthy gas-emitting vehicles was also introduced. This charge was also met with anger and many felt it was unjustified.
The government should introduce a scrappage scheme across the country. Not just down south in the so-called 'home counties'. Also, the amount of money drivers get for taking part in the scheme should be enough to replace an old vehicle. Replace it with a more efficient, proficient, electric or hybrid vehicle. Public transport should also be used more and bus prices should be lowered to attract more users.
The subject of clean air zones is a good idea. As long as it is genuine and not some gimmick because it is trendy to have them in line with health and climate change. What would happen to such zones if a Tory became Mayor in London or Manchester cannot be said. If that Tory cares about climate change they would keep them. Others know how unpopular these areas are so they would be willing to scrap them just gain votes.
About the Creator
I am a freelance writer currently writing for Blasting News and HubPages. I mainly write about politics. But have and will cover all subjects when the need arises.
Reader insights
Be the first to share your insights about this piece.
Add your insights