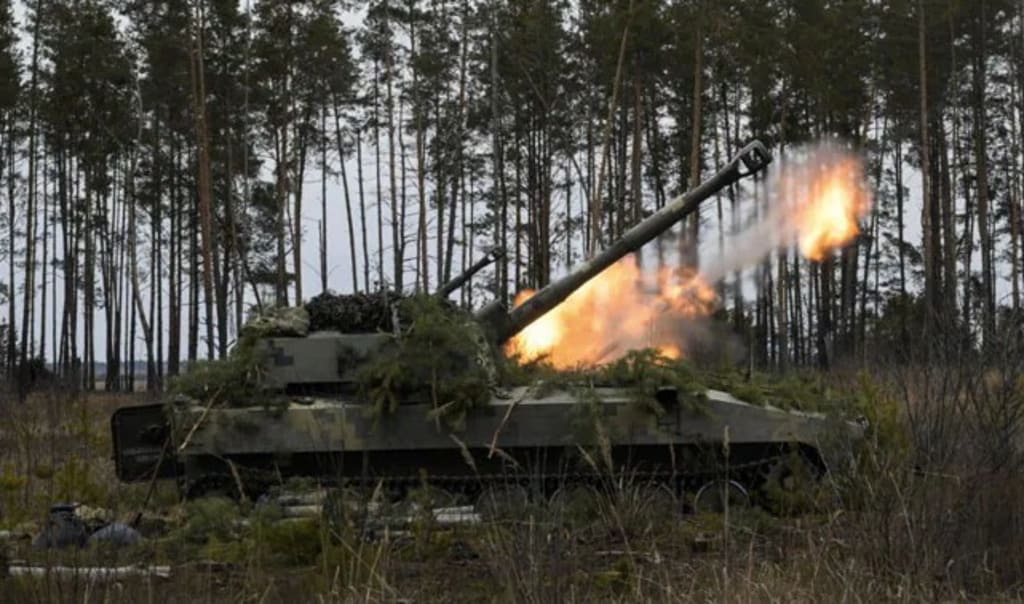 Russia will hold fire and open humanitarian corridors in Ukraine capital Kyiv and three other cities from 0700 GMT (12.30 pm IST) today, the Interfax news agency cited Russia's defence ministry as saying.
The Russian military will hold fire and open humanitarian corridors in several Ukrainian cities including the capital Kyiv at 1000 Moscow time (0700 GMT) on Monday, the Interfax news agency cited Russia's defence ministry as saying.
Several Ukrainian cities have reported deaths and widespread damage as the two sides prepare for a third round of peace talks, expected on Monday.
The US government is considering a ban on oil from Russia in a push to ramp up pressure on Moscow over its invasion of Ukraine.
Streaming giant Netflix has suspended its service in Russia.
Ukrainian President Volodymyr Zelenskyy has urged the West to strengthen sanctions on Russia.
I have been an Al Jazeera English news presenter since the channel's launch in 2006. Since then, along with brave and talented colleagues past and present, we have always strived to redress the imbalance in international news which gives the West prominence over the Global South – an imbalance which has been on full display during the coverage of Russia's invasion of Ukraine.
Al Jazeera exists to be the voice of the voiceless, or certainly of the least heard, and I have never sat at the anchor desk without keeping that mission at the heart of my work. And my heart has broken for the people involved in every conflict that the channel has covered.
Russia is trying to manipulate global leaders by demanding that any humanitarian corridors in Ukraine exit through Russia or Belarus, a top Ukrainian official said today.
Deputy prime minister Iryna Vereshchuk said Ukraine was calling on Russia to agree to a ceasefire from Monday morning to allow Ukrainians to evacuate towards the western Ukrainian city of Lviv instead.
Earlier today the Russian defence ministry said it would halt the ongoing firing to open humanitarian corridors from the capital of Kyiv, the southern port city of Mariupol, and the cities of Kharkiv and Sumy.
However, only one route from Mariupol and one route from Sumy lead to other Ukrainian cities, the remaining avenues go to Belarus or Russia.
This comes shortly after the ceasefire agreement between Russia and Ukraine failed over the weekend due to escalating violence and shelling, sending Ukrainians back inside their homes.
Ukraine's president Volodymyr Zelensky had warned Russia on Sunday night and said his country will "punish everyone who committed atrocities in this war". It came hours after eight Ukrainian civilians were killed as they attempted to flee a suburb of Ukraine's capital, Kyiv.
A Kremlin spokesman today demanded Kyiv give up its army, change its constitution to become a permanently neutral country and acknowledge Crimea as part of Russia and Luhansk and Donetsk as separate republics.
Dmitry Peskov told Reuters that Russia had told Ukraine it was ready to halt its military action "in a moment" if Kyiv met its conditions.
The outrageous requests are likely to dismissed out of hand, not least because Ukraine's brave army continue to stall Russian advances.
Aid worker shot dead by Russian 'death squad' after refusing to abandon dogs
AN AID worker has been shot dead by a Russian 'death squad' after valiantly refusing to evacuate so she could save Ukrainian dogs, it has been reported.
Anastasiia Yalanskaya, 26, was slaughtered alongside two other volunteers as they delivered food to a local dog shelter in Bucha, 18 miles outside of Kyiv.
Her devastated family revealed the trio were making the treacherous journey when their car was deliberately targeted at close range by Putin's henchmen toting "heavy weaponry".
They believe troops are now killing civilians at random to weaken the resistance to the Russian regime and terrify innocent people.
Reader insights
Be the first to share your insights about this piece.
Add your insights