Republican Senators Open Fire on Trump on Hot Mic
Sen. Jack Reed seems to call Trump "crazy", many would agree.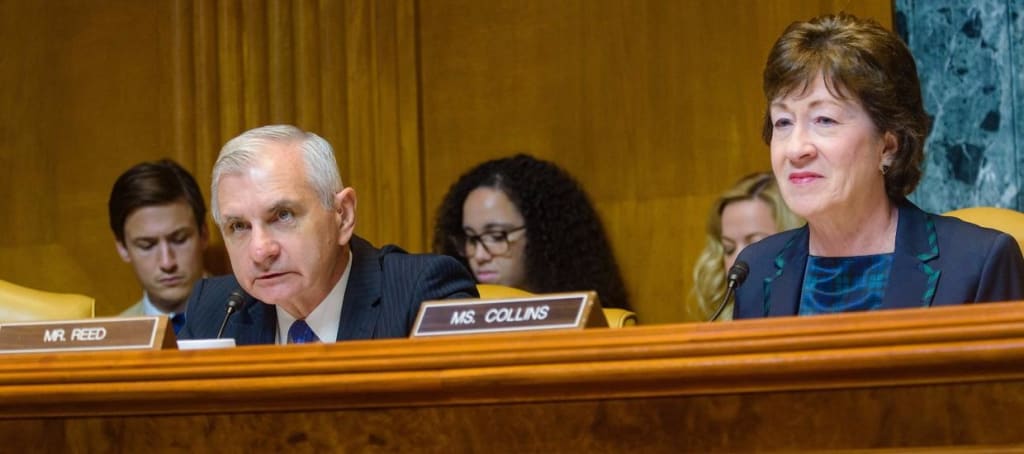 It's finally happened.
One Republican senator has ripped President Trump for an apparent lack of knowledge, while a Democratic senator, in an effort to show support, seemed to question Trump's mental stability.
To be clear, it was the Democratic senator who used the word "crazy" when referring to the president, and according to his spokesperson, Chip Unruh, Senator Jack Reed was not doing anything that he hadn't already done before.
"He has said it publicly and privately: The Trump Administration is behaving erratically and irresponsibly," Unruh said via email.
Some might even say there is a certain irony to the way the Republican senator was caught doing so; like the "hot mic" scandal that was revealed late in 2016 that saw then-Republican candidate Trump talk to then-Access Hollywood host Billy Bush about the liberties he was able to take with women simply because he was a celebrity, Reed was overheard on a hot mic in a conversation with Republican Senator Susan Collins.
The discussion came at the end of a Transportation, Housing and Urban Development, and Related Agencies subcommittee hearing, according to the Washington Post, who also had audio of the conversation. Collins first suggested that the Office of Management and Budget was approaching its spending reduction strategies in something of a pell-mell fashion.
"No thinking about it, no metrics, no nothing. It's just incredibly irresponsible," she said on the recording. "I don't think he knows there is a BCA (Budget Control Act) or anything."
The latter statement is in apparent reference to both Trump and a 2011 budget law.
Collins' spokesperson Annie Clark later said that Collins was concerned about the elimination of transportation and housing programs in Trump's budget.
Reed, according to Unruh, was merely trying to indicate he supported Collins during their conversation. Reed didn't stop with merely questioning the president's mental stability — something which several pundits have already done, though psychiatrists continue to be barred from commenting as a result of the Goldwater rule — but suggested that there were others that were perhaps worthy of concern.
''You've got [Budget Director Mick] Mulvaney saying we're going to put in all sorts of stuff like a border wall. Then you've got [Treasury Secretary Steve] Mnuchin saying it's got to be clean,'' Reed said. ''We're going to be back in September, and, you know, you're going to have crazy people in the House.''
While it's perhaps not new information that a Democrat has questioned whether Trump is completely mentally stable, it's one of the first times that a Republican has been heard being critical of the president in such a way. With this news coming on the heels of the Senate voting down the Obamacare repeal, it would seem that the Trump administration does not have the support that it thinks it does.
Collins also criticized US Representative Blake Farenthold of Texas, a fellow Republican, for challenging her to an Aaron Burr-style duel for opposing the Obamacare overhaul. Reed expressed his disbelief, and then Collins called into question Farenthold's physical appeal.
''Did you see the one who challenged me to a duel?'' Collins asked.
''I know,'' Reed replied. ''Trust me. Do you know why he challenged you to a duel? 'Cause you could beat the s___ out of him.''
''Well, he's huge,'' Collins replied. ''And he — I don't mean to be unkind, but he's so unattractive it's unbelievable.''
Collins later expressed an apology with regards to her comments about Farenthold, and Farenthold also apologized.
The president has not commented regarding this "hot mic" situation between the Republican and Democratic senators. What is clear, though, is that Trump's troubles are running far deeper than a health care bill that simply won't pass.