Out with the Old...in with the New
Trump Cabinet Shakeup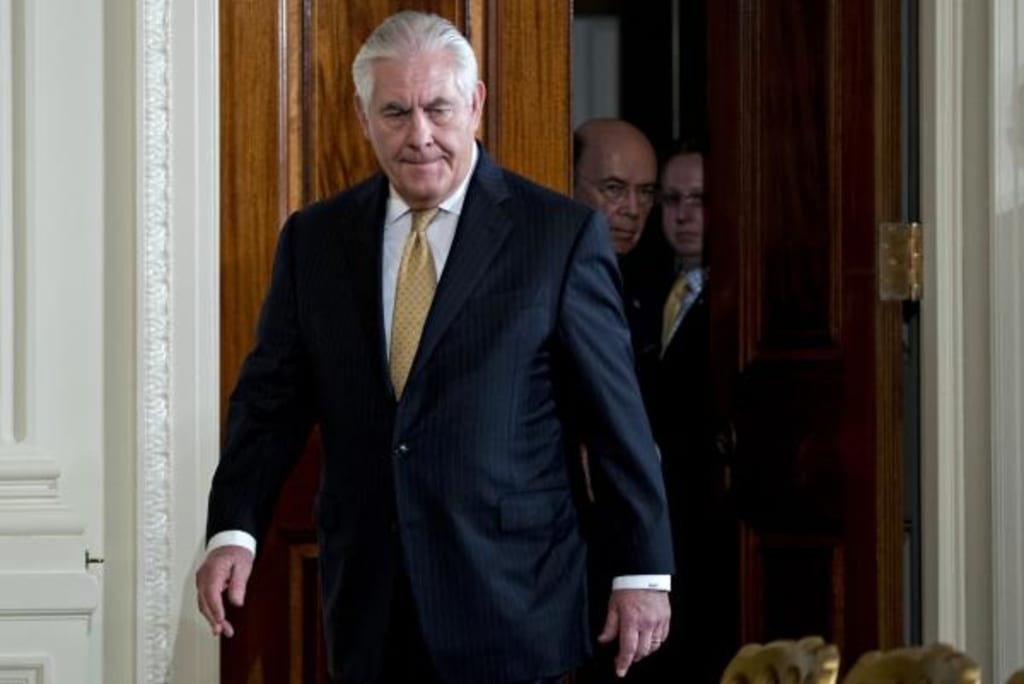 Just two months ago there was a Beltway rumor that US Secretary of State Rex Tillerson was about to quit or be fired. The White House denied it. Tillerson denied it. The State Department feigned ignorance on the issue. Still, most people believed that the former Exxon Mobil CEO's days were numbered at Foggy Bottom.
Apparently, that number has reached zero.
In typical Trump style, the president tweeted the news that Tillerson was out and CIA Director Mike Pompeo would be named the new secretary. In little more than an afterthought, Trump thanked Tillerson for his service and wished him well. Four hours later, Trump called Tillerson to discuss the transition.
Slightly out of order, huh?
When asked about the termination, State Department officials said that Tillerson learned of his termination from Trump's morning tweet. That was confirmed by Tillerson who said in a prepared statement Tuesday afternoon that Trump had called him around noon to discuss a transition.
It was no secret in official Washington circles that Trump and Tillerson did not share the same world view. Many Washington insiders have repeatedly stated that the two men did not like each other and Tillerson's departure was imminent. In a late morning exchange with the press, Trump conceded that Tillerson did not share his views on many issues, including Iran and North Korea. He quickly added that Pompeo does.
Tillerson's departure from the State Department is the loss of one of the voices of sanity in the White House, although his influence has surely been minimal since last summer. History will judge him poorly though for his failure to support the career foreign service officers and to protect the status of the department. He has tacitly permitted the department be gutted of career staff and budget at a time when diplomacy is needed the most, and he has failed to assure that key diplomatic posts were filled last year.
It would have been more effective had Tillerson mustered the intestinal fortitude to have resigned last summer when he was wrapped in the "Trump is a moron" scandal that he never quite denied. There was no point in denying it — the public already believed he said it (and most of the country agrees with that opinion).
Tillerson was not the only senior State official to bite the dust on Tuesday. ABC News reported that Undersecretary for Public Diplomacy Steve Goldstein, the number four person at State, was also terminated by the White House, ostensibly for his statement earlier in the day indicating that Tillerson had not been informed of his termination prior to the tweet. Add that position to the growing list of vacancies.
In a Tuesday afternoon speech, Tillerson listed off a few accomplishments his department has achieved:
Bringing Maximum Pressure to North Korea
Defeating ISIS
Cooperation with the Defense Department
Implementing administration policy
He took a bit of time to thank his co-workers, the inter-agency operatives, the foreign service officers, his staff, Defense Secretary Jim Mattis, and the Joint Chiefs. He thanked the American people and even recited the oath that all government officers take when asking his staff to continue to do their job for the next secretary. He did not mention Donald Trump.
Secretary-Designate Mike Pompeo has a long and distinguished career in public service, and is likely to gain Senate confirmation with some ease. He has a much better understanding of government than Tillerson, and certainly understands how the halls of power work — in theory and reality. Unfortunately, Pompeo is unlikely to be a confidant that challenges Trump's views.
How all of this unrest at State will unfold in the weeks leading up to the North Korea meeting is unclear. There is no US ambassador to South Korea and the State department official charged with the North Korea portfolio resigned earlier this month. It will interesting to see if Pompeo scavenges the CIA for his top aides and advisors.
Candidate Trump promised the best and most qualified people would fill his administration. President Trump said he had the best cabinet with the best people. He has said it often. Trump said Tuesday that, with the appointment of Pompeo, he was getting closer to having the cabinet he wants. That is certainly a confusing remark from the man who publicly claimed to already have the best cabinet in the history of the nation.
That is two down at State today. Makes me wonder what tomorrow will bring. Who is next?