My Experience in the National School Walkout
Enough is enough.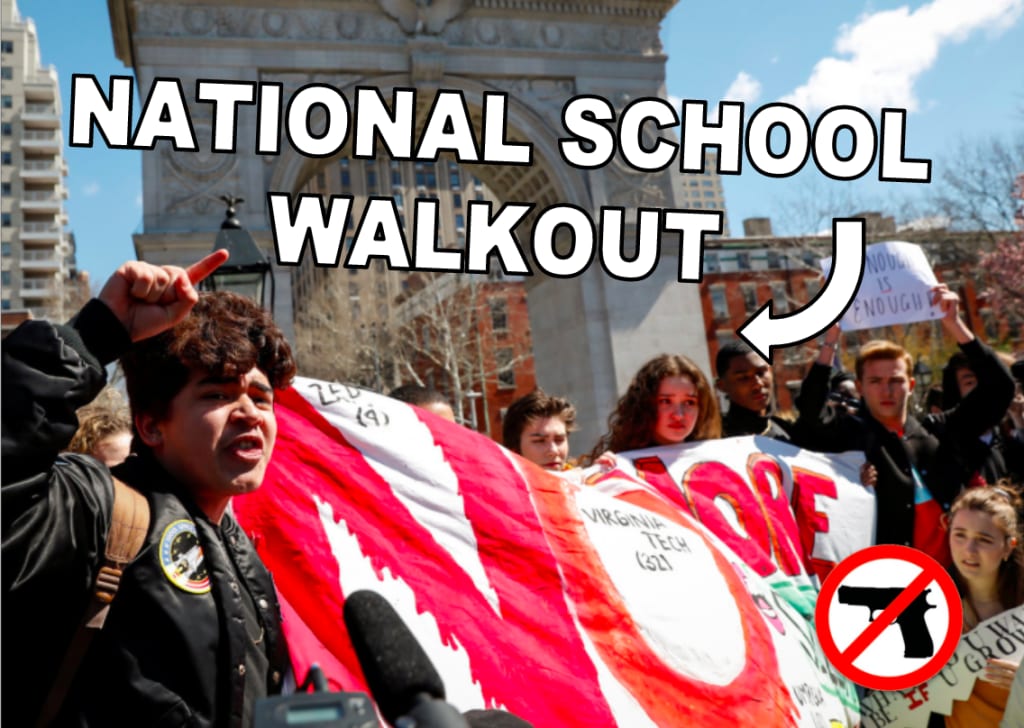 Even though most online writers are adults, I'm one of the few teenage online writers. Yeah, I know. I'm just a high school student who usually writes about movies and theories. But every once in a while, I write a political article, and today, it's time for another politics article.
Since the Stoneman Douglas High School shooting last February, there has been a lot of talk about gun violence. The arguments usually go the same way: "thoughts and prayers," "f**k your prayers, we need action," "shut the f**k up and stop trying to steal our guns." That's how it goes.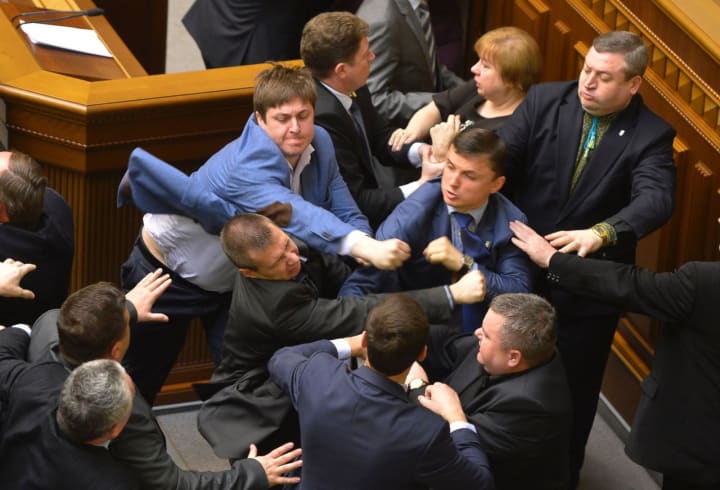 And whenever adults and politicians deal with this issue, they rarely expect children and teenagers to do anything. But this time, our reaction was different.
On March 14, the one-month anniversary of the Parkland shooting, at 10 AM, we walked out of school for 17 minutes to symbolize the 17 students who were senselessly murdered in their school.
I participated in that walkout. It was freezing out, but I persisted, and I gave a quote to some French radio host.
When we walked out that day, we were standing against all the politicians who accepted money from the NRA, and refused to do a damn thing about the thousands of people in the United States getting killed by guns every year. And we vowed that if gun laws didn't change by April 20, we'd walk out again, and this time, we wouldn't come back.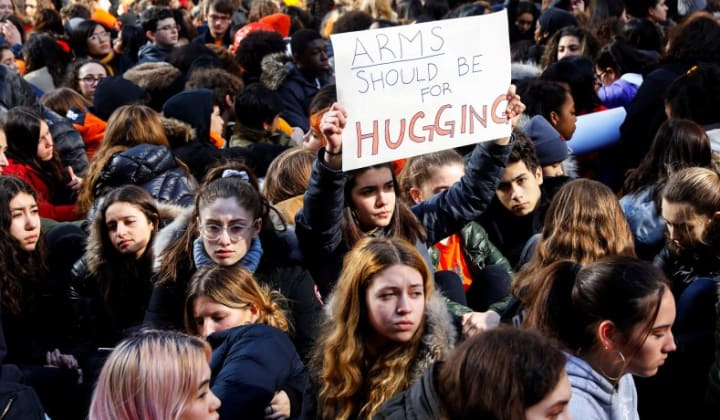 And, what do you know? April 20 rolled around, and between March 14 and April 20, approximately thirty people were killed in mass shootings in the United States.
So, we walked out. Thousands of us.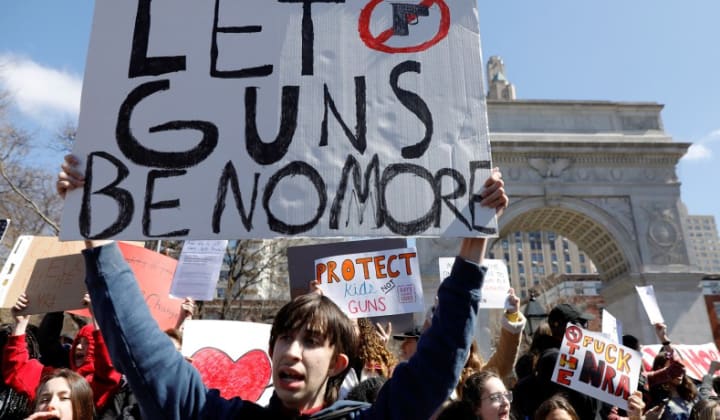 Yes, at 10 AM, in our respective time zones, thousands of students walked out of their classes and headed to their walkout.
Now, I live in New York City, so my walkout was in Washington Square Park. Students from dozens of high schools showed up, including students from Stuyvesant High School, Brooklyn Technical High School, Bronx High School of Science, The Beacon School, BARD Manhattan, and many more.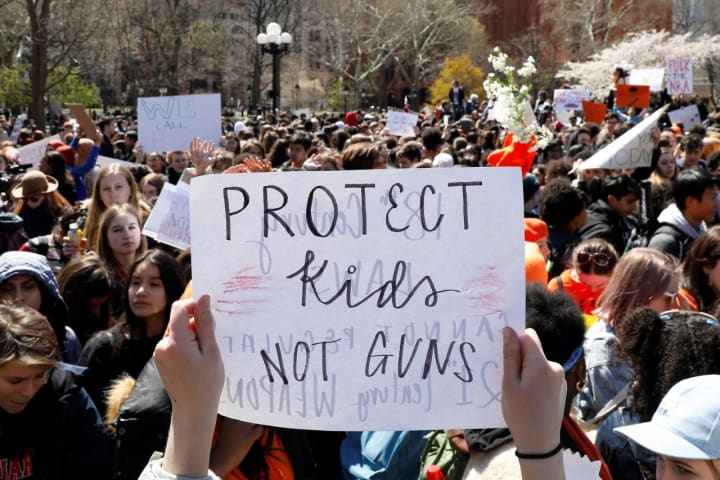 Sometimes, when adults see students walking out of school on a protest day, they believe that the students are simply doing it to get out of school early with a free absence.
Well, I just want to clarify that this was not a free absence. In NYC, our students are getting an unexcused absence on our transcripts. And here's the thing: students walked out of school, but were under no obligation to actually attend the rally in Washington Square Park. But there were still thousands of students at that rally.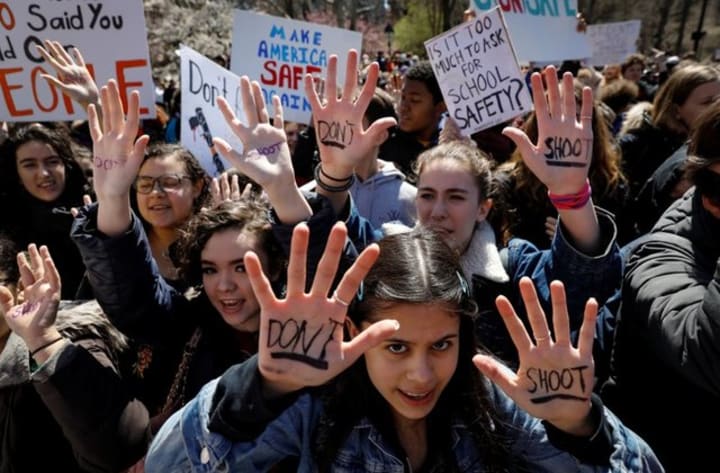 I knew that there were some classmates who left school simply to ditch class. And I knew I could have easily gone with my friends who were doing it. But I wouldn't. I knew what I had to do.
When I showed up at the park, there was a 15-minute die-in. I immediately participated in the die-in. We laid on the ground, as people chalked out our body outline.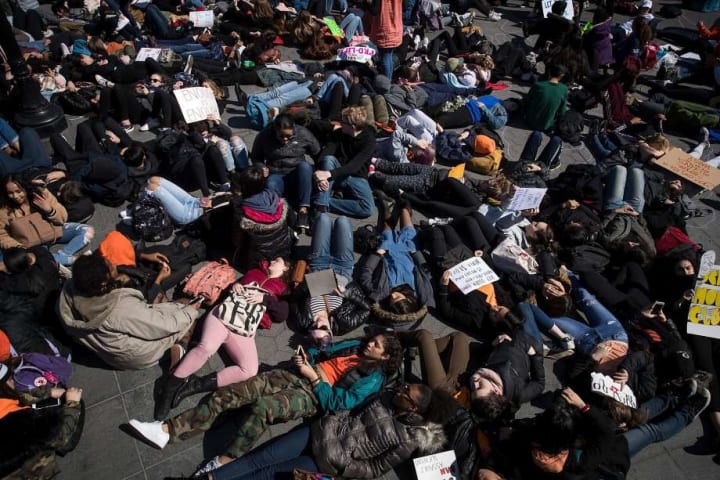 After the 15 minutes were up, we got up and started to chant. "Hey, hey, ho, ho! The NRA has got to go!" "Enough is enough!" "F**k the NRA!" "Show me what democracy looks like? This is what democracy looks like!"
Then, at 12, we all gathered around the stage and heard people deliver speeches. Some of the people speaking were just students, and others were survivors of gun violence in the past.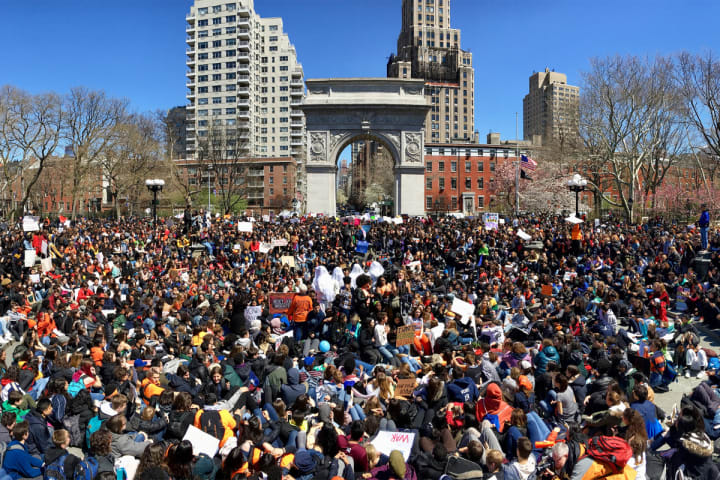 We had someone who survived the Columbine shooting, which occurred exactly 19 years before the walkout. And we heard one person speak of his terrifying experience on the night of the Orlando nightclub shooting in 2016, and how he saved the lives of some and saw people he had spoken with earlier in the night get shot.
After his speech, we all held our fists in the air during two minutes of silence to show solidarity for all those who had been affected by gun violence.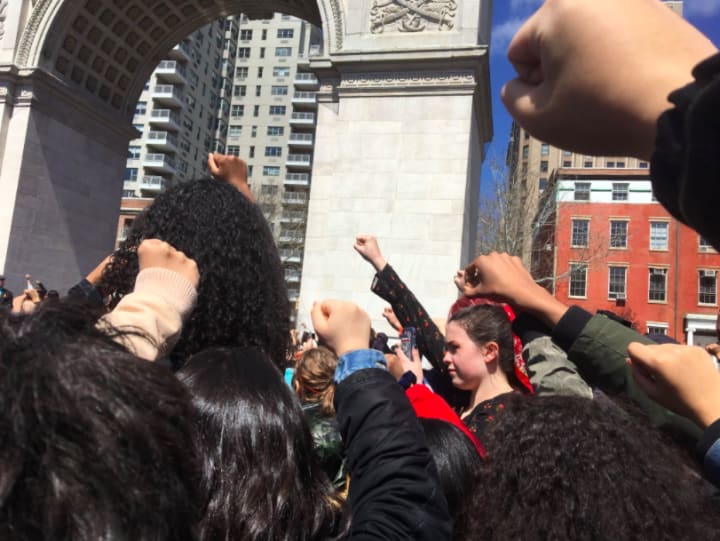 And it was an amazing day. We made our voices heard. I appreciate every single person at that walkout who showed up to support gun control.
Now, there were many giving speeches up there, but I wasn't one of them. But I wanted to write down a little bit of what I would have said, had I given a speech.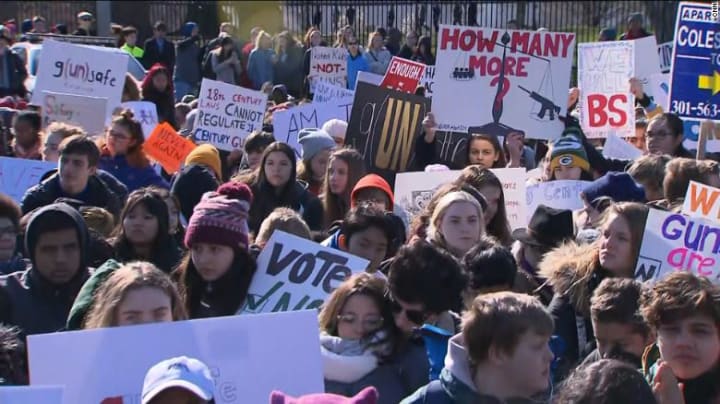 19 years ago, two students at Columbine High School shot and killed 12 students and one teacher, and injured 21 more. When this tragic event happened, our lawmakers should have taken action to prevent any more mass shootings to happen. But unfortunately, that's not the case.
Because 19 years after the Columbine shooting, there has been almost no lasting change. In 2017, over 15,000 people in the United States were killed by guns, and this number has been rising each year.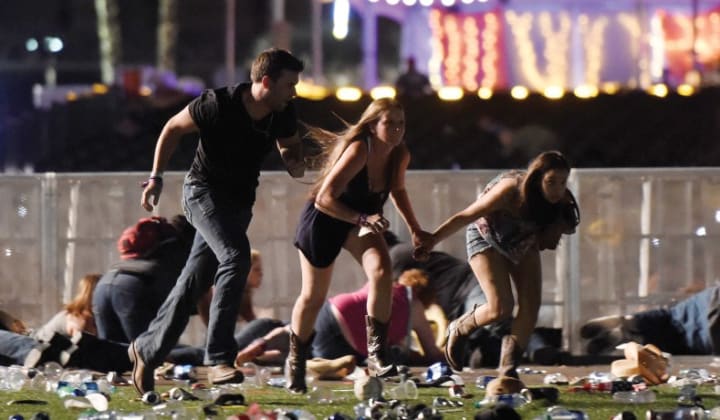 The reason we walked out is because no student should ever have to feel unsafe in a school. Nor should they ever have to text their parents, "I love you," from under a desk because they are afraid of getting murdered in one of the only places where they should feel safe.
If Congress refuses to act on common sense gun control laws, then there will only be more violence. More death. And more trauma. Should we, as Americans, stay quiet and do nothing as we watch news of people from across the country getting killed by gun violence?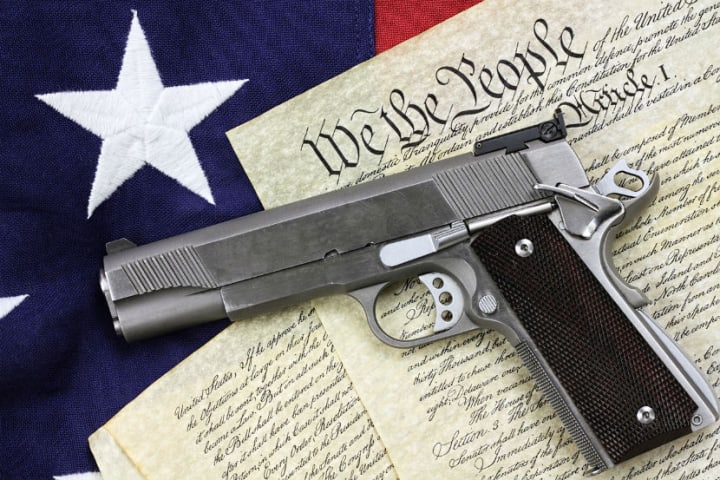 That's why we're walking out. As students, we shouldn't have to protest. We shouldn't be walking out of our schools, but the only reason we have to is because of the thousands of people getting injured or killed by gun violence every year and the fact that our politicians won't do a damn thing to change it.
If our lawmakers won't speak up about this issue, then we will. That's why students from around the country walked out of their classrooms. And with hope and with persistence, we can get the attention of our lawmakers and they will make a change in this country. Because enough is enough.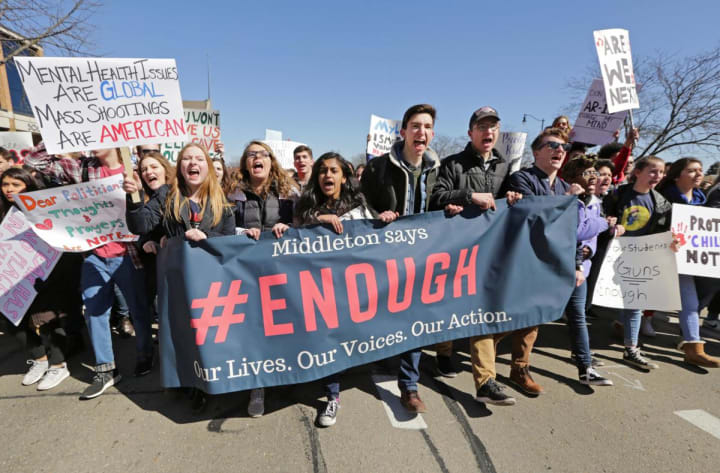 So, hopefully, Congress will pass common sense gun reform. When and only when this happens will the number of people getting senselessly murdered by gun violence decrease.
And that's it!
activism
About the author
Film critic. Lover of Pixar, Harry Potter, Star Wars, Marvel, DC, Back to the Future, and Lord of the Rings.
For business inquiries: [email protected]
Reader insights
Be the first to share your insights about this piece.
Add your insights