Movie Review - "The Art of Letting Go: The Erica Jones Story"
Heiress unveils her father's overlooked contributions to family BBQ business legacy in a telling new documentary.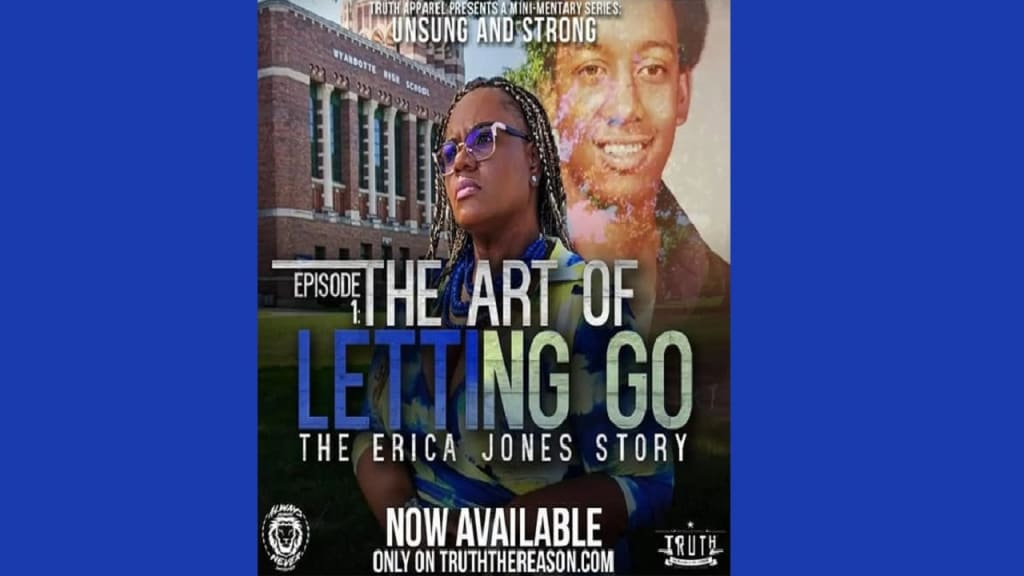 AHNS Clothing/T.R.U.T.H Apparel
The fabric of building wealth and generational greatness in Black America's communities has historically been woven together by two key elements: Black-owned business enterprises and the strong families that incorporate them.
In the mid-American region known as the Mo-Kan (Kansas City, MO & Kansas City, KS), BBQ and successful black-owned business are two terms that are nearly synonymous. In the 1970s, a black gentleman named Hezekiah French was in KC enterprising as a known BBQ restauranteur. French was a well-dressed businessman who helped to pioneer the Greater Kansas City Area's reputation as the nation's BBQ Mecca.
Ollie Gates, the renowned founder, and owner of Gates and Son's BBQ has also been known for decades as another baron of BBQ who operated locations on both sides of the state line. People from all over the country have patronized the Gates sauces and rubs. They are sold in stores and made the Gates restaurants local tourist attractions. This company was founded in 1946.
Hayward Spears is the owner of Hayward's Pit BBQ, a Kansas City area chain that has also been successful. This sauce boss of pit mastery gives Famous Dave a run for his money — all the way back to Hayward, Wisconsin where he opened his first store. However, inside three late 20th century decades, a pitmaster who worked for French, Gates, and Spears was also coming up.
His name was Daniel "Ducie" Jones, Sr. — a man with his family name on a sauce that stayed ready for the smoke.
The Art of Letting Go: The Erica Jones Story
Mr. Ducie's life came to an end in July 1994. However, prior to his death, he worked alongside his family members to build the Jones BBQ restaurant chain and its world-famous sauce. The Jones BBQ business dynasty of sauces, smoked meats, and pitmasters, as well as its food delivery services, even caught national attention (The Steve Harvey Show).
But Erica Jones, Mr. Ducie's loyal daughter, observed some restructuring within the family business unit following her father's death, which raised many questions in her mind. She embarked on a mission to give her personal testimony. Her dream was to tell her life story in concert with her father's legacy (that she felt was overlooked) in the form of a documentary.
After years of appealing for the making of a documentary project honoring her father, the Kansas City, Kansas-born BBQ heiress finally saw her dream come true. T.R.U.T.H Apparel Clothing Co. founder and Kansas City area filmmaker Roger M. Suggs is the vindicator who wrote, produced, and directed Erica's debut film project: The Art of Letting Go: The Erica Jones Story.
"Since this past July, Erica has been dedicated to promoting this project. She's put in the work and still going strong. This is how you make history and get success in spite of a reluctant culture," he said on a live feed — just hours after the film's release on Tuesday, October 12, 2021.
Suggs is a nationally-known vanguard in the Kansas City area who in unstoppable fashion, has provided activism for Erica.
He gave her the unfettered opportunity to tell every single element of her life story, her father's struggles, and his triumphs. Erica also opens up during her commentary about how business, as well as family, can operate — through the good, the bad, and the ugly.
Glossing over the good times, exclusively, does not always reveal the truth in every situation. Getting to the bottom of things truthfully is not always easy or done with smiling faces — yet it is still necessary.
However, regardless of what happens in terms of backlash (public and private), Erica's years of building ties with her family members and sweat equity in their business have earned her the inalienable right to volunteer testimony.
"At the end of the day, it's my truth and honoring my father," Erica wrote to me a message in response to my endorsement of her film.
In a move that would definitely make her late father proud, Erica Jones became the number one pay-per-view seller — after three seasons of Suggs-directed projects have been released (Season One, Part 1-10 & Season Two, Part 1-5). Season Three's first new episode The Art of Letting Go: The Erica Jones Story is a mirror of light that will have you analyzing your own life for the better.
Get your digital viewing right here today at TruthTheReason.com.
About the Creator
Mr. Trammell is a digital media producer, freelance journalist, and author. He is currently a Chief Contributor at the Black Then History Network (BlackThen.com). Formerly, he wrote national radio content for the Michael Baisden Show.
Reader insights
Be the first to share your insights about this piece.
Add your insights