Most Powerful Women in the Political World
When it comes to politics, men still hold many of the reins, but these powerful women know how to make waves and impart change in the political world.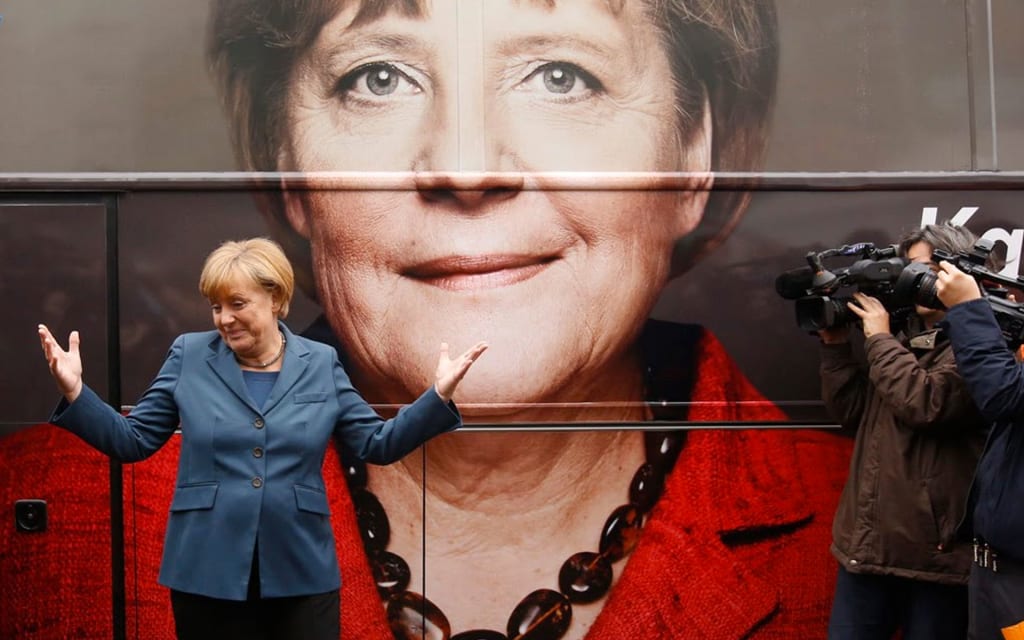 The powerful women in the political world are changing our worldview in more ways than one. Gone are the days when only men were in charge. Women are finally taking the reins and have already gone where no man has gone before. They build empires, regulate economies and, for better or for worse, inform the future of their sectors and the entire world. Given that the road for women in the politics is often thorny and sometimes treacherous, their achievements appear even more impressive. No doubt these powerful women are fighting to make their presence known in the political world. We see you, Ladies.
Theresa May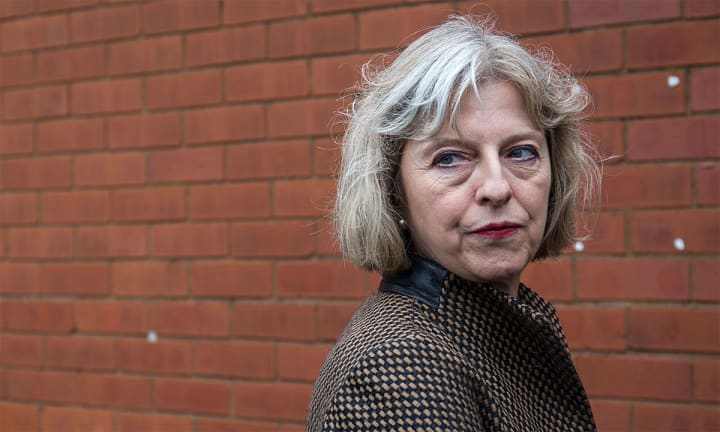 If you're wondering exactly how powerful a politician Theresa May is, you need only calculate how many times you've heard the word "Brexit" in the past months—that should give you an indication of the history-making level at which Britain's second-ever female Prime Minister (after Margaret Thatcher) currently operates. Before her 2016 appointment to this office, May spent her career working in various sectors of the United Kingdom's government including parliament and the role of Home Secretary in former PM David Cameron's cabinet. As still often happens when it comes to powerful women in the spotlight, the public has focused disproportionately on the non-political aspects of Theresa May's character (i.e her affinity for stylish footwear). Meanwhile, May is busy speaking out against injustices like wage inequality and was one of the first in her political party to express public support for same-sex marriage; the Prime Minister is a powerhouse of a woman.
Margaret Thatcher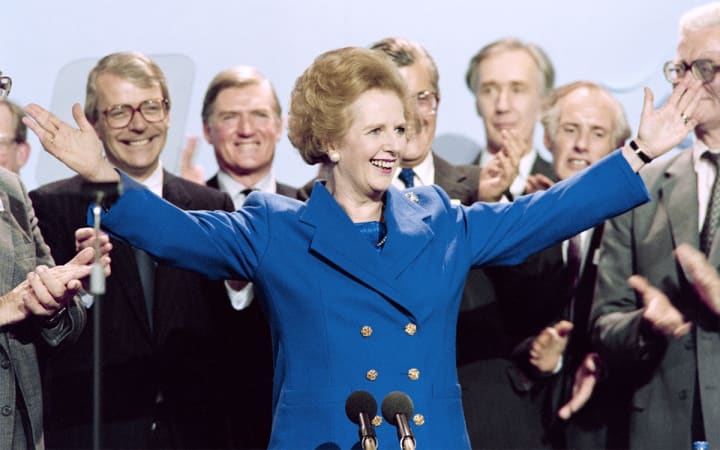 Margaret Thatcher started her political career way back in college while studying Chemistry at Oxford University. In her (surely limited) free time, Thatcher fulfilled her duties as president of the university's Conservative Association. Two years after Thatcher finished college, she attempted her first election to public office and eventually won the bid for Secretary of State for Education and Science, but she was having a hard getting people to listen to her ideas. In 1973 she appeared on TV and said "I don't think there will be a woman prime minister in my lifetime."
Thatcher proved herself wrong in 1979 when she became the first British female prime minister. Among many other achievements at the helm, Thatcher was instrumental in the downfall of communism and remained uncompromisingly determined to defend free market capitalism. The Iron Lady didn't rule with an iron fist, but then again, her victories suggest she didn't need to.
Eleanor Roosevelt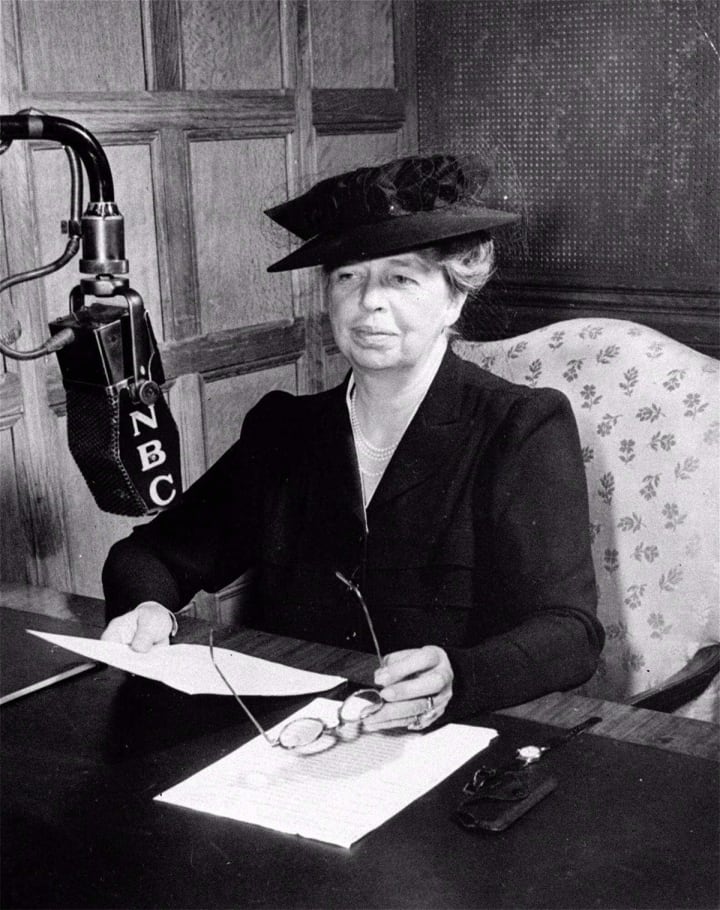 Eleanor Roosevelt earned a reputation for being one of the most proactive women in White House history. She is famous for completely changing the way Americans viewed the First Ladies, proving that a First Lady could take an important part in both US and global politics. Roosevelt became an active political leader and humanitarian herself, giving press conferences and fighting for human rights and pivotal women's issues. Eleanor was also a writer and for many years maintained her "My Day" newspaper column. She worked to eliminate poverty and fought against racial discrimination. Roosevelt became one of the first politicians who utilized mass media as a tool to get her voice heard.
After the death of her husband, FDR, Eleanor served at the United Nations from 1945 to 1953. She was a chair of the Human Rights Commission and one of the politicians who crafted the Universal Declaration of Human rights. Later, she was appointed as the head of the President's Commission on the Status of Women, an appropriate position for someone who so embodies female power.
Rosa Parks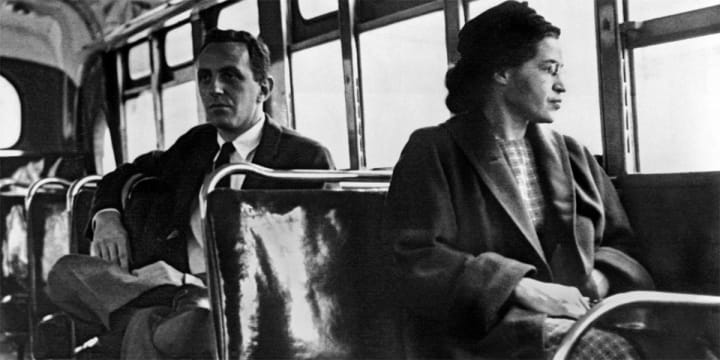 Many historians hold that the modern civil rights movement began on December 1st, 1955, when an African American seamstress refused to stand up and give up her seat to a white person on a bus. Rosa Parks wasn't the first to stand up for her rights, but she turned out to be one of the most effective. Her actions initiated a series of events that eventually lead to the de-segregation of America.
Parks became a symbol for the Civil Rights movement but she still suffered from oppressive racial discrimination. Eventually, her family had to move from Alabama after both she and her husband were fired from their jobs. She channelled her energies into other pivotal movements, too, sitting on the nation board of Planned Parenthood. Rosa eventually documented her own story in two books: Rosa Parks: My Story and Quiet Strength. While Rosa Parks didn't hold any top official positions, she is still considered one of the most powerful women in the political world.
Nancy Reagan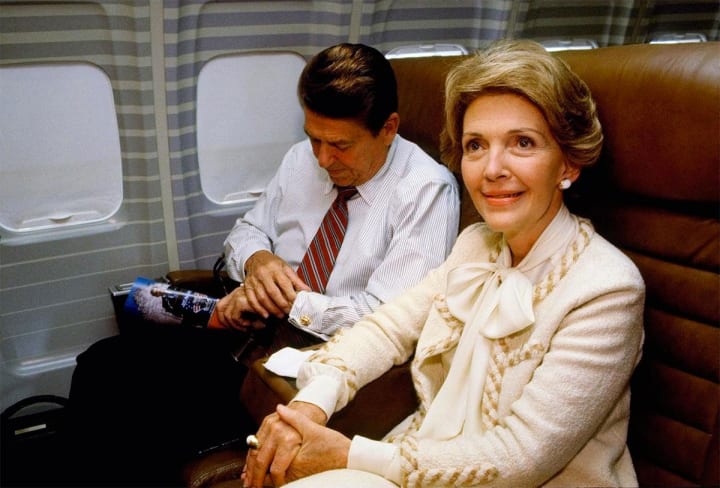 Just like her husband, former President Ronald Reagan, Nancy Reagan started out as an actress. It wasn't long, though, before Nancy Reagan's acting career was upstaged by the hubbub of family life and her husband's political trajectory.
When Nancy eventually became the First Lady of the US, she focused heavily on raising awareness about drug abuse and education. She traveled all over the country and visited rehab centers and prevention programs. In 1986, Nancy introduced the famous "Just Say No" campaign, which remains to this day her most well-known cultural contribution.
Simultaneous to her active political life, Nancy Reagan closely followed the well-being of her husband. After the 1981 assassination attempt, Reagan made it her business to protect the president. And once Reagan resigned, Nancy established the Nancy Reagan Foundation that supports drug prevention programs.
Hillary Clinton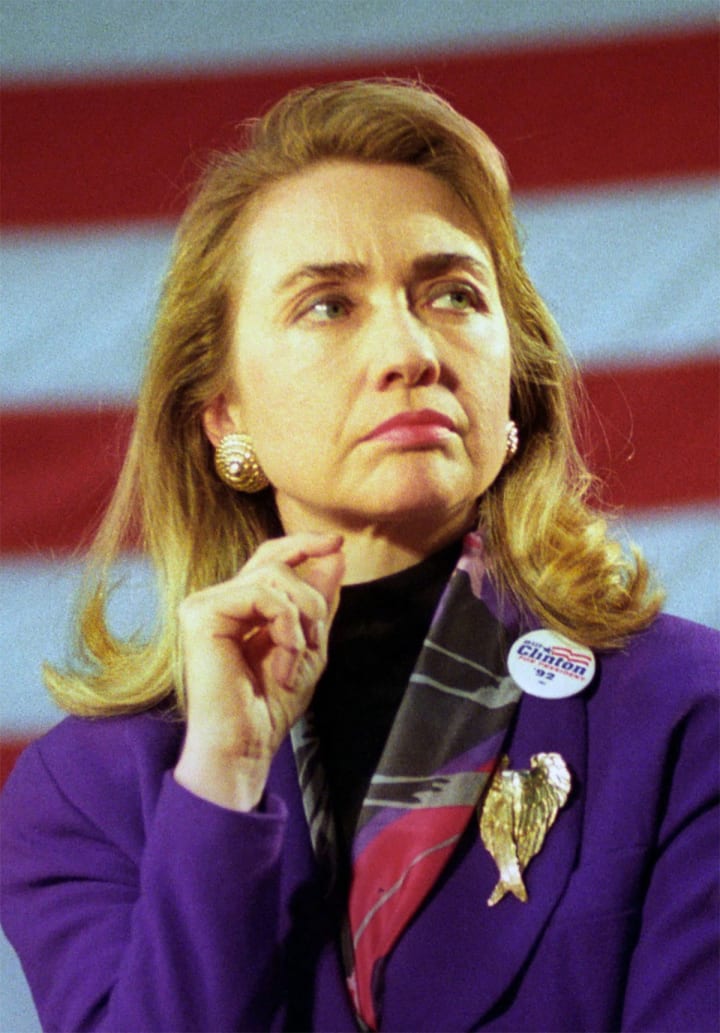 Hillary first showed her political skills when she was still very young. Since her father was a republican, Hillary was an activist in the Young Republicans group. She also actively campaigned for Republican candidate Barry Goldwater in the presidential election of 1964. Hillary went on to attend Yale Law School, where she first met Bill Clinton. She pursued a legal career and excelled at it; Hillary twice made the list of "The 100 Most Influential Lawyers in America."
After her husband became the president, Hillary took an active political position. She established her own office in the West Wing, while First Ladies traditionally work out of the East Wing with their duties confined mostly to social obligations and charitable causes. Right after Bill's inauguration, Mrs. Clinton became the head of the President's Task Force on Health Care Reform. Her political achievements during her husband's presidency were numerous, as were her achievements as New York Senator and Secretary of State.
In 2015 Hillary Clinton started a presidential campaign and became the first woman in the US history to become a nominee for a major political party. Hillary lost to the Republican Donald Trump in November 2016, missing the presidency by a very slight margin but further cementing her already powerful legacy.
Jeannette Rankin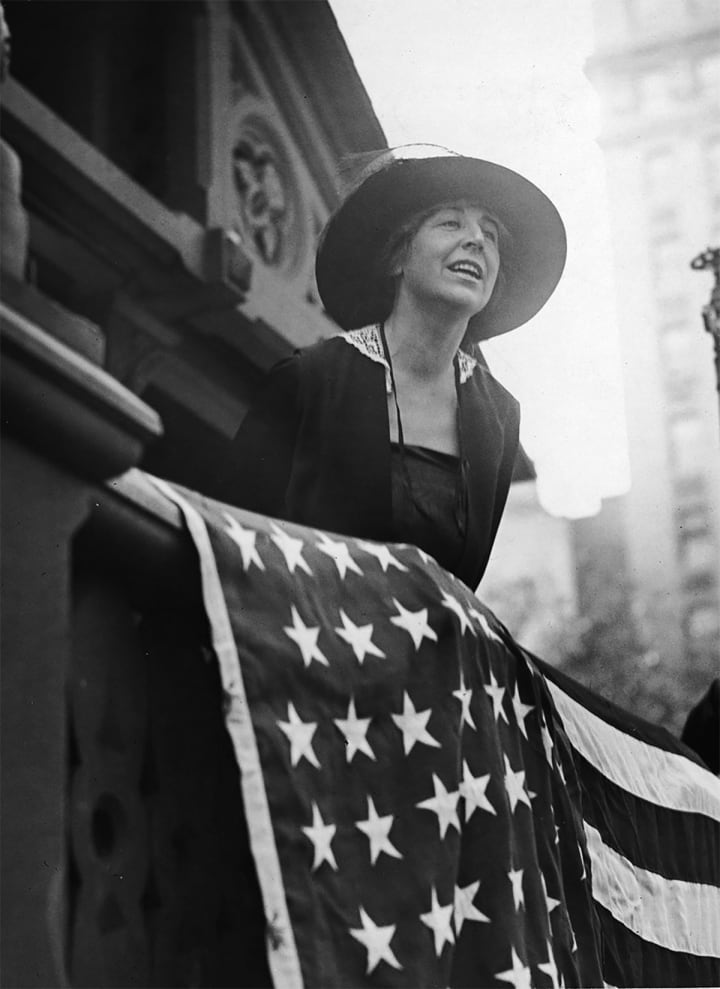 Jeannette Rankin was one of the most powerful women in the political world in the early 20th century. She devoted the first part her life to give the women in the United States the right to vote. In 1911 she reached her goal in Washington state and then went to her home state of Montana to achieve the same. Montana passed a bill to grant women their voting rights in 1914—it would be years until the entire nation followed suit. In 1916 Jeannette ran for the US House of Representatives. The race was close, but Rankin won the election and became the first women in US history to serve in Congress. This was an incredibly significant achievement given that Rankin won this election four years before the Constitution finally recognized women's right to vote.
Indira Gandhi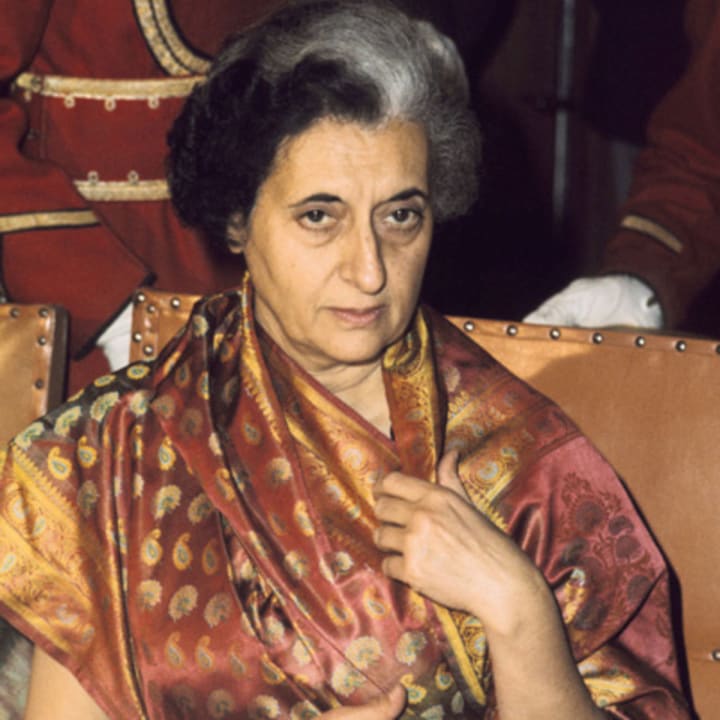 Indira Gandhi was the only child of Jawaharlal Nehru, India's first prime minister. Following the death of her father and later, his successor, she became the next prime minister of India. She held on to her position and showed impressive resilience in her many bold decisions, especially during a war with Pakistan (which India won).
Gandhi's political work was not without controversy. She was at one point charged with corruption and spent some time in jail in 1978; but just two years later Gandhi got back in the prime minister's chair. During her third term, Gandhi created several programs to fight poverty and boost the country's economy. Gandhi was assassinated by her bodyguards in 1984 as an act of revenge; as has been the case with many powerful female politicians before and since Gandhi, no good deed goes unpunished.
Loretta Lynch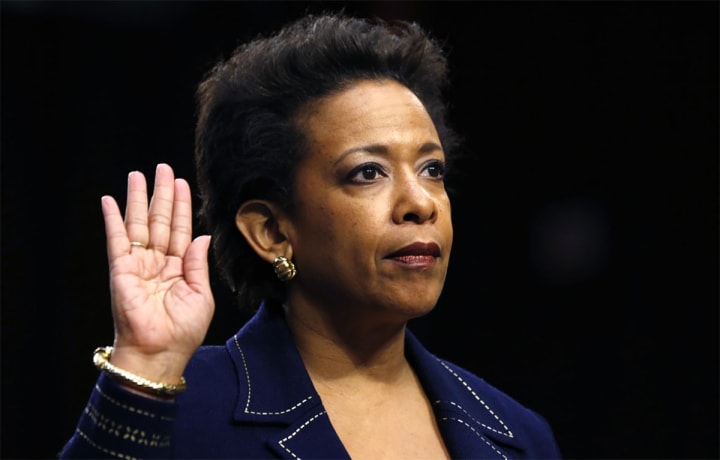 US Attorney General Loretta Lynch holds quite possibly one of the most important positions in the country when it comes to ensuring justice for all Americans. Her high regard among elected officials (she served as a US attorney under Bill Clinton and Barack Obama before being promoted by the latter) makes her powerful, but the fact that she is the first African American woman to hold her position makes her utterly historic.
Angela Merkel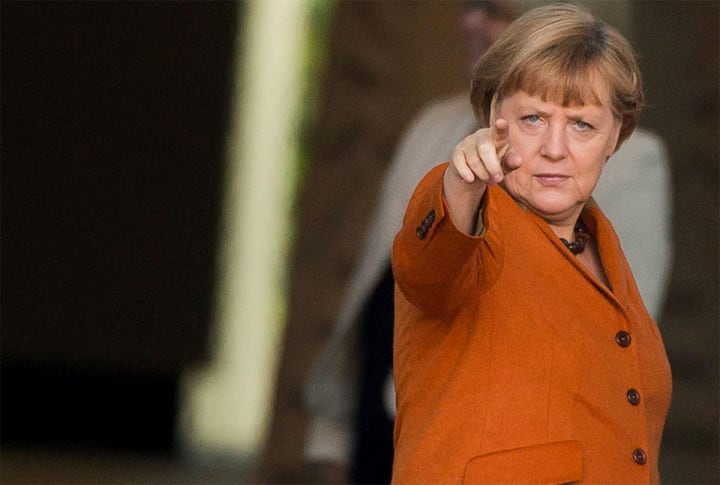 Before becoming a politician, Angela Merkel was a research scientist. She became one of the most powerful women in the political world after the fall of the Berlin wall in 1989. Back then she joined the Christian Democratic Party and became an appointed a minister for women and youth. Then she became a minister for environment and nuclear safety.
In 2005 Angela Merkel defeated Chancellor Gerhard Schroder by a narrow margin (only three seats) and became the first female chancellor in German history. She was elected to a second term in 2009 and to a third in 2013. Merkel is one of the most powerful leaders in Europe. She managed to keep her country prosperous during the global economic crisis. Merkel made Germany a world leader in the energy reform after the Fukushima disaster and abolished compulsory conscription. This powerful leading lady scores high points for her foreign policy in relation to Russia and Crimea dispute.
Golda Meir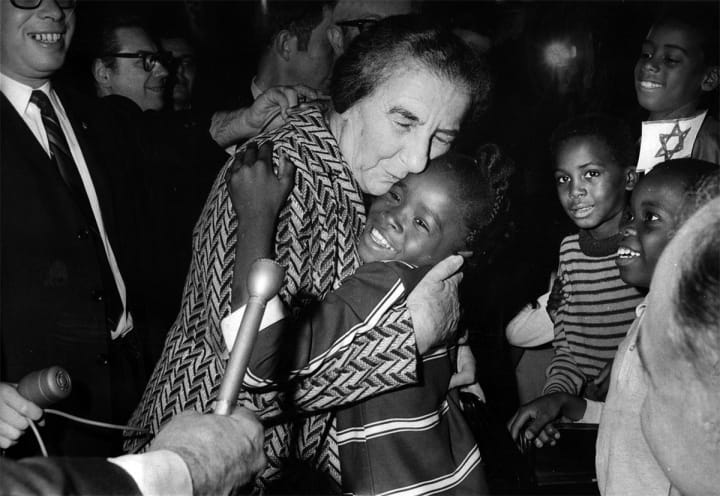 When Israel first declared its independence in 1948, Golda Meir was one of the people who signed the country's declaration. After a stint as an appointed minister to Moscow, Meir had to return to Israel to address the rising hostilities between Israel and Arab countries and was soon elected to the Israeli Parliament. Golda worked as a Minister of Labor and dealt with Israel's housing and employment issues.
After a busy and successful political career, Golda Meir started to think about retirement, but Israel had other plans for her; she was simplythat important. She was appointed to serve the remainder of the Prime Minister Levi Eshkol's term after his sudden death, and was promptly elected in her own right for another four-year term. Meir was a huge part of the peace talks with the United Arab Republic which resulted in a few years of peace (which current events shows is a major feat). Shortly after Israel's victory in the 1973 Arab-Israeli, or Yom Kippur, war, Meir finally retired from politics for good.
Condoleezza Rice
In 1974 Condoleezza Rice graduated from the university of Denver with a degree in political science. She became the first African-American woman to be a provost at Stanford University. In 1989 she became a director of Soviet and East European Affairs with the National Security Council. At the same time, she was a special assistant to George W. Bush. In 2011 the president appointed her to be a national security advisor. Then in 2004 Condoleezza became the first woman to serve as US Secretary of State.
Rice supported the Transformational Diplomacy to establish democratic reforms and fight poverty in the world, especially in the Middle East. In 2004 and 2005 she was named The World's Most Powerful Woman by Forbes.
Christine Lagarde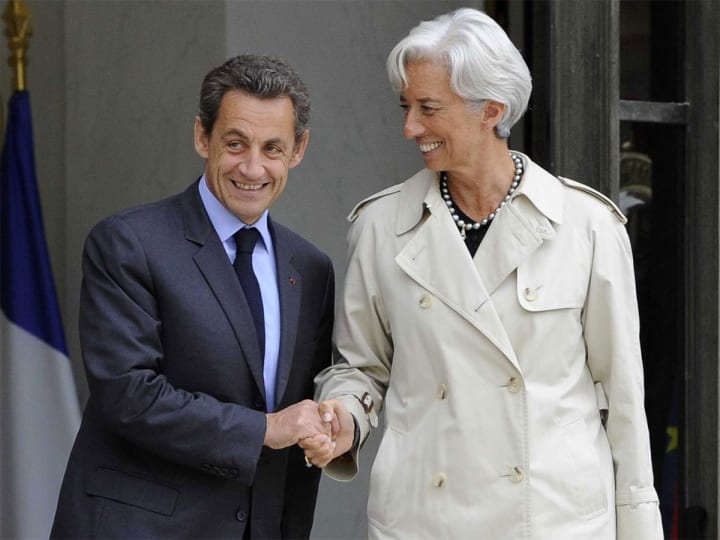 If her ability to keep her reputation intact despite severe public criticism is any indication, Christine Lagarde has undoubtedly proven herself a powerful political dynamo. The French lawyer and politician had headed the International Monetary Fund (IMF) since 2011 and before that, acted as France's finance minister. Recently, Lagarde was convicted of negligence by a French court for an event that took place years ago; after a long investigation, the court found her guilty of allowing the misuse of public funds (to the tune of over $400 million) with regard to a controversial loan issued by the French government back when she served as finance minister.
Had Lagarde committed fraud or something more overtly distrustful, perhaps she would be ousted as Managing Director of the IMF, but it seems her power in the international economic realm is significant enough to forgive past questionable actions with no prison time or financial penalty, and Christine Lagarde continues to hold her head up high.
Bidya Devi Bhandari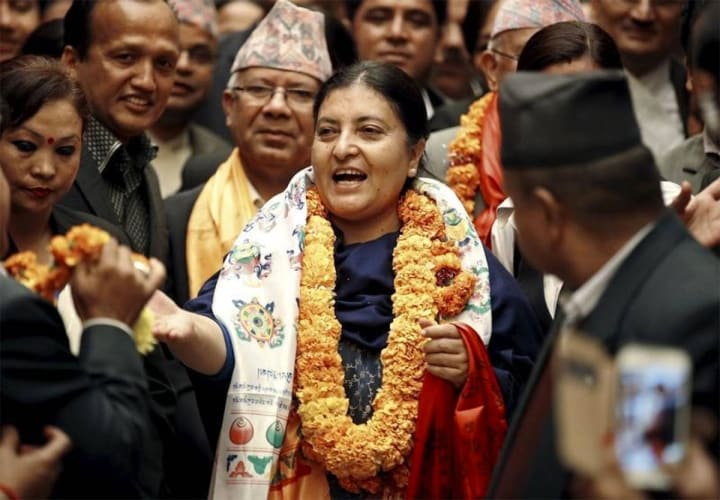 Bidya Devi Bhandari became the first female president of Nepal in 2015; though the position is only a ceremonial title (the prime minister is the nation's leader), Bhandari's influence on Nepalese policy is anything but ceremonial. She has been championing for women's rights for years, and was instrumental in ensuring their rights were protected under Nepal's new constitution. In fact, women's rights is now written into the document itself, thanks in large part to President Bhandari's work. The document now includes a clause that one-third of the members of parliament have to be women and either the president or vice-president must be a woman. Not bad for a ceremonial title!
About the Creator
Head of Brand Partnerships @ Creatd (Nasdaq: CRTD). Future Liz Lemon. Current dog lover.
Reader insights
Be the first to share your insights about this piece.
Add your insights