Mohammed Bin Salman Is a Bigger Threat to US Than Osama Bin Laden Ever Was
Saudi Arabia's checkered Crown Prince and de facto ruler may be illegally privy to secrets about US nuclear technology.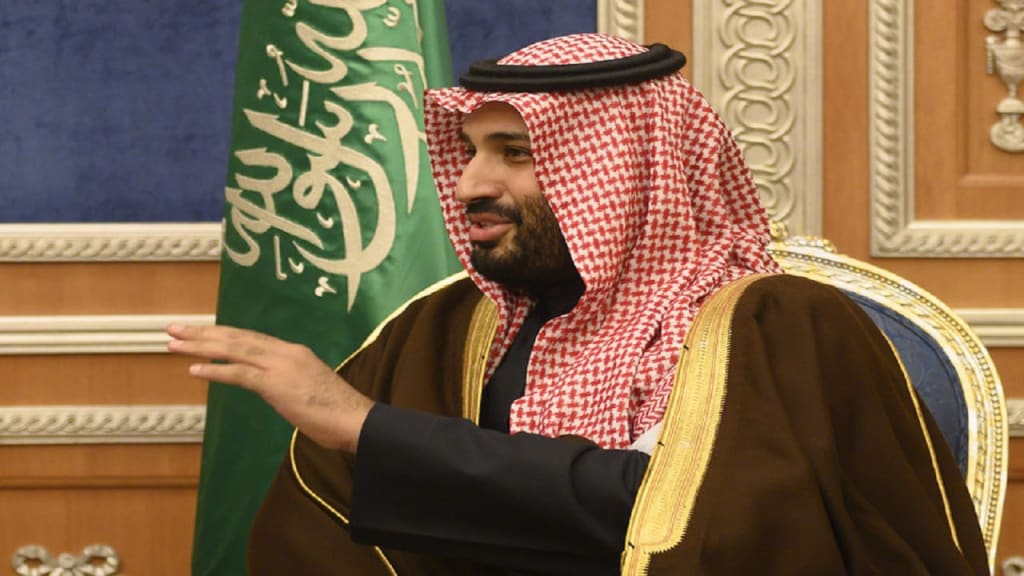 Officials inside America's ruling Trump regime hastily delivered crucial information about US nuclear technology to Saudi Arabia in error, according to a February 19 report released by the US House Oversight and Reform Committee.
Staff members working for Committee Chairman Elijah Cummings cited that "multiple whistleblowers" have raised a litany of legal and ethical fears, which suggest that this most recent and precipitous disclosure by the Trump Administration may be against the law.
"[These whistleblowers] have warned about political appointees ignoring directives from top ethics advisers at the White House who repeatedly and unsuccessfully ordered senior Trump administration officials to halt their efforts. They have also warned of conflicts of interest among top White House advisers that could implicate federal criminal statutes," reads the Tuesday press release by the House Oversight and Reform Committee.
Additionally, the House Oversight and Reform Committee's report names key individuals who formerly served as head advisers of the current US President. The report states that these individuals were complicit in the well-concerted effort, which rushed critical information about America's nuclear technology to members of the highly questionable Saudi Arabian government.
Retired US Military General Michael Flynn and Thomas Barrack were two of the names that stood out the most. Barrack is the former chairman of Donald Trump's inauguration committee. Flynn is Trump's former national security adviser. However, in February 2017, Flynn was relieved of his governmental duties after it was found that he lied to Vice President Mike Pence and the FBI about dialogue he had in the past with Russia's ambassador to the US.
For more than half of 2016, Flynn was a key adviser to IP3 International, a privately-held corporation that sought the construction of nuclear power plants in Saudi Arabia. The brave whistleblowers told the House Oversight and Reform Committee that Flynn did not stop his aggressive support of this Saudi construction project after he became Trump's national security adviser, which is a serious conflict of interest. It may also be a severe violation of US law.
The Atomic Energy Act clearly states that Congress must be the first and foremost entity of the US government to approve the sharing of the nation's nuclear technology with any foreign country. The House Oversight and Reform Committee's report also alleged that Derek Harvey (Senior Director of the National Security Committee) blatantly ignored "warnings and insisted that the decision to transfer nuclear technology to Saudi Arabia had already been made."
In the wake of these new revelations about reckless endangerment by senior officials regarding national security, the House Oversight and Reform Committee has announced that it will launch a full-scale investigation into this serious matter.
"[We will] determine whether the actions being pursued by the Trump administration are in the national security interests of the United States, or, rather, serve those who stand to gain financially as a result of this potential change in US foreign policy," the committee report also said.
This all comes as a myriad of human rights critics across the world are in an uproar over the enigmatic rule of Saudi Crown Prince and Deputy Prime Minister Mohammed Bin Salman (pictured). As his 83-year-old father King Salman bin Abdulaziz continues to age, Bin Salman, 33, is getting on-the-job training as the carte blanche leader of Saudi Arabia's government. However, he has already been implicated in the orchestration of Jamal Khashoggi's bloody murder in October 2018.
Khashoggi was a Saudi Arabian journalist and dissident of the Wahhabi Muslim nation. He wrote very critical editorials about the brutality of the ruling Al-Saud family. Initial reports stated that his dismembered body was found at the Saudi Arabian consulate in the secular Muslim nation of Turkey. Bin Salman has even been classified by the CIA as complicit in Khashoggi's murder and deemed it as an assassination. However, no bounty has been placed on Bin Salman by any US intelligence agency.
Osama Bin Laden, the late founder of Al-Qaida was also a wealthy Saudi who came from the family that built the very kingdom Bin Salman currently rules over. Bin Laden was labeled a terrorist renegade when he turned his back on the US after the Soviet Empire crumbled at the end of the Cold War. However, Bin Salman is far more dangerous than Bin Laden ever was.
This is due to the fact that he now has current, up-to-date information about US nuclear technology, which Bin Laden could have only dreamed of having.
Finally, most Americans have forgotten the fact that a former high-level employee of Bin Salman's family named Omar Al-Bayoumi was a key financier of international terrorism. After the September 11, 2001 terror attacks, the FBI knew full well that Al-Bayoumi, a well-connected Saudi, supplied thousands of dollars to several of the so-called "muscle hijackers" who participated in what many call "the Pearl Harbor of the 21st century."
It is no coincidence that 15 of the 19 suspected suicide hijackers were Saudi nationals.
The FBI did detain and question Al-Bayoumi; however, he was released without any charges. Like his predecessors in Saudi Arabia's leadership before him, Bin Salman is a master of maneuvering his family's duality. He knows exactly how to fool the world into believing he is a reformer of his nation's historically horrifying and autocratic norms. His young age and smiling face make people believe he is a new-school change agent.
All the while, he is classically operating the hidden hand of Al-Saud, which has chopped off countless heads without trial in the name of Islam over the course of many bloody decades.
The US is endangering its people and will seal its own fate by continuing to befriend the Al-Saud family—a dynasty of death.
opinion

Victor Trammell
Mr. Trammell is a digital media producer and author who has covered stories about current events for the Your Black World online news network and the Michael Baisden Show. He currently serves as Senior Editor for NOMA UNlimited Media LLC.


See all posts by Victor Trammell →