Meet Susan Rice
One of Six Women on the VP Short List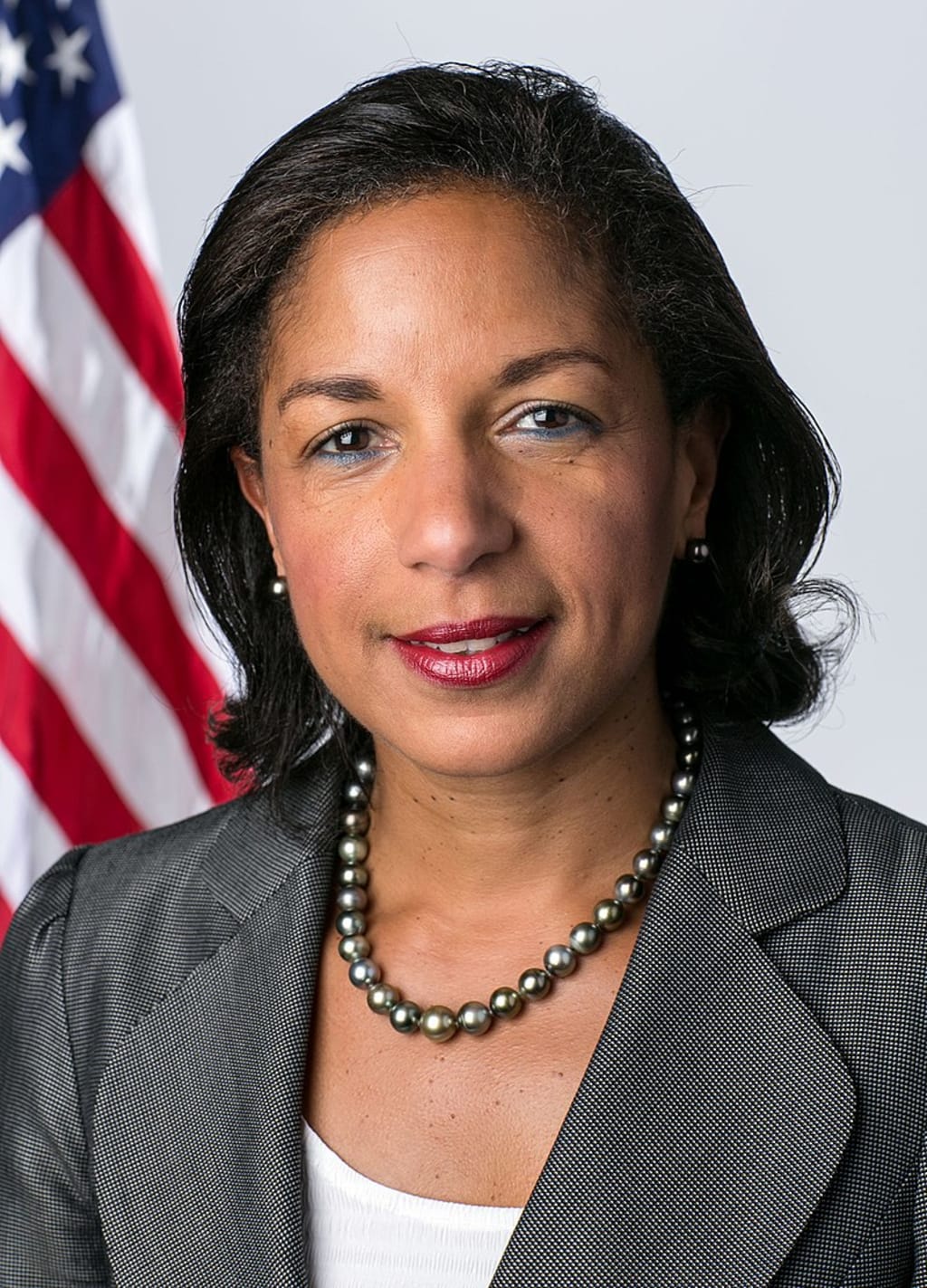 By Chuck Kennedy/White House - https://obamawhitehouse.archives.gov/blog/author/ambassador-Susan-rice, Public Domain, https://commons.wikimedia.org/w/index.php?curid=69903998
Speculated to be on the Vice President Short List
Susan Rice was born on November 17, 1964 in Washington D.C. Her mother is Lois Rice who assisted in the creation of the Pell Grant in 1972. Her father, Emmett Rice, was an economics professor at Cornell University as well as only the second black governor of the Federal Reserve System. Susan's parents divorced when she was ten years old.
Rice was Valedictorian at National Cathedral, a private girl's school in Washington, DC. After graduation she was accepted into Stanford University, graduating with a BA in 1986. She went on to receive a Doctorate of Philosophy at New College, Oxford in 1990.
Rice and her husband married in 1992 and have two children. She is said to have a great love for the game of tennis.
Rice began her career as a foreign policy aide to Michael Dukakis during his 1988 run for president. From 1993-1997 Rice served as Director for International Organization and Peacekeeping under the Clinton Administration and as Senior Director for African affairs from 95'-97' as well as special assistant to the President.
In 2008 Rice was appointed United States Ambassador to the United Nations by President Obama, becoming the first black woman to represent the United States at the United Nations. While in this position Rice advocated for anti-poverty programs, human rights, climate change and women's rights.
In 2013 Rice was appointed as National Security Advisor by President Obama.
Rice joined the Board of Directors of Netflix in 2018. She also serves on the advisory board of Freeman Spogli Institute for International Studies at Stanford University, the Board of Directors of the Bureau of National Affairs, Inc and the Board of Directors of Partnership for Public Service.
In 2002 Susan Rice was inducted into the Stanford Black Alumni Hall of Fame.
Susan's first book was a collaboration with Corinne Graff and Carlos Pascual: "Confronting Poverty: Weak States and U.S. National Security" published by the Brookings Institution Press 2010 Link: https://tinyurl.com/y9ghmmzo
synopsis: "Former Brookings Senior Fellow Susan E. Rice spearheads an investigation of the connections between poverty and fragile states and the implications for American security. Coedited by Rice and former Brookings colleagues Corrine Graff and Carlos Pascual, Confronting Poverty is a timely reminder that alleviating global poverty and shoring up weak states are not only humanitarian and economic imperatives, but key components of a more balanced and sustainable U.S. national security strategy."
Her second book, "Tough Love: My Story of the Things Worth Fighting For" published by Simon & Schuster is available or pre-order now. Set to be released in September 2020. https://amzn.to/2YBS2kQ
Synopsis: "Mother, wife, scholar, diplomat, and fierce champion of American interests and values, Susan Rice powerfully connects the personal and the professional. Taught early, with tough love, how to compete and excel as an African American woman in settings where people of color are few, Susan now shares the wisdom she learned along the way in this personal and honest ode to public service" (NPR)
According to the political news grapevine, Susan Rice is on the short list as a possible Vice President running mate with Democratic hopeful Joe Biden for the upcoming Presidential Election.
She is in good company including Senator Kamala Harris (D-California), Florida Democrat Rep. Val Demings, Atlanta Mayor Keisha Lance Bottoms, Senator Elizabeth Warren, (D-Massachusetts) and the Governor of New Mexico, Michelle Lujan Grisham.
According to the Chicago Sun Times this is the second round of vetting making note that additional candidates may still be added to the extensive scrutiny of his search committee.
What we do know is that Biden promised on television that his Vice President would be a woman, setting up whomever he chooses to a possible bid for the presidency in the foreseeable future.
By Paula C. Henderson