Meet Stacey Abrams
Politician and, Romance Suspense Writer?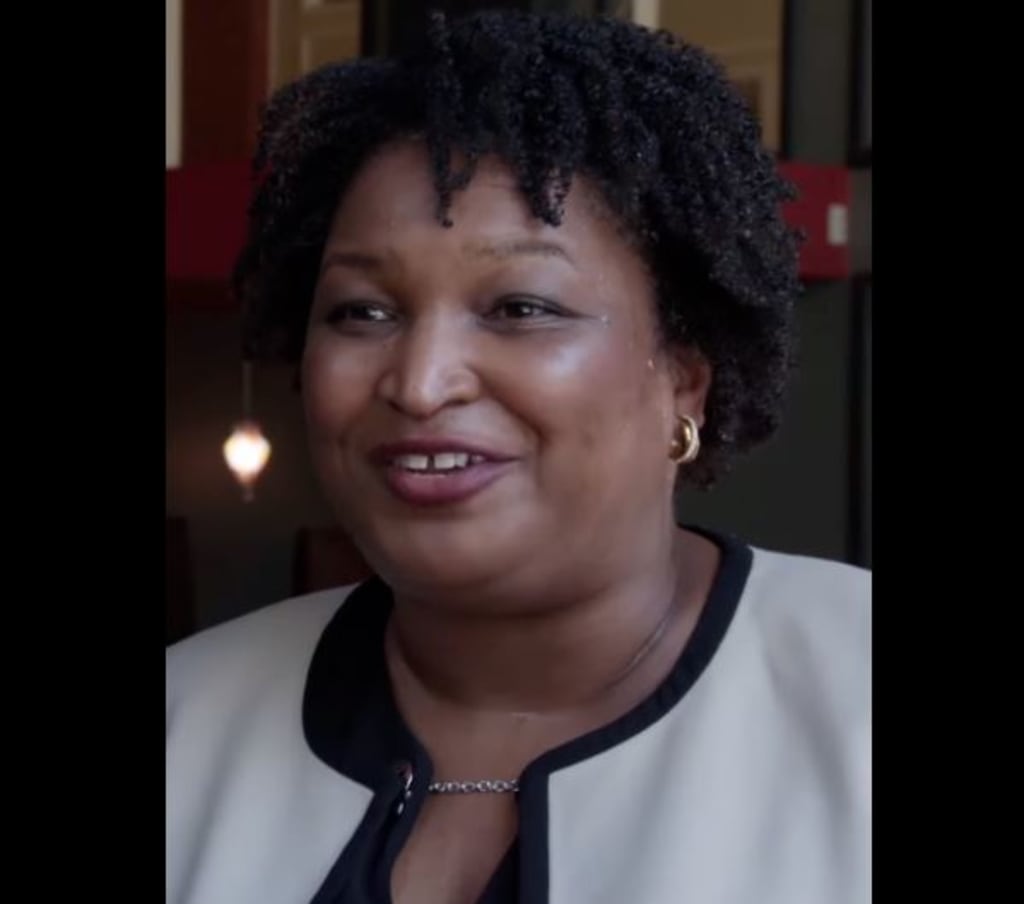 Photo: https://commons.wikimedia.org/w/index.php?curid=73754255
Stacey was born on December 9, 1973 in Madison, Wisconsin but for the most part grew up in Gulfport, Mississippi until moving to Atlanta, Georgia when she was in High school. She is one of six children.
Stacey's first job, in high school, was as a typist for a congressional campaign which led to her being hired at age 17, as a speechwriter.
It is reported that in 1992, as a freshman in college, Stacey joined a protest against the Confederate flag being a part of the Georgia State Flag at that time. The confederate battle flag had been added as a part of the Georgia State Flag in 1956.
Stacey received a BA in interdisciplinary studies in 1995. While attending college she worked at the office of Atlanta Mayor Maynard Jackson in the youth services department. In 1998 Stacey received her degree in Master of Public Affairs and in 1999 earned a Juris Doctor at Yale Law School.
After law school Stacey went on to work as a tax attorney at a law firm in Atlanta, Georgia. She primarily focused on tax-exempt organizations such as those involved in health care and public finance.
At age 29, in 2002, Stacey was appointed Deputy City Attorney for the City of Atlanta.
In 2006 Stacey, won the 89th District seat for the Georgia House of Representatives. While there she served on the Ethics Committee, Judiciary Non-Civil Committee, Rules and Ways & Means Committee and the Appropriations Committee.
DID YOU KNOW that Stacey Abrams is an award winning author of romantic suspense novels? Yes, it's true. Using the pen name Selena Montgomery she has sold over 100,000 copies of her 8 novels. She won the Reviewer's Choice Award and the Reader's Favorite Award for Romance in Color for Best New Author. I found 8 published romance suspense books on her Amazon author's page under her pen name: https://amzn.to/2C72Hwp All with excellent reviews!
In 2010 the Democratic Caucus elected her to Minority Leader and she co-sponsored legislation that preserved the HOPE Program in 2011.
In 2010 Stacey co-founded the NOW Corporation, a financial services firm. She also co-founded Nourish, Incorporated. A beverage company with a focus on toddlers and infants.
Abrams received the John F. Kennedy New Frontier Award in 2012. She was named Public Official of the Year by Governing Magazine in 2014
In 2018 Stacey Abrams ran for Governor of Georgia on the Democratic ticket. She won the Democratic Nomination making her the first black woman in the United States to be nominated for Governor with a major political party. Ultimately, Abrams lost the bid for Governor by just 50,000 votes. Many have questioned the fairness of the election.
After losing the Governor's race, Stacey founded the FAIR FIGHT ACTION Organization; a non-profit whose first action was to sue the Secretary of State and the State Election Board in Federal Court for voter suppression. (That is a whole other article if you are familiar with the scandal).
Stacey published "Lead from the Outside: How To Build Your Future and Make Real Change" in 2018 to excellent reviews: https://amzn.to/2BdbdcF "A personal and empowering blueprint from one of America's rising Democratic stars for outsiders who seek to become the ones in charge."
On June 9, 2020 she released "Our Time Is Now: Power, Purpose, and the Fight for a Fair America" Buy on Amazon: https://amzn.to/3hvE1hq "A narrative that describes the urgency that compels me and millions more to push for a different American story than the one being told today. It's a story that is one part danger, one part action and all true. It's a story about how and why we fight for our democracy and win."
In 2019, at the invitation of Chuck Schumer, Stacey became the first black woman to deliver the response to the State of the Union address.
Stacey announced in 2020 that Fair Fight would help to build voter protections in 20 states.
Stacey Abrams has long since declared her advocacy for Pro-Choice, thoughtful gun control, Medicaid expansion, Voters Rights, increased spending for public education, improvements to our public education system which would involve smaller class sizes and counselors. She supports criminal justice reform and ending cash bail as well as decriminalizing smaller amounts of marijuana. She has completed seven international fellowships travelling to dozens of foreign countries for policy work.
This is definitely one woman making a difference. She is on countless boards that advocate for the homeless and others in need. She is worthy of our respect and I look forward to seeing what she does in the foreseeable future.
By Paula C. Henderson