Meet Kamala Harris
Potential 2020 Vice Presidential Running Mate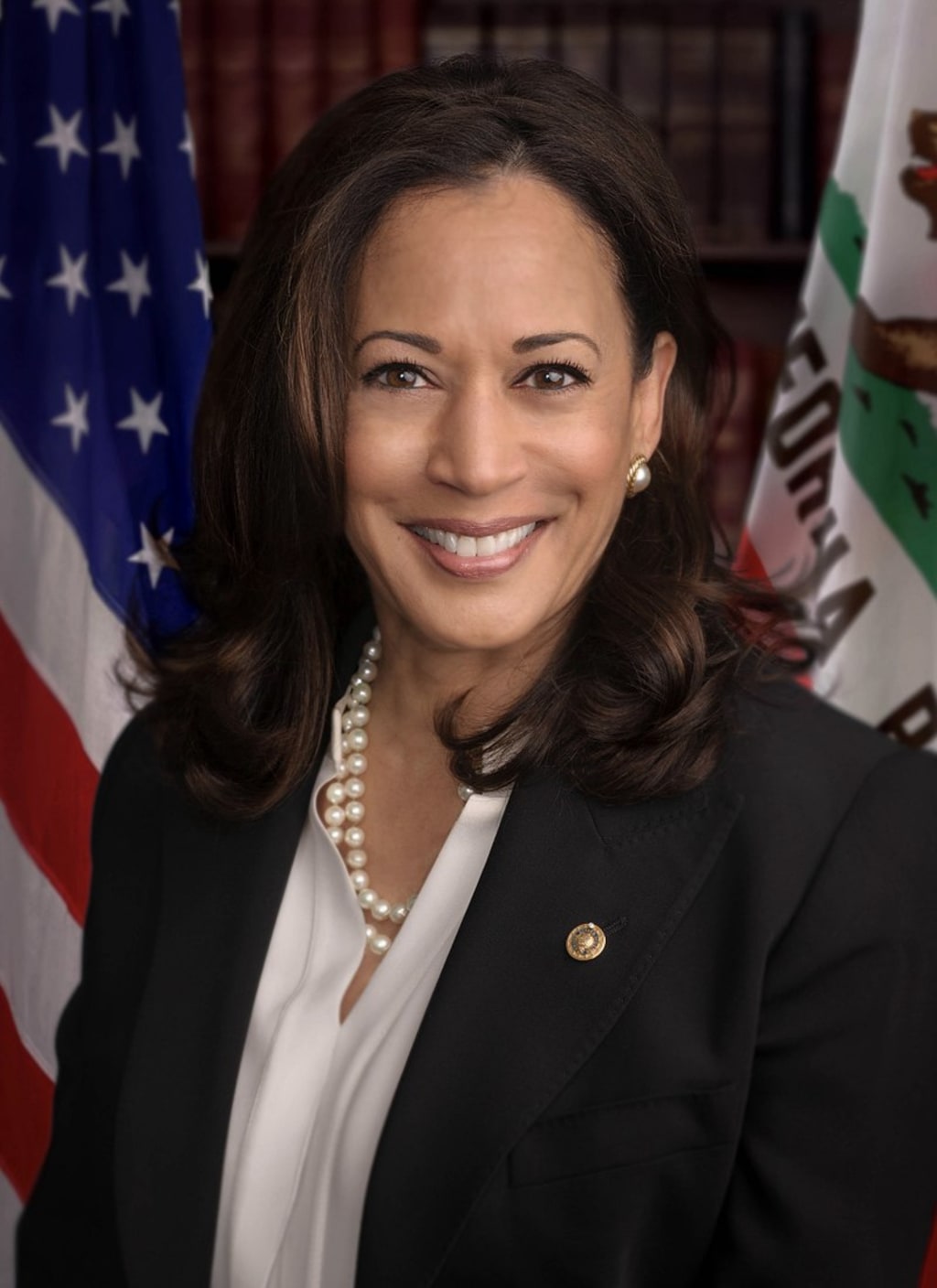 Public Domain, https://commons.wikimedia.org/w/index.php?curid=64332043
Meet Kamala Harris
Kamala Harris is currently on the short list of possible Vice Presidential running mate to Joe Biden in the upcoming 2020 Presidential election.
Kamala Harris is 55 years old. She is a junior United States Senator from California. Elected in 2017 on the Democratic ticket.
Harris attended public schools growing up in California until age 12 when she, her mother and her sister moved to Quebec, Canada. She graduated high school in Canada in 1981.
Harris returned to the United States to attend Howard University in California earning a BA in political science in 1986 before moving on to earn her law degree in 1989 from Hastings College of Law, San Francisco.
While in college Harris interned as a mailroom clerk for California Senator Alan Cranston. During this time she chaired the economics society, advocated against apartheid, was a member of Alpha Kappa Alpha and was a member of the debate team.
In 1990 Harris accepted a position as deputy district attorney in Oakland, California which led to her becoming District Attorney by 2004.
Harris published a book, "Smart on Crime" [2009, Chronicle Books, LLC] with co-author Joan O'C. Hamilton. https://amzn.to/37TByJe
In 2010 Harris was elected as the first female and first black Attorney General of California. She was re-elected to this position in 2014.
Harris was ask to deliver the address at the 2012 Democratic National Convention. This raised her national profile outside of California.
Harris announced her candidacy to run for the U.S. Senate seat made available by retiring Barbara Boxer. She won in this 2016 election. She served on the Select Committee on Intelligence and also on the Judiciary Committee.
Harris penned her memoirs in 2019, "The Truths We Hold: An American Journey" [Penguin Press, 2019]. https://amzn.to/3etNB2i "From one of America's most inspiring political leaders, a book about the core truths that unite us, and the long struggle to discern what those truths are and how best to act upon them, in her own life and across the life of our country."
Harris made a short but vigorous run for the Democrat Presidential Nominee in 2020 but dropped out of the race in December 2019.
In May of 2019 Harris questioned U.S. Attorney General Bill Barr when he was called to testify before the Senate over the Russian interference investigation led by Special Counsel Robert Mueller.
She was a member of the Congressional Black Caucus, the Asian Pacific American Caucus as well as the Caucus for Women's Issues.
She is now a leading and very popular contender as the Vice President running mate with Joe Biden.
The causes she has worked for throughout her 30 year career puts her at the top of many people's list of qualified candidates. One should know what each potential candidate stands for. Here are some of the issues Harris has fought for during her very successful career and a resume of her experience:
In the 90s Harris was on the state Unemployment Insurance Appeals Board, California Medical Assistance Commission, Chief of the Career Criminal Division. She campaigned against trying juveniles as adults.
In early 2000s she ran the Family and Children's Services Division which represented child abuse cases. She advocated against negative stereotypes of black women. She was against seeking the death penalty and believed three-strike offenders should be limited to only violent felons. She believes more should be done to end gun violence.
In 2004 Harris, along with Lateefah Simon created the San Francisco Reentry Division. A "Back on Track" initiative for first time non-violent offenders. The program was adopted by the National District Attorneys Association as a model and is now used as model for program in Baltimore, Philadelphia, and in Atlanta.
In 2005 Harris indicted the Alameda Publishing Corporation for dumping hazardous printing ink into a poor neighborhood of San Francisco charging them with unlawful disposal of hazardous waste.
In 2006 Harris created the Hate Crimes Unit and supported the Justice for Victims Act which became law that same year.
Harris created the Mortgage Fraud Strike Force in 2011, slated with protecting innocent homeowners by prosecuting violators of the mortgage process with a focus on unlawful foreclosure practices.
In 2013 Harris, along with others, introduced the Homeowner Bill of Rights
Harris began the Bureau of Children's Justice in 2015 to address issues related to children in foster care, school truancy, childhood trauma and the juvenile justice system. An investigation by Harris found that police officers had engaged in shooting and beating unarmed individuals. Harris introduced the "Principled Policing: Procedural Justice and Implicit Bias" training designed to help police officers to rebuild trust with the community.
Harris supported the ban of gun shows at the Cow Palace in San Francisco and finally in 2019 all future gun shows at that location were in fact banned.
Harris has a long list of lawsuits against big business fighting for protections of the consumer against unfair late fees, privacy issues and more. She is a strong advocate of safe environmental practices in communities. She worked for faster DNA results in criminal cases and improving the ability to store more samples as needed. She fought for and won a $1.6 million grant from the Manhattan District Attorney to eliminate the backlog of untested rape kits. She created the eCrime Unit (a part of the California Department of Justice) that targets crimes online.
Her experience is said to be in-line with the experience of previous Vice Presidents and is viewed as a frontrunner as Joe Biden narrows his choices.
By Paula C. Henderson