Meet Jill Biden
Her Personal Life and Her Career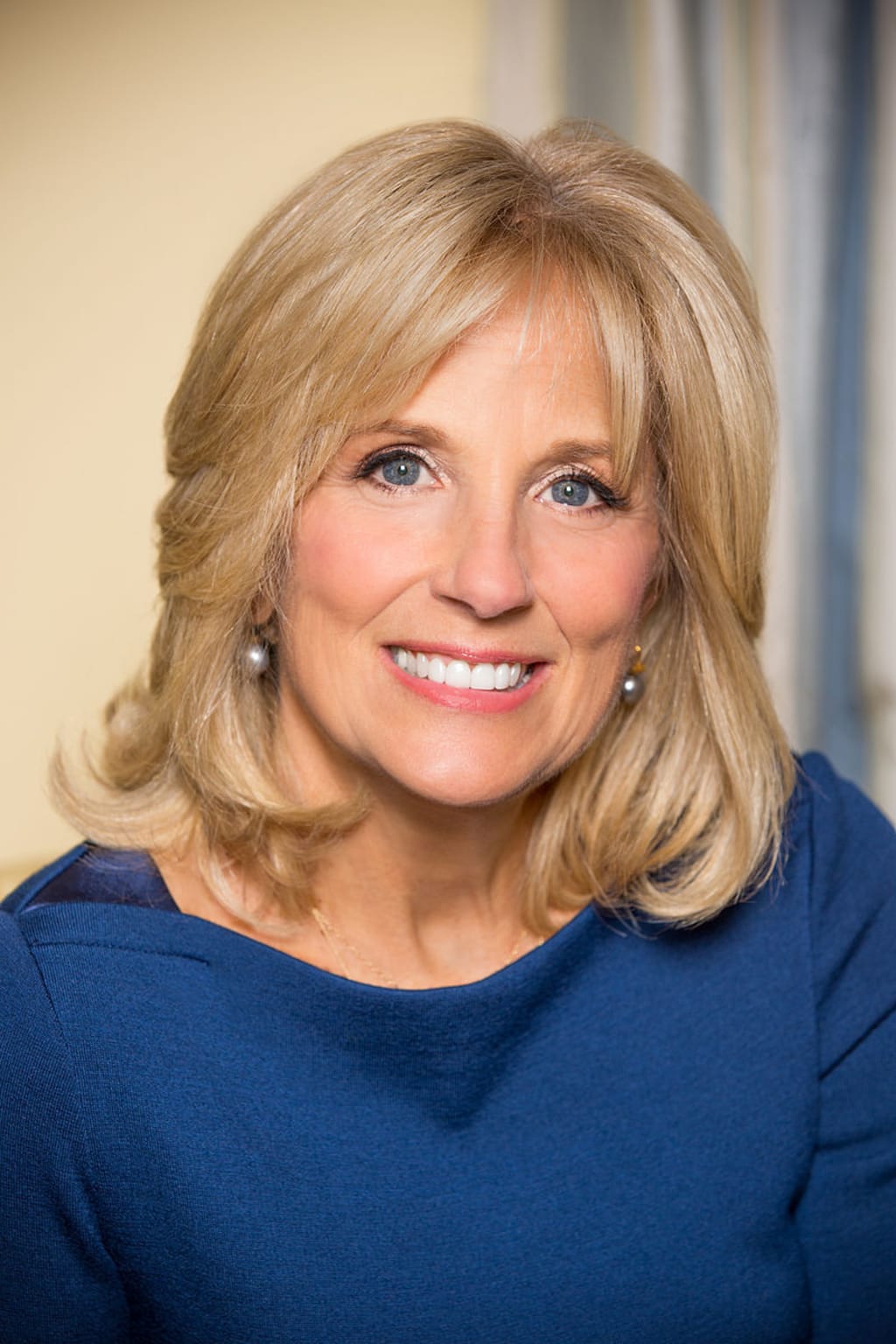 Public Domain, https://commons.wikimedia.org/w/index.php?curid=25268120
Jill Tracy Jacobs was born on June 3, 1951 (Happy Belated Birthday!) in Hammonton, New Jersey but she actually grew up in Willow Grove, Pennsylvania. She has four younger sisters. Her father was the head of a savings and loan in Philadelphia. She comes from an Italian ancestry.
Jill began working at the age of 15 as a waitress at the Jersey Shore. She graduated high school in 1969. After graduation Jill enrolled in Brandywine Junior College in Pennsylvania to study fashion merchandising. After one semester realized she wanted to switch to University of Delaware where her major was English. In 1970, while in college, Jill married college football player Bill Stevenson. Bill opened Stone Balloon, a highly successful college bar.
In the early 70s Jill did some modeling work for Wilmington, a local model agency. In 1974 she and Bill separated that ended in divorce in May of 1975.
Jill and Joe Biden met in 1975 on a blind date set up by Joe's brother Frank. Jill graduated with a BA from the University of Delaware in 1975 and began her career as a substitute teacher in the Wilmington school system. She went on to become an English teach for St. Mark's High School in Wilmington. During this time Jill also worked in Joe Biden's Senate office.
Joe and Jill married on June 17, 1977 (their anniversary is coming up!). They were married in the chapel at the United Nations in New York City. Not only was she taking on public life but the stepmother of Joe's two young sons who had survived the auto crash that had killed their mother and sister four and a half years earlier. Jill continued her teaching job while working to get her masters in in Education. In 1981 Jill gave birth to their daughter. She then took two years off to focus on the three children.
After her two year hiatus from outside work she returned to her teaching English and also teaching history classes to emotionally disturbed students. During the eighties she taught an adolescent program at a psychiatric hospital and in 1987 completed a Master of Arts in English.
From 1993 to 2008 Jill worked as the instructor at the Delaware Technical and Community College teaching English and remedial writing.
Jill Biden is the president of the Biden Breast Health Initiative which is a non-profit they started in 1993 providing breast health awareness programs free of charge in the state of Delaware. In 2007 she founded Book Buddies providing books for lower income children. It is said that Jill runs 5 miles five times a week and has even run the Marine Corps Marathon.
In 2007 Jill received her Doctor of Education in educational leadership from the University of Delaware. Her dissertation was called: Student Retention at the Community College: Meeting Students' Needs.
Jill became the second lady in 2009 when her husband, Joe Biden became Vice-President under Bar-rack Obama. She was the first 2nd lady to hold a paying job while her husband was vice president of the United States.
In 2010 Jill appeared, as herself, in an episode of Army Wives on the Lifetime channel.
In 2012 Jill published a children's book, "Don't Forget, God Bless Our Troops".
In 2015 she and Joe lost their son Beau to brain cancer.
After leaving the White House in January of 2017 the Biden's started the Biden Foundation, focusing on many different interests. Violence against women, community colleges and military families. In 2017 Jill was appointed head of the Save the Children organization. Jill also was a presenter at the 71st Tony Awards in 2017.
In 2019 Jill penned her memoir, "Where the Light Enters: Building a Family, Discovering Myself".
In 2020 Jill finds herself campaigning with her husband as he runs for President of the United States. Jill has, for the first time, taken a leave from her teaching job.
You can find both of Jill Biden's published works on Amazon: https://amzn.to/2Ap3JDq
By Paula C. Henderson