Manchester Tragedy Sees Suicide Bomber ID'd, Humanity Rising
Ariana Grande Tweets That She's "Broken;" Children Among The Lost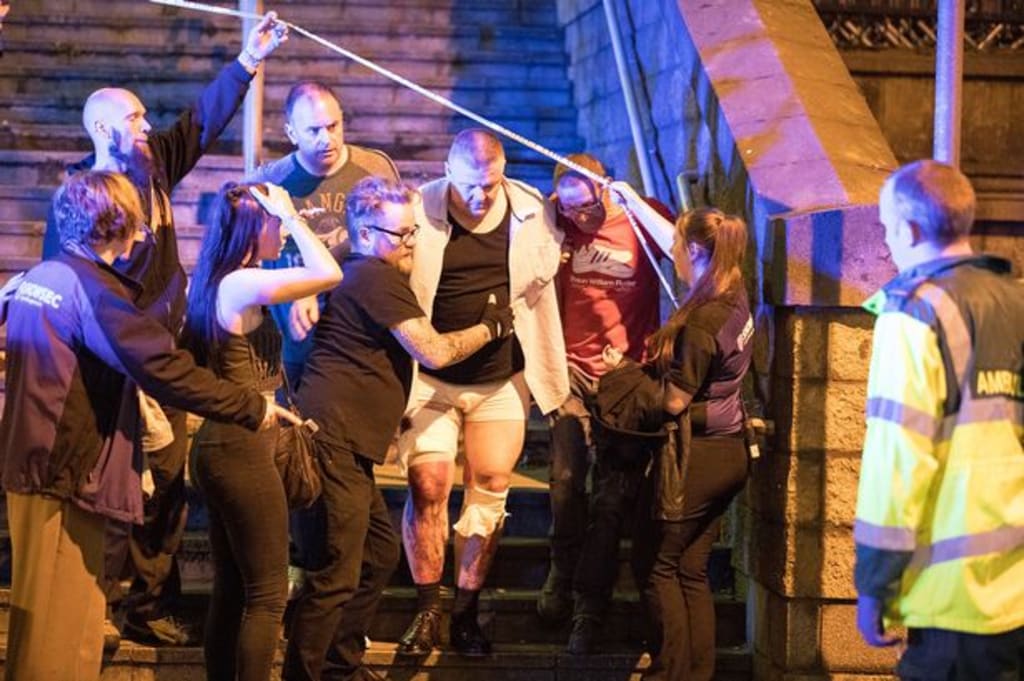 Terror has hit the world's youngest, and once again, humanity is showing its resolve.
Pop sensation Ariana Grande had just finished her concert in a packed Manchester Arena when concertgoers heard a loud "bang" and saw smoke, sending fans and parents reeling and seeking both cover and medical aid. By the time the smoke had cleared, 22 people were dead and 59 were injured.
It is believed that an improvised explosive device, or IED, was responsible for the mayhem, sending nuts and bolts flying everywhere and throwing the suicide bomber himself from the blast. United Kingdom Prime Minister Theresa May, who is currently campaigning to maintain her position as Britain's top politician, condemned the attack as an example of "cowardice."
May's address was not just about the terror that was inflicted, however; she also reminded the public of the resolve Britain and so many other nations have shown in the face of similar tragedies.
"The terrorists will never win and our values, our country and our way of life will always prevail," she said.
Grande sent out an emotional tweet in the immediate aftermath of the attack.
"broken," the singer wrote. "from the bottom of my heart, i am so so sorry. i don't have words."
One can only imagine that as a 23 year old, even one as popular as Grande is, the singer is struggling to make sense of what happened in the wake of England's worst terror attack since the 2005 terror attacks in London by four suicide bombers.
But, even through the tragedy, there are examples of humanity. People between Liverpool and Manchester were offering free lifts to collect family members and free rooms to stay overnight while they tried to collect themselves in the wake of such nightmarish circumstances. In some cases people were stranded, but others simply needed a place to regroup.
This is one of the few attacks where children have been such public faces of the victims of terror, though, and that's what's perhaps hardest to bear in all of this. Georgina Callander, 18, was identified as the first victim of the bombing while Saffie-Rose Roussos, 8, was identified as the second. More tragically, Saffie-Rose died without finding her mother or her sister, from whom she became separated in the stream of people trying to get out of Manchester Arena.
It was a story of a cabbie helping four young women that struck Liverpool City Region Metro Mayor Steve Rotheram personally; his two daughters and nieces had been at the concert, and it was because of a cab driver that the four girls came home safely.
"A taxi driver from Kirkby fought his way through horrendous traffic and got out of his cab to find my daughters and two nieces," he said. "I am forever grateful to that person. While I've got huge relief this morning my girls are safe, there will be parents waking up without children and unfortunately children waking up without parents this morning because of this horrendous act."
There were some lighter promises of having "the kettle on" via Twitter while The Soupreme Sandwich Co tweeted that "breakfast/lunch is on me and a brew as always." There has also been some £50,000 raised to date in a relief fund for the victims.
Greater Manchester mayor Andy Burnham tweeted: "If you are stranded in the area you can also follow #RoomForManchester where hotels and local people of our great city are offering refuge."
Burnham has also been as effusive as Rotheram in his praise for the way people have pulled together in the wake of the devastation.
"They responded in the best possible way with generosity, with kindness, that was I think humbling," he said. "And I think that sends a message to the whole world about what kind of people we are here. In this darkest hour - every single person in greater Manchester will be proud that people responded in that particular way and I'd like to thank them for doing that."
Grande has since returned to the States, being greeted by her family and boyfriend Mac Miller upon her plane's touchdown in Florida today. While Grande is slated to perform at London's O2 Arena on Thursday and Friday of this week, it's still uncertain about whether or not those two shows will still go ahead as scheduled.
About the Creator
I'm a high school English and French teacher who trains in the martial arts and works towards continuous self-improvement.
Reader insights
Be the first to share your insights about this piece.
Add your insights