King George V
"The Prince"
King George V was the grandson of the late Queen Victoria AND the grandfather of our dear Queen today, Queen Elizabeth II. As he was born third in line to the throne, George did not expect to become King and he started to carve out a "career" in the Royal Navy. George was born during the reign of Queen Victoria (his grandmother), with Prince Albert Edward (his father) being next in line to the throne and Prince Albert Victor "Eddy" (his older brother) being second in line. During King George V's reign, there was the rise of socialism, communism, fascism, the Irish Republicanism and the Indian independence movement --- all of which changed the political landscape of the British Empire. In 1917, King George V became the first monarch of the House of Windsor, which he renamed from the House of Saxe-Coburg and Gotha because of the anti-German public 'feeling' during World War One.
George Frederick Ernest Albert was born at 1.30am on 3rd June, 1865, in Marlborough House, London. He was the second son to the Prince and Princess of Wales, Albert Edward and Alexandra. George was christened t St. George's Chapel, Windsor, on 7th July. He was called "Georgie" by his family. When discussing the new baby's name, Queen Victoria is quoted as saying: "if the dear child grows up good and wise, I shall not mind what his name is." The British people who were delighted at the news of another new Prince, wanted to 'preserve the institution.' Luckily for the young prince, his parents showed remarkable qualities of endurance, affection and family love, despite the obvious pressure they were under.
George's mother, the Princess Alexandra, bore six children = Albert Victor, George, Louise, Royal, Victoria and Maud = two princes and four princesses. There was a third prince, Alexander John, but he lived for only 24 hours. George's father, Albert Edward, adored his children and found that he was loved in return. He could communicate beautifully with the children and encourage them in 'zestful play.' When dressed for his Coronation (1902), the children stood and starred at their father (who was dressed in his Coronation robes), and the future King said to them: "Am I not a funny-looking old man?"
Prince George was in awe of his father, it was said that father and son 'kept no secrets from each other.' George was passionately devoted to his mother, who combined beauty with a simple manner and a warm nature, and who lavished attention on all of her children. To Prince George, she was simply 'Darling Motherdear.'
The Prince of Wales chose the Reverend John Dalton to tutor his two sons. The Reverend had first-class academic qualifications, an orderly mind and a devotion to his two Royal pupils. With George, he was able to instil his own taste for tidiness and thoroughness, and his 'friendship' with the young prince lasted until his death in 1931. The two princes had a strict school routine =
up at 7am and studied geography and English before breakfast
8am was Bible study or history
9am was Euclid (a Greek mathematician) or algebra
an hour's break
then Latin or French until the main meal at 2pm
various sports for the afternoon
tea
English, music and prep
bed at 8pm = a full and purposeful day --- the young princes were not allowed to 'waste' their days. This helped to give George a high sense of duty and responsibility.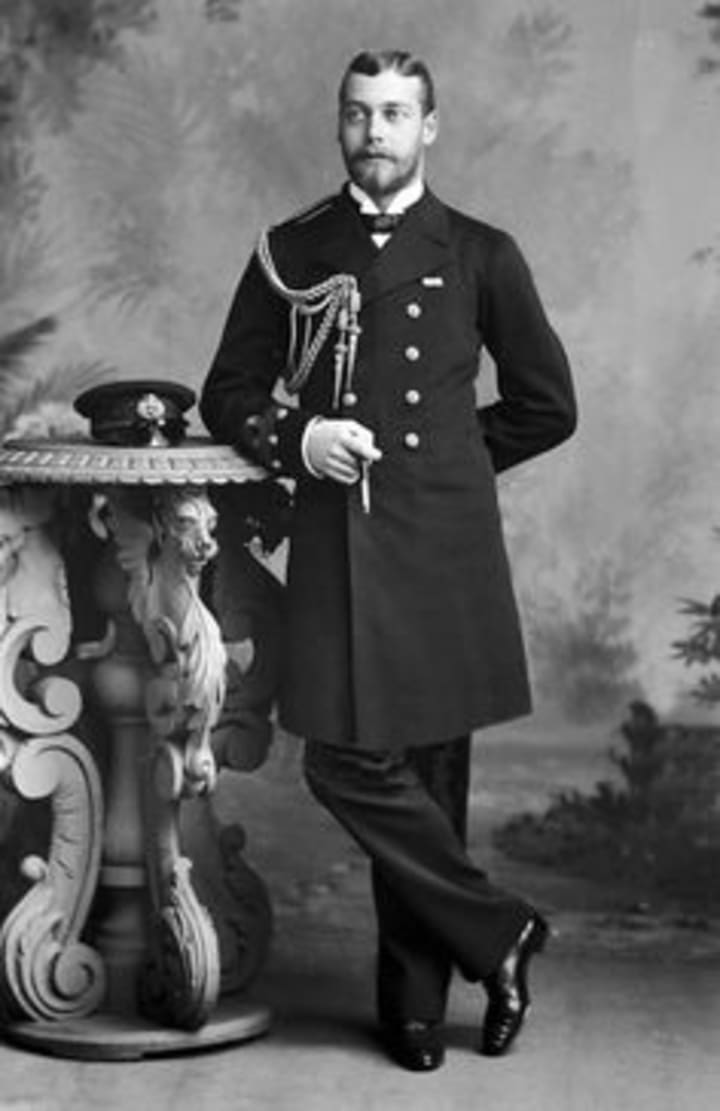 His grandmother, Queen Victoria, showed George and his brother love, kindness and she also gave advice. Giving George a watch for his birthday, the Queen said that she hoped: "that it will serve to remind you to be very punctual in everything and very exact in all your duties. I hope you will be a good, obedient, truthful boy, kind to all, humble-minded, dutiful and always trying to be of use to others! Above all, God-fearing and striving always to do His will."
All of these qualities were a 'Must' for a successful naval officer. As he was not expected to succeed to the throne, George already had a naval career marked out for him. On 5th June, 1877, Prince George passed his entrance exam for the navy and in September he joined "Britannia" at Dartmouth, with his brother, Eddy and Mr.Dalton. Eddy seemed to be listless and a somewhat backward pupil, who showed very little interest in learning, and so it was thought that joining his brother in the navy might help to 'buck up his ideas.' Queen Victoria was not happy about this, as the two princes 'positions' would be totally different. The Queen lost this battle and the Prince of Wales had what 'he' wanted for his sons.
The navy left two outward marks on the Prince George: 1) the full beard which he had for most of his life, 2) his habit of creasing his trousers from right to left (not back to front). On board the Britannia, George showed a talent for mathematics and for sailing. Also, this training ship became a leveller --- there is no aristocracy in the Navy and George had to face the rigours of 'fagging' (the juniors do minor chores for the seniors) and the bullying. Strength counted more than seniority. George himself is quoted as saying: "It was a pretty tough place. There was a lot of fighting among the cadets --- if you were challenged you had to accept --- and I'd get a hiding time and again." "It never did me any good to be a Prince." To teach the princes the value of money, they were given only a shilling a week pocket money. Prince George survived his training and passed out of the Britannia in 1879 at the young age of fourteen.
The two princes now served on the "HMS Bacchante" (accompanied by their tutor Mr.Dalton). This was a world cruise and the princes saw the Mediterranean, the West Indies, Gibraltar and Barbados. Prince George served as a midshipman and passed these exams with ease. In 1881, on visit to Japan, Prince George was received in an audience by the Emperor Meiji. He also had a local artist tattoo a blue and red dragon on his arm.
However, George was missing his mother terribly: "My darling Motherdear, I miss you so very much. I shall think of you all going to Scotland tonight and I only wish we were going too --- so goodbye darling Motherdear." Gaining a few inches in height, George's education was progressing very well. Although George had an 'excitable nature', he never lost his temper --- an admirable quality in a future King of England. The discipline and common sense the prince needed at this time in his Navy career was good training for the future King George V's reign over the British Empire.
The two princes were now separated when George was appointed a midshipman on "HMS Canada." Eddy was sent to Cambridge University. Prince George now acquired the rank of lieutenant at twenty years of age. Queen Victoria wrote to her grandson: "It is in your power to so immense good by setting an example & keeping your dear Grandpapa's name (the Prince Albert) before you."
Prince George's 'pastimes' were unlikely to offend his grandmother (or anyone else). He enjoyed stamp-collecting, polo, billiards and visiting the family of his uncle the Duke of Edinburg (during his time in the Mediterranean, 1886-1888). Another letter to his mother again showed just how much George missed his family (while serving in the Navy): "You will be going to Sandringham almost at once I suppose for dear Papa's birthday. How I wish I was going to be there too, it almost makes me cry when I think of it. I wonder who will have that sweet little room of mine, you must go and see it sometimes and imagine that your little Georgie dear is living in it." Queen Victoria's family, children and grandchildren, set a high price on family love, but Princess Alexandra added the extra qualities of passionate and possessive mother-love. In another letter to his mother, George wrote: "In about three weeks' time I shall be leaving here (Naples) for beloved old England again, it seems too delightful to be true and then in about months' time I shall see your beloved lovely face once more. Oh! Won't I give it a great big kiss and shan't we have lots to tell one another darling Motherdear after having been separated for these long 7 months."
Prince George accompanied his father on a state visit to Berlin (1890), and his cousin William II made him the honorary commander of a Prussian regiment. Showing her distrust and dislike of the German Empire, Princess Alexandra wrote to her son: "And so, my Georgie boy has become a real live filthy blue coated Picklehaube German soldier!!! Well, I never thought to have lived to see that! But never mind; as you say, it could not have been helped." This dislike contributed to the strained relationship that already existed between the Prince of Wales and his nephew the Kaiser.
In the 1880's, British foreign policy wanted to steer clear of the 'entanglements' of foreign alliances AND foreign wars! International peace and free trade were the twin aims of both Liberal and Conservative governments. Britain was now a world power --- The British Empire! Industrialization made British exports 'irresistible.'
Prince George attended his grandmother's Golden Jubilee (1887), and he remained devoted to the Empire until his death. By 1890, he had no idea that his career was to involve anything more than a steady advancement in the Royal Navy. The only other commitment George had was to get married. He did fall in love with his cousin, the Princess Marie of Edinburgh, but because of her connections with Germany, George's mother bitterly opposed the match and Marie had to refuse George when he proposed to her. An unhappy ending for George this time.
In November 1891, George contracted typhoid, the same illness which killed his grandfather, Prince Albert the Prince Consort, and had also threatened his own father's life. Whilst convalescing at Sandringham, his brother became engaged to the Princess Mary of Teck (or May to the family). However, in January 1892, Prince Eddy became ill with influenza which developed into pneumonia. On 14th January, the heir presumptive died.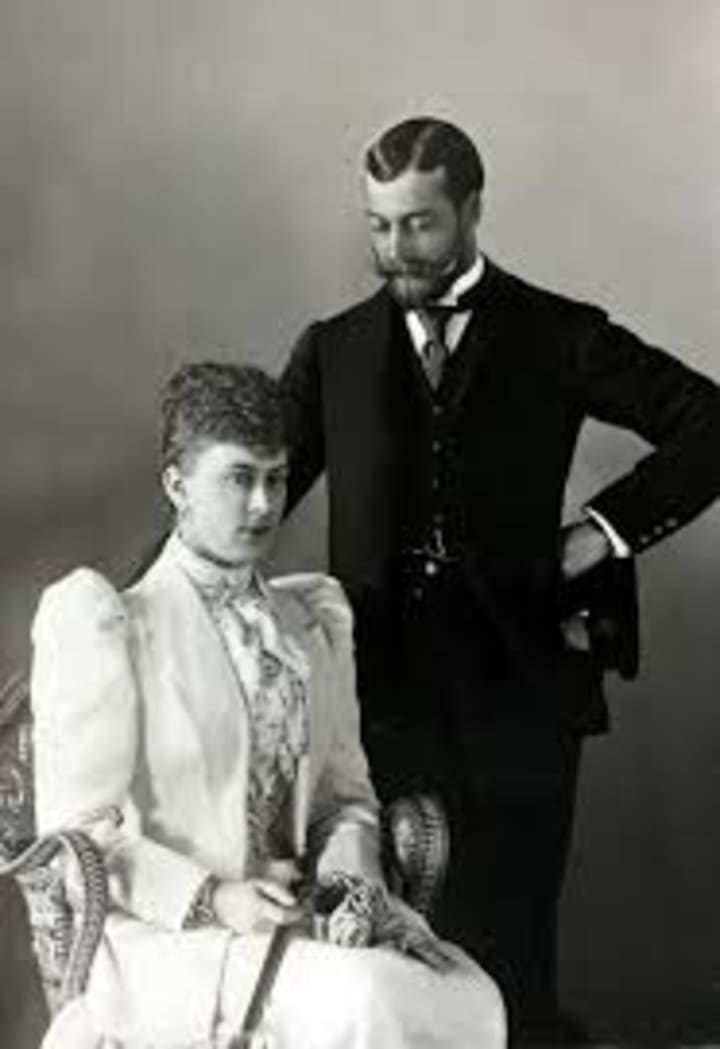 George was now second in line to the throne. He became close to his dead brother's fiancée as they both mourned Eddy's death together. George wrote of his brother's death, to his grandmother (Queen Victoria): "I am sure no two brothers could have loved each other more than we did. Alas! It is only now that I have found out." Yet, unlike his brother who failed to exhibit much aptitude for anything. George was conventional and straight-forward (even in his private life). He was reliable, had good sense and was shrewd, and his anxiety to please, were admirable qualities. It only remained for the Prince George to marry. As happened often within the Royal Circle, George proposed to May who accepted. They married on 6th July, 1893, in the chapel Royal, St.James's Palace. She told George: "I am only looking forward to the time when you & I shall be alone at Sandringham." The newly appointed Duke of York told May: "Thank God we both understand each other. My love for you my darling is growing stronger and stronger every time I see you." The wedding day was a great success, with huge crowds cheering the bride and groom, as well as Queen Victoria.
Less than a year after the wedding, in June 1894, the new Duchess of York gave birth to their first child, a son, who later became King Edward VIII. As with every new baby, Queen Victoria made known her opinion for a name for the baby prince. Writing to the Queen, his grandmother, George said: "Long before our dear child was born, both May and I settled that if it was a boy we should call him Edward after darling Eddy. Of course, one of his names shall be Albert." George's first son was christened Edward Albert Christian George Andrew Patrick David, and he was known as "David" to his family and friends.
In December 1895, a second son was born and on the same day that his great-grandfather, Prince Albert the Prince Consort, had died (some years before). Out of respect for his grandmother, this new baby prince was called Albert. This new prince later became King George VI.
The Duke and Duchess of York had four more children = Princess Mary who was later proclaimed the Princess Royal, Prince Henry who was created the Duke of Gloucester, Prince George who was created the Duke of Kent, and Prince John who developed epilepsy and died at a young age in 1919.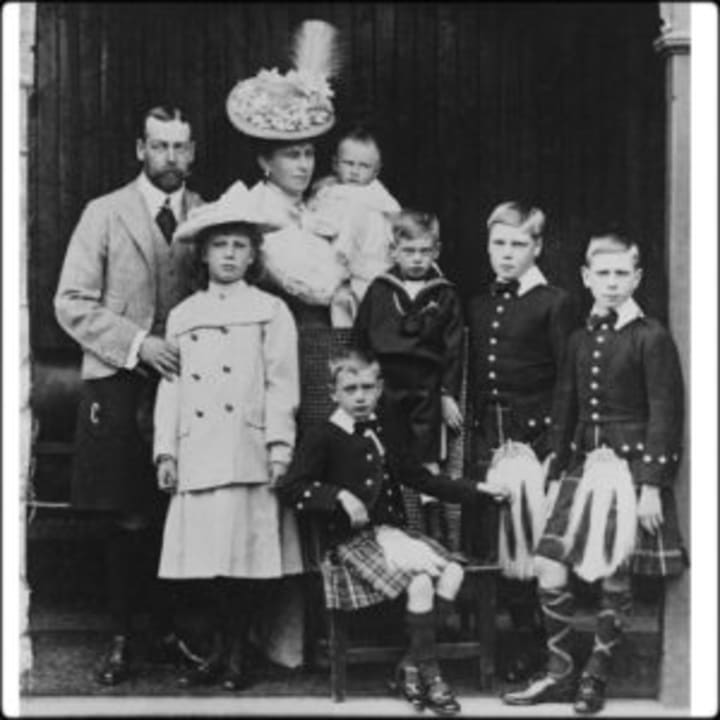 As Queen Victoria's reign was drawing to a conclusion, the Duke and Duchess of York were becoming very popular with the public. Prince George became more confident in public speaking and Princess May, who had a good understanding of languages, enjoyed helping her husband compose his speeches. The young family lived at York Cottage and their life was more like a 'comfortable middle-class family' then royalty.
George carried out a wide variety of public duties. In April, 1900, Prince George went to Berlin to visit the twenty-first birthday of the Crown Prince William and wrote: "It is certainly very disagreeable to me, having to go to Berlin just now & in fact anywhere abroad as they apparently all hate us like poison."
Prince George's grandmother, Queen Victoria, died on 22nd January, 1901, surrounded by her family. His father, the Prince of Wales, was now the King of England and now George was the 'heir presumptive.' The Duke of York was the first to swear allegiance to his father and King, who's Coronation was on 9th August, 1902, at Westminster Abbey.
George was now the Prince of Wales and moved his family into Marlborough House, London. Having been excluded himself from state affairs (when his mother was alive), the new King was determined to prepare his son for the future role of King. George was given wide access to state documents, as he supported the reforms within Naval training .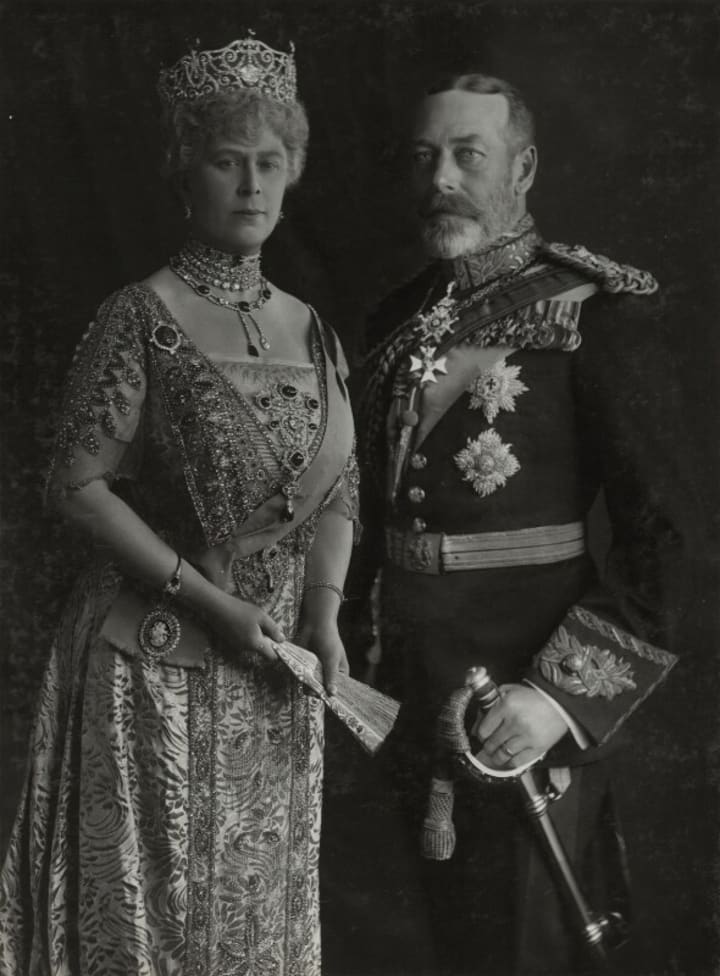 A very human Prince, George comes over as a normal individual who did his best to accept the life that was set before him. Look out for the article: "George V The King."
(My research comes from: "The Life and Times of George V" by Denis Judd / Wikipedia / The Royal Family)
history
I love all things Earthy and Self-Help
History is one of my favourite subjects and I love to write short fiction
Research is so interesting for me too
Receive stories by Ruth Elizabeth Stiff in

your feed