Juneteenth Facts You Might Not Know
Many observe the celebration but may not be aware of it's origin.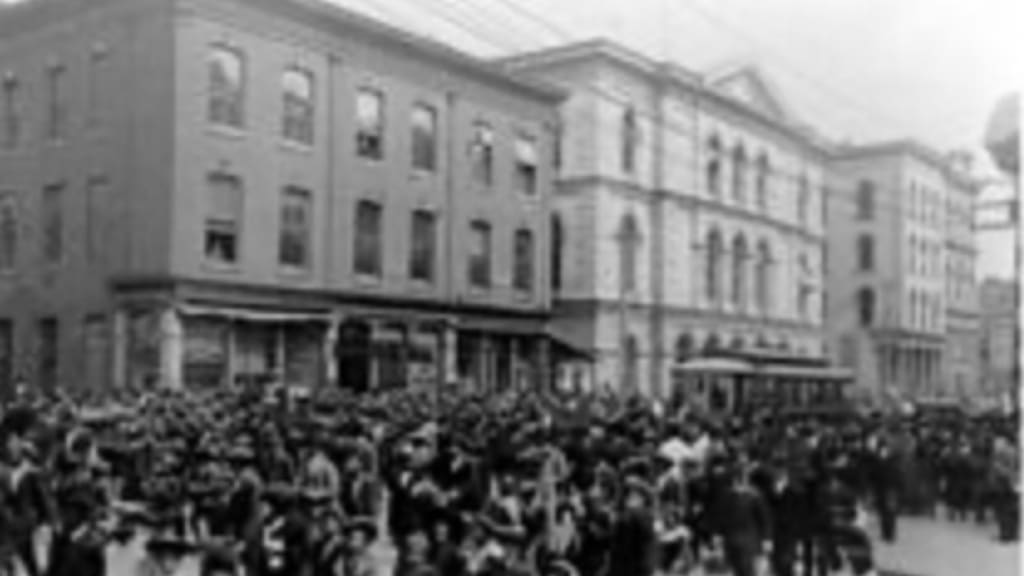 1905 Emancipation in Richmond, Virginia
You may be about to take part in Juneteenth, but are you familiar with the deatails surrounding this yearly summer event? Perhaps you have heard of it but never thought much about what the observance is all about. There are many fascinating layers to this special occasion that probably are not widely known. Juneteenth is an annual African American celebration that is also referred to as Emancipation Day, Jubilee Day, Cel-liberation Day or Freedom Day. It is observed on June 19th or in some places the closest weekend to the date. This special occasion proclaims the events of June 19, 1865, when Union general Gordon Granger went to Galveston, Texas. He read to the enslaved blacks, his federal orders announcing that all slaves had been set free.
It all began on September 22, 1862, in the midst of the American Civil War, when President Abraham Lincoln issued an executive order for the Emancipation Proclamation. This became effective on January 1, 1863, and declared the following: "All enslaved persons in the Confederate States of America in rebellion and not in Union hands were to be set free." Although the Emancipation Proclamation had officially given American slaves their freedom in January 1863, the Civil War by all intents and purposes did not end until April,1865. The slaves remaining in areas not in revolt, were set free by state action, or by the Thirteenth Amendment to the United States Constitution, which was ratified in December 1865.
It has been estimated that by the time the war was over there were more than 250,000 enslaved black people in the state of Texas. This may have been in part due to slave holders fleeing to Texas with their property to escape being involved in the Covil War. This isolation is why slaves in Texas, were clueless that freedom had come. Today any major announcement can go across the Internet in a matter of moments but during the 18th century things were very different. Texas, happened to be the most remote of all the slave holding states. It also had a low representation of Union soldiers. For these reasons, the enforcement of the proclamation of freedom had traveled slowly as well as and inconsistently.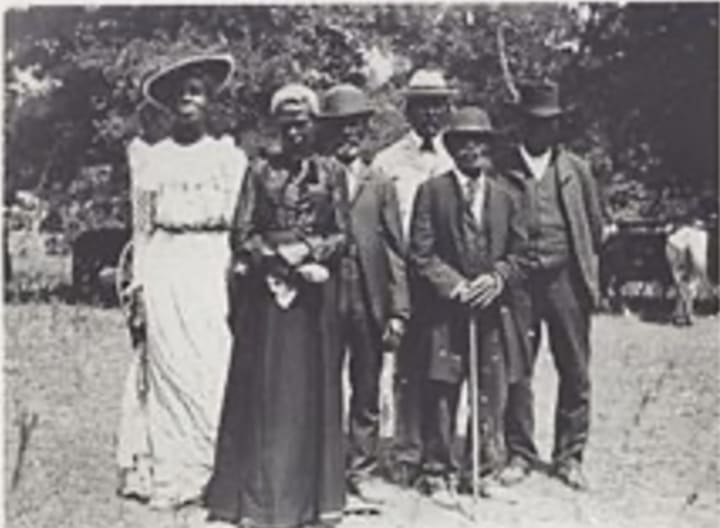 The news of freedom took two and one half months longer to reach the Longhorn State from the time it was first announced and there was immediate celebration. but Juneteenth observances did not officially begin until the following year in 1866. Initially, acknowledgement of the official end of slavery began as a "church-centered community gathering" and was in the state of Texas only. In time, the celebration began to spread across the South and during the 1920s and 1930s, was often promoted as a food festival. In the 1960's Juneteenth was eclipsed by the Civil Rights movement and later by postwar issues. It picked up steam again during the 1970s and the focus shifted to celebrating African American arts along with freedom. Juneteenth is now a festive occasion in most every major city in the United States.
I have not been able to find a specific reason why what happened on June 19, 1865 is celebrated rather than the actual date of the Emancipation Proclamation. My best guest is that it is because Juneteenth is when the last of all American slaves found out about freedom. Today, there are activists who have been campaigning Congress to designate Juneteenth as a national holiday. In Virginia, Governor Ralph Nottham recently spoke on being in agreement with making Juneteenth holiday in the state that was once the capital of the confederacy. There are currently 47 states in America where Juneteenth is recognized as a special celebration or a state holiday.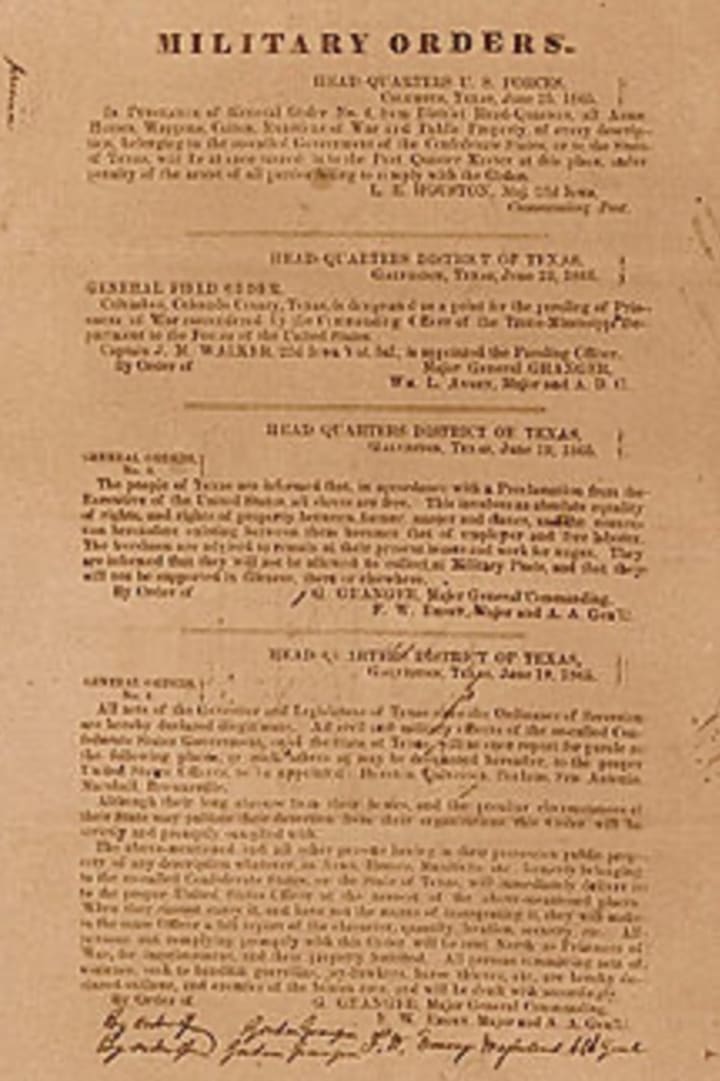 Traditions differ but most every Juneteenth observance has public readings of the Emancipation Proclamation, along with singing traditional songs such sac Lift Every Voice and Sing". Celebrations in some localities include cookouts, special readings, choirs singing, rodeos, street fairs, family reunions, historical reinactments and parties in parks. There have even been Miss Juneteenth contests. The Mascogos,who are descendants of Black Seminole Native Americans in Coahuila, Mexico, also observe Juneteenth. In Toanoke Virginia where I live there is an annual celebration in Washington Park. It begins at 11:00 AM and at times has lasted until 9:00 at night. There are speeches, singers, dancers and music playing. All the food is free and there are booths set up with gifts for those who stop by. There is usually information on education, banking, and health related issues such as blood pressure, diabetes and heart disease.
Although Juneteenth is celebrated as "the end of slavery", the Emancipation Proclamation did not apply to enslaved blacks in Union-held territory. These individuals would not be set free until December 18, 1865 because of the 13th Amendment. During the Great Depression, many African Americans were forced to look for work in citirs and found they could not always get off from their jobs for the celebration. Based on this information, compiled by Wikipedia we now know thetr were three separate events in which slaves were told they were free; January 1863, and July, and December 1865.
The Texas celebrations grew so large that the site of the state fair was used for several years in the 1930's. In 1938 the largest one time gathering to date was reported in Dallas. In 1968 during the Poor People's Campaign in Washington, DC, led by Rev. Ralph Abernathy, the Southern Christian Leadership Conference designated June 19 as the "Solidarity Day of the Poor People's Campaign". In 2020 there are African Americans who say more focus should be on current situations such as the killing of black men by the police. Whether you acknowledge Juneteenth or not, you at least now are armed with historical information regarding its inception.
history
About the author
Cheryl is a poet, freelance writer, published author and former Newspaper columnist. She has degrees in Psycology and Biblical studies. She enjoys sharing natural cures, and Nostalgia related info. Tips are greatly appreciated.
Reader insights
Be the first to share your insights about this piece.
Add your insights