Greta sets the agenda by keeping an eye on WEF
Swedish icon caught in the act?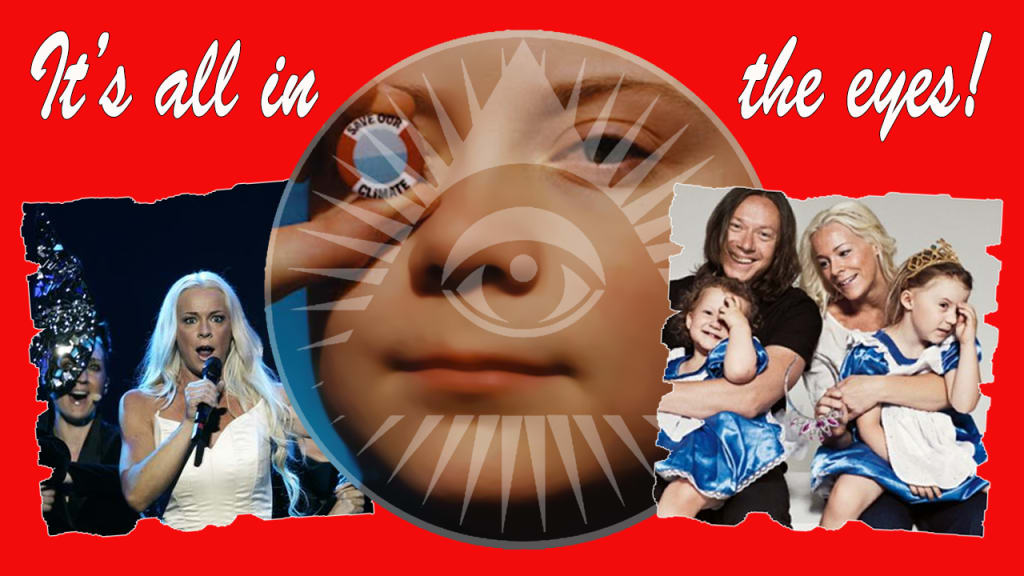 Greta, flanked by Malena at Eurovision and a shot of the Thunberg girls with the parents
If you want to know who not to trust in the year ahead, the World Economic Forum's annual extravaganza at Davos in Switzerland offers a clear early indication.
This year's meeting, which came to a close last Friday, brought together 2,700 of the world's movers and shakers, including 52 heads of state, to map out their agenda of deceit and corruption moving into 2023.
It also brought into play the movement's Swedish "cause celebre"… 20-year-old Greta Thunberg, rushed in to brave "sub-zero temperatures" with about 30 other so-called "activists" for a final flurry of protest to focus attention on calls for "climate justice".
And, it proved to be a busy week for "poor Greta", who also found herself on the wrong side of the law in Germany shortly after the dark lords had assembled for their annual jamboree.
As an introduction to focus attention on the WEF's climate-change agenda, Greta and other members of the organisation's "rent-a-crowd" were planted outside the Garzweiler II opencast lignite mine near the Lutzerath hamlet of North Rhine-Westphalia, only to be arrested on Tuesday during an impressive display of stage-managed protest when participants were carried "out of the immediate danger area to establish their identity".
Fortunately it's a short 725-kilometre trip from Lutzerath to Davos, giving Greta bags of time to arrive at the WEF's centre of operations for a final round of protest after her short detention in Germany.
Greta's reputation as a champion of the planet can be traced back to 2018 when she shot to fame after going on strike in front of her school to protest climate quiescence. Then, a year later, she crossed the Atlantic by boat as part of another protest during a United Nations summit when she also visited the White House to condemn Donald Trump, the US president at that time.
Now, with all the hobnobbing she does it's fortunate the young woman's family isn't short of a bob or two and has friends in high places, with American billionaire financier George "Gyorgy Schwartz" Soros also allegedly a backer of her globe-trotting exploits.
And, I have to confess, the young lady is an impressive performer in front of a crowd... certainly right up there with many of the great child actors to have come before her such as Mickey Rooney, Macaulay Culkin, Mark Lester, Gary Coleman and Judy Garland. Indeed, Greta's performances are perhaps more impressive since she invariably does them in front of live audiences, as was the case in Davos and Lutzerath last week.
But Greta's a natural, she's got acting in her genes… coming from a long line of thespians that includes her parents, Malena Emman and Svante Thunberg, and her paternal grandparents, Olof Thunberg and Mona Andersson.
Greta's mum Malena, daughter of former Sandvik Group chief financial officer Lars Emman, is an accomplished opera singer and stage performer, who is perhaps best recognised outside her homeland as Sweden's 2009 Eurovision entrant, when she performed her own composition La Voix, which earned her 33 points and a 21st-place finish behind fellow Scandinavian winner Alexander Rybak from Norway.
Christened Magdalena, Emman, I must concede, has a fine set of pipes on her and a keen sense of the dramatic, her 2009 performance at the Eurovision final in Moscow focusing many eyes on her.
Funny, because the "all-seeing eye" seems to be a common symbol of the family's quest to save the planet. A "playful" early picture of Greta and her younger sister, Beata, posing with their parents accentuates a reverence for the symbol, which forms a common theme in more current shots of Greta, who follows her mum in playing it up.
Greta's maternal great-grandfather was Karl Andersson, the purchasing manager for Mo and Domsjo, now known as Holmen, one of the largest forest owners in Sweden. He changed his surname to Ernman, which was later modified to Emman by Malena's father Lars.
And, in addition to her father Svante, a famous Swedish actor, Greta's paternal grandparents, Olof Thunberg and Mona Andersson, also trod the boards… their son getting his name from an ancestral cousin, Svante Arrhenius, winner of the Nobel Prize for Chemistry in 1903.
So, with a little research it becomes quite apparent that this is no ordinary Scandinavian family… in truth, it's not far short of being Swedish royalty.
And, although her maternal grandmother Eva was adopted, her biological father was the vice-president of Tetra Pak, a multinational food packaging and processing subsidiary of Tetra Laval.
Such connections are quite impressive and possibly warrant deeper inspection with the name Andersson jumping out for further investigation as it was the surname of both Greta's paternal grandmother and maternal great-grandfather. Could there be a deeper family connection there?
An interesting aside to Greta's climb to notoriety is her battle with Asperger's syndrome, which she was apparently diagnosed with as an 11-year-old, after she suddenly "stopped eating, talking, reading or wanting to do anything".
The condition lasted for several months and affected her family to such an extent that her mother had three breakdowns during her professional activity and five performances had to be cancelled.
After the crisis was averted, Malena turned to the daily newspaper Expressen to publicise the story as a way to highlight her daughter's struggle as a means "to help other families in a similar situation".
Now, whilst I'd be one of the first to express great sympathy for poor Greta and the way she is being manipulated by those who pull the strings in industry and government – commonly referred to as the "New World Order" – I can also acknowledge what an amazing young woman she is and sincerely hope her life does not follow the same fate as the likes of earlier child stars such as Culkin, Coleman and Garland.
But I also sincerely urge people to get wise to the way this young lady is being used by the media to further the New World Order narrative of global warming, overpopulation and dwindling natural resources.
I accept we need to be informed on all these subjects but we must also understand there are other agendas bubbling away beneath the surface… with the all-seeing eye there to shed light on them from all directions.
What is it with all these images of so-called celebrities hiding one eye? Just a harmless random means of self-expression by people in the spotlight or primeval dogma that survives deep within our psyche?
From music videos, magazine covers, movie posters and ads, the ubiquitous presence of the all-seeing eye can't be down to pure coincidence. Swiss psychiatrist Carl Jung identified it as a classic "archetypal symbol" embedded in humanity's "collective unconscious" which, according to him, humans instinctively respond to and unconsciously assign specific meanings to.
"Eyes are probably the most important symbolic sensory organ," states the University of Michigan's Dictionary of Symbolism. "They can represent clairvoyance, omniscience and a gateway into the soul. Other qualities that eyes are commonly associated with are: intelligence, light, vigilance, moral conscience and truth. Looking someone in the eye is a western custom of honesty. In this way covering of the eyes, by wearing a helmet or sunglasses, can mean mystery, not seeing the complete truth, or deceit. The eye often means judgement and authority."
In fact, the eye symbol has always been associated with mysticism and, as the saying goes, is the window to the soul.
From ancient times, the eye and sun have been associated with divinity with the Wadjet, Eye of Horus and Eye of Ra being iconic ancient Egyptian symbols... Horus losing the use of one eye in a battle with Set, which the deity Thoth, depicted with the head of an ibis or a baboon, restored.
But the symbolism is not exclusive to ancient Egypt. In Persia, Ahura Mazda – creator of Earth, the heavens and humankind, as well as the source of all goodness and happiness – was said to have "the sun for an eye". It is also prevalent in Norse mythology, with Odin, father of the gods, represented as an old man with one eye.
So, considering western occultism was greatly influenced by the esoteric teachings of the civilizations mentioned above, the all-seeing eye also assumes great significance for orders such as the Rosicrucians, Illuminati, and Freemasons.
And, in today's society the all-seeing eye has taken on deeper meaning, used by the ruling elite as a symbol of oppression and control. Hiding one eye is often regarded as a symbolic "sacrifice" and, since eyes are the windows to the soul, the gesture can be interpreted as a partial or total surrender of the soul.
The omnipresence of the symbol is also believed to be a show of force by the ruling elite, indicating their ability to wield immense power by dictating the appearance of magazine covers, movie posters and music videos, while also commanding celebrities to do their bidding in videos and at photoshoots.
The agenda at the heart of the all-seeing eye's proliferation? The New World Order's manipulation of humanity, including the promotion of satanism, mind control, transhumanism and the blurring of genders.
But, there is a more positive spin to all the symbolism too, as it offers a convenient method of identifying influences to avoid. So Greta... now might be a good time to lose the ocular gestures, people are beginning to catch on.
About the Creator
From Covid to the Ukraine and Gaza... nothing is as it seems in the world. Don't just accept the mainstream brainwashing, open your eyes to the bigger picture at the heart of these globalist agendas.
JOIN THE DOTS: http://wildaboutit.com
Reader insights
Be the first to share your insights about this piece.
Add your insights