Extinction Rebellion Demands the Truth and Action in Worldwide Environmental Movement
Chappaqua's Susan Rubin Seeks way forward for the Human Race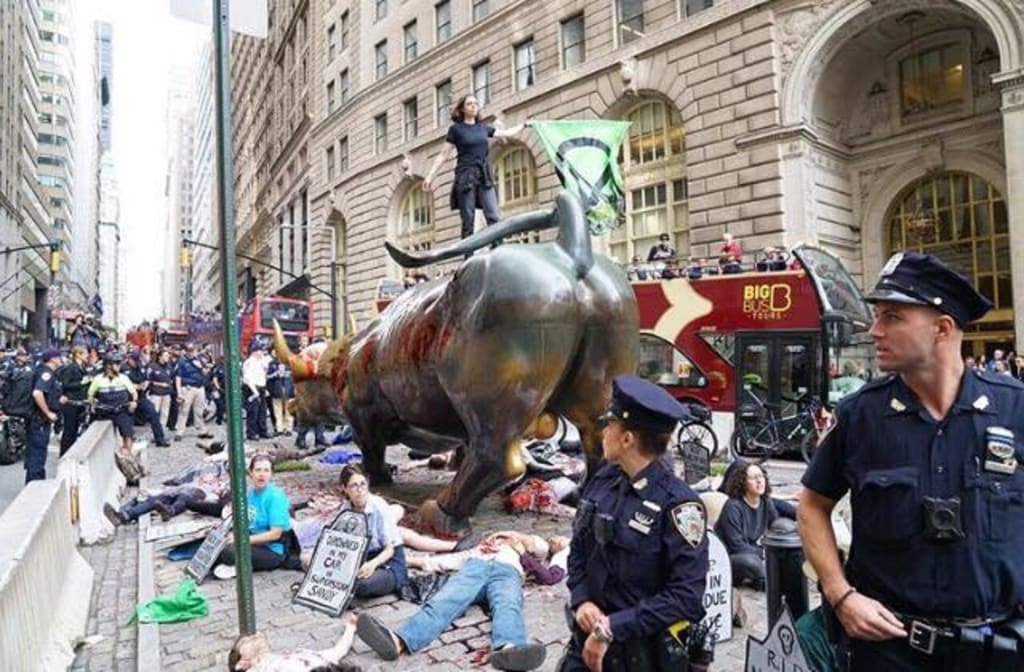 Photos Courtesy of Extinction Rebellion
In 2009, the Democrats controlled congress, the courts and the executive branch. The more environmentally inclined party still increased fossil fuel production but can at least be credited with slightly decreasing emissions. The grade doesn't cut it for long time environmental activist Dr. Susan Rubin, and the Chappaqua, NY resident really didn't have to see the final report card to know that the Obama administration would come up far short. "I stopped smoking hopium in 2009," Rubin said, and can only hold her breath in hopes that the movement she's joined helps avert the environmental catastrophe we all face.
"Extinction Rebellion is a worldwide movement," said Rubin. "We are now in 73 countries in less than a year."
The group was recently responsible for dousing the Wall Street Bull with fake blood and represented a day of action in 60 different cities across the globe. 96 arrests to their credit, nonviolent civil disobedience takes precedence over submitting to politeness. "Unfortunately, arrests are what gets front page news," Rubin said.
This leaves Extinction Rebellion in position to make its primary demand - tell the truth. "Government must tell the truth by declaring a climate and ecological emergency, working with other institutions to communicate the urgency for change," declares the ER website.
So the Trump administration trying to bury the IPCC (Intergovernmental Panel on Climate Change) lead last year will no longer do. "We have 12 years to cut emissions in half," she said. "Otherwise, we're going to reach irreversible tipping points."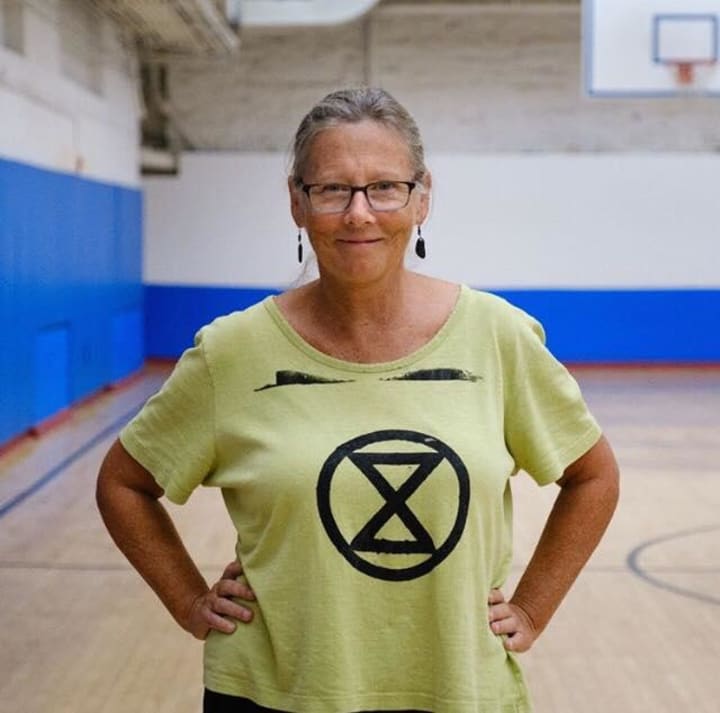 The thousands of people dying every day of extreme weather goes without saying, while a five degree increase in temperatures will make most of the planet uninhabitable. But it's more than the government and deaf ears that needs the rebellion's intervention. "The media doesn't know how to cover this to the magnitude it deserves," Rubin said. "They'd rather gives us reality show news."
Thus ER seeks standards from the media, and when 2000 protestors surrounded the BBC, the script at their London studios wasn't flipped, it was shut down. And America's paper of record was next. "The New York Times recently pulled out of the money and oil conference," Rubin beamed.
But calling out the bad actors is only the beginning. "We must have a net carbon output of zero by 2025," asserted Rubin.
The numbers don't necessarily align to the photovoltaics of the sun or the gyrations of wind turbines. "It's about our addiction to growth, and you cannot continue to grow on a finite planet," she said.
Achieving de-growth, though, does not have ER plotting a specific course, while understanding that traditional government will fail to measure up. "We need to outsource this to citizen assemblies," Rubin revealed.
Similar to jury service, selection brings forward a cross section of community members where balanced information from experts will be heard and recommendations are voted on. "This is the fairest and most powerful way to cut through party politics. It will empower citizens to actually work together and take responsibility for our climate and ecological emergency," states the rebellion website.
Citing real successes on pertinent issues in Ireland, Canada, Australia, Belgium and Poland, ER doesn't have to exalt from an ivory town "This isn't pie in the sky," the website declares.
Still, the Westchester suburbs provide a little too much cover for her local brethren. "People feel like their wealth will protect them," laments Rubin.
Dissonance such as this gives her good cause to despair. So staying active in the movement provides the only antidote and makes sure the change she wants to see in the world gets her best effort "On my last day on this planet, I will be able to look at my kids and say, 'I fought as hard as I could," she concluded.
For more info : https://rebellion.earth
Please Like my page on Facebook
Author can be reached at [email protected]
Reader insights
Be the first to share your insights about this piece.
Add your insights