'Covid' Ops: The Bayer-Monsanto dichotomy
Staring into a heart of darkness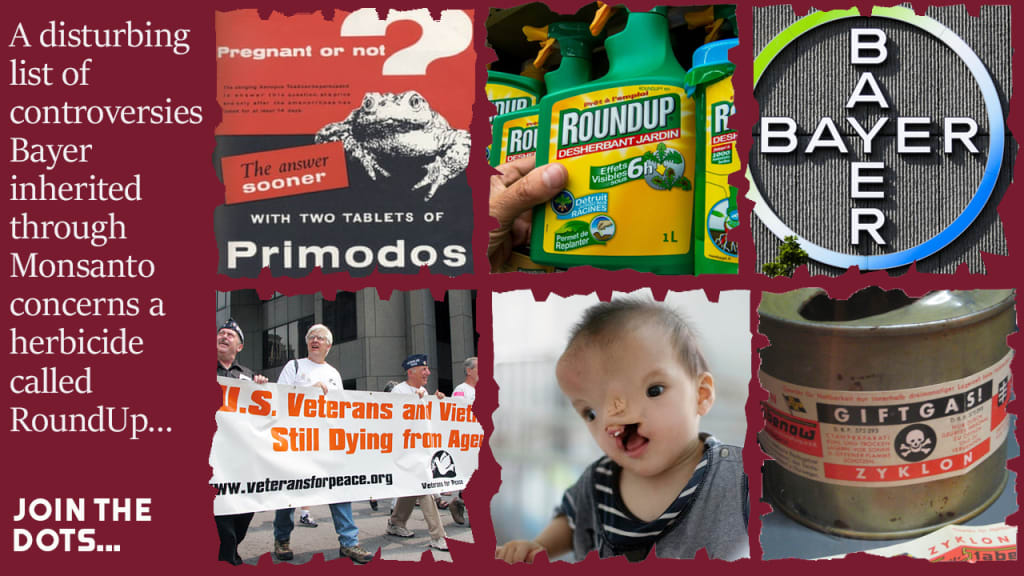 I only have to see the name Bayer mentioned in an article about health-care, drugs, cancer or anything to do with medicine and the hackles on the back of my neck become raised… this company played a huge part in the Third Reich's assault on mankind and its record on human-rights violations hasn't improved greatly ever since.
It turns out that the German pharmaceutical conglomerate closed a US$63 billion merger deal with another company with questionable ethics, Monsanto, in June 2018 after getting the required permission from US and EU regulators.
Monsanto's efforts to promote genetically modified crops have been the subject of much controversy from anti-GM activists and the US company has spent millions of dollars over the years on brand and corporate ad campaigns to improve its overall image. The deal with Bayer set the stage for the almost 120-year-old agribusiness' corporate name to be dropped by Bayer… who also conveniently shed the name IG Farben after World War II.
Since 2012 Bill Gates has come under fire for his investment in Monsanto, but as of June 2015 the biggest holders of the company's shares were a number of investment funds, with the Vanguard Group at the top.
The Vanguard Group owned more than US$3 trillion in investments at that time in different companies such as Monsanto, with holdings in many of the world's largest businesses as well... such as Bank of America, JP Morgan, Citigroup, Wells Fargo, Goldman Sachs, Morgan Stanley and Berkshire Hathaway, a huge benefactor of the Bill & Melinda Gates Foundation. I suspect they still maintain those interests. Vanguard now has a more than three per cent holding in Bayer.
Vanguard Group, State Street Corporation, Capital Research Global Investors and FMR (Fidelity) were the largest shareholders in Monsanto… with those four organisations having controlling interests in all the big banks and many of the biggest companies on the planet.
Furthermore, the US Federal Reserve is comprised of 12 banks, represented by a board of only seven people, largely comprised of representatives of these "big four" organisations.
According to reports an analysis of the relationships between 43,000 transnational corporations has identified a relatively small group of companies, mainly banks, with disproportionate power over the global economy… including agribusiness.
But what should really be concerning us is who owns Vanguard. And why are they not in the public eye when GM-labelling is heavily debated and countries claim contamination of their food supplies, suicide rates and poisoning from GM agrichemicals is rife?
The money trail supporting the "ground-breaking" science that keeps cropping up in the biotech environment is also concerning, according to a report released in 2014 the global elite have up to US$32 trillion stashed away in offshore banks around the globe, which can fund lawsuit after lawsuit against people seeking justice for the harm inflicted by these products.
It's also quite staggering how the majority of people in our society struggle to accept that perhaps the pharmaceutical industry does not have the best interests of humanity at heart.
In the days of Nazi Germany, Bayer was known as IG Farben, and an article I found refers to a passage taken from the website War History Online which clearly explains the dark history of the pharmaceutical giant: "Auschwitz was much more than a concentration camp. It was also the setting for IG Auschwitz, a 100 percent subsidiary of IG Farben. It was the largest complex in the world manufacturing gasoline and rubber.
"It was also where IG Farben tested its products. Prisoners who were considered appropriate candidates were sent to the IG Auschwitz factory. There they were used for human experiments of new vaccines being developed. The unlucky individuals sent to the gas chambers were privy to another kind of IG Farben invention – the synthetic gas Zyklon-B."
So thanks to Bayer we have Zyklon-B and thanks to Monsanto we have Agent Orange, widely known for its use by the US military as part of its chemical warfare programme Operation Ranch Hand during the Vietnam War.
Used by US troops to strip Vietnamese forces of ground cover and food, Monsanto was one of a handful of companies that supplied the US government with the chemical. Between 1961 and 1971, the US Army sprayed 12 million gallons of Agent Orange... containing the highly toxic substance dioxin over a large portion of southern Vietnam.
Millions still suffer to this day, as deformities resulting from Operation Ranch Hand are passed down to the offspring of exposed victims, including Vietnamese and American forces.
Monsanto has argued: "The government set the specifications for making Agent Orange and determined when, where and how it was used. Agent Orange was only produced for, and used by, the government."
And just one of a disturbing list of controversies Bayer inherited through Monsanto concerns a herbicide called RoundUp, which includes the active ingredient glyphosate.
As of 30 October 2019 there were more than 40,000 plaintiffs involved with a suit saying glyphosate-based herbicides caused their cancer.
One such case saw a northern California jury order Bayer to pay more than US$2 billion to a couple who say they were diagnosed with cancer after using the glyphosate-based weedkiller.
The San Francisco Superior Court in Oakland said the company had to pay the plaintiffs, Alva and Alberta Pilliod, the damages after they contracted non-Hodgkin's lymphoma. Alva Pilliod was awarded a total of US$1.37 billion, while his wife Alberta was granted US$1.18 billion.
The jury said the company's product did not properly warn of its cancer risk.
Bayer said in a statement it was disappointed with the jury's decision and planned to appeal, adding that it "conflicts directly" with the Environmental Protection Agency's finding that there are "no risks to public health from the current registered uses of glyphosate".
It was the third lawsuit the company had lost related to claims RoundUp causes cancer. Bayer paid US$159 million in damages in the first two cases, with the company saying it would appeal both verdicts.
And in February this year the first US trial over another Monsanto herbicide called Dicamba landed Bayer and its German rival BASF with another potentially multi-billion-dollar problem.
Jurors in federal court in Cape Girardeau awarded US$265 million to a Missouri farmer who blamed the herbicide for destroying his peach orchards. The companies now face more than 140 lawsuits over allegations that Dicamba wreaked havoc across the Midwestern US when it drifted onto crops that weren't engineered to resist it.
At least seven other Bayer pharmaceutical products have also been the subject of widespread personal injury lawsuits.
As of May 2018 more than 10,000 women had filed suits against Bayer over the hormonal birth control product Yaz, with the company settling more than 8,000 cases for US$1.7 billion. About 60 federal lawsuits remained pending.
There were also more than 520 lawsuits pending in New York over the intrauterine contraceptive device (IUD) Mirena, that claim Bayer failed to warn the device may move in the body. The company also faced 16,800 lawsuits relating to the permanent birth control product Essure, with the suits blaming the device for serious injuries and death.
At the same time Bayer was also fighting about 22,000 federal lawsuits in Louisiana relating to the anti-coagulant (blood thinner) pill Xarelto, which it seems can cause severe bleeding.
Bayer also settled about 150 Trasylol lawsuits for US$60 million in 2010, with studies linking it to an increased risk of death and other serious injuries. And in 2005, itr paid US$1.1 billion to settle about 3,000 Baycol death and injury claims with the suits focusing on rhabdomyolysis, a serious muscle condition that can cause death.
Its fluoroquinolone antibiotics Avelox and Cipro have also been in the spotlight, with the company involved in more than 780 lawsuits claiming the antibiotics caused aortic injuries.
But one case that really made me grimace followed its 2006 acquisition of Schering and its denials that there was a link between one of their products Primodos, despite compelling evidence that it had caused birth defects in the UK during the 1960s and 1970s. A matter that was covered up by the UK medical regulators.
A pregnancy test, Primodos was made up of two pills which would induce a period in women who were not pregnant. However, many families believe if the mother was pregnant, it damaged or even killed their children in the womb.
Lawyers representing more than 200 claimants have written letters accusing two drug companies and the UK regulators of being negligent and putting patients at risk.
If successful the claim could be worth billions as the alleged victims all suffer with a variety of life-changing difficulties, including limb malformations, musculoskeletal abnormalities, heart defects and brain injuries. Some parents are also claiming still births were caused by the drug.
Recipients of the letters include Bayer, who took over Schering, and Sanofi, whose predecessor company Roussel produced a similar drug called Amenorone Forte.
The proposed legal action follows a Sky News investigation in 2017 which also showed manufacturers were warned by UK regulators that those using the drug had an increased risk of malformations… and that records from that study appeared to have been deliberately destroyed in order to frustrate any future legal action.
The investigation also found the drug was being used in other countries, at higher doses, to induce abortions, and that there had been a legal settlement in the 1970s in the US against a drug made up of the same components.
The manufacturers are accused of marketing the pills without establishing whether they were safe. Lawyers also say they delayed removing the drug when concerns first emerged about the risks it posed to the unborn fetus. The test has been officially linked to more than 3,500 women whose babies suffered birth defects, though campaigners believe the figure could be far higher.
According to the Sky investigation Dr William Inman, of the UK Committee on Safety of Medicines, reportedly had written to the drug's manufacturer Schering to warn them to "take measures to avoid medico-legal problems" and later had his research destroyed to avoid "individual claims" being made. The medical regulator was first notified about the potential link in 1967, but did not issue any warning until June 1975.
So with very little imagination it becomes clear to see that these organisations, controlled by a cabal of extremely wealthy investment funds and private investors, have little regard for the human suffering many of their products produce. These same companies are at the heart of worldwide population control programmes, GM-modified intensive farming and at the forefront of the amazing new advances taking place in the sphere of biotechnology.
These super-rich oligarchs wield huge influence over United Nations organisations, finance vaccine programmes and are investing heavily in companies conducting research into gene manipulation, which in the past three years has seen revolutionary change.
Would you want a Covid-19 vaccine produced by these people, for a virus that only seriously affects those with extremely compromised immune systems? I fear the mind control being perpetuated at the moment means people the world over will be clamouring for it… I hope I'm wrong!
Germany's Bayer closes $63 billion Monsanto takeover, plans to drop US company's name
Bayer Faces More Monsanto Pain With Trial Loss On Dicamba
Evidence of drug's link to birth defects bolsters 'cover-up' claims says MP
Primodos: Firms and govt face legal action over claims pregnancy drug 'damaged babies'
Why Warren Buffett makes Vanguard founder Jack Bogle feel like 'one of the lucky ones'
Vanguard to buy another $1B in Berkshire shares
Bill Gates still shilling for Bayer
Gates Foundation ties with Monsanto under fire from activists
About the Creator
From Covid to the Ukraine... nothing is as it seems in the world. Don't just accept the mainstream brainwashing, open your eyes to the bigger picture at the heart of these staged productions.
JOIN THE DOTS: http://not.wildaboutit.com
Reader insights
Be the first to share your insights about this piece.
Add your insights