COVID-19 and Its Effects on European Countries
The rapid changes caused by a novel virus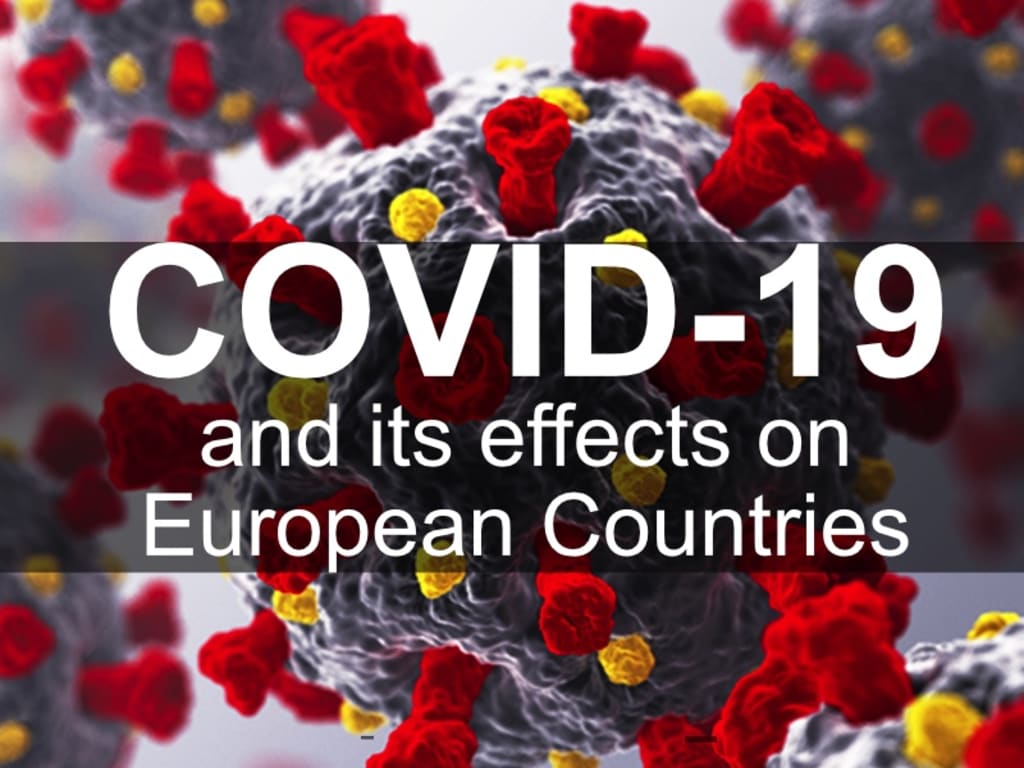 COVID-19
All over the globe, nobody would have predicted that the year 2020 would be affected by a global pandemic. Over the years, some parts of the world have been recorded to be bedeviled with deadly diseases. For instance, the Ebola Virus did not affect all the countries of the world during its reign. However, virtually all countries of the world were hit and are still hit with the deadly coronavirus. It has caused an abrupt end to every activity that cut across all phases of life as churches, mosques, markets, stadia, music and entertainment industry, public and private companies, schools, etc were all put on hold forcefully. In a nutshell, a global lockdown was enforced in order to find a lasting solution to the deadly virus.
In December 2019, the first case of COVID-19 was recorded in the Wuhan province of China. The deadliness of this virus did not count until the year 2020 when it eventually became a global pandemic. It affected both developed and underdeveloped nations of the world. It was reported that the Prime Minister of Italy shed tears as hundreds of thousands of people died on daily basis. He sadly accepted defeat as he reiterated the need to turn to God as all technological capacities and capabilities have been exhausted. However, this was later debunked and the Brazilian president came to the fore. According to Wikipedia, as of February 5, 2021, more than 105 million cases have been confirmed, with more than 2.29 million deaths. This statistical analysis shows the deadly nature of the virus. It is on this premise, that this article seeks to explore the negative effects of the coronavirus on economic activities in Europe.
Firstly, there is an increase in the rate of unemployment. Jobs are lost on daily basis and a loss of a job is equivalent to a loss of income and livelihood. Earnings that are generated from the services rendered are used to run finances. Rents are expected to be paid, taxes are not to be evaded and other utilities are dependent on the salaries or wages earned. This suggests that the channels through which finances are built were blocked (loss of jobs) as a result of the deadly virus. It is worth remembering that, the lockdown was entrenched in the affected countries. There was no room for physical business interaction. As a result of these irregularities, the economies were affected negatively.
Also, the eventual closure of borders, aviation, and lack of tourism activities added to the economic woes of the affected European countries. In some countries whose major source(s) of income is/are tourism, aviation could not successfully carry out these activities. Policies on restrictions on international airports were executed. The catalyst for these policies by policymakers was to safeguard the citizens from this deadly virus.
In addition to the above, as governmental parastatals and corporations, as well as privately owned investment, could not carry out their daily business activities, the government is left with no other option, but to resort to obtaining emergency loans and grants to run the economy. Government generates revenues from its established structures and institutions in the country while privately-owned companies pay taxes which also serve as a form of revenue generation for the country. This effect is so deep that some countries had to disburse funds to the populace. For instance, in the US, the government disbursed funds and relief materials to the populace in order to alleviate hunger and help those in need.
To cap it all, a recession is arguably in view as there is a decrease in the GDP globally. The coronavirus is said to be easily contacted through body contacts, contact with surfaces already touched by a carrier of this virus, etc. The health sector had to issue warnings about controlling the spread of this virus and this made policymakers halt all activities in the countries. Top European countries could not facilitate economic activities to boost GDPs. If care is not taken, no one knows when some countries or the all world, in general, will be free from this mess.
Resources:
https://www.msn.com/en-in/news/world/after-blaming-us-and-india-china-claims-covid-19-originated-in-australia/ar-BB1bJUrs