Best Podcasts for Political Junkies
The best podcasts for political junkies are often simultaneously entertaining and informative.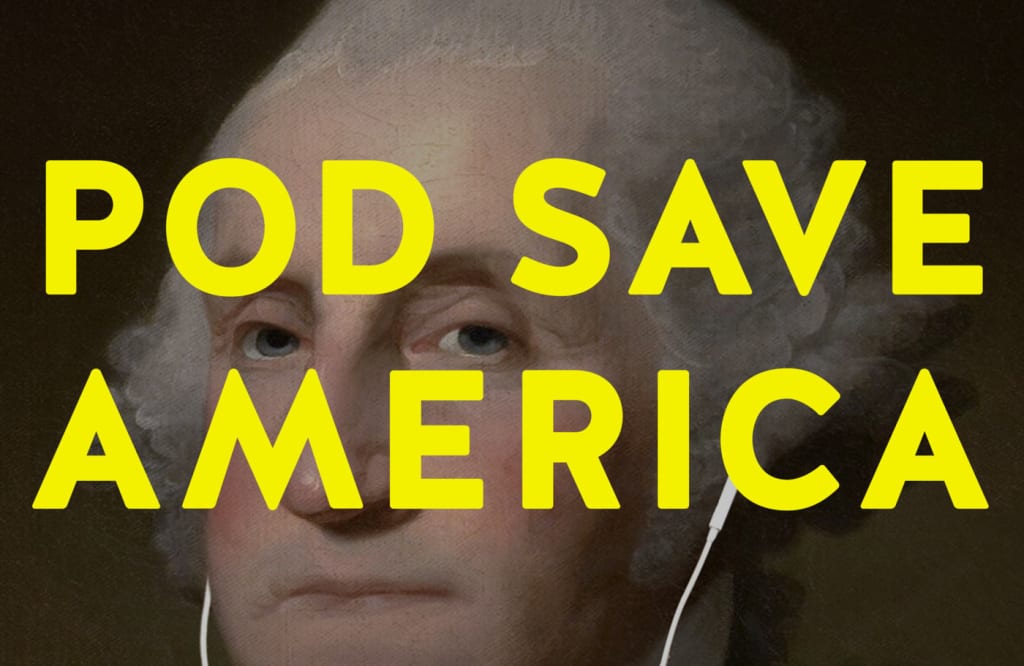 In these troubling political times, we need doses of sanity where we can get it, and that's where the best podcasts for political junkies come in. The best political podcasts blend policy discussion, insights, and a touch of humor. This day and age, it's vital to be entertaining and informative at the same time.
Political reporters and pundits from several different political spectrums share their well-honed thoughts and opinions, but one big thing is the major focus—the White House. With the Trump White House, and the sheer amount of scandals, now is the critical time to be involved and plugged into what is going on—we can't afford not to engage. Check out some of the best weekly podcasts to keep you tuned into American politics below.
"Pod Save America" is one of the best podcasts for political junkies because of how deep into the weeds they get on actual policy that will impact us all. Hosted by three former Obama staffers, the podcast is released twice weekly and features a host of different interviews with key figures in American politics, as well as their parsing of the political news of the week, or, with the way things are currently, hour.
Admittedly, it isn't and easy listen if you happen to be a Republican or even an independent—it's often in lockstep with the Democratic parties talking points. However, if you lean left it's hard not to enjoy "Pod Save America," as the hosts are all enthusiastic about creating change, their personalities are vibrant, and they work incredibly well together—these guys clearly give a shit.
Hosted by Michael Barbaro, "The Daily" is a podcast from the New York Times, which is released five-times-a-week. It comes out every day of the week at six in the morning and is only 20 minutes long, perfect for daily commutes or over your morning coffee.
"The Daily" tackles a wide variety of issues, but all of them have a political slant. It's pretty straightforward and informative, clearly one of the best podcasts for political junkies. It's has a lot less opinion than other podcasts, making it a great options for those just after the facts.
If you're a fan of fearless, investigative journalism, then "Intercepted" is the perfect podcast for you. Hosted by decorated independent journalist Jeremy Scahill, "Intercepted" focuses on the most critical issues of our time: national security, civil liberties, foreign policy, and the prison system.
The reporting is often accompanied by interviews with important thinkers and artists, all who are generally outside of the mainstream CNN talking head circuit, surely one of the best podcasts for political junkies who wish to dig a bit deeper. "Intercepted" is the place to go to get commentary on stories you'll likely hear very little about everywhere else—war crimes, bombing raids, bi-partisan corruption, etc.
Hosted by Terry Gross, the Peabody Award-winning program, "Fresh Air," focuses contemporary arts and issues, and is one of public radio's most popular programs, easily one of the best podcasts for political junkies. Terry Gross is and interviewing icon, and listening to her talk to authors, journalists, and assorted political figures is always incredibly intimate.
Despite what some folks on the right might say, NPR is generally pretty down the middle in terms of the political spectrum. Just because more liberals and lefties tend to listen doesn't make it skewed—the information is always presented quite thoughtfully and even handed.
"Waking Up" is essentially an interview podcast, simply a long-form conversation, often between two people who vehemently disagree. Philosopher, neuroscientist, and best-selling author Sam Harris explores important and controversial questions about the human mind, society, and current events with guests who range from activists to academics.
The great part about these talks, and what makes it one of the best podcasts for political junkies, is the transformation that sometimes happens midway through. Sometimes, Harris and guests simply disagree the whole time, but on those rare occasions, we get to see people re-thinking their views in real time and coming closer together.
In "Politically Re-Active," two comedians and friends try to help us navigate the current hellfire our political landscape has turned into. They speak with influential artists, activists, authors, journalists, and political thinkers, all with a bit of a comedic spin.
They talk about becoming part of the resistance (a term I loathe), but it's one of the best podcasts for political junkies who prefer a little humor spliced in.
I felt the need to include some conservative voices on this list of the best podcasts for political junkies, and I figured the fastest growing one was a good choice. Conservative wonder boy Ben Shapiro is clearly smarter than most of the other people in his line of work, and noticeably less full of shit if you give his program a chance—which, admittedly, isn't all that easy.
He seems willing to discuss the important issues with anyone, and has no problem skewering both sides of that political divide. "The Ben Shapiro Show" comes out almost every weekday, and runs for about an hour.
Political activist DeRay Mckessen hosts "Pod Save the People," bringing us conversations about culture, social justice, and politics. He talks about the struggle for progress, and interviews those who are out there on the front lines trying to make it happen. If you want to become more of an activist, it's one of the best podcasts for political junkies.
Mckessen lays out a plan, and discusses the measures and steps that each of us can take to make a difference—no matter our political power.
"The Rubin Report" is one of the best podcasts for political junkies who tend to lean Libertarian. If you really care about free speech, are tired of overt political correctness, and enjoy discussions about big ideas, you should really check out the show.
Dave Rubin is only interested in having real, in-depth conversations, and interviews that are all surface never happen on his show. Authors, journalists, comedians, and assorted influencers join him weekly to process the latest in politics and current events.
Larry Wilmore is back after the cancellation of his show on Comedy Central, and we should all be thankful—it's one of the best podcasts for political junkies. With his easy humor, Larry weighs in on the issues of the week and takes aim at the White House, interviewing guests in the worlds of politics, entertainment, and culture.
Wilmore invites on people from all sides of the political spectrum, and talks with anyone from Bill Maher to Ta-Nahesi Coates. The Emmy award-winning performer balances humor and empathy throughout, giving us doses of honesty when needed, or as he'd put it, keeping it 100.
social media
About the author
Joseph Farley is a North Jersey based writer who loves short fiction and stand-up comedy
Reader insights
Be the first to share your insights about this piece.
Add your insights