Austerity Britain Is Like a Modern Day Dickens Novel
Life Under a Conservative Government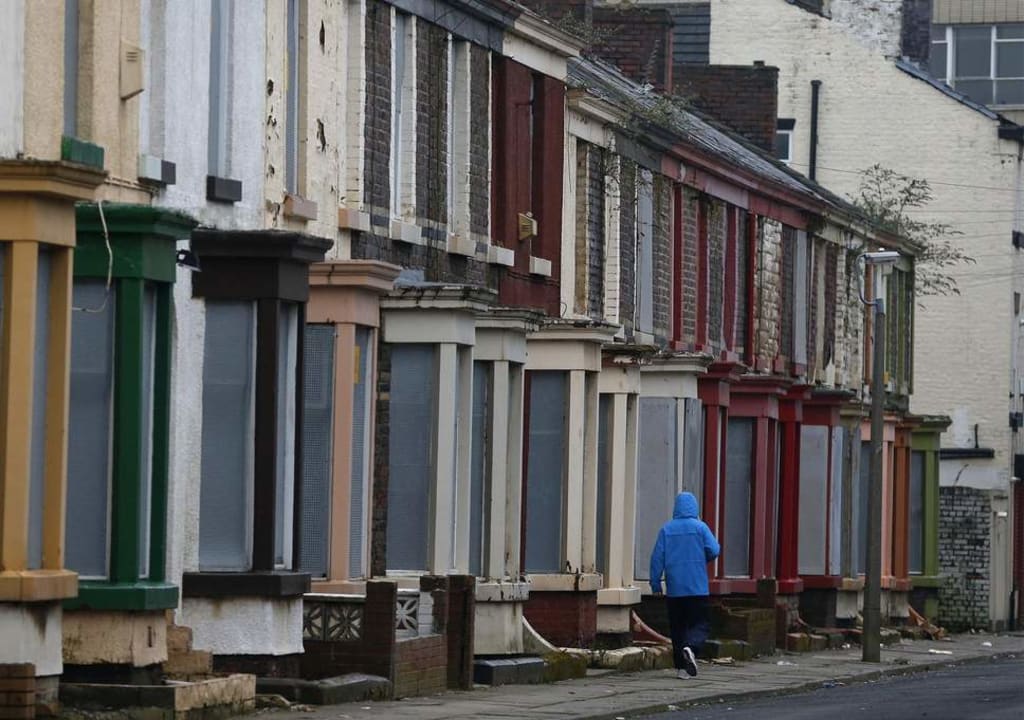 I have been engaged with politics since the Conservatives came into power via a coalition government, back in 2010. I can remember feeling, even at 16, that my life was going to change for the worst. I come from a proud working-class background in Liverpool, in the north of England: a staunch Labour stronghold, with deep socialist roots; a place that past Conservative governments (namely under Thatcher) have tried to destroy. Education schemes, funding, signposts to opportunities not afforded to the generations before me, and not least, sacrifices by my ever-supportive mother, have meant that I was the first in my family to go to university—despite the enormous tuition fees and interest rates on student loans imposed by the Tories, to try and keep people like me out of the world of the educational elite. Waving goodbye to Labour in 2010, and beckoning in the past eight years of austerity under the Tories, have done untold harm to cities like mine—and the end does not seem to be in sight.
It is impossible to know where to begin. Since the introduction of austerity, Britain has been hit with massive cuts to public spending. The bedroom tax, cuts to the NHS, slashes in local authority budgets, making it more difficult to access benefits, and draconian disability assessments, to name but a few austerity measures, have done irreversible damage to the UK. The UN recently noted how it has inflicted 'great misery' upon the country, and that is putting it lightly: it is estimated over 120,000 people have died unnecessarily since 2010 due to austerity measures. This is on top of the thousands of people who are terrified to put their heating on as it may mean they cannot afford food, the people who have to use food banks despite working, the girls who miss days of school every month because their parents cannot afford tampons—the list is never-ending.
September saw the beginning full roll-out of Universal Credit (UC) in Liverpool, scrapping the traditional, individual benefit payments, in favour of a 'one size fits all' approach. Supposedly designed to encourage people into work, and top up the wages of those on a low income, UC has been an unmitigated disaster in the city, trapping people in an inescapable cycle of poverty. The new benefit was previously running on a 'live service', meaning it was only for single, unemployed job seekers, which had massive issues in itself. Nevertheless, the government have chosen to ignore warning signs, and roll out UC citywide (despite even Work and Pensions secretary, Esther McVey, admitting there are ongoing problems with it) to people with far more complex circumstances than those it was trialled upon.
UC replaces Job Seeker's Allowance, Child Tax Credit, Housing Benefit, Working Tax Credit, Income Support Allowance, and Employment Support. The process for applying is long and confusing, requiring a multitude of documents that many may not have, and can only be completed online – and in one sitting. Applicants then need to contact their local Jobcentre to arrange an appointment. If you are a couple that live together, even if you aren't married, you must apply for UC on a joint basis, and the money is paid into a joint bank account. Even these few stipulations flag up multiple, serious issues. What about those who do not have internet access, or are not computer literate? What about those who cannot easily access a job centre? A grand total of eight jobcentres have closed in Merseyside recently, yet people are still expected to easily access these facilities for appointments—ignoring the fact that many don't have the money for bus fares, have children that make travelling difficult, or other problems. Additionally, having to apply as a couple, even if you aren't married, will make it even more difficult for those in abusive relationships to escape, as they are financially tied to their partner.
The battle isn't over once your claim is successful, however. There are some harrowing tales of people being slightly late or missing an appointment, because their mother has died, or they're recovering from surgery. No sympathy from the UK welfare system, though - no matter your excuse, you will be sanctioned, and not receive any money for six weeks. Again, the Conservative government inflicts the harshest treatment on those that have the least. Their crime? Being poor.
UC has faced a massive backlash from politicians past and present, organisations, and individuals. Dan Carden, MP for Walton, gave a speech in the House of Commons in September, detailing how many landlords in his constituency are refusing potential tenants on UC, because of massive delays in payment. UC is paid monthly in arrears, meaning it can take five weeks to receive the first payment from when the application is approved. The Tories are very quick to emphasise how UC incentivises people to work, as it ensures that work always pays, but the reality is drastically different to the picture the Tories are so eager to paint. Unemployment, they say, is at its lowest since 1975, yet 2.8% of the workforce are on zero-hour contracts, meaning they have no stable income, and the way that some companies pay their staff means that sometimes people will be paid twice in one month. All of this means that UC payments will default, causing huge problems, and resulting in people being signposted to call centres whose sole objective is to hit call targets, or jobcentres who will only direct them back to the 'help line.'
It is not difficult to see how this situation will very easily spiral. In 2017, homelessness was up 15% from the previous year, and has sky-rocketed since 2010, when the Conservatives came into power. From then, the number of families with children that have been made homeless has almost doubled, from 22,950 in 2010, to 40,130 last year. This is only set to rise as UC is rolled out, as it heralds a massive £3bn in cuts to welfare. It is estimated, by the DWP and Esther McVey herself, that half of lone parents and two-thirds of couples with children will lose £2,400 a year—£200 a month—once they are transferred onto UC. Former Prime Minister and Labour Leader Gordon Brown has said how these plans will plunge more than one million children into poverty, and that the country is facing a 'summer of discontent' if they do not heed warnings to scrap the plans for UC. The UK seems to be taking a backward step from the poverty-tackling policies of early 2000s Labour, who introduced tax credits to help people on a low income. In the present day, we are seeing huge spikes in people using food banks despite them working, because their income and income 'support' isn't enough to pay the bills and feed their families.
How much longer can this go on? How many more people have to struggle to survive, freeze to death in the winter, starve themselves so their children don't have to go hungry? There are many brilliant organisations, both locally and nationally, that aim to fight poverty on the ground, providing food, clothing, and other essentials to those that are desperate. But the fact is that there should not be such a demand for these services, which cater to the most basic, fundamental human needs. We live in one of the wealthiest countries in the world, that throughout history has lead the way in science, culture, welfare, and politics, to name but a few. Post-war Britain was built from the ashes, promising to provide for its citizens from 'cradle to grave'; it is the country that created the NHS, which has been the envy of the world, a country of which people were proud of; it is a country that has now been reduced to something that would not be out of place in a Dickens novel, refusing to provide for its most needy, while those at the top line their pockets, and the gap between rich and poor continues to expand.
Theresa May smugly announced at the Conservative Party Conference in October that austerity was finally over. Over for whom? The teachers, hospital staff, and police force, that have faced increasingly difficult work conditions and pay cuts? Pensioners who struggle to keep the heating on in the winter months, despite them having worked for their entire lives? Or the millions of people who, as of next year, will be transferred onto Universal Credit, and struggle to feed and house themselves and their families, even though they're working?
Austerity worst affects those that already have the least. I am filled with dread at what another four years of this government, combined with Brexit, will do to this country, but I can only look on and watch it unfold.
opinion

P.O. Williams
I am a freelance writer, and I work at a charity for social change in Liverpool, UK.
I write because I believe that writing can change things, I write to make a feeling into something tangible, and I write because I love it.
See all posts by P.O. Williams →