Angela Eagle of Labour Describes Sunak As "Weak, Weak, Weak".
Sunak Consulted His Ethics Adviser Over Braverman.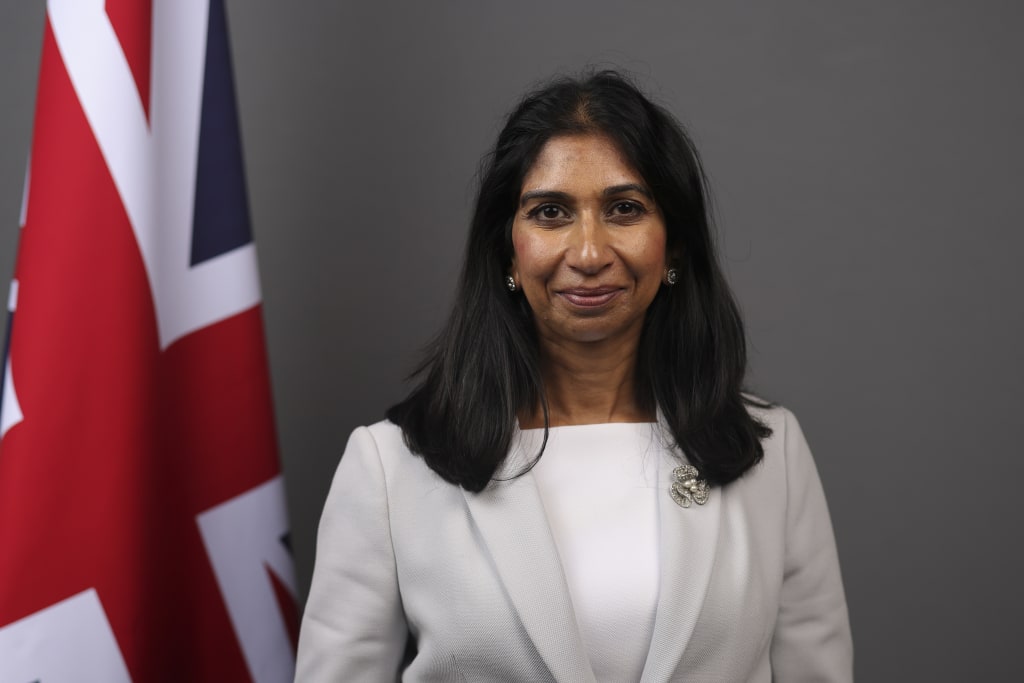 Home Secretary Suella Braverman Still in Post.
Everyone is now aware of Suella Braverman's alleged speeding offence. Where she begged civil servants to get her a private course in driver awareness. However, civil servants did not carry out her wishes. Rather than attend a driver awareness course with members of the public she accepted 3 points on her licence. Just who does Suella think she is? The fact she would not attend a driver awareness course with members of the public speaks volumes.
Sunak when he was asked a question about Suella's speeding offence at G7 seemed annoyed. Sunak asked the journalist who posed the question why they hadn't asked a question about the G7. Then Sunak replied that Suella had apologised for her misdemeanour. Sunak said upon his arrival back in the UK he would look into the matter.
Subsequently, Sunak spoke to his (so he said) Ethics Adviser Laurie Magnus. Mr. Magnus according to the Prime Minister said Suella had no case to answer. With that Sunak said he accepted the advice of Mr. Magnus. Therefore, Ms. Braverman will remain in her post as Home Secretary.
Sunak did take action against his friend and Deputy Prime Minister Dominic Raab for bullying claims. Also, he took action against Nadhim Zahawi for alleged wrongdoing.
However, Sunak's lack of action over Braverman did not satisfy the opposition parties. The Liberal-Democrats said Sunak's actions (or lack of) were a "cop-out".
Labour's Angela Eagle echoed Tony Blair's critique of John Major. Ms. Eagle called Mr. Sunak "weak, weak, weak". Many have noted that Mr. Sunak would not sack Suella over her speeding antics. The reason being is that Suella has the support of the far-right of the Tory party. Had he sacked her it may have kicked off a civil war in the Tories. Sunak it seems wants to avoid the ire of the right wing of his party. Sunak is already on uncertain ground. Losing a thousand councillors in the recent local elections has some Tories thinking Sunak is a liability. It seems Sunak is carrying on with the course he is on come what may. Sunak knows full well on different fronts the dire circumstances he is in. Yet, he must keep up appearances seemingly being unphased by these setbacks. Yet another MP has just called him 'weak' over his view on the investigation into Boris over alleged wrongdoing. Sunak replied what was happening is an ongoing investigation and he could not intervene.
So Suella as controversial as ever remains in her post. She is free now under Sunak's consultation to do as she sees fit. No doubt, unless she really mucks up will be in her post to the next general election. She regularly exchanges taunts and barbs with her Labour counterpart Yvette Cooper.
Braverman seems cut from the same cloth as her predecessor Prit Patel. Both Home Secretaries were from the right of the party. Pro-Israel and patently anti-migrant/immigrant. Yet both Patel and Braverman are from immigrant stock. However, as British-born people, Braverman and Patel have right-wing views. It seems the fact of their colour or ethnic origin doesn't bother the right (at least not in the Tory party). The right appears to be more inclusive these days. As long as those on the right espouse right-wing views (regardless of ethnicity) those on the right politically will take them to their heart. No doubt, these two women have become the pin-up girls for right-wingers.
Even Tommy Robinson has made his peace with those of a brown hue. He and other far-right people have linked up with followers of Hindu Nationalism. People like Modi of India follow a fascistic ideology called 'Hindutva'. A right-wing belief that Hindus are the real people of India and of Aryan descent. They are rabidly anti-Muslim, and against other minorities. Hence you can see why people like Robinson find common ground with Indian fascists.
S
About the Creator
I am a freelance writer currently writing for Blasting News and HubPages. I mainly write about politics. But have and will cover all subjects when the need arises.
Reader insights
Be the first to share your insights about this piece.
Add your insights