And Now, Trump Football Jerseys!
Taking Presidential Branding to a New Level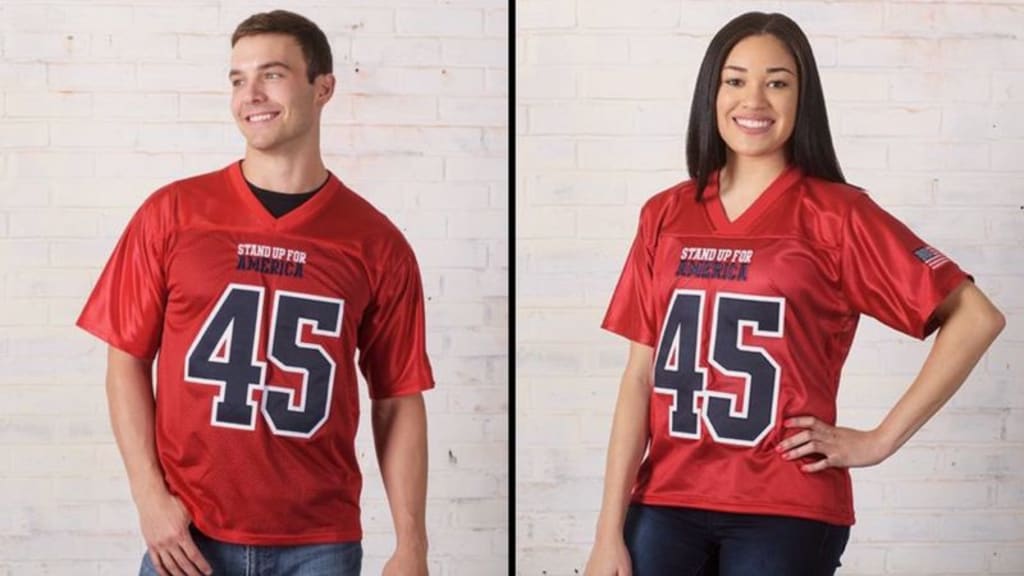 The New "Stand Up For America" Football Jersey for Trump Supporters
No matter what your views on politics are these days—and everyone has them, and no matter what your views on the President are these days—and everyone definitely has them, there is one thing both red and blue Americans can agree upon. This is the fact that President Donald Trump is a master marketer! As much, if not more, than he can move people's emotions—both in support of him and against him, the President can definitely move merchandise!
In fact, part of what made Trump well, Trump, was his ability, at least his perceived ability, to move people to buy his brand. And over many years, the Trump brand extended far beyond his buildings, his hotels, his casinos, his golf courses, and yes, his television show. Collectively, all of this marketing—based on the luxury-status associated with the Trump brand and the Trump name—served to not only make Donald Trump a great amount of money, but it was a situation where "status built upon status," and more branding only led to more name and brand recognition and more perceived status for the Trump name—and the man.
Indeed, the Trump name was licensed to companies producing a wide variety of products. Today, most of these are no longer produced. However, many of these items have now become collectibles worth many times their original value—due to their association with the current President and their short supply—and can be found on eBay and other resale sites). These include items such as the following:
+++++++++++++++++++++++++++++++++++++++++++++++++++++++++++++
Trump Licensed Merchandise
Trump: The Game
Trump Ice (Bottled Water)
Trump Steaks
Trump Vodka (especially ironic since President Trump is famously and ardently a non-drinker himself)
Trump Menswear
Trump Home (Trump-branded mattresses produced by Serta)
SUCCESS by Trump and EMPIRE by Trump (Trump-branded perfume and deodorant, sold exclusively by Perfumania)
Trump Hotel Bedding (pillows sold exclusively by Downlite Bedding)
Donald J. Trump Eyeglasses
Donald Trump Regency Collection (a selection of lighting fixtures, since rebranded as simply the "Regency Collection" by Elk Lighting)
Select by Trump Coffee (Trump-branded coffee marketed by Two Rivers Coffee)
Source info: Trump once put his name on everything from deodorant to water bottles — here's where those products are now
+++++++++++++++++++++++++++++++++++++++++++++++++++++++++++++
And now, in addition to the Trump Presidential merchandise that you can buy at every gift shop and every snack stand in Washington, DC, you can still buy "official" Trump-branded merchandise directly from the Trump Organization at its official Trump Store (both online and at the Trump's flagship store inside Trump Tower on Fifth Avenue in New York City).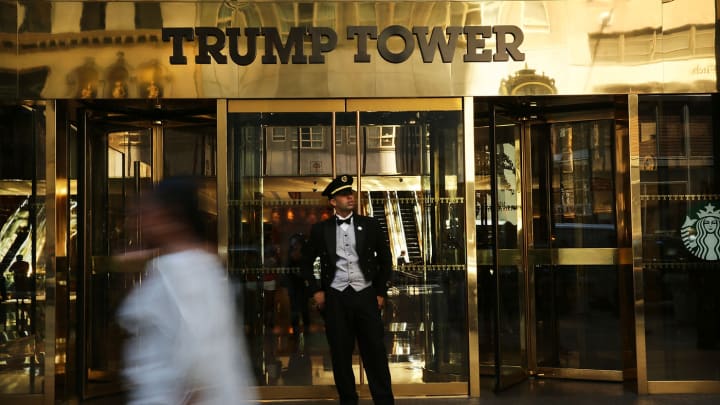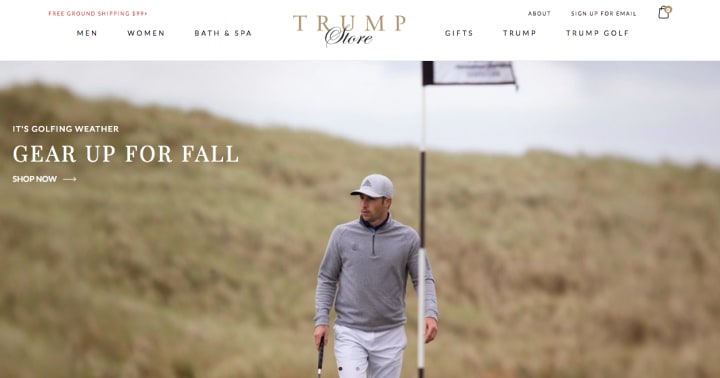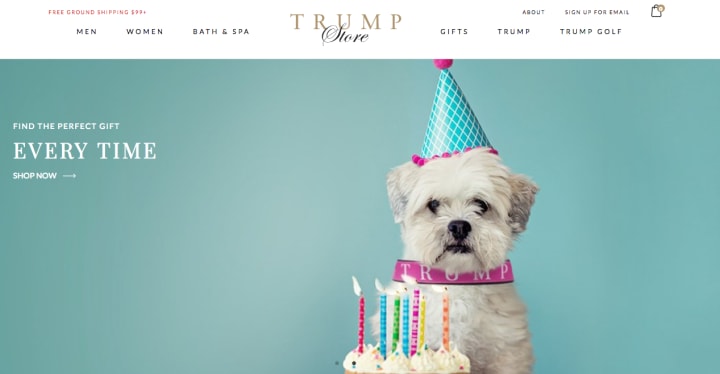 However, while the Trump brand may be extended to almost everything these days, no object defines Donald Trump and the Trump Presidency more than the ubiquitous, simple red "Make America Great Again" hats. These baseball hats have become the identifying symbol of first, the Trump campaign, and now, the Trump Presidency. Indeed, they have been a part of the Trump "brand" since then private citizen Donald Trump rode down the Trump Tower escalator in June 2015 and into history—for good or for bad.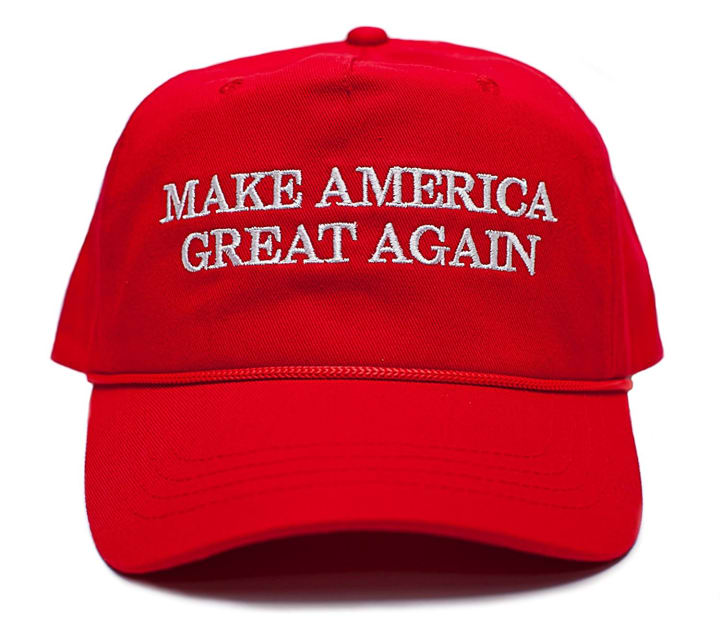 Now however, just in time for the highly contentious midterm elections—which have been hyped as something between the apocalypse and the Super Bowl, there is perhaps a successor to the MAGA hat—the Trump's official "Stand Up for America" football jersey! It's now available at the official website of the Trump Make America Great Again Committee, which is described on the website as "a joint fundraising committee authorized by and composed of Donald J. Trump for President, Inc. and the Republican National Committee." Need something to wear to President Trump's latest rally or a protest march? For $99 (with free shipping!), this jersey could now be yours with the click of a mouse or the tap of a button!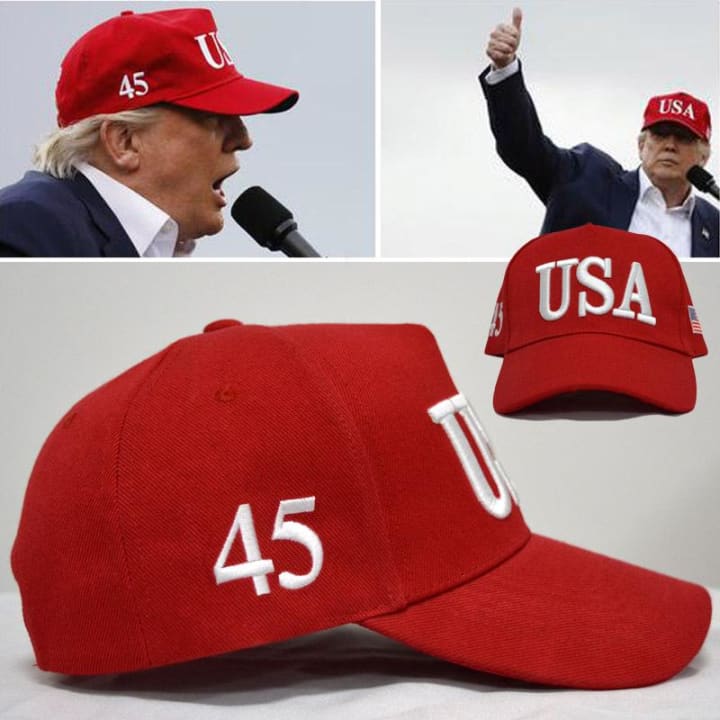 The "Stand Up for America" jersey—which only comes in red—has Trump's name across the back and the number 45—which has been used widely as to symbolize Donald Trump as the 45th President of the United States. The jersey is available in both men's and women's versions.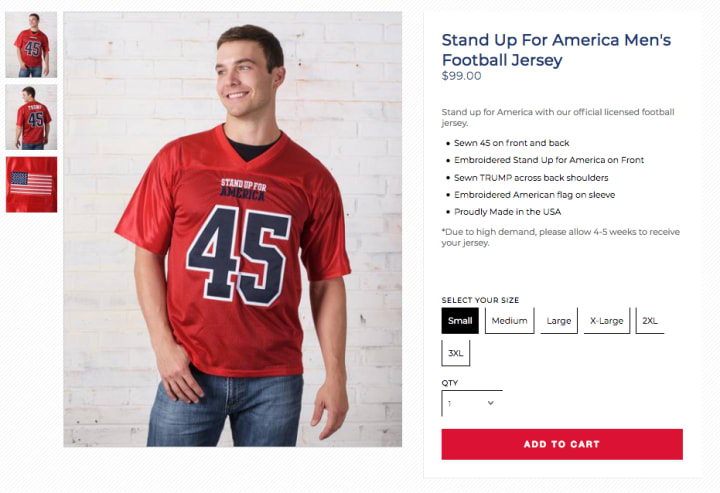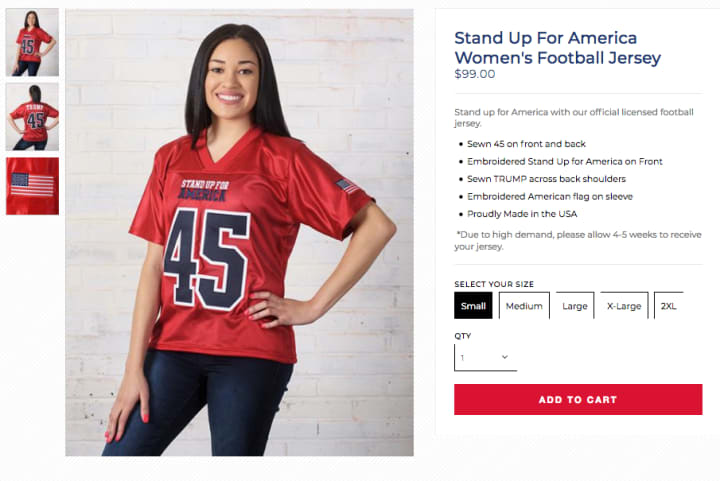 As you can see, the Trump campaign's website proclaims that the jersey's are "Proudly Made in the USA." However, that has not stopped the jerseys from being the easy fodder for late night comedians.
Jimmy Fallon, upon hearing of the move, joked in a Tonight Show monologue in October:
"Trump's campaign is selling football jerseys that say 'Stand Up For America.' Yeah, the outside says, 'Stand Up For America,' while the inside says, 'Made In China.'"
(Source: QUOTABLES FROM 'THE TONIGHT SHOW STARRING JIMMY FALLON' October 8 – October 12)
The jerseys were no doubt a response—some would say a move by the Trump campaign to capitalize on—Nike's Colin Kaepernick advertising campaign and the controversy over the National Football League's anthem policy.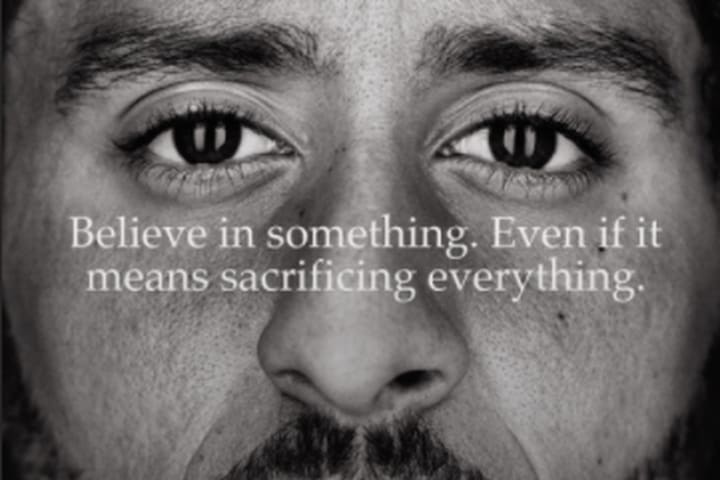 Analysis
So what does all of this mean? Is there a bigger message here for our politics, our media, and our marketing in America? One could argue that the Trump phenomenon is just that—a one off. However, the Trump ascendance and Presidency may well be but a harbinger for things to come.
Donald Trump came into the Presidency as a master marketer, and his Presidency has been—like it or not—branded, marketed, packaged as well or better than any of the 44 men who proceeded him. While the history remains to be written on Donald Trump—and in the end, it may not be kind to him politically, Trump is no doubt making marketing history each and every day.
We are living through the intertwining of politics, marketing, branding, celebrity, and social media, and speaking as a strategic management professor and consultant, I think it is unlikely that we are going to unwind them to where they were before Donald Trump rode down his own escalator and into history. All politics will be branding—particularly personal branding—and those with personal brands—and huge numbers of social media followers—will have a tremendous, perhaps insurmountable advantage over more "traditional" politicians. Indeed, these traditional politicians, who rise up through political ranks, may be a thing of the past. In the celebrity-based, follower-intensive, brand recognition-important culture in which we live today - which only looks to become more focused on popularity in the future - we may see more Trump-like characters emerge from the worlds of sports, film, media, music, and more.
Will these future governors, senators, and even Presidents be able to move merchandise like Trump has? That is doubtful. However, one thing is for certain. The branding of our politics and our President—and the Presidency—is going to be a marketing and political force that will be with us for some time to come. Candidates, political parties, the media—all stakeholders in American politics (and yes, that includes you, as an American citizen) will need to understand and adapt to the long-term changes that Trump and his Presidency are bringing to the country and to its politics. Are they all bad? No. Are they all good? No. However, the written and the unwritten rules governing who will be running for office and how they will govern are being rewritten as we speak. One need look no further than the new jersey for Trump supporters to see evidence that now, things are indeed different—maybe better, maybe worse, but certainly different!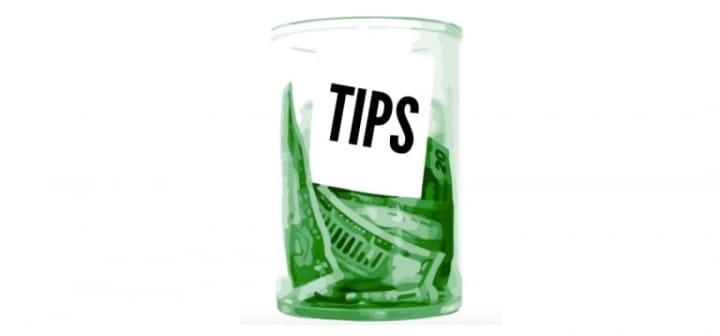 ++++++++++++++++++++++++++++++++++++++++++++
Like what you just read? Did it make a difference to you? If so, please see and share this article through social media, email, and even the old-fashioned way of printing it off for a colleague or friend!
And while you're at it - as yourself a simple question: Was the info worth a buck or two - or a whole lot more to you, your career, your company? If so, please consider "tipping" (it's the polite thing to do!) using the easy link below. In providing a small tip, you not only help support the author's work, but you help keep the unique platform that Vocal Media is building be an advertising-free environment - and don't we all need more of that to make our online experiences better today? Please consider showing your support below—and voting for good, ad-free ideas on the Web!
trump
Professor, Consultant, Doer. Founder/Publisher of The IDEA Publishing (http://www.theideapublishing.com/) & Modern Business Press (http://www.modernbusinesspress.com)