Alex Padillo and Deb Haland are helping change the face of American politics
The US Government is slowly beginning to look like the people whom it represents.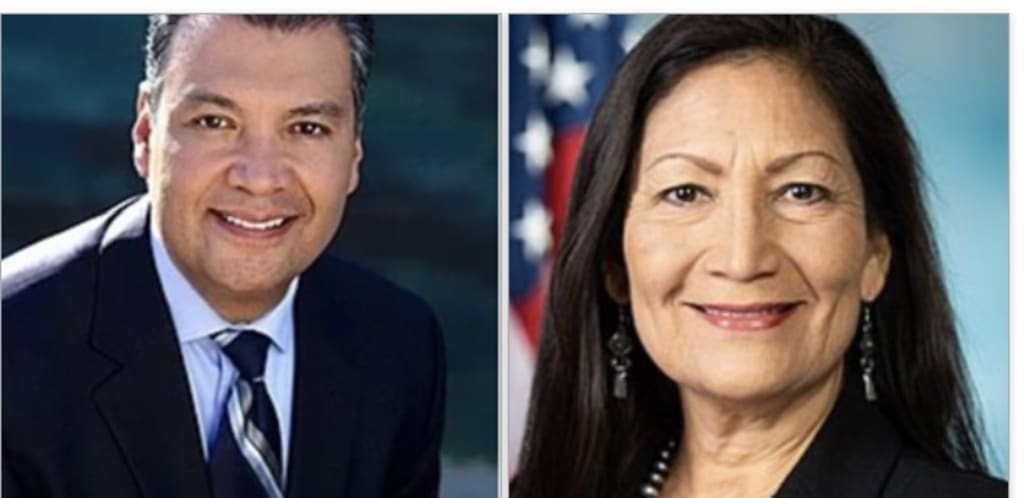 Alex Padillo and Deb Haaland
When I was growing up, the president, Vice President and others in the White House were always white males. I never really gave it a thought until I saw Colin Powell and Condolrrxa Rice serving in the Bush administration as Head of the Joint Chiefs of Dtaff and Secretary of State. During the Civil Rights era of the 1960s, the focus was on equal rights for African Americans and these two certainly proved that progress had been made. When Barack Obama won the US presidency in 2008 and 2012, he made history as the first president of color as a biracial man.
Now in 2020 more milestones are being made by minorities and it is truly making this nation great. Our government is increasing in looking like the melting pot that this nation has long claimed to be. Two individuals who are making strides and changing history are Deb Haaland and Alex Padillo. Their appointments assist in helping our Government more closely resemble the reality of the citizens of this country.On December 17, of this year, President-elect Joe Biden announced that he was nominating Deb Haaland to serve as United States Secretary of the Interior.
If she is confirmed, she would become the first Native American Cabinet Secretary in U.S. History and the First Native American to run the Department of the Interior.Haaland was born on December 2, 1960 and since 2019 has been the U.S. Representative from New Mexico's 1st congressional district. It's ironic that her ancestors were the original citizens of this nation and it has taken until now for one of their descendants to rise through the ranks of the government. We seem as a nation to be in a season of recognizing that all Americans have a contribution and a role to play in America.
Haaland's district includes most of Albuquerque, New Mexico as well as most of its suburbs. Haaland is a former chairwoman of the Democratic Party of her home state and a 35th Generation New Mexican. Along with Sharice Davids, she is one of the first two Native American females elected to the U.S. Congress. Haaland is a political progressive who supports Medicare For All as well as the movements to abolish ICE and to implement the Green New Deal. Haaland enjoys cooking and marathon running. She identifies as Catholic and has a daughter named Somah whom she raised as a single mom.
On December 22, 2020, California Governor Gavin Newsom selected Alex Padillo to replace Vice President-elect Kamala Harris in the United States Senate. Padillo will be the first Hispanic Senator ever from California and the first male senator to represent the sunshine state since 1993. While we celebrate with him, we should look forward to a day when no one has to be the first man, woman, or minority to succeed in any area in this nation. Until we get to that point we still recognize those who have persevered in spite of adversity and discrimination.
Alex Padillo was born on March 22, 1973 and currently serves as the 32nd secretary of state of California. A member of the Democratic Party, Alex Padilla was elected in 2006 to the California State Senate, representing the 20th district. Prior to the Senate, he represented the 7th district serving for more than seven years on the Los Angeles City Council beginning in 1999. In July 2001 and retained the position through December 2005. Padilla once created software for Satelites. He and his wife Angela live in the San Fernando Valley with their 3 sons. Best of luck to Alex Padilla and Deb Harland for making history. Every US citizen should rejoice with them and be eager for the day when Native, Latino and Americans of every ethnicity have the equal opportunity to set goals and attain them.

Cheryl E Preston
Cheryl is a poet, freelance writer, published author and former Newspaper columnist. She has degrees in Psycology and Biblical studies. She enjoys sharing natural cures, and Nostalgia related info. Tips are greatly appreciated.
See all posts by Cheryl E Preston →