A Tale of Neglect
The federal corona virus response shows a president dead set on avoiding responsibility for the pandemic.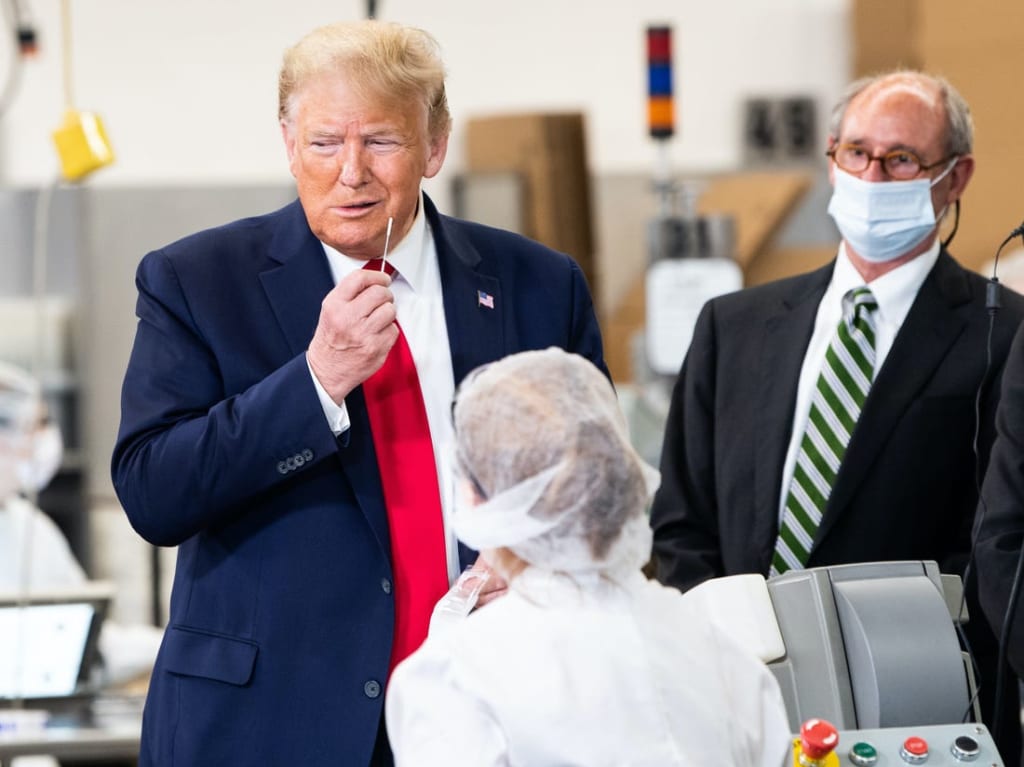 President Trump has constantly been seen in public without wearing mask
Recently the death toll in US due to corona-virus passed 150,000 and US has been leading on daily covid cases for quite a while now. As the trump administration plays blame game on governors and health officials, we look at the real reasons that led to so many cases in spite of warnings from top health officials like Dr. Anthony Fauci.
In fact, there are many reasons the US death toll is so high, including a national response plagued by delays at the federal level, wishful thinking by President Trump, the side-lining of experts, a pointed White House campaign to place the blame for the Trump administration's shortcomings on others, and time wasted chasing down false hopes based on poor science. Its true that people are not wearing mask, hosting parties and on top of that there are anti-racism protest ranging all across the US but we cannot bare the fact that President Trump has to be blamed for setting bad examples. In some of his tweets he has discouraged wearing of masks, says that corona-virus is just a flu and it will disappear on its own. He had even cut down funding from WHO. Which seems a pretty dope move during a pandemic when health officials and scientist need all the support of government.
This column details five ways that the Trump administration has failed to address the corona-virus pandemic and subsequent economic fallout:
1) an inadequate public health response,
2) a failure to help workers
3) an indifference to state and local struggles
4) a failure to help small businesses.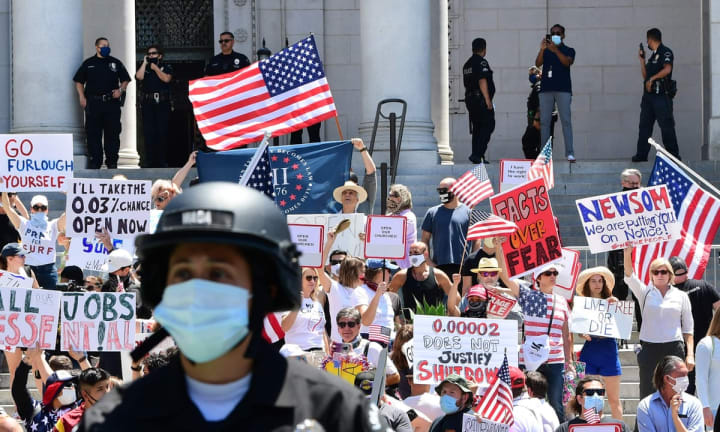 1) The Trump administration failed to take the corona-virus outbreak seriously. In late February when cases across US started to surge, he stated that everything was under control. Even after lock down was imposed the federal government said that governors had to tackle with problems themselves which included shipping of masks and PPE kits.
2) Another stark contrast between the United States and its international, high-income peers' stems from the ways in which this administration has failed to maintain an adequate connection between workers and their employers. Facing what could have been comparable job loss figures, the United Kingdom declared in March that the government would cover up to the lesser of 80 percent of workers' salaries or 2,500 British pounds per month—just above the median salary—if companies agreed to keep them officially on payroll. Even though the government announced $ 3 trillion relief package it is about to run out on 4 August. So now they have decided to cut down weekly benefits from $600 to $200.
3) In the weeks following the corona-virus outbreak, it became clear to state governments that they would have to increase spending to unanticipated levels. This level of support falls more in line with what many international peers have done. Officials in the Trump administration, however, have stated that they would prefer to wait and "see what happens" with stimulus from the CARES Act. Health care workers, firefighters, teachers, and the communities they serve unfortunately are not afforded the same luxury of time. President Trump has been notably hostile to the idea of providing more support. He even turned the need for more state and local aid into a partisan issue, opining that allocating additional funding would be unfair to Republicans since "all the states that need help [are] run by Democrats.
4) By the beginning of April, 24 percent of small businesses had reported temporarily shutting down. By mid-May, more than 100,000 small businesses had closed permanently, representing 2 percent of the nation's total. Trump administration's implementation left out minority-owned, woman-owned, and rural businesses. Despite a second round of funding through the program, small businesses are still suffering immensely.
While Congress continues to debate whether to provide more stimulus funding to businesses and individuals, it is worth remembering that failure of the Trump administration to take the corona-virus crisis seriously and its inadequate and delayed testing regime led to a public health crisis that required workers and consumers to shut down their activity. Even as the United States approaches a 20 percent unemployment rate and suffers the highest COVID-19-related death toll in the world, President Trump continues to downplay the importance of testing. What we can do just for now is take proper precautions and hope the government comes out with a plan.
About the Creator
Recently graduated from teenager to adult. Still coming to terms with responsibilities independent stuff... Just going where life takes me while exploring myself which has led me to here.
Reader insights
Be the first to share your insights about this piece.
Add your insights