21 Nigerian Celebrities React to Desmond Elliott's Controversial #EndSARS Speech.
Big mistake.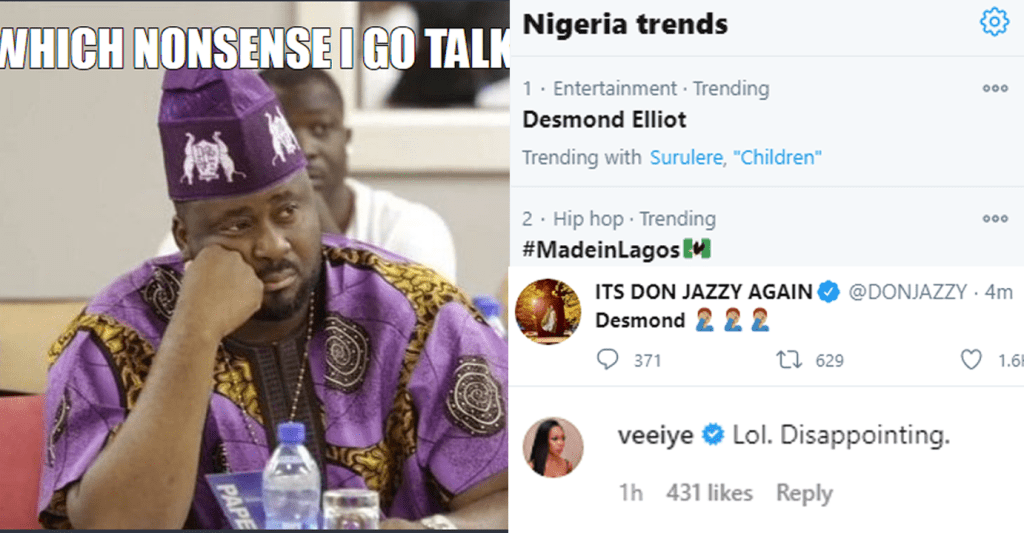 Big mistake.
Nigerian actor Desmond Elliott just gave one of the most polarizing and controversial speeches since, well, Pres. Buhari's speech not too long ago about the #EndSARS protest.
Veteran actor, Desmond Elliott took to the microphone and well, you just have to hear the speech for yourself:
Following the speech, Nigerians everywhere didn't know what to say or where to begin. His speech left us speechless. Until we finally found our voices and begun to express our thoughts, so much so that right in this moment, Desmond Elliott is the NUMBER ONE trend on Twitter.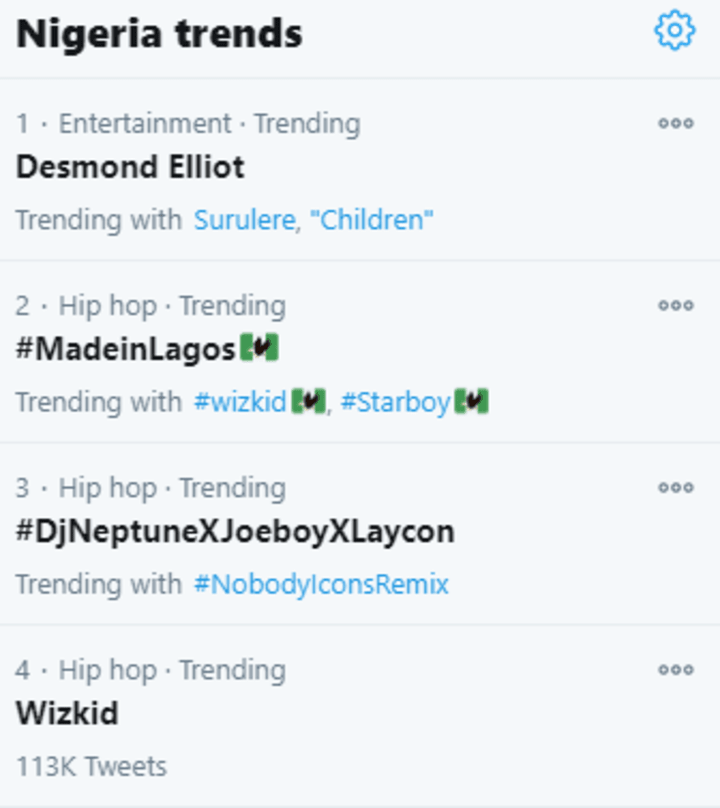 Nigerian celebrities of course weren't left out in the discourse and today I'll be sharing with you __ Nigerian celebrity reactions to Desmond Elliott's speech.
**Before reading on, please make sure to like and follow my Facebook page so you don't miss out on any new and interesting lists, articles, and stories that I post every single day. I have a really fun page. If you like my page, you will have fun too. So what's stopping you? Like my page and let's have fun together!
1. Zlatan Ibile
Nigerian singer Zlatan Ibile took to Twitter and had this to say:
You no fit be politician make devil no borrow your sense use once in a while DESMOND ISCARIOT

2. Toolz
Toolz also chimed in saying:
The Vilification of the Nigerian Youth - Ep.3. The Nigerian youth are so rotten, they're cursing politicians online.Astonished faceLet's not focus on why they're angry, but on how rude they are. Eyes

Like Bobrisky said 'insort never killed anybody'. Fix up & do your job Uncle Desmond. #EndSARS

3. Praiz
Nigerian singer, Praiz, kept it short:
Desmond Elliot cancelled
4. Davido
Singer Davido attacked the actor for killing his nostalgia:
Desmond Elliot just destroyed all the precious child hood memories he gave us in movies ....

5. Samklef
Musical artiste Samklef said:
Desmond idiot refer us as children.

6. Shaydee
Nigerian singer Shaydee had some very choice words for the actor:
see this fuckin disgrace of a human being. Man facepalming no be ur fault desmond.

7. Skales
Singer Skales said:
Desmond Elliot tho... can't trust anyone in politics Kai Man facepalming e fall my hand

8. J.J. Omojuwa
Businessman J.J. Omojuwa seems to have lost all sense of who Desmond Elliott even is writing:
Is this Desmond Elliot some kind of artist or what? Been seeing the name.

9. Don Jazzy
Don Jazzy didn't know what to say:

Over on Instagram...
10. D Tunes
Nigerian producer D Tunes had only this to say:

11. Jaywon
Nigerian singer Jaywon said:
This people are poor and that's why they are looting not because of anything. Say you see any rich man pikin looting or any ok person there. You should be talking about how to get better life for the people and how to change the narratives between the poor and the rich brother @desmondelliot. Fight for the people because that's why you are there 🙏🏼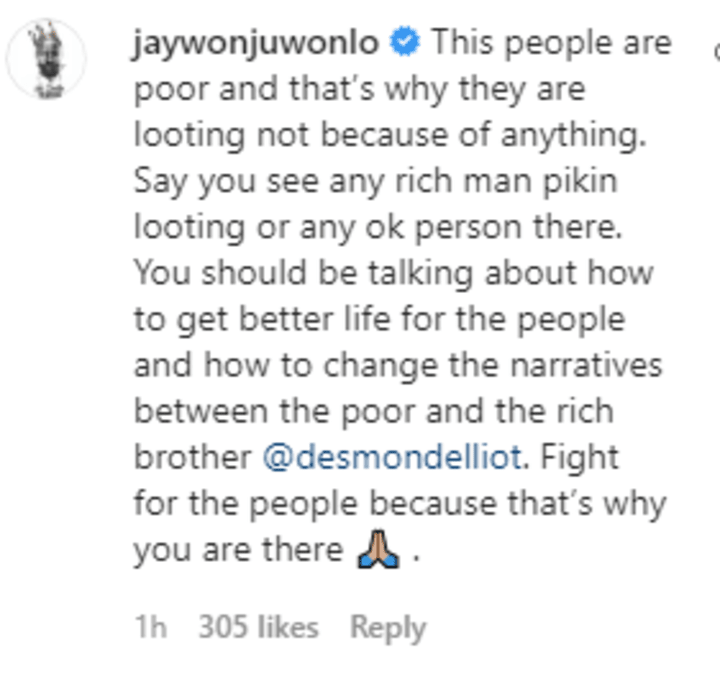 12. Morachi
Singer Morachi said:
I will make a special video and address his ass, i pray the youths don't use him as a scapegoat....Desmond stupid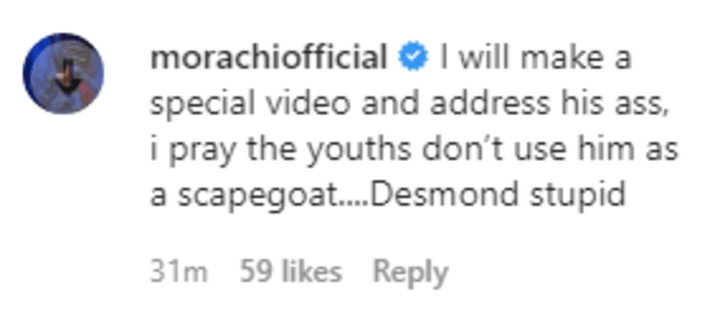 13. Vee
BBNaija's vee said simply:
Lol. Disappointing.

14. Yetunde Bakare
Nollywood actress Yetunde Bakare said:
Bloody pathetic liar 🤥 what a shame 😥 he just sell all his colleagues efforts out on a platter! So Uncle Desmond sorry 😐 Desmond apart from being selfish like people do say you're also a betrayal and a liar 👩‍🦯 I'm high disappointed because I was expecting something sensible from you !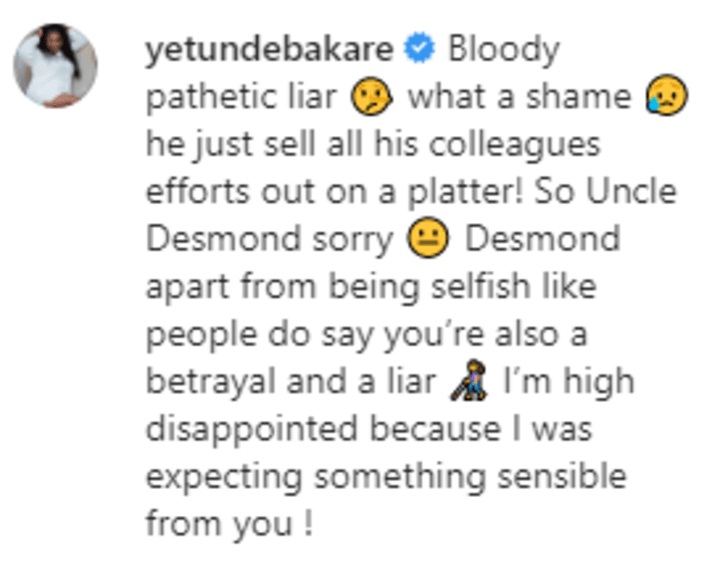 15. Do2dtun
Nigerian personality Do2dtun said:
What the hell are you saying Desmond. You are justifying curses with dead bodies. Just play this out. If it was your child that was shot or killed by the police or in that feat that was so much of a mess, how would you feel. I hate justifications cos you are not doing any good to the situation. People were killed. Address the real issue. Stop picking pebbles and calling it diamonds. Listen i am a father and I find what you are saying utterly disgusting 🤮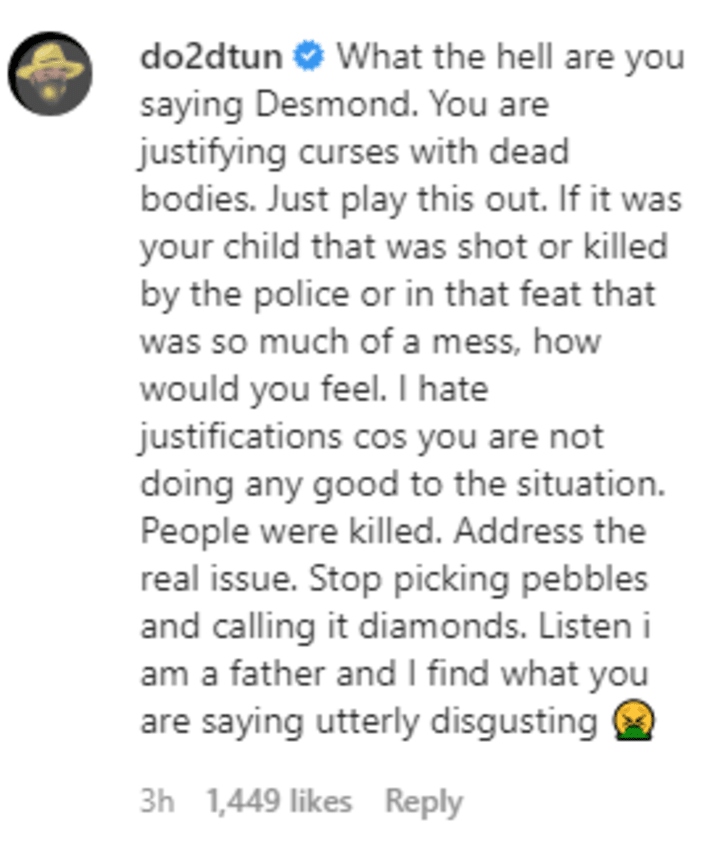 16. African China
Legendary singer African China said:
i am so disappointed right... so let me ask u from this video watched now is Dr olufumi still wrong??? @desmondelliot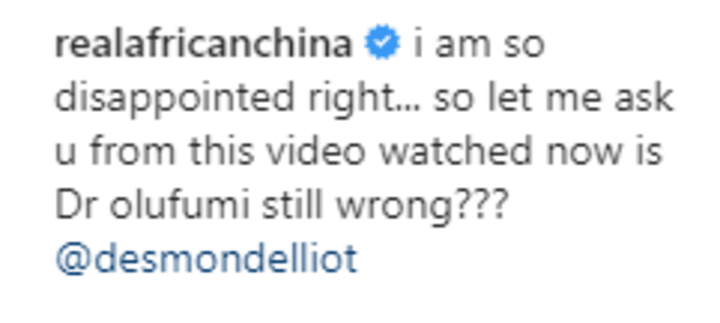 17. Kelly Hansome
Nigerian singer Kelly Hansome said:
@desmondelliot Are U for real for real?

18. Ufuoma McDermott
Nollywood actress Ufuoma McDermott also shared her voice saying:
... phew! The need to generate confusion and distraction is too high. WE STILL WON'T FORGET! #NewNigeria loading ✊🏽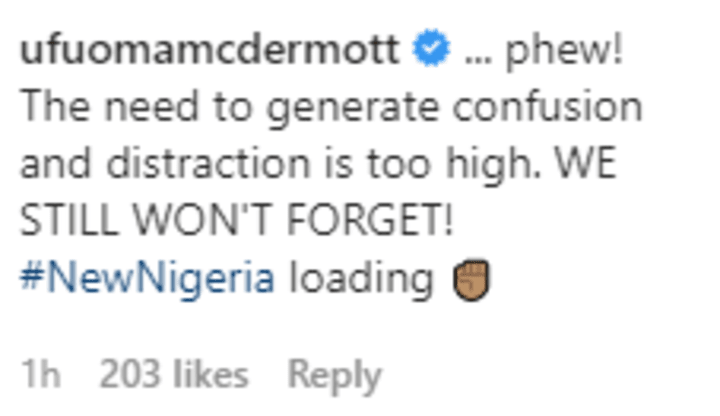 19. Dremo
Nigerian singer, Dremo said:
Desmond Elliot you are canceled

20. DJ Neptune
Nigerian disc jockey, DJ Neptune added his voice saying:
Desmond Missy, Oh Sorry !

Desmond Elliot who's your supplier?

You don buy big market o.

21. Kemi Lala Akindoju
Nigerian actress and producer, Kemi Akindoju said:
So the people that went to loot did so because of social media?Not because of the bad leadership & years of terrible corruption??? 'Celebrities' & 'Influencers' spoke up as frustrated Nigerians. So the police is killing us and you care about insults? In your opinion Hon Desmond

Wow, I'm sure right now, Desmond Elliott must be thinking to himself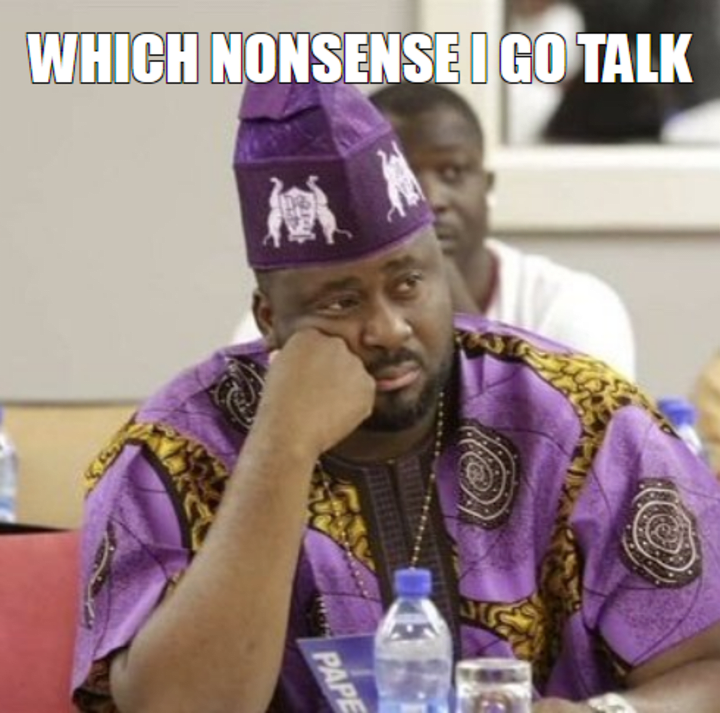 That's All.
Don't forget to like my page: