11 Nigerian Celebrities React to NIN Sim Registration Wahala.
From Yemi Alade to Kate Henshaw.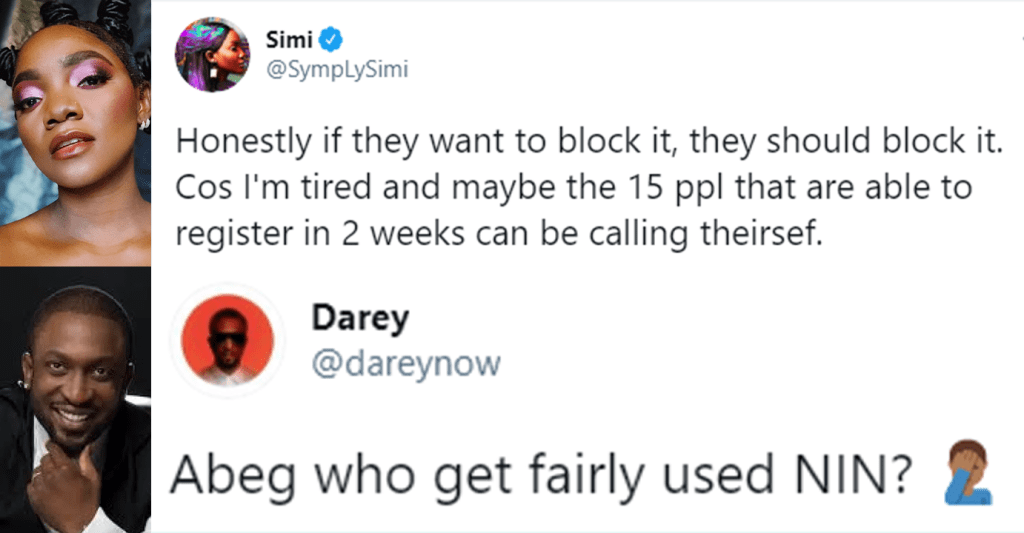 From Yemi Alade to Kate Henshaw.
On the 15th of December, The Nigerian Communications Commissions released a press statement in regards to the implementation of new SIM registration rules.
The press release statement said in its key parts that network operators are to require ALL their subscribers to provide valid National Identification Number (NIN) to update SIM registration records, and that this submission of NIN by subscribers is to take place within two weeks (from December 16, 2020 to end by 30 December, 2020). The statement says that after the deadline, ALL SIMs without NINs are to be blocked from the networks.
As you can imagine, this information caused quite the uproar all over social media and on the streets of Nigeria. The two week deadline is ridiculous and even the House of Representatives thinks so as there are now calls from the House of Reps for a ten week extension of the NIN registration deadline.
With all of this chaos going on, of course Nigerians got talking – and so did the Nigerian celebrities. Here are 11 Nigerian Celebrity Reactions to all of this bruhaha.
**Before reading on, please make sure to like and follow my Facebook page so you don't miss out on any new and interesting lists, articles, and stories that I post every single day. I have a really fun page. If you like my page, you will have fun too. So what's stopping you? Like my page and let's have fun together!
1. Simi
Outspoken Nigerian singer quoted the NCC's tweet about the press statement writing: "lol I want out"

She then continued saying:
Honestly if they want to block it, they should block it. Cos I'm tired and maybe the 15 ppl that are able to register in 2 weeks can be calling theirsef.

A country where majority of the population are suffering and impoverished, you can't prioritize.


2. Darey Art Alade
Beloved Nigerian singer, Darey Art Alade, after hearing the news took to Twitter to add some humor into the conversation. He wrote:
Abeg who get fairly used NIN?

😂😂Really funny!
3. Yemi Alade
Nigerian singer Yemi Alade was just as confused as we were when she heard the word NIN. The singer wrote:
NiN??? How? where? what?

4. Timini Egbuson
Nigerian actor Timini Egbuson also added his voice to the discourse saying:
Nigeria constantly thinking of ways to make life hard for its citizens.

Less SIM cards = Less people to worry you online ???

Na lie o, we pin!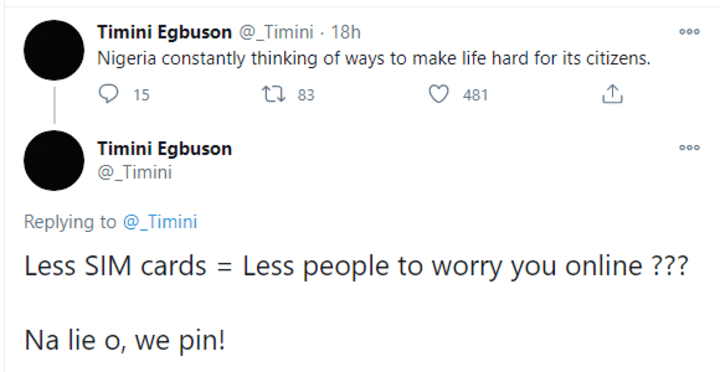 5. Femi Jacobs
Nollywood actor Femi Jacobs upon hearing the news found an immediate solution - to roam his foreign sim. The actor wrote:
Looks like I'll roam my foreign sim here more easily than use my local sim. Wawu! When that man was doing push-ups on national TV, I knew he was less busy. Idle hands, they say...

6. Uduak Isong
Nollywood screenwriter and producer Uduak Isong said:
I hope someone will contest this NIN nonsense. In these dark times, you want Nigerians to gather to register for NIN. If you like, run to Auckland, Nigeria will find you with her witchy witchy. So after crossing seas to run away from Nigeria's problems, in two weeks my sim card that I still use for all my alerts and WhatsApp will be blocked. Issokay.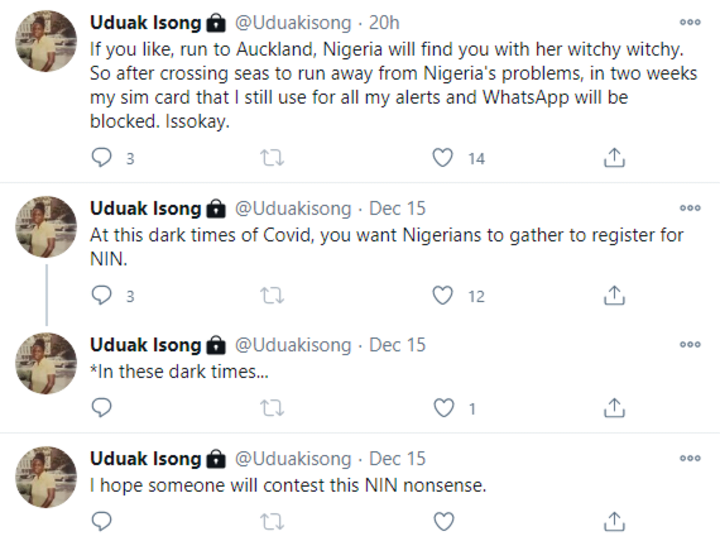 7. Ebuka Obi-Uchendu
TV personality and socialite, Ebuka Obi-Uchendu was confused about how this new rule would apply to foreign citizens. He asked:
So, foreigners can't own a SIM in Nigeria?

E be like say oh!
8. Ovie Ofugara
Notjustok's Ovie Ofugara commented about this whole dilemma:
This NIN issue might finally make me lose my Naija line. Been maintaining it for a few years.

Hmm. It's like many people will lose lines oh!
9. Do2dtun
Nigerian OAP Do2dtun complained about the whole bruhaha saying:
The Govt just love to frustrate its citizens. You did not even look for any other day but few days to Christmas to pick on the most misplaced priority on the list. Registering SIMS with NIN .. can't you just let us breathe

Fuel

Power

Etc

Una must find something sha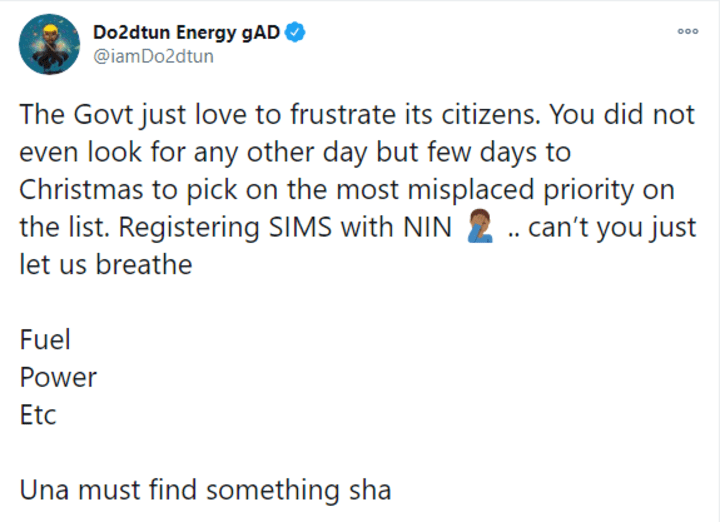 10. J.J. Omojuwa
Nigerian writer and spokesperson J.J. Omojuwa said:
I can understand why the government would want to connect one's national ID number with one's phone line. What I find shocking & depressing is how in a 120million+ phone lines economy, inside a raging epidemic, you want them all registered in 2 weeks. Make it make sense.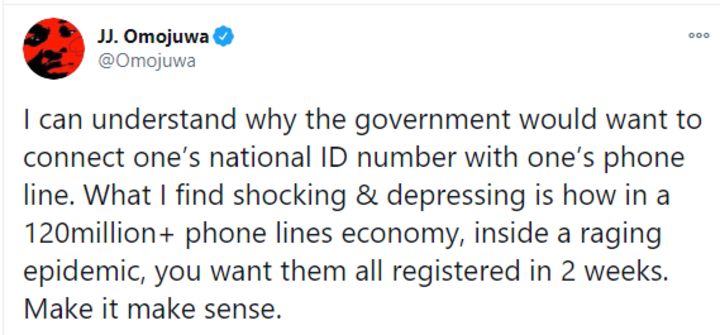 11. Kate Henshaw
Star Nollywood actress Kate Henshaw upon hearing the news had this to say:
Driver's licence - whosai

International passport - baabu

BVN - for where

National ID card - nayheee

Its now NIN one needs to get a sim.

These people are not going to be satisfied till they bleed us dry and make this hell fiery fiery hot for us.

Issokay
That's All.
I hope you've had fun. Don't forget to like my page if you don't already for more stories like this, the fun never ends!
To catch up on other content you might have missed, click here.
Until next time, have a wonderful rest of your day.