11 Nigerian Celebrities React to Joe Biden Winning U.S. Presidential Election.
"OluwaBiden is President"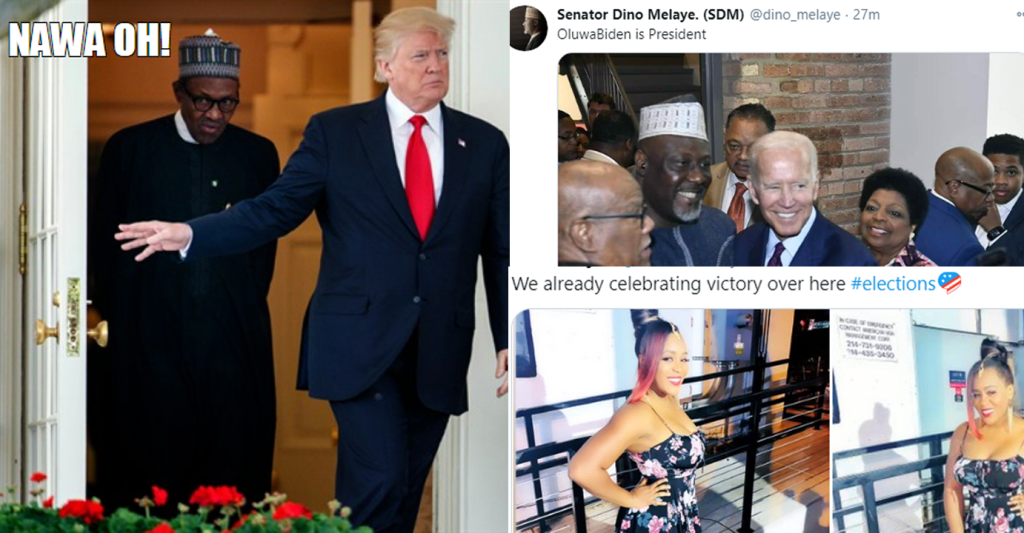 "OluwaBiden is President"
On November 3rd, Americans went in to cast the last bit of votes for the 2020 United States of America Elections.
Since then, it has been days of waiting because of the amount of mail-in votes left to be counted and the current climate in which we are living in. All votes had to be counted.
Well, after all these days and days of waiting, CNN has finally announced that the projected winner of the 2020 Elections and the new president of the United States of America is none other than Democratic candidate, Joe Biden.
Everybody has taken to social media to express their thoughts on the matter – some people are happy, others are not. Today, we'll be counting down how __ Nigerian Celebrities reacted to the news of Joe Biden's win and President Trump stepping down from the oval office.
Let's go!
**Before reading on, please make sure to like and follow my Facebook page so you don't miss out on any new and interesting lists, articles, and stories that I post every single day. I have a really fun page. If you like my page, you will have fun too. So what's stopping you? Like my page and let's have fun together!
1. Emma Nyra
Nigerian singer Emma Nyra dressed up for the occasion already expecting that Joe Biden would win. The singer tweeted saying:
We already celebrating victory over here #elections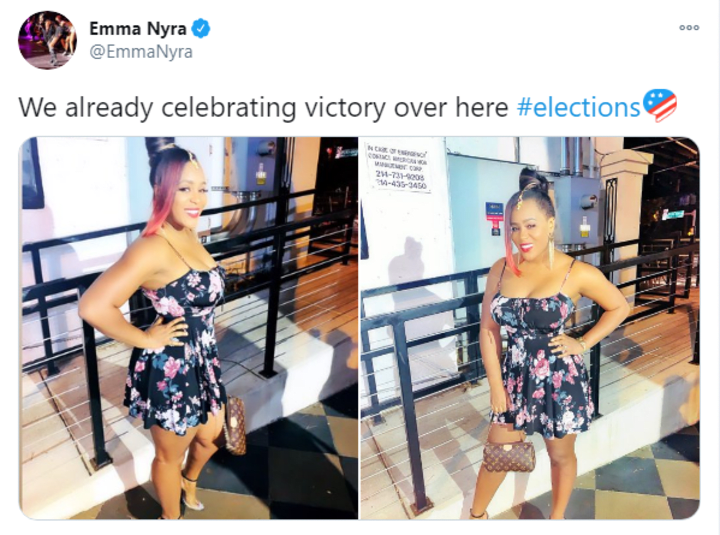 2. Atiku Abubakar
Nigerian politician and former Vice President of Nigeria, Atiku Abubakar upon hearing the news took to Twitter to heartily congratulate Joe Biden on the win saying:
I congratulate @JoeBiden on his well-deserved victory at the November 3, 2020, US elections, and look forward to the age-long collaboration of our two nations in the course of the advancement of life, liberty, and the pursuit of happiness for all peoples.

Nigeria and the United States are two nations, divided by a common language. Indeed, the first major trip by the leader of an Independent Nigeria was the July 25, 1961, White House visit of the golden voice of Africa, the late Sir Tafawa Balewa, under President John F Kennedy.

Nigeria and the free world, have much to learn from your victory, especially your pronouncement that you would not be a President for only those who voted for you. May such sentiments echo and reecho globally.

Not only do I congratulate you on your victory, but I also urge you to build on US-Nigeria relations, especially on widening the African Growth and Opportunity Act (AGOA) for seamless interplay with the African Continental Free Trade Area (ACFTA).

Only by fair trade will Africa fulfil its potential, and a prosperous Africa is good for the United States and the world.

In electing a man rich in experience, the great people of the United States have done the world a great service, and I also look forward to your global leadership in the war on terror, and partnership with Nigeria to end the terror and poverty-related insecurities that we face.

Once again, accept my congratulations.
3. Belinda Effah
Nollywood actress Belinda Effah like most of us is waiting to see what Donald Trump says, the actress tweeted out saying:
I await @realDonaldTrump tweet regarding @JoeBiden Win.
She also tweeted her congratulations to Joe Biden and asked Nigerians to match the energy:
Americans did it - can Nigerians do it too? Congratulations President Elect Joe Biden and Vice President Elect Kamala Harris . Americans Talk and Do
4. Kemi Adetiba
Nigerian filmmaker Kemi Adetiba is happy about Biden and Kamala's win and took to Twitter to say:
CNN just called it. BIDEN = 46TH PRESIDENT OF THE USA!!!

Good guys finish first too. Good character still counts for something.

KAMALA HARRIS. The FIRST female Vice President of the United States of America. Daughter of a Jamaican father and an Indian mother. BELIEVE!!! "Impossible" is just a word.

Oh!!! What a time to be alive. It gives me FAITH. NIGERIA - you're next up... with your beautiful self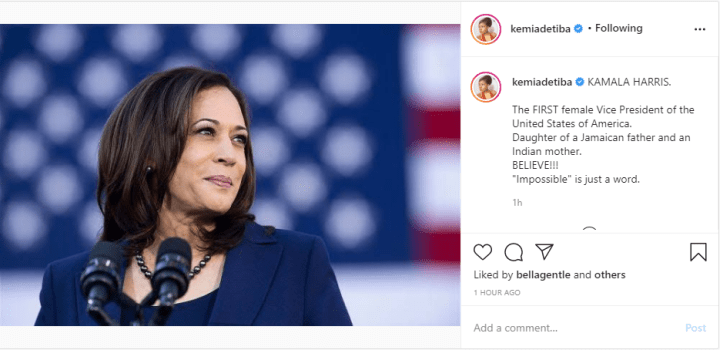 5. Femi Jacobs
Nollywood actor Femi Jacobs also took to Twitter to celebrate Joe saying:
God For Biden! Service matters too. Biden was a gracious and humble number 2, a massive centre of support for what we always knew would be a difficult Obama presidency for obvious reasons. That energy was inspiring. Bless his heart.
6. Samklef
Nigerian musician, Samklef posted a video celebrating Joe's win saying:
Must watch: I share tears watching this. Ur character in this life goes a long way.
7. Toke Makinwa
Nigerian socialite Toke Makinwa kept it short and simple saying:
Congratulations to Biden/Harris #America2020
8. Uduak Isong
Nigerian filmmaker, Uduak Isong, asks a good question:
I wonder if Trump will keep tweeting.
9. Eku Edewor
Nigerian actress Eku Edewor tweeted out simply:
Finally something to celebrate!!!!
10. Dino Melaye
Senator Dino Melaye took to Twitter to celebrate Joe Biden along with a picture of them together saying:
OluwaBiden is President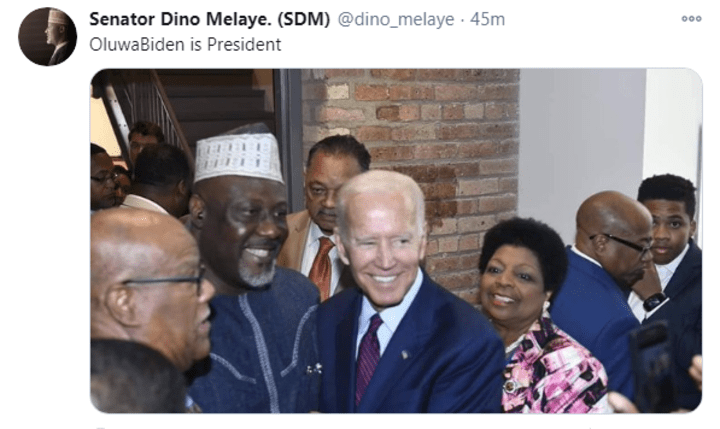 11. Kehinde Bankole
Nigerian actress Kehinde Bankole tweeted to applaud Trump's "tenacity" and to also congratulate Joe saying:
Biden won. I admire Trump's tenacity though. But Americans insisted on @JoeBiden winning and he did. Guy just updated his bio.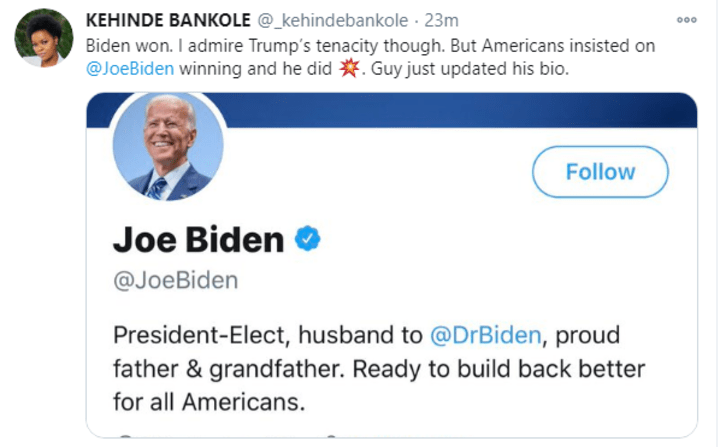 Congratulations to President-Elect Joe Biden. I wish him all the best during his turn as President of the United States.
That's All.
Don't forget to like my page:
I'm sure you've loved reading this piece. To make sure you keep having fun and don't miss out on any fun in the future, be sure to like and follow my Facebook page above. It's a really fun page and you're really going to love it. So what's stopping you? Like it!
To catch up other content you might have missed, click here.
Until next time, have a wonderful rest of your day.