What Are Exchanges?
Learn everything about the different types of Exchanges.
An Exchange is an online platform for the exchange of Bitcoins and other cryptocurrencies. They offer users the service of exchanging cryptocurrencies for other cryptocurrencies or fiat money, such as dollars, euros, yen, pounds, etc.
There are two types of exchanges: centralized and decentralized.
Centralized
Centralized exchanges or exchange houses a.k.a. CEX, are companies that offer platforms with different services in terms of cryptocurrencies such as buying, selling, storing, savings accounts, among other things, similar to a traditional bank. What makes CEX more useful is that they allow you to exchange fiat money for crypto and vice versa.
These exchanges can have other advantages such as volume, human support, simple interface, some currency that cannot be obtained in a decentralized way, among other things. But it also has its disadvantages, by using these platforms the company becomes the custodian of your funds and has full control of them.
These platforms may ask to verify your identity, proof of sources of funds, and even give all that you have the right to decide whether to release or retain your funds. Centralized exchanges work a lot like traditional banks, regulated with some red tape but with some benefits that could be attractive to people just starting with cryptocurrencies.
Here are some CEX examples
Binance. You may have heard of Binance, and it is no wonder. Binance has a great offer of different cryptocurrencies apart from having loans, savings accounts, spot trading, margin, OTC, and other things like derivatives. Binance offers several ways to buy cryptocurrencies like a credit card, P2P, and more.
Coinmama. Coinmama is a leader company in the sale of cryptocurrencies that allows you to buy various types of cryptocurrencies with your credit card, by bank transfer (SWIFT, Sepa, Fedwire, FasterPayments, and Sofort), as well as through Apple Pay. One of the easiest ways to buy cryptocurrencies. You must have a Wallet, Coinmama DOES NOT work as a Wallet.
Decentralized
Decentralized exchanges or exchange houses a.k.a. DEXs, are codes in the form of smart contracts that allow the exchange of assets without the need for intermediaries, all executed automatically.
To use these DEXs before it is necessary to have cryptocurrencies since these contracts are 100% controlled by codes and at the moment fiat money is not programmable money like cryptocurrencies.
To avoid having to wait for an order that matches your purchase or sale, the most popular DEXs are using a system called AMM or Automated Market Maker that works through pools of liquidity of the pairs available to make swaps or exchanges on the exchange or exchange house (examples: DAI/ETH, LINK/ETH).
Anyone can provide liquidity and benefit from swap commissions. These protocols can be governed by employing their tokens that function as a vote in decisions regarding its evolution. Some DEX allows you to earn their governance token using the products it offers.
Here are some DEX examples
Uniswap. Uniswap is a decentralized protocol for automated liquidity pledging on Ethereum. Uniswap also allows you to make swaps and is very popular since you can find thousands of assets since there is no permission to list a currency here, so you have to be careful.
1inch. 1inch is an aggregator of different DEXs that helps you swap looking for the best price. 1inch will search through several pools of liquidity in the best DEX to find the most efficient route to fill the order you are placing.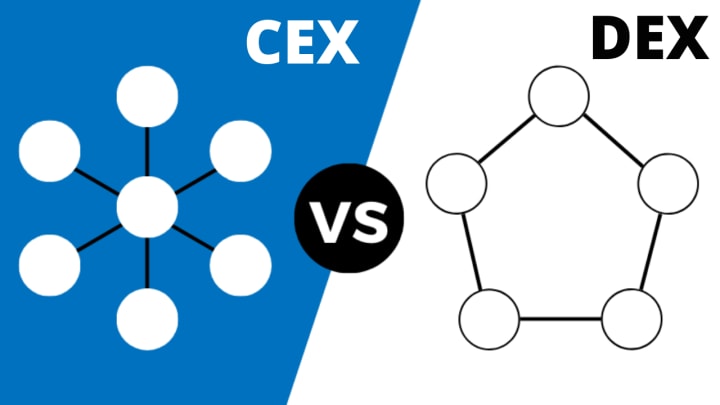 There are also specialized Exchanges for Trading.
Exchanges for Trading
Cryptocurrency exchanges specialized in trading are exchanges that offer a specialized service focused on being able to do trading.
Some examples of Exchanges for Trading
Bybit. ByBit is one of the best, if not the best cryptocurrency derivatives exchange, it is a P2P exchange of cryptocurrency futures, its users can trade perpetual contracts of Bitcoin, ETH, XRP, EOS among others with leverage up to 100:1.
Bitso Alpha. Bitso Alpha is a cryptocurrency trading platform focused mainly on Mexico. It is a platform designed 100% for cryptocurrency trading, although it is focused on traders, it is also a very easy platform to learn to master cryptocurrency trading.
Disclaimer: This article is for informational purposes only. It should not be considered Financial or Legal Advice. Not all information will be accurate. Consult a financial professional before making any major financial decisions.
----------------------------------------------------------------------------------------
Do you want to be part of our community!? Newsletter every Friday directly in your inbox. Fun? ALWAYS! Welcome to The Edition
blockchain
About the author
Engineer + Author + Entrepreneur| Founder of @KeepingCryptos and Apple Newsweek on Medium | #Bitcoin is the king 👑
Reader insights
Be the first to share your insights about this piece.
Add your insights