USDC will be now on 5 new blockchains
What does it mean for crypto?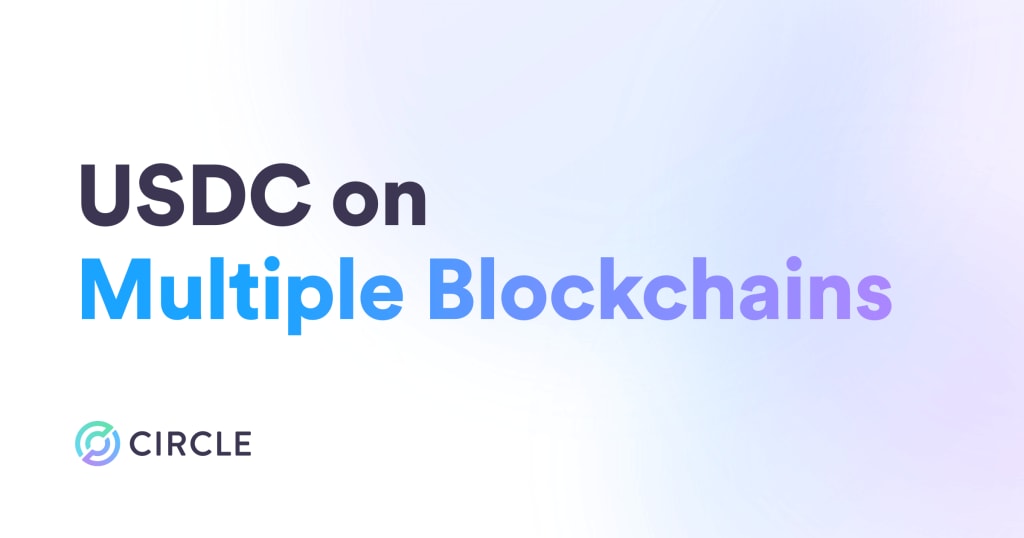 TL;DR
Will be available: Arbitrum, Cosmos, NEAR, Optimism, and Polkadot
Already available: Ethereum, Solana, Avalanche, TRON, Algorand, Stellar, Flow, and Hedera
Check out your portfolio for those cryptos (but not all).
First thing first. What is USDC and what does it stand for?
USDC stands for USD Coin.
USDC is a fully-reserved stablecoin, which is a type of cryptocurrency, or digital asset. Unlike other cryptocurrencies that fluctuate in price, USDC is designed to maintain price equivalence to the U.S. dollar. USDC is a stable store of value that benefits from the speed and security of blockchain technology.
USDC is the brainchild of Circle and Coinbase (The most influential players in crypto space), launched in 2018. USDC is an open source protocol, which means anyone can use it - not just Circle and their partners. USDC along with tether (USDT) equates to more than 80% of total market capitalization for all U.S. dollar-pegged stablecoins. Though USDT has the largest market capitalization among all stablecoins, USDC has its advantages and differences from its peers.
Why USDC? Or stablecoins?
Think of that, you have some BTC and you want to sell it to get some gain. Now you have the choice to sell it for fiat currencies. But you don't know what fiat you want to sell it for. Your preferred fiat could go down by the time you sell it for. Now, stablecoins minimize typical cryptocurrency volatility by maintaining collateral in the form of reserves, often of U.S. dollars.
For instance, you sell it for Euro. Now you want to send it to your wallet. How you will do that? With the help of a stablecoin, you could send it to your wallet or to the supported wallet.
The purpose of USDC is to provide customers with a fast and cost-effective way to transfer value quickly anywhere in the world. Unlike some stablecoins linked to the price of a single asset or basket of assets, USDC's value is tied directly to the U.S. dollar.
How transparent is USDC?
Unlike its competitor USDT, which has a severe transparency issue, USDC is fully backed by cash and U.S. Treasuries, one of USDC's core value propositions is that a financial institution can hold it without fear of fluctuation.
For every $1 of USDC in circulation, Circle holds $1 of USD. USDC is fully-backed by cash and short-dated U.S. treasuries, and these reserves are held in the custody of leading financial institutions.
What do all these means for crypto?
It is in fact very good news for crypto and blockchain interoperability. If we were not in a bear market, we could have seen a pump for the new support providing crypto. If you have a look at the list, Polkadot and Atom both stay for blockchain interoperability and communication. A stablecoin like USDC will be highly used for multichain operations. The aim of USDC is also to be the key player in this sector.
The other two cryptos from the list are Arbitrum and Optimism. If you are not familiar with those, they are layer 2 solutions for Ethereum. The purpose of this two, make Ethereum faster, low transaction fess, and remaining the inbuilt security of Ethereum. They work by building a bridge to the Ethereum blockchain. So both of the cryptos stand for blockchain interoperability and multichain communications.
Blockchain bridges work just like the bridges we know in the physical world. Just as a physical bridge connects two physical locations, a blockchain bridge connects two blockchain ecosystems. Bridges facilitate communication between blockchains through the transfer of information and assets.
Unlike other cryptos from the list, NEAR, which is one of the Ethereum competitors, stands for solving the problem of scaling. For NEAR it looks like, they just added it to the list to keep up with its competitors (Solana, Ethereum, Avalanche, TRON, Algorand).
Final thoughts
For me, the news is bullish for inter-blockchain communication and layer 2 protocols. Because most of the cryptos on the list have a layer 2 behavior, and they stand for blockchain interpretability.
Resources:
https://www.coindesk.com/learn/how-does-usdc-work/
https://www.circle.com/en/usdc
https://ethereum.org/en/bridges
https://bitcoinist.com/u-s-judge-orders-tether-to-produce/