The Ultimate Guide to Mining Ethereum
Mining Ethereum is cheaper than Bitcoin mining, and can be more profitable. Here's what you need to know.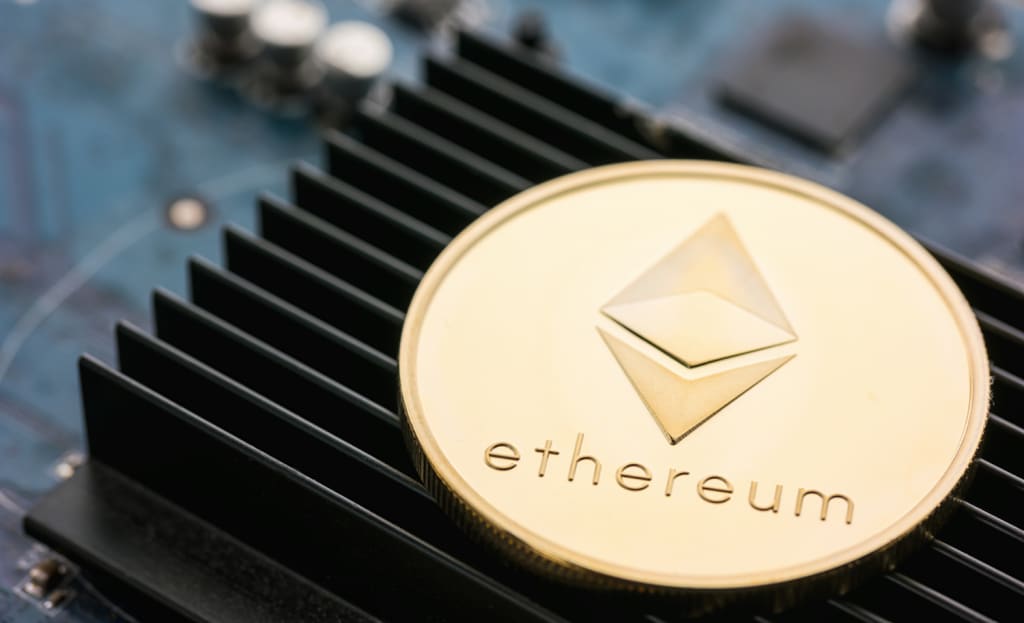 When it comes to cryptocurrency investing, it's hard to ignore the topic of Bitcoin mining. It's seen as the way to make "free money" in the cryptocurrency world—even though it's everything but free.
It's easy to see the buzz. Bitcoin's worth a lot. People are talking about how to mine Bitcoin, how to calculate mining profitability, and even looking up Bitcoin mining hardware.
People often forget that you could be mining Ethereum and other coins, too. Right now, Ethereum is one of the best Bitcoin mining alternatives on the market.
Curious about Ether? You should be. Ethereum takes a lot less hassle to mine, and could be the way you earn your cryptocurrency's worth. Here's what you should know...
Ethereum is a cryptocurrency that's based on blockchain technology, just like Bitcoin. You can trade it, spend it, or if you're a programmer, create your own cryptocurrency based on its code.
However, its coding is a little bit different. Much like Bitcoin, Ethereum transactions are done through a "proof of work" model which shows that a third party verified the transaction.
Ethereum is currently poise to overtake Bitcoin's in terms of market size. It also is a cryptocurrency that has a full-time team promoting it, making it a safer bet than others on the market.
What does mining Ethereum mean?
Like Bitcoin and other cryptocurrencies, Ethereum transactions require "proof of work" in order to go through. Proof of work means that you need to have a third party hash out the algorithms that go on during a transaction.
Once proof of work goes through, the process is complete. This form of mining also requires you to make new Ethereum chains during the transaction. You get paid in Ethereum every time you help a transaction go through.
Sounds great, but is there a catch?
Yes and no. There is a catch, but it's not intentionally done. Every time a transaction goes through, the blockchain gets longer and it takes more work to make a transaction go through.
This means that you will need a little more computational power than before to make a transaction happen, every time that you have an Ethereum mining situation come up. After a while, you will need to upgrade your machine.
This is a problem with Bitcoin mining, but there, the problem is worse. Bitcoin's algorithm actually encourages centralization. So, while we could have mined Bitcoin with a laptop years ago, now, only major mining operations can do it.
Ethash, Ethereum's mining algorithm, encourages decentralization. So, it's easier on your hardware.
Why would I choose Ethereum mining over Bitcoin mining?
Aside from the very high costs of Bitcoin mining, there's another perk that makes mining Ether better. Simply put, it's faster, and therefore gives you more rewards over a similar amount of time.
Ethereum mining is quicker than Bitcoin mining, since it only takes 12 seconds to mine an Ether block versus a 10-minute Bitcoin Block. Bitcoin mining has also become more centralized, which is not cool for newbies.
Sadly, you cannot realistically be mining Ethereum on a laptop these days. It's neither profitable nor worth your time. If you want to start, you will have some startup costs.
A good GPU will be 200 times faster than your CPU, and also will provide better output. We suggest a low-cost entry-level Etherum mining GPU like the Nvidia GTX 1070. Its 30 MH/s hash rate means you'll make enough money.
Software is crucial to Ethereum mining. You have a number of options to consider, including Geth, Minergate, or Ethermine. You will need to install these on your computer in order to make it possible to mine Ethereum. We suggest Geth or Ethermine, if you are looking for established software.
Follow your software's instructions to install it. The software will set up nodes for you and help you configure everything. If you are running Geth from a command line, you may also want to test out your mining rig.
This will give you a good idea of what to expect in terms of speed. Once you know the hashrate, you can use that to punch into a profitability calculator. This will give you an idea of how much you can earn from your mining operation.
Once you're done setting up nodes, you will need to download Ethminer. This is the actual mining software that you will be using to make your money.
If you're new, you may want to join a mining pool.
Ethereum mining pools allow you to pool resources, which in turn, tends to be far more profitable. The more people there are in a pool, the more computational resources they can use to help potentially earn some Ether.
This may reduce your rewards in the short term, but over time, it's often better to go it this way than it is to go solo. You can find mining pools online. Ethpool is currently the biggest mining pool for Ethereum, and yes, there is a signup process.
Use your software to start mining.
Though it may seem like a cop-out, most Ethereum mining software does come with tutorials teaching you how to mine Ether using it. So, once you're connected, tested, and installed, you have nothing stopping you from mining Ethereum.
Once I finish a block of Ethereum, what should I expect?
The moment that you finish mining Ethereum blocks, you should expect an instant reward of three Ethereum. It won't be as much as Bitcoin, but the rate of return that you're getting is much faster than Bitcoin. As a result, it can offer a pretty decent payout.
It's worth pointing out that Ethereum is rising in price, which means that it's an investment that will pay off in the future.
Ethereum mining is fun, but if you want to profit, you should remember to transfer any Ether you mine into a cryptocurrency wallet. Otherwise, your mining earnings will be gone if your computer's hardware fails. We suggest using Coinbase for this, since it's heavily insured and is Ethereum-friendly.
It also makes turning Ethereum into fiat cash way easier. So, there's that perk, too. Happy mining!