Introducing the OG Gallery 2.0
With the OG Gallery, Creatd advances its Web3 strategy.
One year ago, I published my first article outlining Creatd's NFT strategy. At that time, it was clear that our investors and other stakeholders were keen on understanding how our creator-first company would capture value in the new digital frontiers of blockchain, crypto, and their derivative technologies (i.e. NFTs, metaverse lands). We spent the intervening months exploring opportunities within the blockchain space, including experimenting with numerous NFT art drops, pursuing the potential integration of cryptocurrency into the Vocal platform, and using smart contracts for other e-commerce platform opportunities currently in the works.
Today, we launched the beta version of the new OG Gallery. This is an NFT e-commerce marketplace focused specifically on leveraging assets from our media library, the OG Collection. In the future, we envision evolving the OG Gallery into a much broader ecosystem that empowers creators using blockchain, provides value-enhanced features, and removes intermediaries and roadblocks to the success of a new generation of digital creators.
The OG Gallery was initially conceived as a research and development vehicle for a broader exploration into how blockchain and tokenization could be integrated into our existing platforms and leveraged to promote our media libraries and provide a new avenue of opportunities for our creators.
Of the many different shapes and forms of NFTs, one facet I'm particularly excited about is its role in the sale of physical collectibles. I've been fortunate to have had many conversations these last months with a wide range of individuals with deep knowledge in the blockchain and NFT space, both as sellers and collectors. What's clear from these conversations is that NFTs have the potential to add considerably more value to a physical item than said item would have on its own, both in terms of the high consumer demand to purchase NFTs, and the advantages presented by using smart contracts. For creators, linking an NFT to their physical creations can provide a significant boost in their earning potential from royalty pay-outs. I anticipate seeing many more of these linked offerings in the art world, e-commerce space, and beyond. For Creatd, we recognized that the fusion of NFTs and physical artwork holds tremendous potential for our owned-and-operated media library, known as the OG Collection.
The OG Collection is an extensive library of original artwork and imagery from the archives of some of the most iconic magazines of the last century. The OG Collection was the founders' first asset acquisition, and in the years since, has been featured in numerous publications including VICE magazine.
Of particular interest were a number of Donald Trump photos that were part of a significantly larger collection of celebrity photographs from the era. Over the years we have drawn upon the collection for numerous creative projects including a documentary, a published book, and a feature film. The Collection is also a financial instrument, both in terms of an appraised value of its physical assets, as well as a projection of those assets' abilities to generate revenue. The company is exploring various opportunities to monetize the entirety of the OG Collection. The Collection is currently valued at zero on its balance sheet based on purchase price accounting guidance, despite its appraisal of $6 to $8 million. The company is currently employing a sophisticated DAM (digital asset management platform) to aid our ongoing curation effort and will help us extract maximum value from the collection in future production, licensing, and branding opportunities in this realm.
OG Gallery 2.0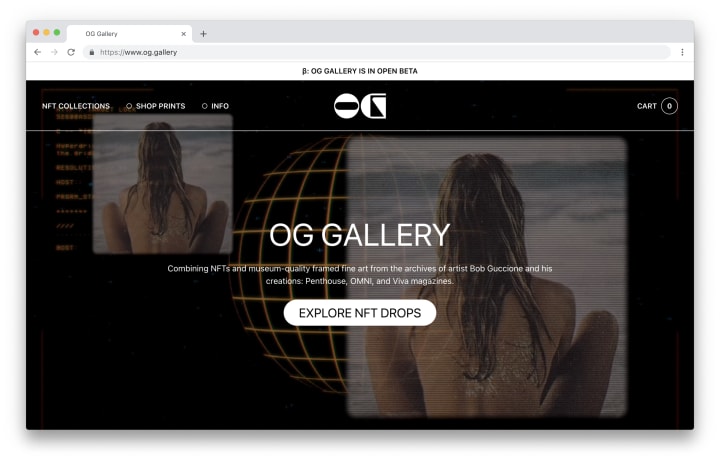 Our new marketplace combines the rich history of the OG Collection with the fast-changing world of NFTs. Part of our experimentation process since our original announcement last year included three NFT art drops featuring celebrity subjects (Billie Deane, Donald Trump, and Madonna, respectively) and enabled us to build a strong core audience leading up to today's launch.
In the beta, we released several pieces from the collection, but more importantly, launched a technology platform combining NFTs and museum-quality framed fine art from archives of artist Bob Guccione and his creations, Penthouse, OMNI, and Viva magazines. The photography collection is the largest component of the media library and is made up of photographic prints (various sizes), 35mm negatives, slides (various sizes), and even glass negatives. Within that collection, the Penthouse, Viva, and OMNI photoshoots, dating between 1973-1995, are some of the most voluminous and interesting components. Included in the media library are countless documents along with hundreds of files of IP and creative proposals for ideas ranging from comic books to feature-length films. In this recent drop, we expanded the sphere of focus to reflect the diverse range of subjects and themes embedded in the OG Collection and across Guccione's publishing empire.
Drop 4: Lenna (6 NFTs)
Inspired by Lenna, the centerfold that helped create the JPEG, this NFT collection features 1 of 1 NFT photographs that have been digitally enhanced using photo software from the early 1980s.
Drop 5: Expurgate (6 NFTs)
The Expurgate Collection is a reminder that beauty should not be censored for the eyes of the beholder.
Drop 6: Afrofuturism (6 NFTs)
Mark Dery, in his essay Black to the Future, created the phrase Afrofuturism. Today, it continues to be a cultural movement placing the themes of the African diaspora into a sci-fi and techno-cultural context. Afrofuturism presents a different vision of the future—a black future.
Drop 7: Teresa Ann Savoy (8 NFTs)
Teresa Ann Savoy fled from home and was living in a hippie community in Sicily when she was discovered as a model. Savoy later went on to star as Drusilla in Tinto Brass and Bob Guccione's infamous film Caligula (1979). These never before seen NFT photographs were part of the materials related to her casting by Bob Guccione.
Drop 8: Lynn Partington (8 NFTs)
Before Lynn Partington posed for Penthouse she was a bunny girl in the London Playboy Club. In 1971, Partington was Penthouse Pet of the Month, and Pet of the Year runner-up in 1973. Partington's December 1971 cover photo by Bob Guccione was the first bare bottom to appear on the cover of Penthouse.
Drop 9: Vaporwaves (6 NFTs)
Inspired by Bob Guccione's search for answers in the realm of science and technology, Vaporwaves is part of the collection of imagery from the personal archives of Bob Guccione, founder of the iconic sci-fi magazine OMNI. Vaporwaves is characterized by a fascination for 1980s and 1990s nostalgia, combining technology, art, and Japanese culture.
Drop 10: Guccione Illustrations (9 NFTs)
Long before Bob Guccione picked up the camera, he was best known for his illustrations, which often appeared in British tabloids of the mid-20th century. The often satirical tone would reflect on aspects of politics, society, and sexuality.
This highly curated selection of illustrations for this NFT collection has been digitized from actual pages of Guccione's personal sketchbooks.
The Future
To advance the project, we are assembling an Advisory Board. This board will include myself, as Head of the Board, Novelist Erica Wagner, and a number of renowned archivists as well as technology specialists in the digital asset management space. Beyond the OG Gallery, the collection and its content will continue to generate licensing opportunities. We are currently in discussions on book and screenplay development as well as podcasts related to the ideas discovered in the content of the collection's vast files.
The entire Creatd team is excited to have come this far. Today's new technology release is another step forward on what will be a long journey and we are still just recently out of the gate.
Reader insights
Outstanding
Excellent work. Looking forward to reading more!
Top insights
Expert insights and opinions

Arguments were carefully researched and presented

Eye opening

Niche topic & fresh perspectives
Add your insights