How to Choose the Best Bitcoin Wallet
Did you step into the game of cryptocurrency?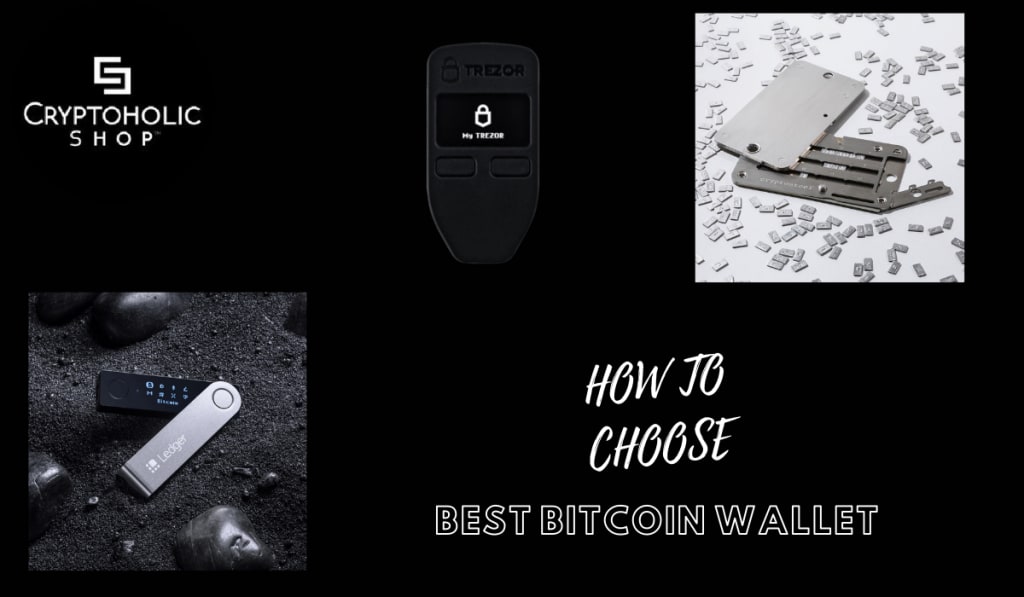 Best Bitcoin Wallet
And of course, you require a crypto or Bitcoin Wallet for storing your digital coins, right?
Generally, bitcoin wallets are used to secure the address of private keys, which is vital for exchanging Bitcoin or other cryptographic forms of money. These give a protected place to store your coins by asking for a digital signature to transact coins. These digital wallets are accessible as a device, a software program, an online website, or a service provided by crypto traders.
Choosing one of these is quite challenging. But, picking a bitcoin wallet carelessly could result in the loss of bitcoins and other cryptocurrencies all at once. Even, taking suggestions from a companion who has two days experience is also an inadequate decision.
Accordingly, while picking a crypto wallet, you need to choose what kind of crypto wallet you need and afterwards move to specification for finding the best for you.
Each Bitcoin wallet has various specifications regarding security, convenience, coin support, level of protection and anonymity, UI, customer support, charges, built-in services, and different factors. The most widely recognized types of Bitcoin wallet is - HOT and COLD. Hot wallets work appropriately after connecting with the Internet. While, cold wallets refer to offline storage devices like Trezor, Ledger Nano X, Ledger Nano S.
But, how to identify - which is best for you?
This guide will help in choosing the right wallet for storing your coins.
So, let's have a look!
Table of Content
Tips for Choosing the Right Bitcoin Wallet
Determine the Bitcoin Wallet Type
Take Into Account User Interface and Accessibility
Consider the Operating System
Back-up & Multisignature Feature
Evaluate the Safety Measures
Wrapping Up!
Tips for Choosing the Right Bitcoin Wallet
Determine the Bitcoin Wallet Type
While picking the bitcoin wallet, one of the fundamental elements is the "Type". There are different kinds of bitcoin wallets accessible in the market. However, these are distinguished from one another in terms of features and functions. So, to pick a suitable wallet, it's an ideal opportunity to grab information about the various types of bitcoin wallets. And afterward, pick one that suits your requirements and specifications. As we discussed above, bitcoin wallets are of two types - "Hot" and "Cold". Hold wallets refer to online wallets that secure digital coins over the Internet or web. It considers all your trading of coins online with easy and smooth convenience.
On the other hand, cold wallets or Bitcoin Hardware Wallets are offline devices that store coins using private keys. These wallets are recognised as more secure and reliable devices against hold wallets. Nevertheless, hot wallets endeavour to grant immediate passage and exceptional adaptability to execute transactions. Cold wallets are offline devices, so they may add a bit of inconvenience. But these devices are popular for contributing top-notch security.
Take Into Account User Interface and Accessibility
The user interface is another feature of the Bitcoin wallet. You must ponder this factor for adopting an appropriate wallet to store your coins. Each bitcoin wallet dresses with a unique interface and features. Therefore, take into account your requirements while picking up the wallet.
However, leaping to a very modern and advanced wallet may develop issues to understand its functions and user interface easily. That is why, you must go for a bitcoin wallet that has an easy, simple, and user-friendly interface. Another criterion for adopting an excellent user interface is to pick the most popular options, compare them, and then end up with an appropriate decision.
Consider the Operating System
Bitcoin wallets are compatible with both computers and mobile phones. Each device has a different operating system. Consequently, while picking the wallet, you need to determine the availability of the operating system used by your computer or mobile phone.
Well, there are numerous varieties of bitcoin wallet that are compatible with all types of operating systems, including Linux, Windows, Android, iOS, etc. But, some wallets can only function with a particular operating system. Therefore, check the operating system and conclude the selection accordingly. If you still aren't confident about - whether you're going to use the same system or not, you must select a wallet that is compatible with all operating systems.
Back-up & Multisignature Feature
Security is the main concern when it arrives at the stage of picking a bitcoin wallet. And thus, multi-sig and backup features become an essential chapter in the book of securing wallet platforms. Attackers always live upon a chance for steaming the coins from a wallet through different codes and methods. But, the multi-sig feature rescues the coins and private keys from theft and attackers. Under this feature, it includes more than one key to authorize bitcoin transactions.
On the other hand, the backup feature is another important aspect of choosing a bitcoin wallet. Make sure your wallet provider suggests a device or program that has a backup hallmark for restoring your data. Additionally, the backup restoration process is easy to use. But, don't forget to explore other options prior to lending one Bitcoin wallet.
Evaluate the Safety Measures
Picking a reliable and more secure bitcoin wallet means holding to various safety features. For protecting your crypto wallet, these features are necessary to avoid online and offline risks. The cold wallets feature private key options and a 24-word recovery phrase ensures that no hacker or thief can access your bitcoin wallet without any authorization.
2 Factor authentications feature will ask for a verification code each time while signing up for the wallet. No one is allowed to access the wallet without inserting the authentication code. If any unauthorized user tries to access your wallet, you'll get notified. So, choose a wallet that equips with all these features.
Wrapping Up!
Doesn't matter what type of bitcoin wallet you are using - hot or cold. The thing that matters is the security and authenticity of the wallet. For keeping your coins away from the hackers, it's essential to choose a reliable and robust bitcoin wallet of hardware or software. The more you stay attached to the above-mentioned factors, the more likely you're obliged to get a secure bitcoin wallet. Always check the reviews, certification, and reputation of your wallet provider.