5 Best Blockchain Certification Courses for Professionals [Updated 2021]
Time to Boost your Chances to Succeed!
Blockchain is a technology that duplicates and shares transactions and records through the network system. The transactions in blockchain technology are secured and encrypted, providing transparency and not allowing a third party to access these records or modify them.
Many organizations have realized the impact of blockchain in various industries and have expressed their interest in adapting to blockchain technology. As blockchain technology is emerging and promises successful growth, there has been a massive demand for blockchain professionals worldwide, which makes now the best time to get your certifications in blockchain and become a blockchain professional.
Below is a list of top blockchain certifications and courses that you can choose from to become a blockchain professional in 2021 and beyond:
By getting trained and certified, one can gain practical skill sets needed for the job, as it focuses both on knowledge and skills needed to perform real-world job problems responsibilities, as well as document one's expertise is blockchain and their personal commitment to their professional development. It offers a complete guide starting from blockchain technology fundamentals and its work to advanced implementation approaches for full-stack developers.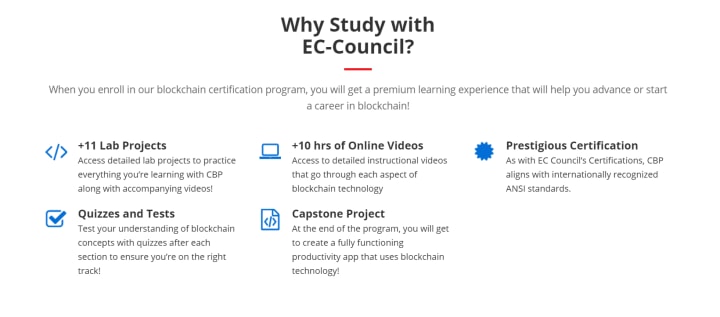 The course is divided into four phases:
Blockchain Fundamentals – Introduction to blockchain technology, crypto assets, blockchain mining, etc.
Application of Blockchain Technology – Ethereum – the foundation of DApps, industry use cases, Decentralized applications (DApps), etc.
Blockchain Project Implementation – create and build private networks, writing smart contract code, etc.
Advanced Blockchain Development – Scalable blockchain, security in blockchain, etc.
You can avail the CBP course in three different ways:
iWeek where a live training instructor will train you online
Master Class, which is an in-depth live online course and it focuses on enhancing your blockchain skills
Training Partner is an in-person training course that lets you collaborate with peers and gain real-world skills.
The CBP course includes detailed instructional videos, lab projects, tests and quizzes, a capstone project at the end of the program, and a prestigious certification. The course enhances your skill set by creating blockchain strategies and delivering knowledge beyond bitcoin and cryptocurrency to ensure comprehensive implementation. It also helps you in understanding how to apply the knowledge gained from the course effectively. After completing the course, you can build blockchains, create cryptocurrencies, and use the blockchain knowledge in IoT and AI sectors. The CBP course is for full-stack developers, however, it is recommended to possess some pre-requisites before starting the course.
In this course, you will learn about the basic concepts of blockchain and its effects in various industries, take advantage of this, and invest in your career growth.

The course describes 50 real-world applications related to Blockchain technology, providing an in-depth insight into the real-world blockchain applications and blockchain technology's key features. It offers knowledge about blockchain applications, Big data, Land and Vehicle registration, KYC, Helping farmers, etc. It also focuses on industries such as the Fishing industry, Diamond and gold industry, Automobile industry, and many more.
In this course, you will learn about: 
What is Blockchain?
Properties of Blockchain
Hash & its functions
What are smart contracts?
Blockchain application in IoT industrial use cases
This course is curated for professionals working in organizations or owning a business; therefore, students starting their career in blockchain or blockchain enthusiasts will not benefit significantly from this course. The course does not provide information about creating blockchain strategies and creating cryptocurrencies. The course's primary focus is on blockchain in various sectors, thereby not elaborating on the logical coding of a blockchain. 
This course is specifically designed for college graduates and working professionals to cater to learners' needs across job roles and industries. It provides 250+ hours of learning fundamentals of blockchain with hands-on experience and industry exposure. This course also provides a PG Certificate from IIT Bangalore. This course will benefit from a 1:1 personalized mentorship from the experts in the blockchain industry.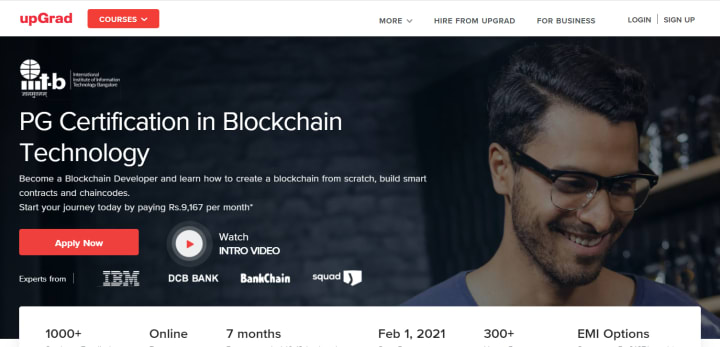 The syllabus includes:
Blockchain: Basics and Application
Foundation of Blockchain/ Distributed Computing
Architecting Blockchain Applications
Capstone Projects
Even though no prior coding knowledge is required, this course needs you to have a Bachelor's degree in the field of Engineering, Science, or Mathematics. It is curated explicitly for software developers, IT professionals, analysts, and technical leads. The course is not expanded to the IoT and AI applications of blockchain. 
This course is for anyone who is an enthusiast interested in building blockchains or a college student who is planning to start a career in Blockchains and Cryptos. The course provides critical concepts of blockchain as well as practical training for the same. It gives an insight into the logical flow of the created projects to map theoretical knowledge to the practical aspects.

The course contains the following modules:
Building a Blockchain
Creating Cryptocurrency
Creating a Smart Contract
You are required to have high school level mathematics knowledge as a prerequisite to start the course. The experience of basic Python programming is necessary to complete the practical aspect of the course. This course covers all the fundamentals concerning blockchain and cryptocurrency but does not provide real-world industry exposure. 
This course provides an understanding of advanced blockchain architecture concepts by learning use cases for blockchain. It also guides in choosing an appropriate blockchain system for the customer's need. The course provides detailed interviews with blockchain experts and offers personal guidance throughout the course. This course is ideal for developers, IT administrators, software and cloud architects, etc.

This course contains modules such as:
Blockchain Fundamentals
Enterprise Blockchains
Ethereum Overview
Hyperledger Fabric Overview
R3 Cordo Overview
The course can be pursued by any professional individual or student wanting to pursue blockchain as a career. However, it is recommended that individuals taking the course have some professional experience and hands-on expertise in specific roles, such as developers, engineers, or IT administrators.
Conclusion: Key Takeaway
Suppose you are a blockchain enthusiast or a student planning to pursue blockchain as a career option, or a professional planning to widen your business by incorporating blockchain technology. In that case, the courses mentioned above will assist you in understanding blockchain technology and its implementation.
Still asking How to become a blockchain professional? Well, from the mentioned courses, I'll recommend the Certified Blockchain Professional (CBP) course offered by the EC Council as it will help you enhance your skillset by covering all the aspects of blockchain technology, fundamental and advanced, with hands-on experience. CBP offers practical knowledge that can be implemented for personal projects or in your organization.
Another reason why I recommend this is that I have personally taken it up and it has helped me land a 9-5 job in less than 6 months.
So, rest I leave to you. All the best!