4 Best Ways To Instantly Exchange Cryptocurrency At The Best Rate
We're going to say that most of you would probably answer "cryptocurrency exchanges."

Quick question: how do you exchange a major cryptocurrency for another?
We're going to say that most of you would probably answer "cryptocurrency exchanges."
Undeniably, cryptocurrency exchange is still a popular way to buy, sell, and trade crypto. It provides you with a very specific set of trading functions such as trading volume and market depth of different cryptocurrencies.
But instant crypto exchanges take it a step further: allowing you to instantly swap one cryptocurrency for another without a lengthy sign-up process and complex trading charts.
Instant crypto exchanges just simplify the process of exchange. It's a simple, quick, and safe way to exchange various crypto coins.
So let's take a closer look at some of the best instant crypto exchanges.
Why would you use instant exchange instead of a regular exchange?
Before we go into that, I'd like to highlight a few main advantages of using instant crypto exchanges over regular trading platforms.
1. It's non-custodial
Non-custodial instant exchanges do NOT store your coins on their servers.
Instead of keeping your funds using a free account of a regular crypto exchange, the non-custodial exchange allows you to hold funds in your own crypto wallets.
2. It's safer
By holding funds in your own private wallet will significantly reduce the risk of losing money in case of a hacker attack.
Just happened this May, the world's biggest crypto exchange, Binance reported a $50million worth of cryptocurrencies were stolen.
Mt. Gox lost $460 million in 2014, Bitfinex suffered a loss of $72million in 2016, NiceHash was hacked for $60million in 2017, and Coincheck lost a staggering $530million in early 2018, the biggest Crypto heist up to now.
Since traditional exchanges are often under the attack of hackers, using non-custodial platforms is much more reliable and safer.
With that said, you'll first need to have a cryptocurrency wallet to keep your coins safe. Choose a reliable crypto wallet here.
3. It's simple and easy to use
Instant exchanges allow its users to quickly switch coins without going through time-consuming registration process.
It's pretty straightforward and easy to create an account. In most cases, all you need is an email address to get started.
Even better, some platforms don't even require an account to use it.
4. It's faster
If you've ever used a custodial crypto exchange, then you'd know how long it can to get your account approved!
It can take weeks, if not months to get your account ready before you can start buying and selling on regular exchanges.
However, the process of trading is simplified with instant exchanges.
Go to an instant exchange, select the crypto to trade and get your coins right away.
There's no delay. Each transaction is processed immediately and takes from 5 to 60 minutes, on average, to complete.
5. It offers extra privacy
Unlike centralized crypto exchanges that require sign-up and ID verification, most instant exchanges are a convenient and quick way to buy/sell crypto anonymously.
You don't have to provide personal data to make a transaction.
How to Instantly Exchange one Cryptocurrency to Another
There is no doubt, non-custodial instant exchange is an efficient way to convert your coins.
Here are some of the most reliable instant cryptocurrency exchanges on the market.
1.MyCoinChain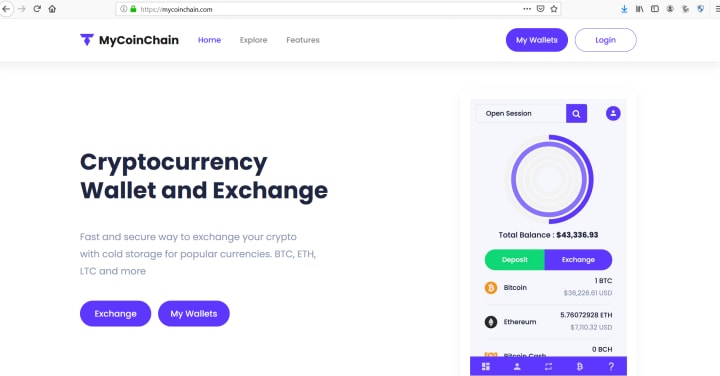 MyCoinChain is a relatively young global instant exchange that quickly became a game-changer in the crypto industry.
It allows you to trade over 100 cryptocurrencies with more than 20,000 pairs to choose from.
Three things great about MyCoinChain:
1. You can store crypto with cold storage.
Not only supports crypto-to-crypto exchange, MyCoinChain also lets you store cryptocurrency offline with their cold storage wallets.
Some popular crypto that you can exchange are: Bitcoin (BTC), Ethereum (ETH), Ripple (XRP), Litecoin (LTC) and Binance coin (BNB).
2. You get the best exchange rate
Working more like a search engine, MyCoinChain shops the best exchange rate in the market. You can then do the transaction directly on the website. Also, there are no transaction limits!
3. You're not required to create account to start trading with MyCoinChain.
No more wasting time waiting for your account to be approved. You can exchange any cryptocurrency you desire instantaneously.
Here's how it works:
Step 1. Navigate to the website and click "Exchange."

Step 2. MyCoinChain will generate a list of cryptocurrencies for you to swap.
Step 3. Choose the exchange that you desire. For this example we picked Bitcoin(BTC) to Monero(XMR) You have the option to send to an external wallet or create a wallet for your transaction.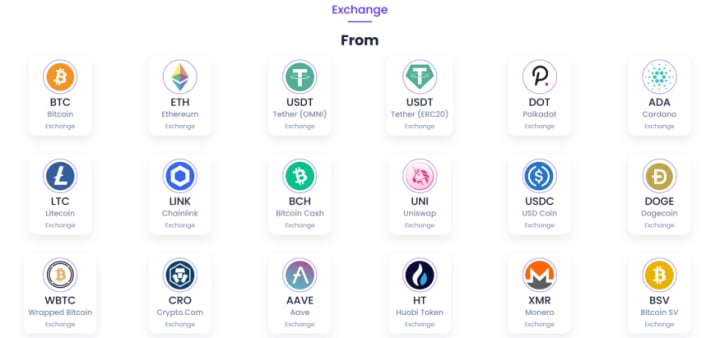 Step 4. Provide your wallet address to receive your coins.
Step 5. Send your cryptocurrency to their wallet address.

That's it! Now, wait for your coins to be transferred directly to your crypto wallet!
Get the best exchange rate with MyCoinChain here
2. ChangeNOW
ChangeNOW is another great instant cryptocurrency exchange service that supports 170+ cryptocurrencies.
What makes ChangeNOW different is that it works without registration and limits.
No emails or passwords. No lengthy sign-up process. No accounts.
Moreover, there is no maximum amount for cryptocurrency exchange on ChangeNOW. You can swap as much as you want.
With its user-friendly interface, you can quickly exchange with 4 simple steps:
Step 1. Select the currency. Choose the coins you want to exchange from the drop-down menu and enter the amount. ChangeNOW will automatically calculate the amount of specific coins you'll get.
Step 2: Provide your wallet address to receive your converted currency.
Step 3: Check all the information. If everything is ok, click "Confirm" to continue.
Step 4: Deposit funds to their wallet address and you'll receive your coins in your own wallet in 5–30 minutes.
3. Changelly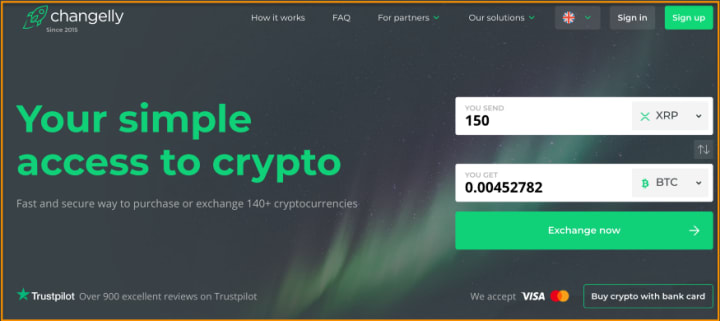 Founded in 2013, Changelly is a popular crypto-to-crypto instant exchange service that provides a secure and fast way to exchange over 140 cryptocurrencies.
Its intuitive interface makes it super easy to use especially for beginners. Plus, you don't have to deal with complicated trading charts.
How it works:
To start, you'll need to create an account with your email ID.
Step 1. Enter the amount of crypto you want to exchange and check its rate.
Step 2. Enter your crypto wallet address
Step 3. Check and confirm transaction details
Step 4. Send your funds to the given wallet address
Step 5. Wait for the exchange. Fund will be delivered directly to your wallet address once transaction is completed.
4. ShapeShift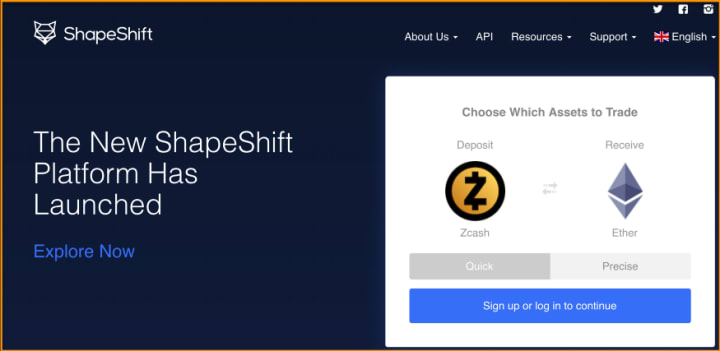 ShapeShift used to be my favorite site when it comes to exchanging coins anonymously.
But at the end of 2018, in order to meet its legal obligations, they opted to brand their new KYC (Know your customer) and AML (Anti Money Laundering) procedures as membership loyalty programs.
So now you're required to create a free account and provide some private information before you can start trading on ShapeShift.
To encourage more users to hand in their personal information, they even give away tokens called FOX to new members and offer benefits like earning 0.5% FOX back for each trade.
Still, ShapeShift is a simple crypto-crypto exchange, in which you can easily convert between cryptocurrencies with just a few clicks.
At the moment, ShapeShift supports over 35+ cryptocurrencies such as Bitcoin (BTC), Binance coin (BNB), Monero (XMR), Ripple (XRP), Dash and more.
It has a unique feature: Choose between Quick and Precise
Quick: Quick orders don't require you to tell how much of a specific coin you want to receive. With this flexibility, you can deposit whatever amount you like, as long as it doesn't exceed the deposit limit (min or max). All you need to do is enter your receiving address and a deposit address will be given to you.
Precise: (Recommended) You have to enter a specific amount of altcoin you want to trade before you're given a deposit wallet address from ShapeShift. According to ShapeShift, you often get a better rate with this type of exchange and a higher deposit max.
Since it does not hold user funds, this means your money is safe even if ShapeShift get hacked. Such incident happened back in 2016, where an employee attempted to empty out the Bitcoin hot wallet. Luckily, no customer funds were lost.
Conclusion
There you go.
Now you know how to convert one cryptocurrency to another quickly, easily, safely (and anonymously).
As crypto is getting more mainstream, instant crypto services are springing up like mushrooms. While there are tons of non-custodial exchange platforms out there that claim to let you swap coins instantly.
I'd personally avoid those sites and thus only handpicked the best instant exchange services that are safe, trustable and convenient to use.
Which is your favorite website to exchange between various cryptocurrencies?