Your Brand is Not Inclusive: Stop Using Fat People's Hope as a Marketing Tactic
Carrying sizing up to the average shouldn't be lauded or celebrated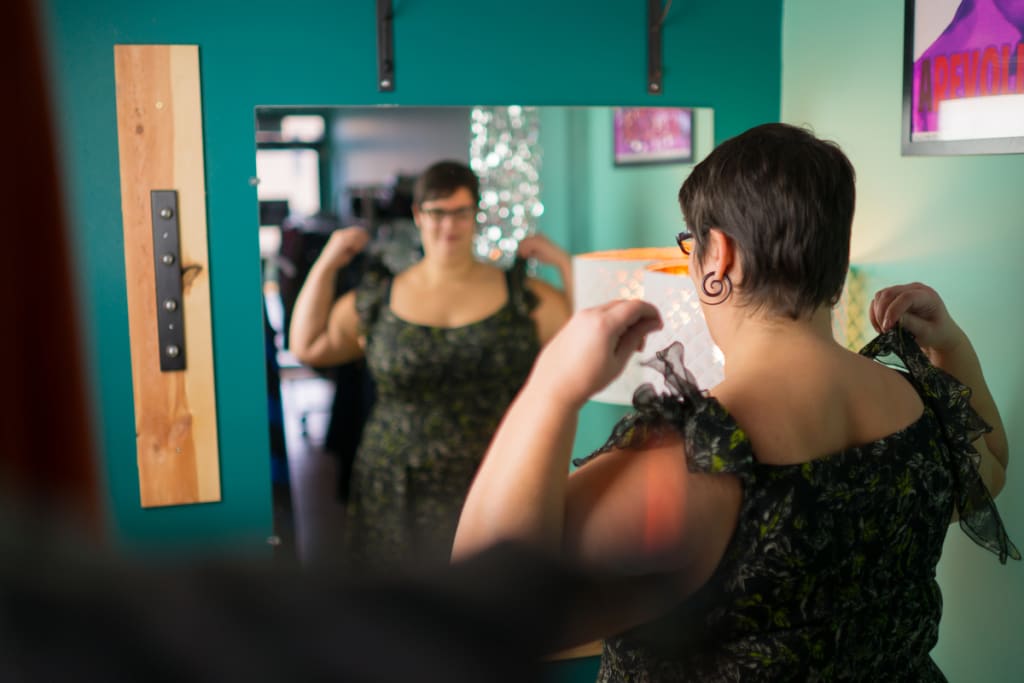 Image purchased from Body Liberation Stock
MLMs come in waves, and the most recent craze is ZYIA, a trendy, spendy athleisure brand taking Facebook by storm. I originally got invited to a ZYIA group by a coworker's family member. I checked it out, and that's the first time I saw the claim that ZYIA has something for "everybody and everyBODY."
I'm always down to support brands that are size inclusive, but when I went to check out their catalog online, I found that their definition of "everybody" only includes people whose bodies are smaller than a size 20. Their biggest sports bra, a size XXXL, is equivalent to a 38 band.
I was disappointed, but not surprised at one more brand that claims to be for everyone while excluding half of its potential customer base. Since body positivity and inclusion have become more mainstream, brands have chosen to capitalize on the perception that they're doing something worthy of admiration by offering sizes above 10 or 12.
I don't buy it, literally or figuratively.
At best, it's misleading, but at worst these companies are exploiting the hopes of fat people (and in some cases, exploiting actual fat bodies) to make a buck.
Brands claim to offer extended sizing, but don' t follow through.
I'm teetering on the edge of being solidly in the superfat range. I can still shop in-store at Lane Bryant and Torrid, but buying clothes at any "regular" store is virtually out of the question at this point. I wear a 26–28 pant, and almost all "extended size" sections in stores stop at a 24 or 26. Sometimes if the fabric is right, I can buy 3X clothing, but it's completely dependent on the cut and the give.
I've written before about how frustrating it can be to try to clothe a body that society would rather pretend doesn't exist. The fact that so many companies have jumped on the bandwagon of claiming to carry extended sizes just makes it that much more difficult to pick out the places where people over a size 20–22 can shop.
Even the stores that have plus size sections carry a very small number of items in comparison to their regular stock.
While many major retailers have finally extended their plus-size offerings beyond size 14, the number of items offered in the category is consistently less than the number of those in the standard range. Nordstrom's private-label brands like Halogen and Caslon cover sizes up to 28, Macy's carries a selection of brands up to 24W, and Neiman Marcus caps out at a size 24 with small amount of formalwear extending to 26 and 28. But Macy's, for example, has over 6,000 tops in standard sizes and just over 2,000 for plus, which starts at size 12. And it has more than 1,000 denim styles for standard but just 352 in plus. source
All of these brands and companies have recognized that "body positivity" was something they wanted to buy into. Brands like Shapermint use #bodypositive tags on their Facebook ads for garments to squash and mask your natural curves into something smoother and more socially acceptable. They use words about body love and acceptance while providing little to no options for people like me.
Knix is another brand that touts itself as being inclusive and carries a much more limited selection in larger sizes. Their pullover bra in size XXXXL+ has a 44" band. But their traditional bras only go up to a 40 or 42. XXXXL period underwear is equivalent to a size 26. Their clothing is even less inclusive, with sizes stopping at an XXXL, 8 inches smaller than the size 26 period underwear.
Brands feature models that wouldn't fit in the clothes they sell.
Beyond using buzzwords like inclusive, for everybody, extended sizes, options for everyone, some companies use actual fat people to promote their marginally-more-inclusive product lines.
California brand Summersalt launched a campaign called "Every Body is a Beach Body," which in theory sounds great. In practice, their definition of "every body" is only inclusive of bodies up to a size 24. In an article on Glossy, it's praised as a logical marketing step, ignoring the fact that they're capitalizing on body positivity while not putting their money where their mouth is.
On June 17, Summersalt launched its "Every Body is a Beach Body" campaign, featuring 30 women of all ages, sizes and ethnicities. For Summersalt, a brand selling swimsuits up to a size 24, the decision to go all-in on an inclusive marketing campaign made perfect sense. From the beginning (the brand was founded in May 2017), Summersalt has championed body positivity and size inclusivity through its products. Moving into inclusive marketing was the logical next step. source
Other stores, like American Eagle and Old Navy, carry plus sizes only online or at select stores. Which leads to incidents like my friend experiences when she saw a big-bodied model larger than life in the store window, but walked inside to find zero stock inside the actual store. Some brands take it all the way by featuring photos of sizes they don't even make:
Everlane featured plus size/curvy models in their images, positing inclusivity, but only carried sizes up to XL, which are decidedly not inclusive. Brands like Urban Outfitters use plus sized models but don't carry the sizes that would fit them, or print shirts with slogans like "Riots, Not Diets" and "Every Body is a Good Body" but then don't carry anything above a size 12. Very few brands are truly inclusive the way that Universal Standard is, with photos of their clothing in the same styles for sizes from 00–40. source
It's impossible to know what extended sizing means.
Searching online for information about more inclusive brands, you'll come across articles like this one: 7 Clothing Brands That You Didn't Know Offer Extended Sizes and feel a glimmer of hope, but then you explore the options listed.
J. Crew: Carries up to a 24
Nordstrom: Carries up to a 4X=26–28 (24W-26W)
Boden: Stops at size 20
Ann Taylor: Carries up to an 18
Anthropologie: Carries up to a 26W
M.M. Lafleur: Carries up to a 3x in some styles, but doesn't show a size equivalent on their size chart once you get to 1X-3X, an XXL is an 18
If you peruse this article or the brands it's lauding, you'll likely notice two things. One, they're at prohibitively high price points. I don't know about you, but I don't have $295 to drop on a pair of slacks. Two, stores and brands that offer "plus sized" clothing don't all use the same sizing standards.
There is no standard for what "extended sizing" even means, but it always means the baseline is small bodies. It always means that clothing fat bodies is seen as extra, an afterthought, or something special being offered after the fact. Even the sizes themselves are confusing and inconsistent. Sizecharter explains:
As you shop, you'll encounter clothing with a simple numerical size, such as 20, as well as pieces with a numerical size and the letter "W." To make things even more complicated, you'll also see general sizes like 2X or XXL.

Misses' Sizes - Plus size clothing items that are sized with a simple number, such as 18, 20, or 22, are often called "misses" sizes. You'll sometimes see them on more youthful looks, but some retailers stick to this type of sizing for all their pieces. Some clothing lines consider anything a size 14 or above a "plus" size, while others start their plus sizing at a 16 or 18.

Women's Sizes - Other pieces are sized with a number followed by the letter "W." This "W" stands for women's sizing, and in general, it means that the clothing is cut with a looser, more relaxed fit. These clothing lines are often made for those with more generous curves and may have more ample bust and hip areas, too. Occasionally, brands add a "Plus" or a "+" after their sizing; this usually means the same thing as a "W.

X Sizes - The X sizing system, such as 2X or XXL is more all-encompassing, and you'll most often find it in pieces that don't have a tailored fit. It is very commonly used for knits and items with more give that require less exacting fits. source
In some brands, a 3X is going to be closer to a fitting 24 or 22W, and in some it might be closer to a loose 26 or 24W. This is another reason that brands that don't really offer a wide range of larger sizes can claim to be inclusive or to carry extended sizes when they're doing the bare minimum.
Extended sizes are often an afterthought or pipe dream.
So, where do we turn? We're left to shop online, and even then, it can be extremely frustrating. Searching for plus size clothing items will often take you to a company that stops in the 20–24 range, and it's incredibly difficult to come up with a search term that will return the actual results you're looking for.
Brands start by producing straight sizes, and they're missing the mark, and the market. I see ads in my Facebook feed for clothing all the time, and when people ask in the comments about inclusive sizing, the answer is almost always the same: we're a new and growing brand, thanks for your suggestions, we'll keep it in mind when designing new styles. Just once I'd like to see a brand start by producing larger sized clothes and have smaller sizes be the maybe someday option.
The fact that we're even using XL as a label is fraught with meaning - you are extra, you require extra, you require beyond what is "normal" for us to give. Many brands charge a premium for clothing over a certain size rather than spreading the cost equally among all of their items. We call them extended sizes because they are an afterthought, an extension, like they are doing us some sort of favor by including millions of people who were previously excluded completely.
Brands need to stop capitalizing on fat folks' hope and start delivering.
When the average size of a woman in America is 20W, brands should not be lauded for carrying up to an 18 or 20, or even a 24. That means they're leaving as many people without options as they're serving. Not only is it frustrating for fat people, but it's bad business. Imagine how much money there is to be made from the rest of the women out here.
Carrying sizes that are large enough to fit an average sized person isn't something we should be praising. As consumers, we should be demanding better. If you are not fat and want to be supportive of your fat friends, one of the most powerful ways you can do that is by demanding equity. You vote with your wallet, so make a point to shop at companies that are doing better. Fat bodies are seen as entertainment, as a burden, and as an afterthought.
It's time to demand that brands make a choice. Stop capitalizing on fat people's hopes and bodies or start providing the actual things you're promising.
About the Creator
Polyamorous, loud laughing unapologetic feminist, rad fatty, and epic sweet tooth. I might overshare, but I'll also share my fries and shake with you.
Reader insights
Be the first to share your insights about this piece.
Add your insights