What You Need to Know Before Purchasing Denim Jeans
Life-Changing Tips That Will Help You Find Your Perfect Pair of Denim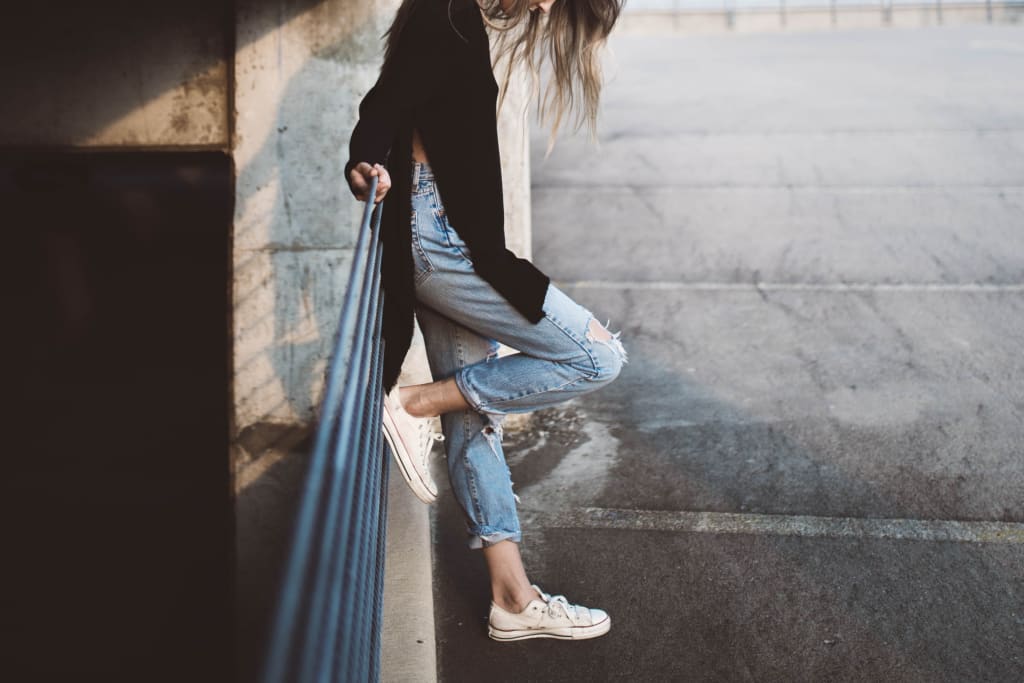 Photo by Brook Cagle on Unsplash
We have all had this situation happen to us. You go to the store and try on multiple pairs of denim jeans. No matter what you try, you feel like they all make you look wide and create a soggy butt appearance. After jumping into several pairs, you leave feeling defeated and hateful towards your body.
I have worn jeans that not only make me feel unattractive but have to be worn with large tops to hide the appearance of muffin top. Then I learned something life-changing. What if I told you that your body is perfect, it's the jeans that are off?
No matter what size or shape you are, your body is beautiful. Technically speaking, none of us have a muffin top. The real truth is that you are not buying the right denim for your figure. So how do you know what to look for? I've scoured the internet, tried on multiple pairs of denim, and talked with countless salespeople to help you find that perfect fit for you and your body.
You should never feel defeated or ugly after leaving a store. By looking out for these tips and knowing your shape, you will find a pair of jeans that make you feel sexy and beautiful in your own skin.
Know your body shape.
The most crucial thing for any form of fashion is knowing your body shape. According to an article on Shop Your Shape, there are eight primary body shapes for females. Understanding your figure will help you choose what style of jeans will look best on you.
To figure out your body shape, I would suggest studying your figure in the mirror as well as putting in your measurements to this calculator to figure out your perfect type. After doing this, I figured out that my body resembled a spoon shape. What this means is that my hips are larger than my bust and my hips give off a shelf-like appearance.
This doesn't mean you can't be a mixture of things, though! It is merely a baseline for you to get a feel of what will look good on your body type and how to accentuate your curves correctly. I would highly suggest doing research once you figure out how your body curves. There are Pinterest boards, YouTube videos, and countless articles at your disposal to get style inspiration.
Once you know this, it will help you pick out which fit looks the most flattering on you. For instance, a spoon-shaped body type looks best with straight-legged pants, wide waisted bands, and a mid-rise fit. This is because I have more of a lower tummy that I want to cover, so I want something that gives structure to this area without digging in.
A few other body types and options include:
Hourglass
A body type where your bust and hips are similar in size with a small waist that flows into the hips and is clearly defined. You'll want to reach for a contoured waistband, high-rise pants, and a bootcut or flared look.
Pear
A pear body type is similar to the hourglass except that your bust is smaller than your hips. This means you will also be reaching for a contoured waistband, a mid to high rise pant, and a flared or relaxed fit.
Inverted Triangle
The inverted triangle has a well-defined shoulder and bust with narrow hips. With this shape, you would want to look for low rise and a wide leg or boyfriend style denim.
Athletic/ Rectangle
Like the name, a rectangle-shaped body is very similar up and down. To add some shape, you'll want to reach for either high rise or low rise and get a skinny jean or straight leg look.
Even with all this information, you can still get a jean that doesn't technically fit your body type. What you want to remember when shopping is the ABC's of fashion. Ask yourself what you want to accentuate, find the balance between your top and bottom, and what do you want to conceal or cover?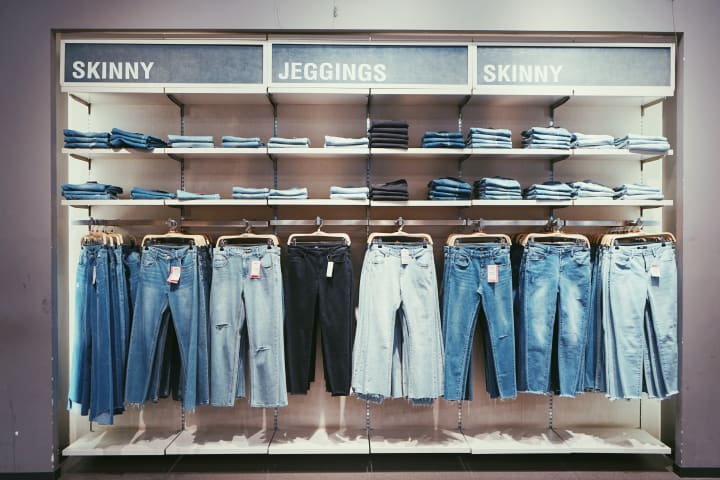 Darker vs. lighter
Depending on what you are wanting from your pants will let you know if you should go for a darker or lighter shade. Darker colors give off a slimmer appearance while looking more professional. A lighter shade has a more casual look and can emphasize certain areas of your body.
This is not necessarily a bad thing if you are wanting to show off the curves of your body. I personally believe that every woman should carry both in their wardrobe. Darker shades are great for professional events (like interviews, meetings, etc.), while lighter jeans can be better for casual strolls and running errands.
What you do want to pay attention to is the variation of colors on the jeans. Have you ever bought a pair of dark jeans that have highlights down the middle? This can create a look you won't like. While highlighting can be great, it can also emphasize parts of your body in an unflattering way.
For instance, if you get a dark pant with a light streak down the middle, it can widen your leg and make it look more significant than it really is. You also want to make sure the highlight does not suddenly end at the knee. This can immediately give you a shorter appearance and look stumpy.
You also want to pay attention to the ridges that most jeans have. Do you have any denim that has streaks of highlights around the thighs? Again, this can make your legs look bigger than they really are. If this is what you want, then go ahead and get them! It all depends on what you are wanting from your denim.
Check your zipper.
Something that I recently found out about is the importance of checking your zipper. Do you suffer from camel toe in your jeans? This isn't necessarily your fault but the design of your jeans. When you go shopping, you should check how much space there is between the end of your zipper and the crotch area.
If there is too much space, it will put more emphasis in that area (which no woman ever wants). Unfortunately, a lot of denim nowadays does this since it is inexpensive to put the same zipper on all shapes and sizes. You might have to spend a little bit more, but it is worth it not to get that dreaded attention nobody wants.
When you have no space in between this area, it will blend seamlessly. That space can bring the eye towards the crotch as well as give the appearance of a larger stomach. A lot of vintage jeans (like Levi's) do a great job of keeping little to no space in between this region.
Find your perfect size and shape.
I was a little hesitant with this trick until I tried it out. You technically don't have to try on a pair of jeans to know if the waist is going to fit you. To know if the denim is going to be for you, just put the waistband around your neck. If it wraps around snug, the jean should be a perfect match for your body. If you have extra material, the jean will probably be a bit saggy for you. A similar trick is used for finding the perfect flare or bootcut jeans.
Depending on your thigh width, you might want to reach for a flare, bootcut, or bell-bottom. To figure this out, you will want to take the bottom hem of the jean and see if it fits snuggly around the top of the thigh. By having the bottom of your jeans match your thigh width, you will show off your curves while elongating and slimming your figure. If you are going for a skinny jean, make sure that the bottom of the denim sits right at the ankle.
When it comes to shape, it really depends on what you want. Depending on your form, you might want to reach for a stiff material over stretchy. For me, I go for a stretchier material to fit my curves perfectly. For anyone who has more of a rectangular or triangle shape, you might want to get a stiffer material that will form to your body better.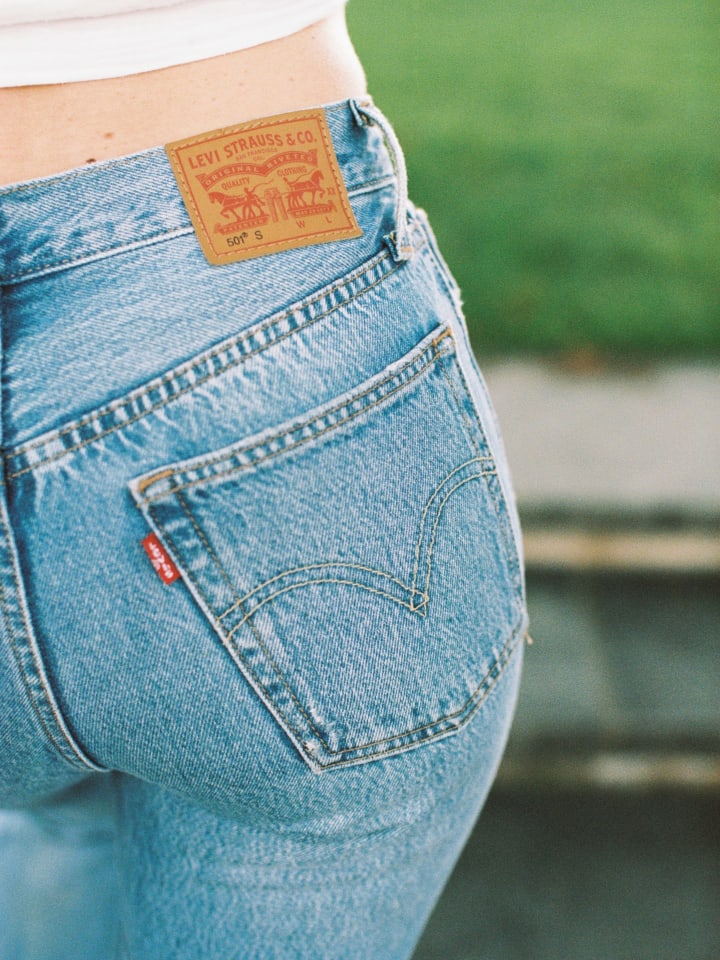 Check your back pockets before purchasing.
We all want our bottom to look round and perky in our jeans. I don't know anybody out there who craves that saggy look. If you are having issues with your butt looking flat or saggy, you might want to take a look at your back pockets.
How they sit and the size of them can determine how your butt will look in the jeans. A pocket that is too small can double the size of your butt (and not the way you're looking for). Too large of a pocket can give off that saggy look while giving off the appearance of a small butt.
A good rule of thumb is to match the size of the pocket with each cheek. You also want to make sure that the pockets are not too far apart from each other. This can become extremely unflattering for any body type. Too much space between the pockets can widen your hips.
You also want to make sure there is a decent amount of space between the crease of your butt from the pocket. To figure this out, put on your pair of jeans and give them a good stare. Do you have a little space from where your butt naturally creases to the bottom of the pockets? This will help round out your butt while avoiding that saggy look.
Proper care of your jeans.
We all know that we are not supposed to dry out jeans, but we might not know why. All jeans have some sort of plastic in them to help keep them together and stay fit throughout all the wear and tear.
Every time you dry your jeans, you are burning off that plastic. Over time, you will notice that the first few minutes your jeans will look great but will eventually sag and stretch in an unflattering way. If you want your jeans to last longer while always giving you a great form, make sure to skip the dryer.
By following these steps, you will purchase that perfect denim pair you'll never want to take off. By knowing your body type, checking pockets and zippers, and taking into account where the highlights are, you will find a jean that makes you feel sexy.
Let me know with a like or a much-appreciated tip if this article helped find your perfect denim. We should always feel sexy and beautiful in our skin, and our clothes should accentuate our bodies (and not in an unflattering way). When you feel comfortable in your clothes, it seeps out as confidence everywhere else.
About the Creator
A chaotic room of stories. My curiosities lead me in all types of directions, creating a chaotic writing pathway. I want this place to be for experimenting, improving my craft, and sharing new ideas with anyone willing to read them.
Reader insights
Be the first to share your insights about this piece.
Add your insights