What is the Highest Quality Cashmere?
The quality of cashmere is determined by the length and fineness of the fiber. Garments or accessories made with long fine fibers are pill-less and remain in their shape longer than items made with shorter cashmere hair. The finer the cashmere fiber the softer it feels.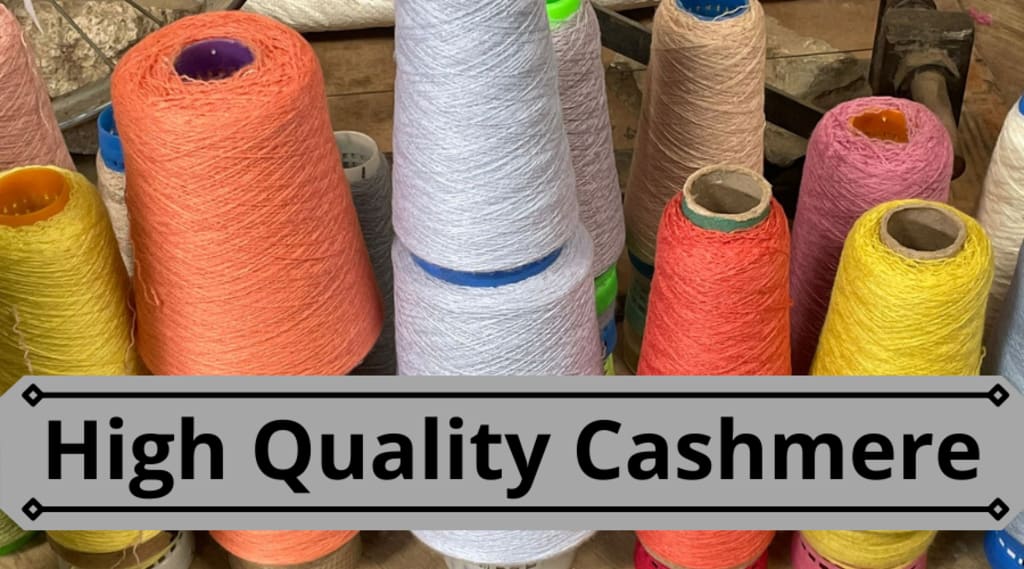 Top Quality Cashmere Fiber
Cashmere quality is sometimes impacted by the color; naturally, white hair is more desirable because it doesn't require as much processing to dye different colours.
There are several self-testing ways that you can do before buying a cashmere item that will help you identify the quality cashmere you are about to buy.
Read: How did Nepal become leading Cashmere Garments Manufacturer?
The Touch Test
Om Cashmere items feel soft and not rough against your skin. Higher quality cashmere is soft, and it even gets softer over time. Cashmere softness can be increased by treating the cashmere with chemical additives and softeners or by over washing it. This is why overly soft cashmere is doubtful as it decreases the lifespan of a cashmere garment, so beware of cashmere that feels extremely soft.
The Stretch Test
Stretching the cashmere gently out and if it springs back without threads being detached from its earlier place is one of the other ways to check the quality of the cashmere garment. Om cashmere craftsmen follow a tighter knitting pattern of the cashmere that defines better quality and the better it will retain its shape as well as being less susceptible to holes.
The Pilling Test
Rub your hand over the cashmere item and if the little balls/pills start forming it is a sign that the cashmere used in an item contains an excess amount of shorter hairs which means lower grade quality. Cashmere garments pill when used over time, but when it pills immediately it's a sign of low-quality cashmere.
The Look Test
A small amount of fluffiness, between 1-2mm indicates longer hair of cashmere goat was used which means less pilling will happen. If cashmere is more fluffy than that, then that garment has been made up of shorter hairs that have been used which gives an impression of a softer garment but the item will pill more and wear out quicker.
What is Cashmere "Ply"?
Twisted threads together made from cashmere yarn are referred to as cashmere "Ply".
2 ply cashmere at Omcashmeres is made by twisting two cashmere threads together so when three threads are twisted together known as 3 "ply" and so on. Cashmere is such a fine hair and to increase its strength at Om cashmere we prefer to make a garment at least with a 2 ply because we strongly believe that 1 ply is less durable and to make cashmere more luxurious than it already is also to stay on the quality benchmarks we ignore making 1 ply cashmere items.
Final Thoughts
When you invest in great cashmere products, you are stepping up the longevity and luxury of your fashion store, being a retailer or fashion enthusiast adding cashmere items to your latest collection. These garments will attract clients towards your hub with their quality and shape longer than normal wool knitwear, therefore you will be earning back your initial investment over a short span of time.
Some people might be fooled into buying very affordable cashmere from a big chain, as the product will look entirely different after few washes, but once you make them have a look at cashmere you are willing to give them which has been exclusively made at om cashmere, it will become clear to them that the money is not always spent well at big stores but retailers or the designers who run their own small business are the better places to buy cashmere garments in wholesale.
The best yarns are from Mongolia, with the whitest, longest and finest fibres cost up to 200 euro per kg and in 300 grams for a single jumper is produced at Om Cashmeres. Once you add in the cost for cashmere yarn knitting and finishing, it becomes clear that anyone selling jumpers at very low prices took some shortcuts or did not have a pure cashmere garment. The issue with cashmere is that it's luxurious and the softness is addictive. Once I start wearing it, it will be difficult to go back to normal wool.