What is faux leather? VS real leather | Waltery Synthetic Leather China
faux leather VS real leather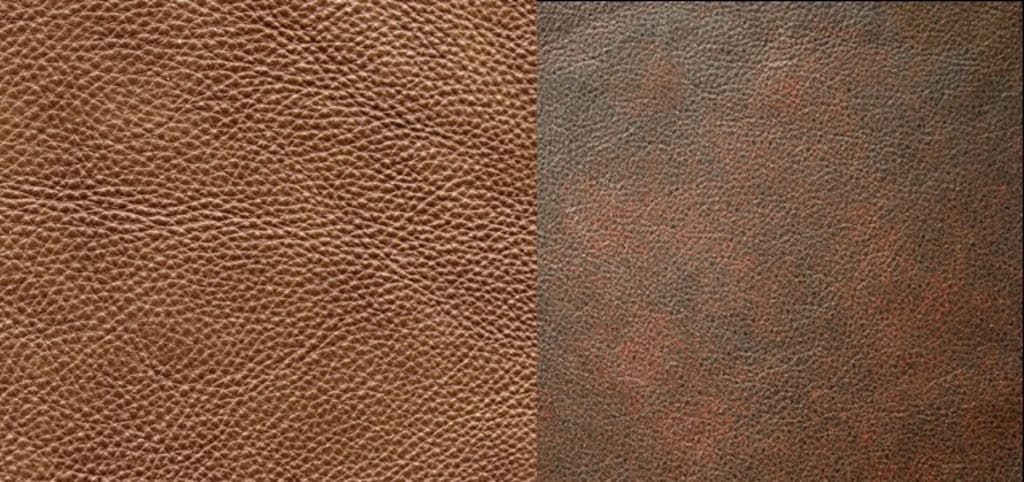 Genuine leather is derived from animals, such as pigskin, sheepskin, or crocodile The upper section is treated to create the initial layer of leather. The second layer of leather is composed of PU leather and the animal skin's bottom layer of skin or waste material. The second layer's hardness, hand feel, and abrasion resistance are significantly lower than those of the first layer of leather
In general, real leather (particularly the first layer leather) is substantially more expensive than PU synthetic leather. Does this mean that real leather has superior characteristics to PU? No, that is not the case. Genuine leather is pricey for a variety of reasons. Such as limited resources and the time-consuming processing of animal hides. Natural leather can no longer reach many of the wonderful qualities of polyurethane leather, particularly solvent-free PU and DMF-free water-based PU, thanks to technological advancements. Europe and the United States, for example, are widely acknowledged for their great physical and chemical properties, healthy & eco-friendly & animal-friendly performance, superb uniformity, and so on, and are rapidly replacing real leather with new PU.
The industry is always on the lookout for ways to boost sales. The most popular techniques include discounts, coupons, rebates and other promotions. The best way to build demand is through media exposure. While traditional advertising has its place, online marketing offers an unparalleled opportunity to reach consumers in a cost-effective manner.
What is PU leather?
PU leather is made from a form of polyurethane resin. It has many advantages over other types of leather, such as low odor and resistance to mold and mildew. PU leather is less porous than other forms of leather and therefore doesn't absorb or retain moisture. This makes it an ideal material for use in shoes, handbags, wallets, computer cases, backpacks, and more.
What is faux leather?
There are several things to know about faux leather First, it's made of plastic-like material and not leather. Second, faux leather is a lot more durable than real leather. Third, it looks like real leather and doesn't require any maintenance or special care to maintain its appearance.
Faux leather is a material made of man-made materials, such as polyurethane or vinyl. This material can be used to make items look like real leather without actually being made of the genuine product. The most common type of faux leather is coated with an oil or wax for easier wear and tear. Faux leather comes in different types depending on how it is processed. Here's our guide on how faux leathers are made and what products you can use them for.
High temperature, high humidity, low temperature, intense light, acid-containing solutions, and alkali-containing solutions all have an influence on fake leather and other materials because their qualities are different.
1). A location where you don't want to be exposed to extreme heat (45 centigrade). Extreme heat will alter the look of the fake leather and cause it to stick together. As a result, imitation leather should be kept away from heat sources such as the stove and the sun. Cleaning should be done with a clean cloth or sponge, or with a moist cloth.
2). Do not store in temperatures below -20 degrees Celsius, since this can cause the synthetic leather to freeze, fracture, and stiffen.
3). Do not place the area in a humidified environment. High humidity will cause the imitation leather to hydrolyze, resulting in surface damage and shorter service life. Cracking and hardening will occur if the humidity is too low.
4). Use a dry wipe and a damp wipe to clean the synthetic leather items. When using a wet wipe, make sure the area is completely dry; if there is any moisture left behind, it may cause hydrolysis. Bleach should not be used since it might cause gloss and color changes.