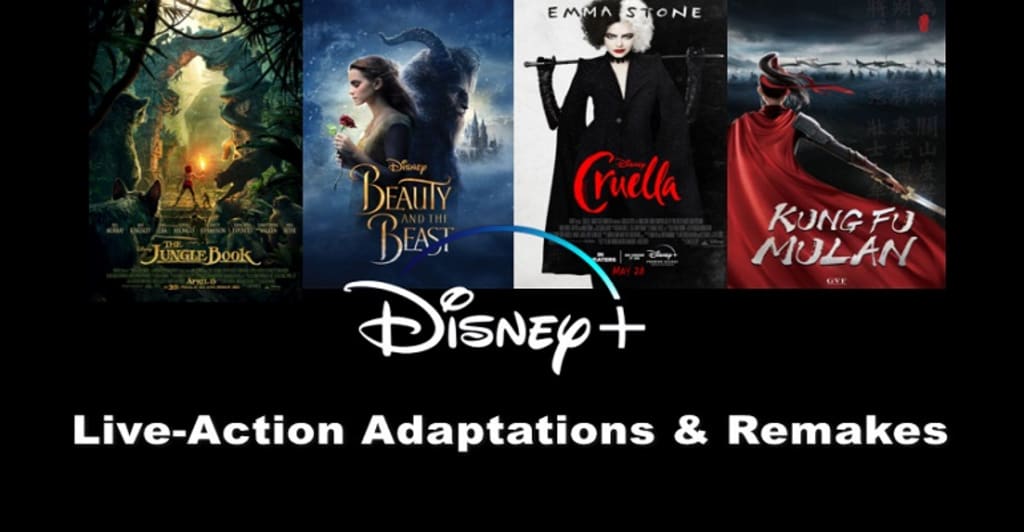 The Walt Disney Studios, the entertainment giant, has countless Disney animated classics. It has continued to adapt beloved cartoons into live-action films over the years, and has never stopped doing so. It began producing live-action movies in the 1950s, and some of them have been a huge success at the box office.
Wikipedia provides a complete list of all Disney live-action adaptations and remakes, from the first Rudyard Kipling's The Jungle Book (1994) to The Little Mermaid (2023), which just came out this year, for a total of 20 films. Here we recommend five movies with high ratings that are available on Disney Plus.
1. The Jungle Book (2016)
Mowgli is an orphaned human youngster who embarks on a quest for self-discovery with the help of his animal guardians.
2. Cruella (2021)
It centers on Estella, a teenage grifter who is intelligent and artistic and is driven to establish a name for herself through her creations.
3. Mulan (2020)
Hua Mulan, the eldest daughter of a revered warrior, disguises herself as a man to stand in for her ailing father during a general conscription to fight the Rouran army in Imperial China.
4. Christopher Robin (2018)
After becoming an adult and losing his sense of imagination, Christopher Robin is reunited with Winnie the Pooh, whom he must accompany back to the Hundred Acre Wood.
5. Beauty and the Beast (2017)
A beast imprisons Belle, a brilliant, attractive, and independent young woman, in its fortress. Despite her fears, she makes friends with the magical servants at the castle and learns to spot the genuine prince's good heart and spirit hiding inside.
The premise of watching the above movies in HD quality is owning a Disney Plus plan and a supported device. Disney Plus allows its Basic and Premium subscribers to get access to the full library and both of them can stream high-resolution videos, like Full HD and 4K Ultra HD. However, if you want to download these movies to watch on the go, only Disney Plus Premium are empowered to download them.
It is easy to download Disney Plus movies once you have a Disney Plus Premium subscription and a supported mobile device, including iPhones and iPads with iOS 15.3 and later, and Android phones and tablets with Android OS 5.0 (Lollipop) or later.
Step 1 Download and launch the Disney Plus app on your mobile device and log into the Disney Plus account.
Step 2 Select the movie that you want to download. Tap on the "Download" icon with an arrow down, which is next to the "Play" and "Add to Watchlist" icon.
Step 3 When downloaded, go to the "Download" tab at the bottom of the screen to check your downloads.
DispCam, designed for easily downloading Disney Plus shows, is a professional tool that can download HD Disney Plus videos and movies in MP4 or MKV format. It not only allows Disney+ Premium users to download videos, but also allows Basic subscribers who don't feature the download capability to download their favorite shows for offline viewing. It supports saving subtitles and audio tracks in available languages and also downloading video, audio or subtitles separately to meet your needs. Besides, all the videos downloaded by DispCam can be stored on your device forever.
The trend of live-action adaptations of classic Disney animations hasn't stopped. New live-action versions of Snow White, Mufasa: The Lion King, Moana and more are all on the horizon. Among the many movies, you are sure to find your favorite story. If you would like to download them for offline viewing, it is highly recommended to use DispCam as a tool to help you download HD Disney Plus videos and movies in MP4 or MKV format. It can assist you in saving the videos forever or transferring the videos between devices easily. Just download and try it now.
Reader insights
Be the first to share your insights about this piece.
Add your insights