Transforming DTLA's Fashion District
Co-Working Innovators IgnitedSpaces Brings Fashion, Media & Technology Creatives Together at Legendary California Market Center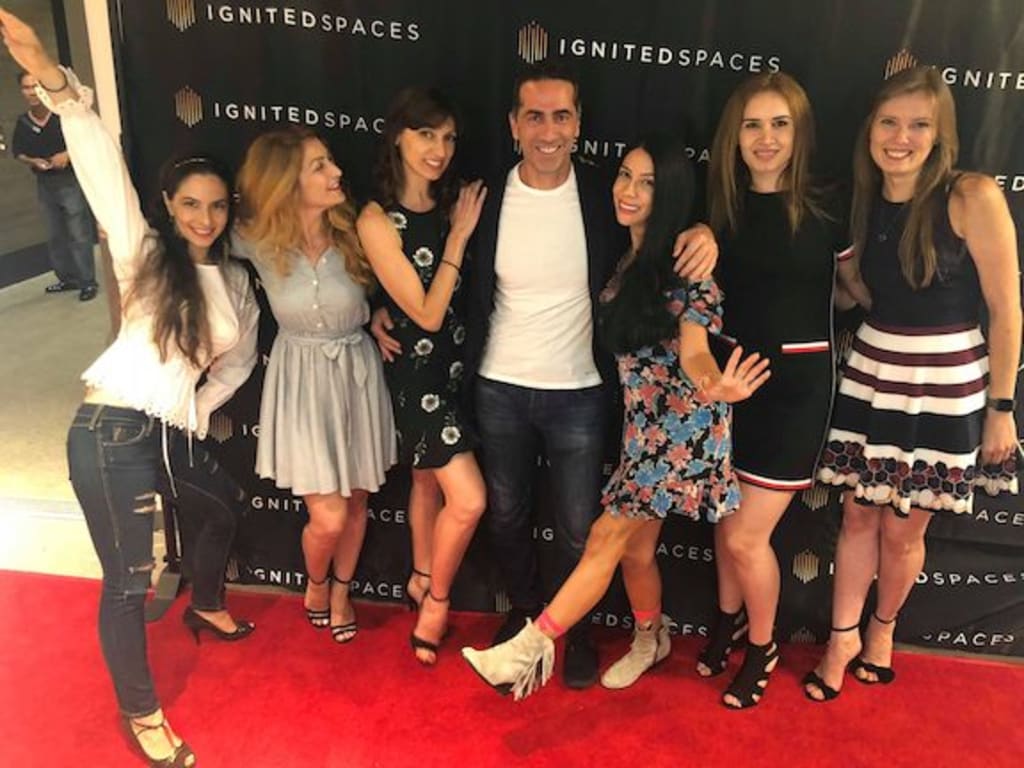 Vince, Theory & Ted Baker designer brands on display at IgnitedSpaces DTLA launch
In October, California Market Center, the largest wholesale fashion mart in Los Angeles and a famous venue for wholesale apparel industries, will once again host numerous trade events—LA Majors Market, LA Textile Show, Sustainable Fashion Forum, Market Week, and LA Men's Market.
But the fashion district in downtown LA is now dramatically changing and evolving. A controlling stake in CMC, a trio of interconnected 13-story buildings in DTLA, has been acquired by Brookfield, the New York mega-landlord which is already transforming CMC "into a 21st-century creative, mixed-use office campus."
Lawrence Kao and Matt Davis are co-founders of an evolved co-working environment called IgnitedSpaces, which initially launched in Hollywood in 2013.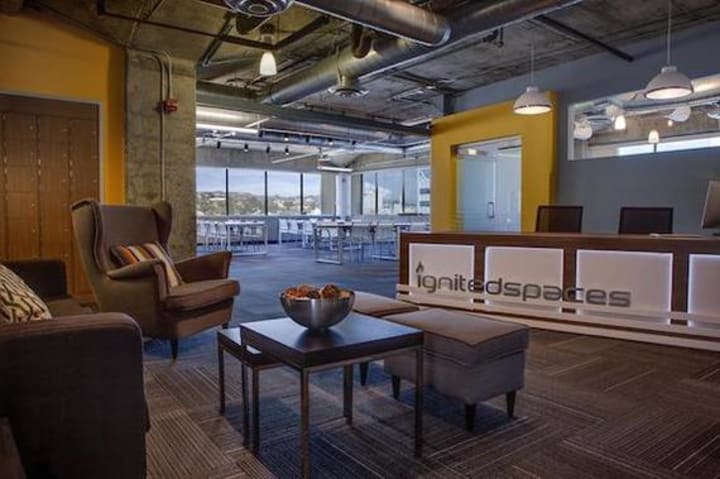 Now, IgnitedSpaces DTLA officially opened in the CMC on August 28. This new space, which encompasses the complete 12th floor of CMC's Building B, includes: a combination of 60 open and private offices, 13 high-tech meeting rooms, communal lounge areas, multi-purpose event spaces for everything from runway to filming, podcast room, photography studios, 30-seat screening theater, and library room, along with several kitchen areas, and all sorts of fun nooks and crannies.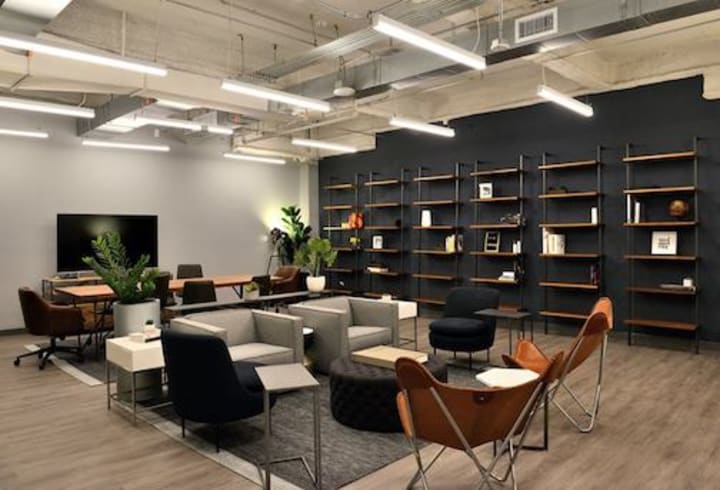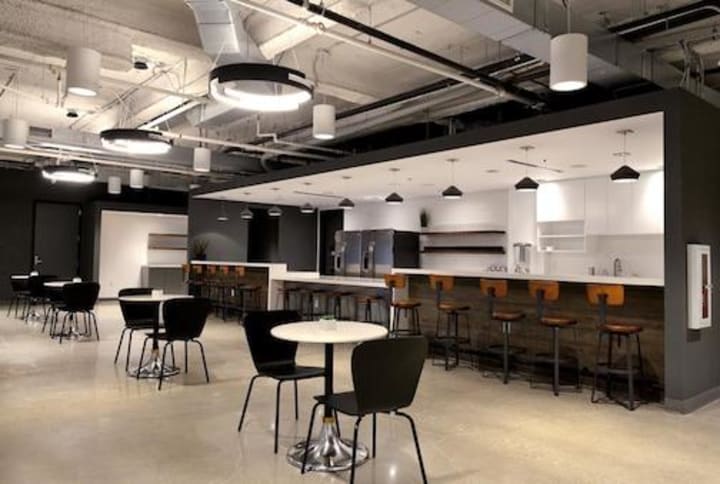 With its polished concrete floors, exposed 14-foot ceilings, and sliding glass doors, which help make everything modular, IgnitedSpaces DTLA has the sexy, cool feel of the TV series "Mad Men." In fact, when visiting this eclectic new space, all you'd need are some heavy crystal cocktail glasses and the illusion is made real — a fashionable take on the 1960s-era Madison Avenue agency vibe applied to today's work world in downtown LA.
Additionally, Davis says IgnitedSpaces' service is very turnkey with furniture included, explaining:
"There's not a lot of upfront costs for you to bring your operation here. You come in, plug in your devices and everything is ready to go. You don't have to spend extra to create a comfortable, flexible environment, it's already built in. Our service-oriented amenities are geared for a mixed-use office campus. We hope it's a synergistic space to inspire all types of content creators and storytellers, from fashion and media companies to tech and entertainment companies, to tell their own unique stories."
Indeed, fashion and new media companies are inextricably connected these days, with the fashion industry increasingly using social media in innovative ways to promote its brands—in effect to help tell those stories. So, it makes sense for IgnitedSpaces to encourage these storytellers to come together in the same workspace.
Davis cites the examples of musician and Oscar-winning actor Jared Leto and supermodel Hari Nef taking over Gucci's Snapchat account for promotional fun. In fact, media like Snapchat, Twitter and Instagram give followers and fashion consumers the inside skinny on supermodels and campaign shoots and also direct visual access to the fashion world itself.
As a personal fan of designer brands like Vince and Theory, Davis notes that as fashion, media and technology overlap, we see a company like Theory reaching out to Millennials by naming a collection, Theory 2.0—effectively using software versioning to illustrate a new strategy in fashion, and telling a different story for a specific consumer.
In fact, the overall goal from the beginning, when the two IgnitedSpaces' business partners opened their flagship space in Hollywood, has always been to help "members" have fun creating at the center of LA's ultimate storytelling hub.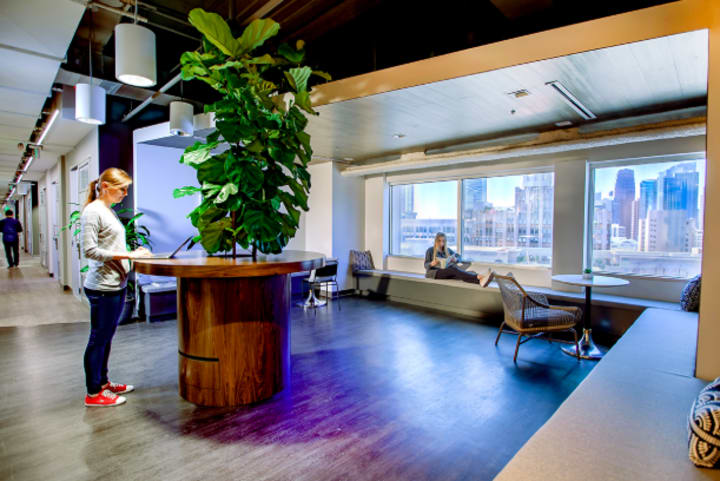 Sitting in a "treed" area by a window overlooking a magnificent view towards the Live Nation complex, Kao explains:
"In Hollywood, we started by renovating the penthouse eleventh floor. Next, we took over the seventh floor, then we added 13,000 square feet on the ground floor. That now includes a big event space for all sorts of shoots and shows with catering and green rooms and a production office. The rest of the floor is all post production facilities — we've got a Dolby sound mixing stage, deluxe color correction theater, recording studio, edit bays. Being in the heart of Hollywood across from the Dolby and Chinese Theaters, the space took on the feel of its immediate neighborhood. And, when we thought about expanding into the fashion district, we knew we had to take into account the feel of this particular neighborhood, which is very different than Hollywood."
Surprisingly, without the palm trees that are so prominent around Los Angeles and Hollywood, downtown LA can look like any other major East coast city; in fact, DTLA is increasingly doubling for cities like New York for TV/film/advertising shoots.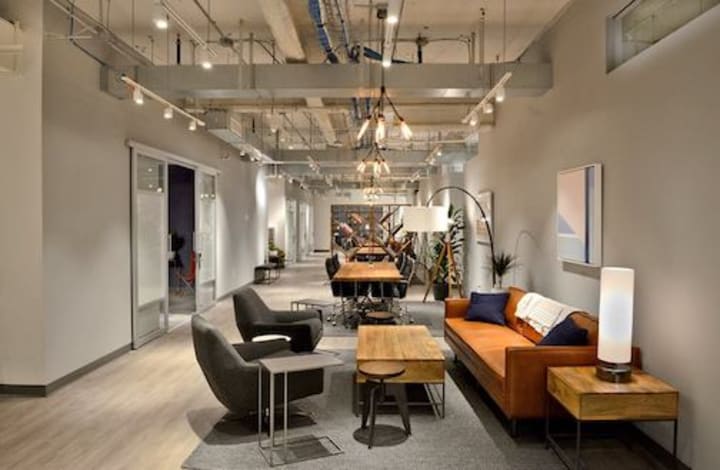 Leaning back in a communal lounge area, Davis picks up the thread:
"Here, we wanted to do something sophisticated, really clean and comfortable, and with an aspirational component to it. But it had to have the resources that are specific to the fashion district and the media companies that drive and work alongside them. It's a sexy industry that wants to feel it's in luxurious surroundings without over-cooking that aspect. From a design standpoint, this DTLA space is the next level as it's a ground up construction, and we were able to create this the way we wanted. We've also learned from our mistakes. This is a much bigger space, and we were able to design with more efficient use of space, and create a better flow. And, even though we have 43,000 square feet, we want to help foster organic collaboration. Community is a big part of what makes this place really special. But then we have cutout areas where people can break out and not feel cramped."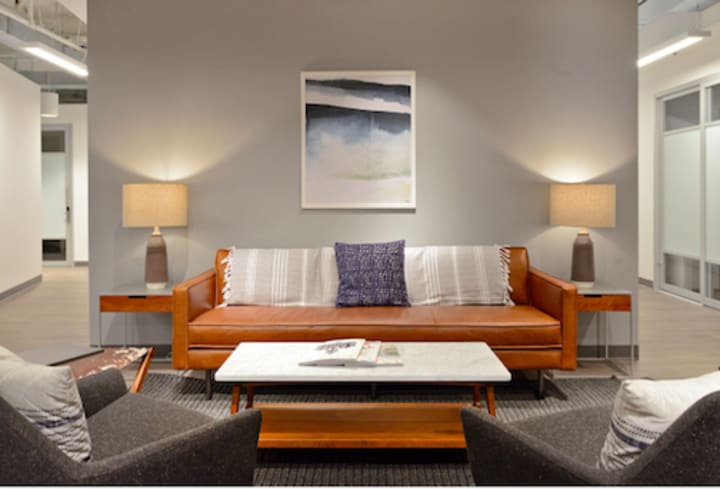 Another very functional aspect ties into the very essence of what "creatives" are all about. We creatives don't want to be limited. We want flexibility and a workspace that, yes, ignites us.
Kao says they thought long and hard about the creatives who are attracted to downtown LA, the developers of apps and entertainment content to clothing designers. And, the concept of "sometimes" kept popping up, as he explains:
"We really wanted to create a space that caters to the 'sometimes' mentality: sometimes, I want to be in a place where there's a lot energy; and, sometimes, I want to be quiet. So, we create areas for different types of 'sometimes.' In general, we no longer just use a space for the same purpose. Sometimes, I also want to work standing up. Sometimes, I may want to sit back or lay on a comfy couch. Your mood changes throughout the day, so we want to accommodate these creative behaviors. But it's only really achievable in a space like we have here. In a typical office, you have your desk and chair and that's it. We also have standing desks that people can rent from us, and they're designed with the same esthetic and materials of our traditional desks. Or, you can go kick back in our communal lounge area or one of our nooks and crannies."
And, now being officially open in a fashion district area that Brookfield is functionally and esthetically transforming, IgnitedSpaces DTLA feels they are exactly where they need to be.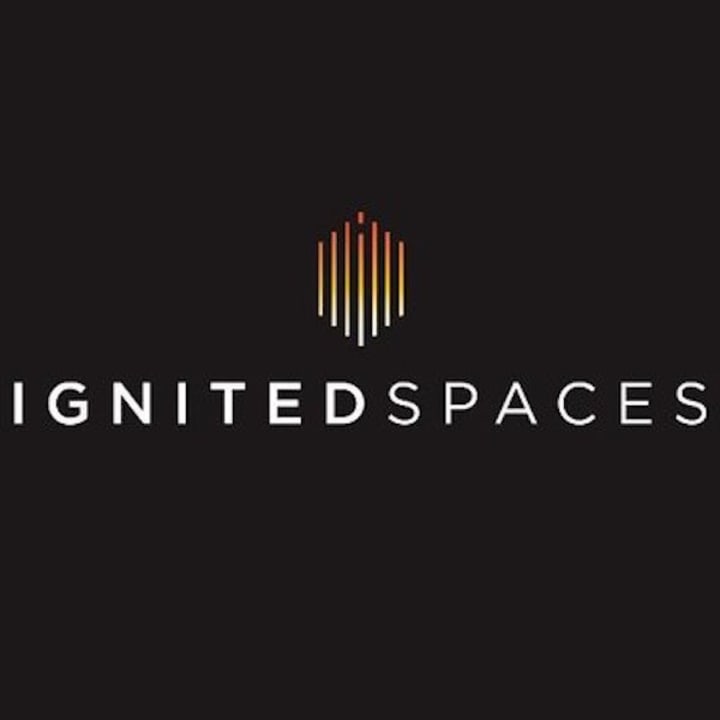 A confident Davis adds:
"Our resources, and services set us apart. The actual environment, our location, the facility, the design and esthetic, size and scope helps set us apart. We've learned that lots of fashion companies are closely associated with media companies, companies which help drive their story — these are the clothes you need to wear, the lifestyle you need to have. So now being here in the heart of the fashion district is advantageous because we are also in the hub for these media companies who are also moving downtown. California is the center of the world of storytelling, and IgnitedSpaces DTLA and Hollywood are right smack in the middle of it all. Come visit us for a tour and have some fun."
About the Creator
Award-winning journalist-author-blogger has written for Playboy, Sports Illustrated, Hello! Canada, HuffPost, Medium, BBN Times, & has his novel, REJEX, available on Amazon.
Reader insights
Be the first to share your insights about this piece.
Add your insights