Top 5 Events Where Balloons Are Necessary
Listed Below Are the Top Five Events That Require Balloons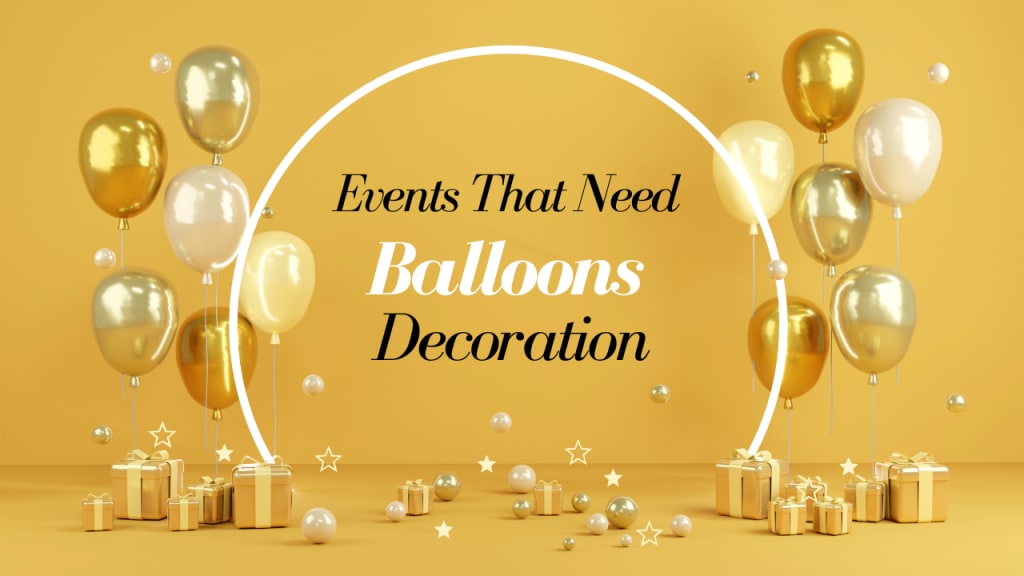 Balloons are one of the most versatile items in the market today, and with such a wide variety of balloons available, you can use them for practically any occasion. With the evolution of balloons over the years, they have become an integral part of event decor. There is a strong association between balloons and celebrations, fun, and parties. They can contribute significantly to the success of your event if they are used correctly and handled correctly.
Balloons like Foil balloons, confetti, latex, themed and more can spread joy with their beautiful effect. People can create lifetime memories with a heartwarming balloon decoration on various occasions. Even though beautiful balloon decorations require effort, they remain one of the most expressive ways to celebrate a big day.
Here Are Some Occasions When Balloons Are a Must
Birthday Parties
If you are planning a celebration of someone's 15th birthday or 50th birthday, balloons are an essential element to make the event a memorable one. The balloons add colour and theme to your party, and they will serve as a short reminder of your special occasion after everyone has left. Moreover, if you need a gift for a birthday boy or girl, you can give them a customized balloon.
Birthday gifts that are customized stand out more and are more personal. Balloons are an essential part of a birthday celebration, adding beauty, fun, and excitement. It has become easier than ever to get balloon decoration kits for an extravagant celebration, with a wide range of birthday decoration ideas floating around the market.
Baby Shower
An event like a baby shower is full of joy, laughter, and excitement. Using balloons is a very inexpensive and stylish way to decorate a baby shower party, and you can place them wherever you want to.
Your party will look more fun if you have balloons with charming and beautiful icons like teddy bears, hearts, and babies as your party decoration. An event that includes balloons is sure to add a lot of fun to any celebration, and everybody enjoys a fun-filled celebration.
Graduation Farewell
Are you planning a heartfelt farewell with lots of love for someone? Make the graduation farewell party heartwarming for your seniors by adding graduation helium balloons. The balloons will add excitement to the trail of beautiful memories on the farewell, making it an excellent experiential farewell for the seniors.
Be sure to top off the farewell party with yummy farewell treats like a farewell cake, sandwiches, cupcakes, tartlets, and nachos. It could be a great idea to send them off with something extra sweet and thoughtful on their last day.
Newborn Welcoming Party
Balloon decoration is also perfect for welcoming a newborn baby. You don't need anything else when you are surrounded by balloons of all colours, making it an ideal way to welcome a newborn baby into the world.
There is nothing more blissful than seeing the adorable smile on a child's face when he or she sees a balloon for the first time. As a consequence, the birth of a newborn is a perfect occasion to adore them with a lot of airy play balls to adorn them with.
Wedding Anniversaries
The celebration of your years as a married couple could not be more perfect than decorating your party with balloons. Decorating an anniversary party with customized anniversary balloons is also a great way to honour your loved one. Depending on what you want, you can customize your balloons with unique symbols or messages that represent your marriage.
Additionally, you can simply spell out "Happy Anniversary" in your partner's favourite colours that represent your relationship. Depending on what kind of balloons you choose, your party can be casual or sophisticated.
Milestones in a relationship deserve to be celebrated in the most romantic way possible. Hence, the occasion of an anniversary is another good time to fill your home with bubbly balloons. Making an anniversary party stand out with shiny balloons gives it an edge.
Conclusion
Balloon decorations convey love, excitement, and heartfelt emotions perfectly. Hence, decorations using balloons are great. However, you should do it the right way and adore your loved ones. In the end, it can be said that you can make so many occasions memorable with balloons.
The only thing you need to take care of is their quality. It is because if the balloons are of poor quality, then your efforts will go in vain. So, use good quality balloons throughout your entire event and complete the event's perfect look. You can find high-quality balloons in a variety of colours and styles at different stores in the market. So, go and search.
Reader insights
Be the first to share your insights about this piece.
Add your insights