TOP 10 BEST SHOES IN INDIA 2022
THIS TOP 10 INDIA'S GREATEST SHOE COMPANIES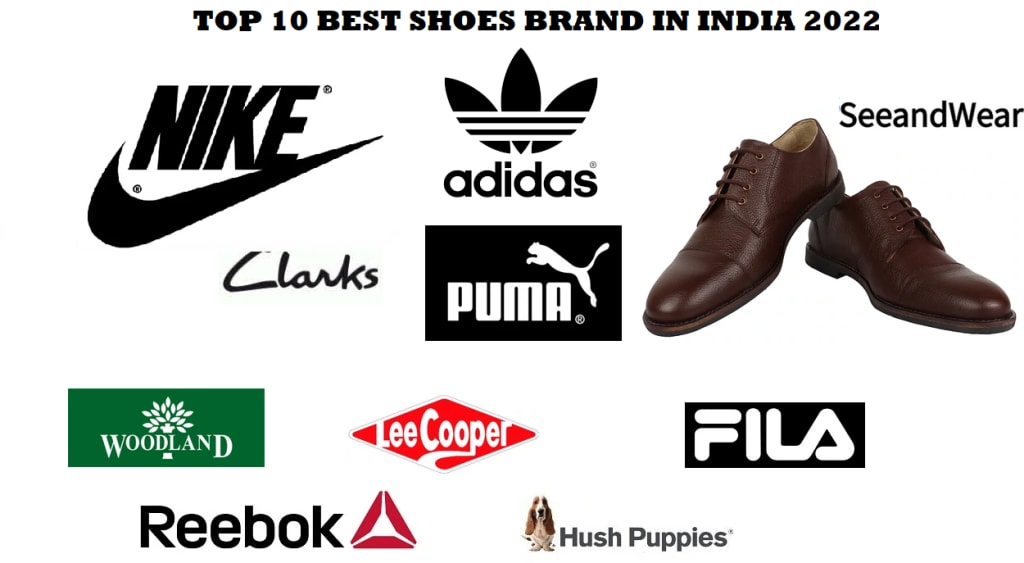 INDIA'S TOP 10 SHOE BRAND FOR MEN
Shoes have become an integral element of a man's closet in current Fashion Era. Men, like women, are shoe connoisseurs, with at least a dozen pairs of formal, leather, and athletic shoes to complement various outfits and accessories. Everyone want to wear the most prestigious shoe brands. We'll talk about the greatest leather and athletic shoe companies in this post.
Your individuality and prestige are enhanced by the quality and design of the shoes you wear. With numerous worldwide corporations investing in the nation and customers becoming more aware of current fashion and trends, the Indian footwear industry is rapidly increasing. The Indian market has been taken by a number of well-known international men's shoe companies. According on Indian Men's Interest, product reviews, and buying preferences, we've compiled a list of the top 10 men's shoe brands in India for the year 2019-2020.
1) Nike
This is the world's greatest athletic shoe brand. It is ranked first due to the greatest designs and excellent work. Nike, formerly known as Blue Ribbon Sports (BRS), was established in 1964. Nike inspires athletes throughout the world by providing innovative sports goods, experiences, and services. Nike is a top sports multinational company that specializes in all types of sports equipment, particularly shoes and apparel.
It is an American global firm located in Portland, Oregon, and is part of the Fortune 500. It is one of the top sports business brands, as well as the largest sports equipment corporation, with a sales of over $29 billion. They come in a wide range of styles, colours, and sizes, allowing you to get the right model for your needs while remaining inside your budget. They have canvas shoes that they wear with a shirt and blue denim for a casual look. Nike makes shoes for running, golf, snowboarding, skateboarding, basketball, soccer, tennis, and football, among other sports. They've also added sports gear, such as jerseys, shorts, and base layers, to their product range.
2) Adidas
Adidas is known for its innovative designs and high-quality athletic apparel, accessories, and footwear. They sell men's and women's sneakers and sports shoes that are suitable for jogging, hiking, adventure, and other outdoor activities. The Dassler brothers, Adi and Rudolph, created this German global corporation. With an annual revenue of roughly $23 billion, it is the world's second biggest sportswear firm.
3) clarks
Clarks is a British shoe maker that was established in 1825 by two brothers , James and Cyrus Clarks. Street, Somerset, England is where the company's headquarters are located. They've opened more than 1000 shops throughout the world. They're well known for their Desert Boots, which are constructed of calf Suede leather. Clark's footwear is the one to choose if you want something that is really comfy and can be worn on a regular basis. They sell around 50 million pairs of shoes each year and also make a variety of women's shoes such as brogues, loafers, sneakers, sandals, slip-ons, and heeled shoes.
4) Seeandwear
SeeandWear, a Men's Pure Leather Shoe manufacturer in India, is one of the fastest growing brands in the country. SeeandWear is noted for its low-cost, high-quality leather and casual shoes. They are the number one seller on Amazon in terms of product reviews and sales. Prabhat Saini founded it in the year 2010. In a short period of time, the product design, quality, warranty, and after-sales exceptional customer support service have attracted a large number of consumers. Mold (Last) is used to build shoes, and it is employed by the world's greatest designers.
5) woodland
Woodland's parent company, Aero Group, has been a well-known brand in the outdoor shoe industry since the early 1950s. It began operations in India in 1992, after being founded in Quebec, Canada. Previously, Aero Group's leather shoes were mostly exported to Russia.
The business chose to offer some of its products in India when Russia was divided into multiple states known as the USSR. As a result, the first hand-stitched leather shoe was introduced, which swept the whole shoe market. The 'Woodland' brand was born from that shoe. They manufacture rugged and sturdy shoes and boots that are ideal for harsh terrain and outdoor adventures.
6) Lee Cooper
Lee Cooper's exquisite assortment of clothes, accessories, and shoes is well-known in over 70 countries. The United Kingdom's capital, London, was founded in 1908. They provide a wide range of formal leather shoes, casual shoes, and flip-flops that are both comfortable and fashionable. Lee Cooper's collection includes something for everyone, whether you're a man, a woman, or a child. Aside from shoes, they now offer a clothing collection that is both fashionable and up to date.
7) Fila
Fila, an Italian sportswear brand, was purchased by a South Korean investor in 2007, making it one of the country's major sportswear companies. Fila Brothers founded this trademark in 1911. They are a sporting business that manufactures shoes and apparel with headquarters in Seoul, South Korea. It offers a large choice of high-quality sportswear and accessories that are usually found in online retailers all around the world.
8) Puma
Puma is a worldwide recognised footwear and clothing business that was founded in 2005 and distributes its products via both online and brick-and-mortar locations in India. It is one of the top five sports shoe and clothing companies in the world.
Puma sneakers are comfy and long-lasting, and they look great with Puma polo t-shirts and blue jeans. The most popular running sneakers from Puma are stylish and functional. evoPower football shoes and evoSpeed cricket shoes are their best-selling sports shoes.
9) Reebok
Reebok was founded in 1895 in England and is one of the most well-known brands in both sports and modern history. It has been a component of Adidas' even better product since 2005. It is now rated 4th in the list, according to the most recent sales statistics. This brand combines various benefits: it provides strength and grip, which are necessary for lifting weights, it gives you greater freedom to move around and even run a short It keeps you at a safe distance and provides you a fashionable appearance.
It provides a flexible, breathable, and soft feel, similar to that of wearing socks. The strength is sufficient for a complete workout, which is wonderful. Reebok offers shoes in the following categories: Men's, Girls', Women's, Sports, Boys', and Classics.
10) Hush Puppies
Hush Puppies is a brand of formal and casual leather shoes for ladies, men, and children that originated in the United States. It is one of the world's most well-known shoe companies.
The brand is available in over 160 countries, including India.
In India, the Hush Puppies shoe brand promotes a relaxed lifestyle. Hush Puppy brand shoes are available online in India by major retailers like as Amazon and Flipkart.
They are also available through Bata's brand shops and retail locations.
Written : RP-Article
Reader insights
Be the first to share your insights about this piece.
Add your insights