To my 9 year old self: your childhood hobby is now your career
Celebrating my roots through my craft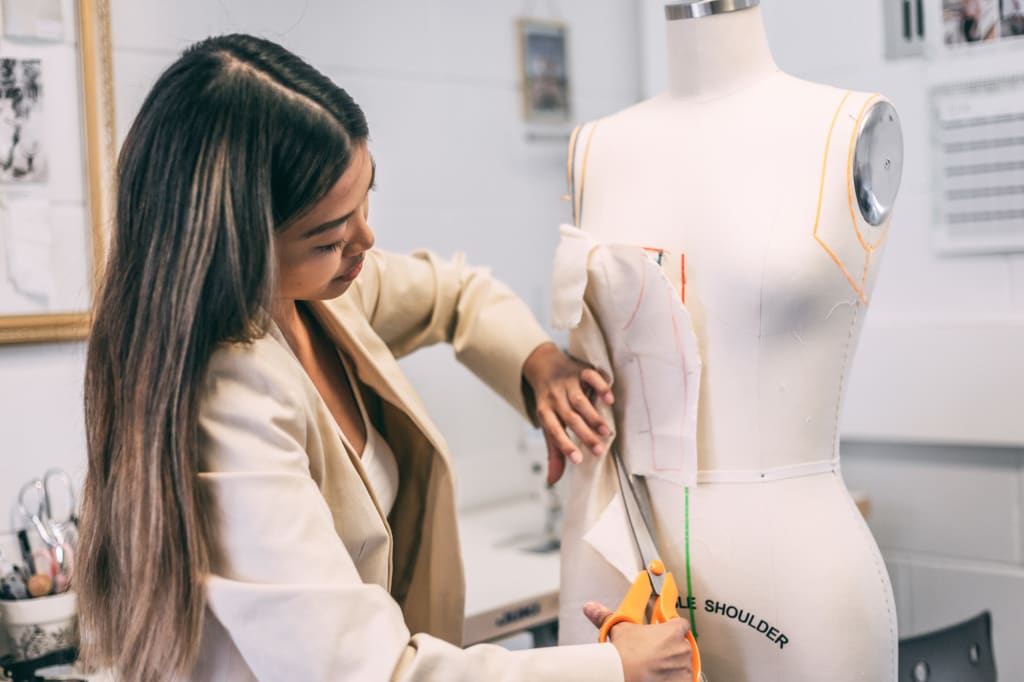 Photo by Paul Gonella
Picture this, my Asian dad who wanted his first born to be a doctor reluctantly handing over my first sewing machine. In that moment, he probably realized that the doctor dream should be passed on to my little sister because there was no denying my love for fashion design.
From as young as 9, when I discovered that designing and creating clothes could be your job, my heart was set on that alone. As a child and even as an adult now, fashion design is my safe space, an imaginary friend I could turn to. That unparalleled feeling when a design transforms from just an idea that has lived in your head for months to something tangible is what brings me happiness. Fashion design is my creative outlet that evolves with me. From making clothes for my dolls, to constructing clothes for myself before going out in my teenage years, to now being able to create my dream designs in my own brand. The joy of getting to make something that you yourself feel powerful in and getting to share that with others is magic, my designs are love letters to my customers but also to my younger self who dreamt of being able to do what she loves.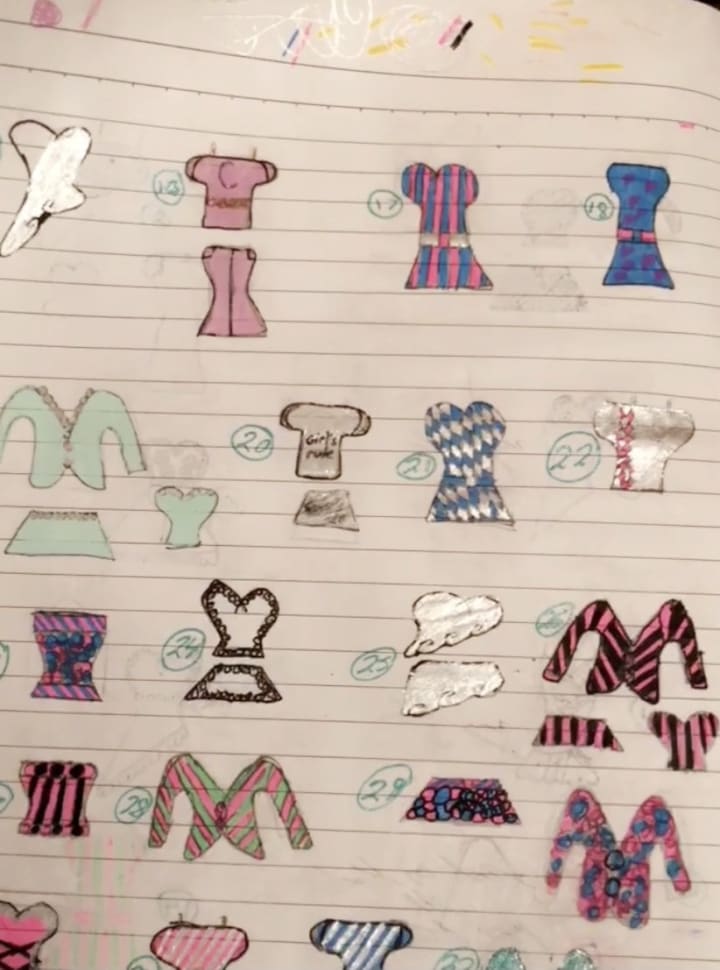 I first started designing outfits that I dreamt me, and my dolls could wear, but just drawing them wasn't enough. I wanted to create them. I didn't have patterns, I only discovered that when I was 16 in college, so I knew I just had to be creative with my scissors. I would use my imagination and just cut fabric, roughly measuring them in my head and just putting anything together. At an age where kids were playing outside, all I wanted to do was make clothes. It brought me joy that couldn't be expressed any other way. Of course, my parents saw this passion in me, and they gifted me my first sewing machine at 13. I was extremely grateful for that sewing machine, but I didn't have any fabric, so what does 13 year old Cabrini do?
Unfortunately for my mum, I ripped apart her curtains. I still remember the multicolored floral pattern that I used to make my first ever skirt. I remember the euphoria it gave me, making something with a real sewing machine out of something as simple as my living room curtain. In that moment I realised your creativity and your hands are more than capable of creating something out of nothing.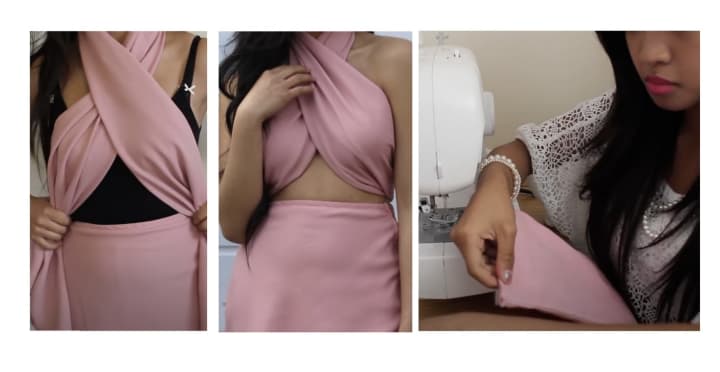 Fashion and constructing clothes became a source of comfort that would provide me endless entertainment. Where others escape their troubles through maybe exercise or netflix or a hot bath (all the things I still love), I turn to creating. You can imagine when I went through a breakup at 18, I made 3 matching outfits, 1 dress and 4 tops in 2 weeks! I channelled my emotions into my designs, revenge best served looking cute and showcasing my talent! There is a sense of peace in going to fabric shops and choosing fabrics for my next outfits, in my teenage years my creativity shaped my life.
My mum taught me that fashion is part of existence, it goes further than surface level. It is a way of expression without words, it's an extension of who I am.
Going to university to study Fashion Design at London College of Fashion allowed me to create my own happiness. My parents will always be supportive even if it goes against the grain of what my Asian parents expect, because ultimately it was what brought me happiness. Chasing after my dream of going to fashion school allowed me to explore my creativity, I designed garments that celebrated my Filipino culture and used this as inspiration in my designs. This also gave me an opportunity to learn and study more about my culture, a culture that is so deeply rooted in me. Little did I know this soon became where I draw inspiration from for my brand. Being at fashion school also allowed me to be inspired by my surroundings, especially from my classmates who came from different cultures and backgrounds. Fashion and creativity are our way of telling our own stories, it brought me joy to see how they were honouring their heritage through their work.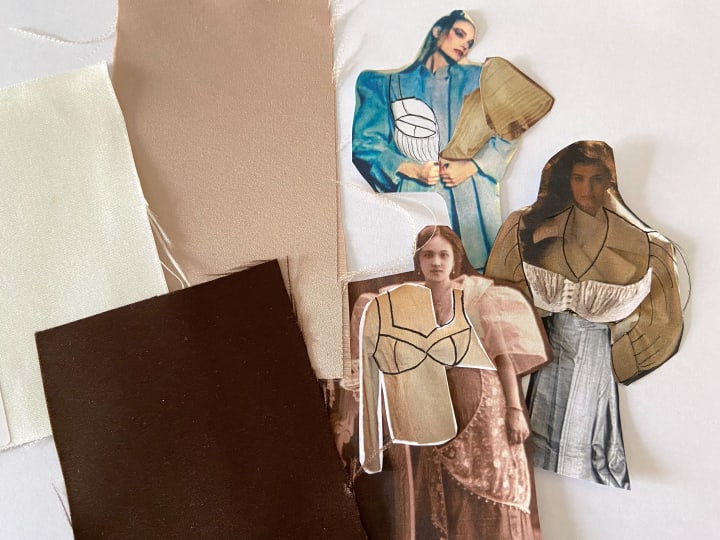 Drawing inspiration from my Filipino heritage is something I love to do. Being able to showcase my heritage on a platform in wearable art is something my younger self could have only dreamt of. Growing up in a Filipino community, there was a large emphasis put on modesty and staying conservative. This stemmed from the idealised 'Maria Clara', the stereotype of a conservative, 'prim and proper' woman is ingrained in Filipino society. There is nothing wrong with choosing to be conservative, but I wanted to provide an alternative. I wanted to modernise the 'Maria Clara' because I see her in me, my Filipina friends, and my little sisters.
I wanted to transform her from being a woman who is completely submissive and follows everything she is told to do to someone who can take agency over her own self-expression. I wanted to find a way to celebrate my traditional roots but still explore my freedom and creativity.
In a society where girls are pressured to conform to the 'Maria Clara' version of 'purity', I want to empower Filipina women and all women in general that they are powerful and should be respected no matter what they're wearing.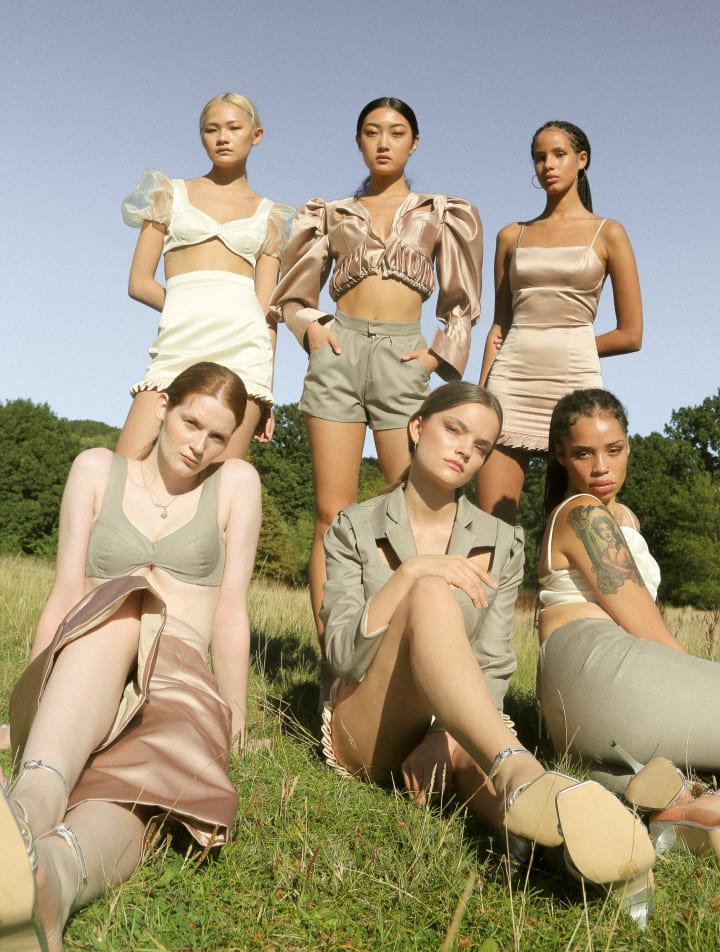 This was my inspiration behind my first collection in my brand, I kept the traditional 'Maria Clara' image with my soft tailoring and feminine touches but added my own twists. In my imagination the modern 'Maria Clara' is living and working in a city, wearing chic and trendy clothes but still incorporating the traditional Filipiniana in her wardrobe. I modernised the filipiniana sleeves, cut the bustline lower and shortened the hemlines. Following Coco Chanel who provided a new way of dressing for women by 'loosening the waistlines and freeing the ankles', through my collection I also wanted to reinvent the traditional 'Maria Clara'. I wanted to break the mould she is constricted to, so I accentuated the body silhouettes of a woman but made sure to keep feminine delicate touches such as soft hues and light satins. I also took a lot of inspiration from power dressing in the 80's, where women started wearing men's suits in the work environment to minimise the oversexualising and objectification they endured. Power dressing allowed women to take back authority with their clothing. This is exactly what I wanted to do with my collection, therefore I contrasted the softer hues with the powerful suits.
Starting my small business just before the pandemic hit, came with its own issues. I made the hard decision to close my business due to the fact it was impossible to get my fabrics during this time. Following my dreams hasn't always been easy but I stayed persistent and positive. I came up with the idea of being able to use my creative pair of hands to be able to help other people struggling creatively. I wanted to spread the happiness that fashion gave me, so I created an online pattern cutting course which encompassed everything I learnt at university, my internships and in my own brand. I wanted to teach people exactly how to bring their design ideas to life. Being able to share my skills to help make a difference in people's lives was something I never expected, but suddenly people were emailing me to tell me that I have armed them with the knowledge to follow their dreams and create what they couldn't before. When I first started, I wasn't aware of how fulfilling it would be to pass my knowledge down to help others. The feeling that you have helped someone take a step closer to following their dreams & their happiness is priceless.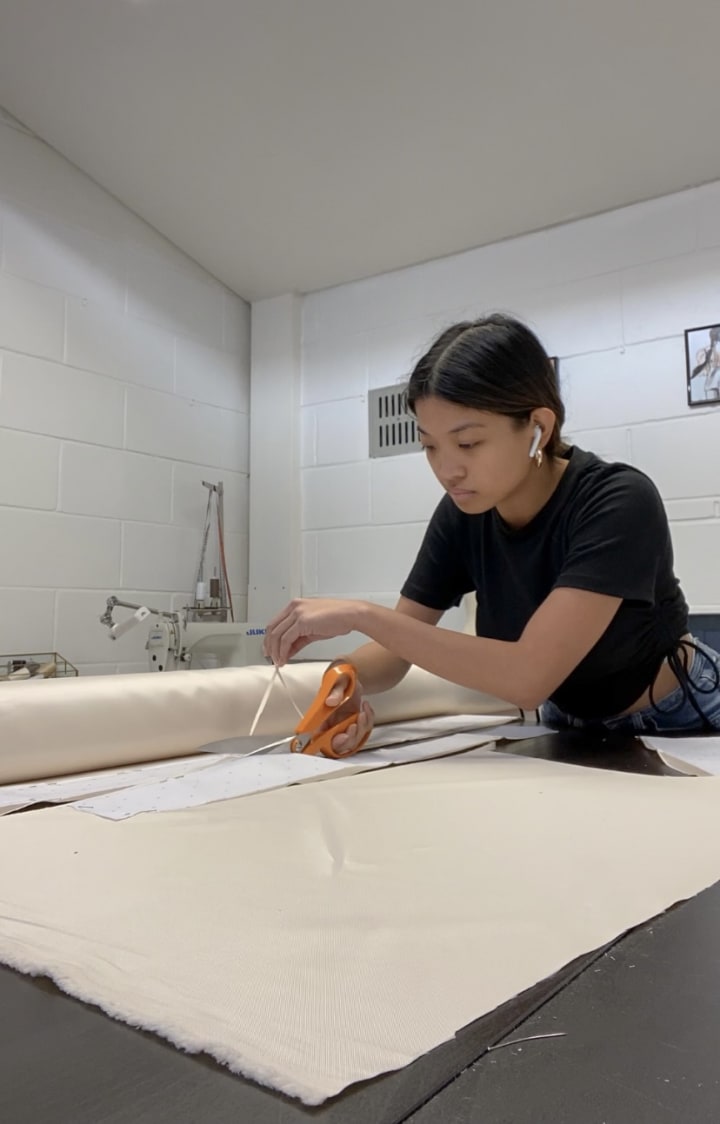 Within my brand now, I hand make every order. I love the feeling of wearing the clothes I made because I know it's unique and special since it's handmade especially for me. I wanted to be able to share this feeling with my customers, therefore made the decision to hand make each order. I don't have additional stock; hence, it is only brought to life because they have purchased it. My designs represent who I am as a person, a touch of Cabrini in each design. My creations are hand made with so much delicacy and I make sure to pour so much love and effort into each order. My brand and every design I create is a visual representation of me, drawing inspiration from my heritage and childhood photos.
Getting to fulfil those childhood dreams of bringing to life all the clothes I could have only dreamt of is an indescribable feeling. My younger self had questions of cultural identity; I knew I was proud of my Filipino roots, but the traditional figure of a 'Maria Clara' was not someone I could connect with. I took a leap of faith in following my dreams and creating my own version of a 'Maria Clara', someone who my younger self as well as me, as an adult now, could relate to. Instead of just a figure of modesty, to me 'Maria Clara' is a woman who is respected, confident and dares to take risks, she is my inspiration. I'm a woman who is determined to make a positive change in the world, there is power in creativity, and I want to be able to empower others. Whether that is through teaching them knowledge on how to execute their dream designs or empowering them through how they feel in the garments I've created. Happiness for me is found in picking up scissors and getting creative, letting my mind take me to a place where the world doesn't exist and it's just me and my creativity. As people we should constantly be inspired and inspiring.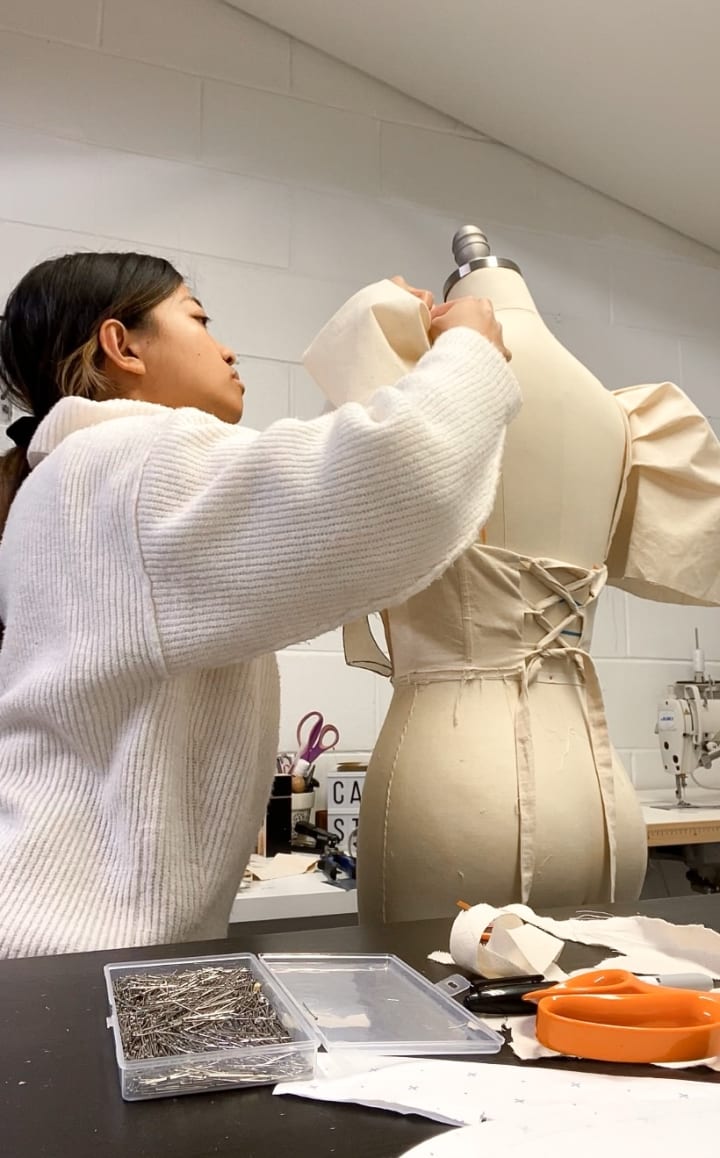 I believe fashion should celebrate everything beautiful and diverse in the world, breaking boundaries and reinventing preconceived notions of the ideal 'Maria Clara'. I know my younger self would be proud of me now. I want to thank her for her hard work and perseverance, thank her for being brave enough to chase this dream I now live in and lastly thank her for paving her own happiness through her creativity. My imagination is boundless when it comes to what I can create, there is happiness in the thought process behind a design, there is happiness when I see others proudly wearing my creations and there is happiness in every hardship that took me to where I'am now. There is so much room to grow in fashion, I'm ever-evolving and I hope I reflect that in every garment I design and create.
designers
British Fashion Designer. Brand Owner. Course Leader.
Womenswear Graduate at London College of Fashion.
Find me on IG at @cabrini_roy