'This Fire in Me to Create'
Designer Alissa Bertrand of Jabellafleur thrifts and upcycles her way to success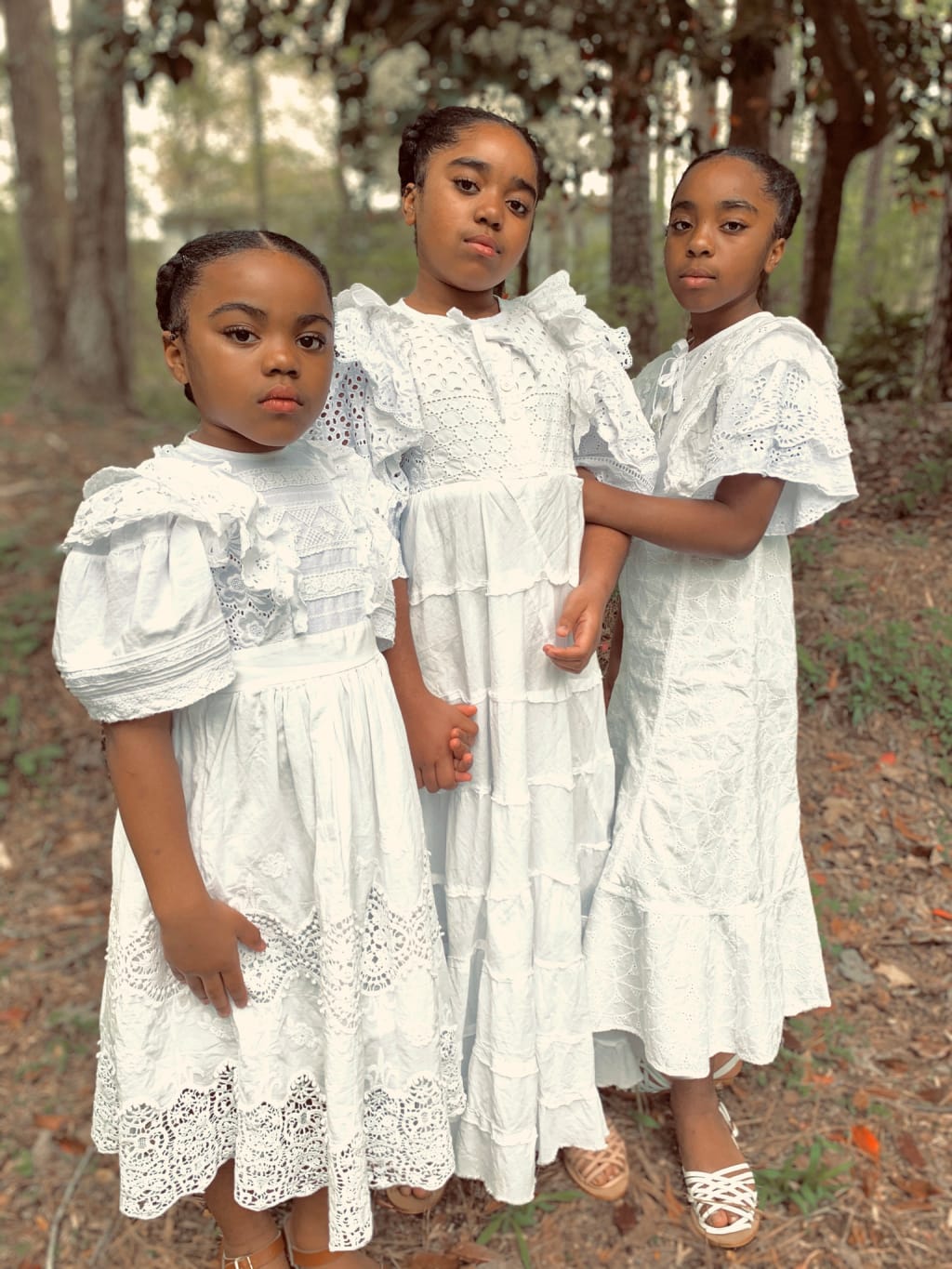 Photo compliments of Jabellafleur
The original shopper certainly must have paid a good price for the curtain. Textured as only real silk can be, the coral, bronze, and teal panel would have added warmth and sophistication to any home. But by unknowable means, the discarded piece made its way to a Georgia thrift shop and waited. Waited to be purchased for less than a dollar, waited to be hung on another curtain rod.
Then one day, Alissa Bertrand breezed in and, like a magician, plunked down ninety-nine cents and swept the piece away for what she calls "metamorphosis." The donated curtain, the tax write-off, became a Renaissance-reminiscent dress for one of her three youngest daughters. Not stopping there, Alissa accessorized her puff-sleeved, Basque-waisted creation with flowers, netting, and fake jewels. Her daughter modeled it, posed outdoors against a blue sky and a field of dry grasses. A line of trees traced the horizon. Alissa photographed the scene with her phone and posted the results to her social media.
Alissa Bertrand not only sees what others don't, she has the skill and gumption to bring her vision to life. The Atlanta mother of six didn't start out as a home-based fashion designer catching the eye of the fashion world, but she is. And she's done it with repurposed thrift shop clothes and bags of old sewing patterns bought for pennies.
The origins of a designing life
Alissa didn't spend her childhood aching to be a fashion designer. She confesses to feeling envious when others received gift cards for Christmas and her aunt gave her a cross stitch embroidery kit. Gamely, she fiddled around with the floss. She did always "love art in any form — drawing, painting, writing, and all." Alissa found her calling in high school when she chose sewing over cooking for a required home economics course.
"The idea and love of wanting to create what I felt was beautiful and classic, mixed with amazing textile prints and colors just took a turn and created this fire in me to create what I love and actually wanted to hopefully see in the fashion markets one day."
"As I started to design and sew, I noticed how I could never find fabrics I loved with a passion at the local fabric shops, which took me into a whole new direction with thrifting. I've always had a passion for thrifting and looking for vintage prints and garments. That's when I started buying women's clothing and using the fabric from these once loved pieces, making garments for my three youngest girls."
Upcycling to a higher level
Alissa is not the first or the only person to repurpose used clothing and linens. Dolly Parton's "Coat of Many Colors" tells of her mother's creative sewing. Along with many stitchers, I've sewn a souvenir quilt from my child's favorite outgrown tee shirts. As a girl, I watched my grandmother spread out her old commodious cotton slip on her bed. "Let's see if there's enough material…" Grandma then cut out wedge-shaped pieces and used them to sew me my own comfy slip. But Alissa has taken things much farther than most venture.
Three muses make a difference
Her eldest daughter believed her mother's work deserved a wider audience. Other people needed to see "what I had made from thrifted items." She suggested her mother create an Instagram account. Alissa launched @jabellafleur in January 2019. The social media site features Alissa Bertrand's fashion creations modeled by her muses — twins Jada and Jayla and youngest Ella. Alissa takes all the photographs, using her phone, for the site.
The three sisters pose in empty shopping center parking lots, open fields, on chintz-covered sofas, and at woodland tea parties. Their mother, who "encourages them to do what they love," lets them choose their accessories from the family stockpile of vintage and thrifted finds. The girls frequently pick oversized sunglasses with lavaliere chains, ruffled umbrellas, unique purses, and porkpie hats to accent their outfits. For the most part, they also choose serious or sassy looks over smiley poses. Alissa fully supports their right to self-expression.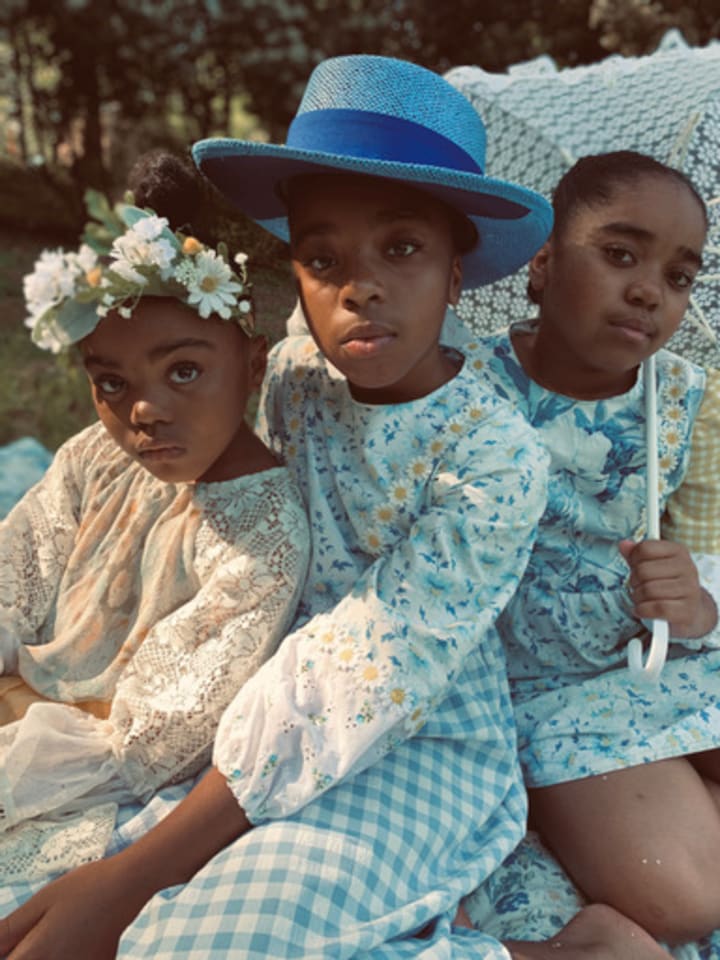 Beyond the usual
Jabellafleur showcases Alissa's phenomenal eye. With a nod to the vibrant colors, florals, and swagger of vintage 1970s, she deftly sculpts her own vision. Cast aside skirts are refashioned into whipped-cream-romantic white summer frocks. Sections of lace curtains are grafted as balloon sleeves onto floral dresses. Women's tweedy business suits become charming two-piecers for her daughters. Alissa cuts up granny square afghans to sew them into toasty autumn-hued pullovers. She transforms vintage tablecloths into a camp shirt and skirt. Old Ralph Lauren designer sheets become ruffled elegant dresses. Alissa has moved way beyond repurposing tee shirts.
Backstory tips
Asked about her design process, she shares that "Sometimes I go in with an idea and specifically search for garments I wish to use and other times I can see a sheet and vision it in a new way." She uses home sewing patterns as a beginning but is not afraid to mix and match parts. She readily makes a dress with sleeves from one pattern and the body from another pattern. The designer gets her vintage fabric from purchasing thrift shop clothing and linens. Always on the lookout, she's also bought a bolt of floral fabric for ten dollars at an antique shop. She recommends homing in on skirts, linens, and dresses as these usually have larger amounts of usable material. Once she gets home with her purchases, Alissa handwashes delicates and machine washes the rest. She stores her linens flat and hangs the clothing until she's ready to use them.
The response
Jabellafleur grew to over 20,000 Instagram followers by the middle of 2020 and the creative world has noticed. Alissa Bertrand's photographs and fashion designs, modeled by her daughters, have been featured by Vogue magazine. She's received a variety of press coverage, including being interviewed by Drew Barrymore. She's also made a video for Singer showing how to create children's clothing from thrift shop finds.
As this talented designer shares, "I enjoy every part of my life, and I love being able to create and design for my girls."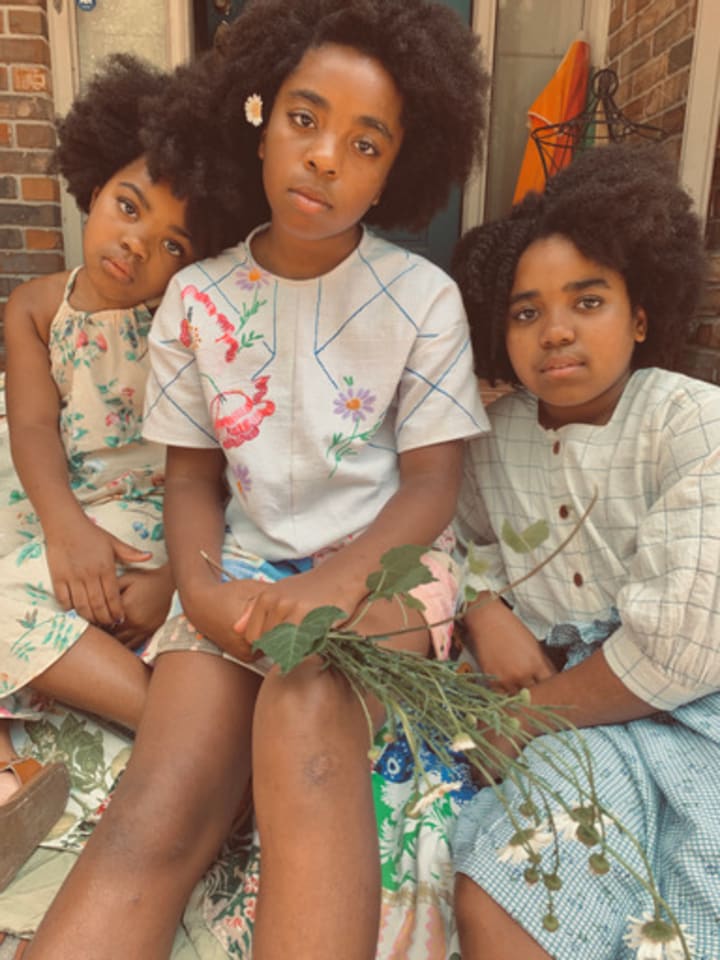 Asked her favorite comment, it is when the girls say "'Mom, you really made that' as they are so surprised something they once saw in a different form, has now been transformed, clothing metamorphosis!!!"
Alissa B's goal for the future
Her big dream is "…to be a household name in fashion, and being a Black female designer at that, who does children's wear as well." By all accounts, Alissa Bertrand is well on her way to this achievement.
About the Creator
Diane Helentjaris uncovers the overlooked. Her latest book Diaspora is a poetry chapbook of the aftermath of immigration. www.dianehelentjaris.com
Reader insights
Be the first to share your insights about this piece.
Add your insights