The Pursuit of Happiness.
How a Military Brat Makes Fashion Meaningful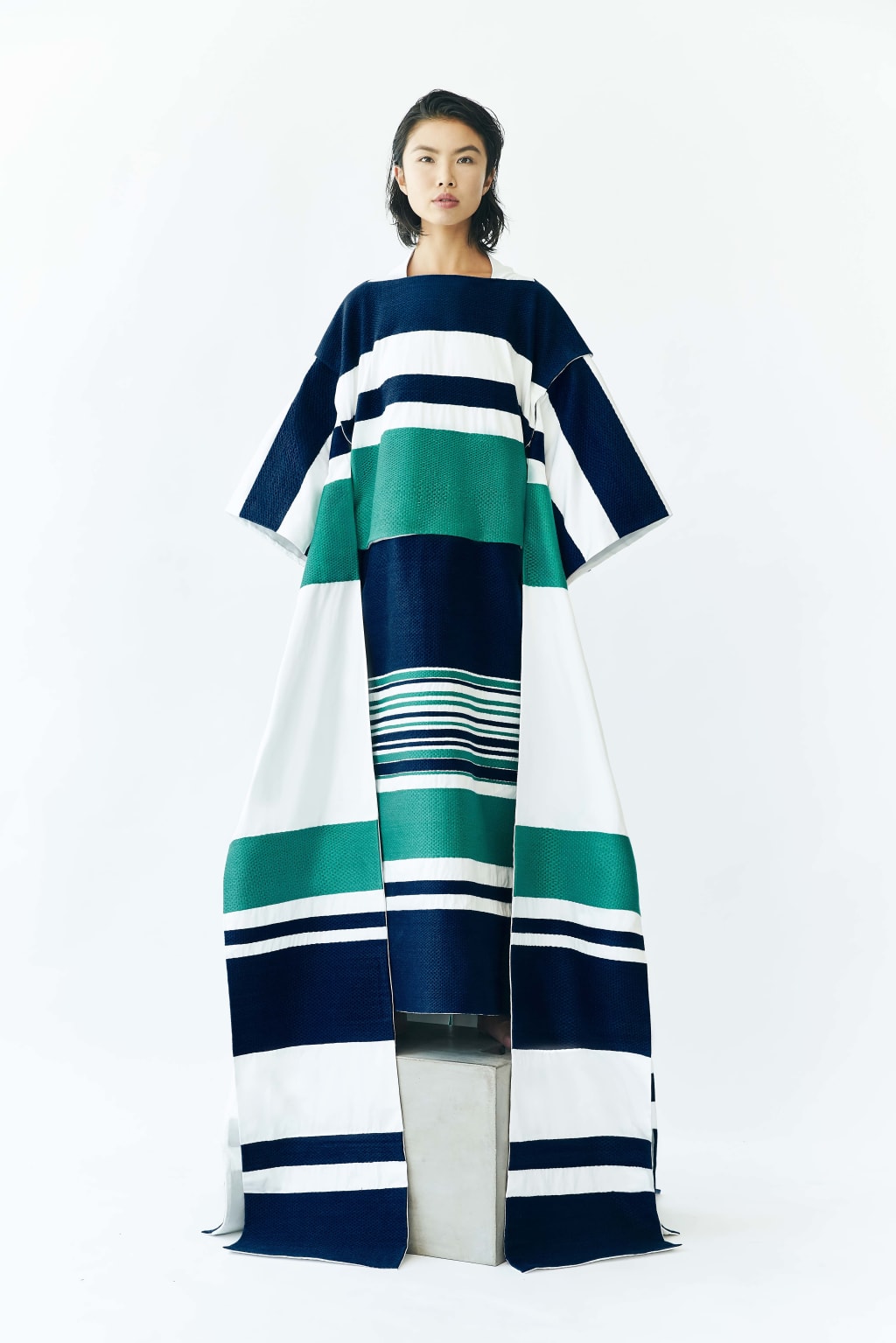 A modern look designed by Johnathan Hayden based on his late grandmother's kimonos from his last collection
Snip and rip. It is the most satisfying sound to my ears. There is nothing more permanent than the commitment to cut into cloth when making garments. It is a decisive act. Measure twice. No, three times. Cut once.
A draft, the idea informs its canvas: measured, non-descript squares and rectangles of muslin folded, draped, and pinned into place. The subtractive process of cutting sculpts a soft structure on the dress form and carves its existence into physical space. The idea is now a presence in my studio.
I carefully remove the drape. The cream creased cotton map with its lines, markings, and symbols is translated into a blueprint. It is often duplicated for me to hand draw embroidery and beading layouts. The inventory of the paper patterns is cut clean and accurate. They are no longer puzzle pieces frayed by unraveling wefts and warps. The catalog is written. The pattern card is complete and attached to a brown paper envelope containing the patterns. It is now the master guide for creation.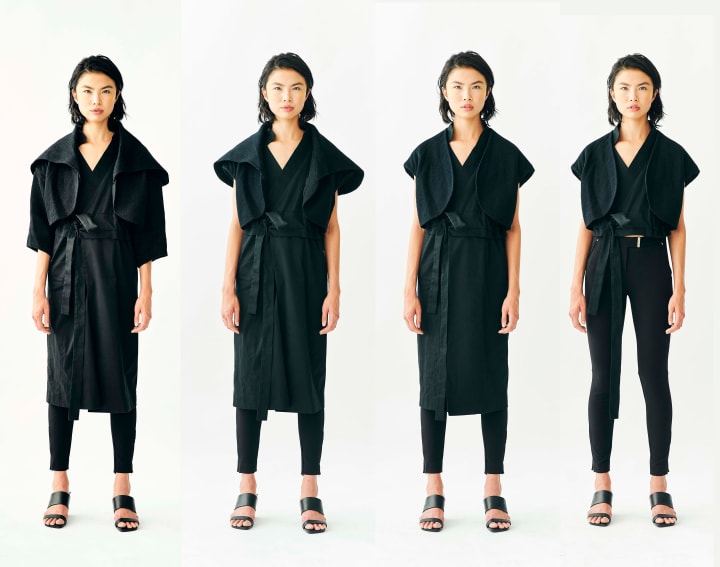 In the weathered factories of the New York City Garment District, I design in a 12th floor forgotten corner of a family-owned garment factory covered in the dust of its 30 years. In 2019, I created my first collection in ten square feet of its storage space. That collection I debuted at Tokyo Fashion Week.
Who knew when I was a boy I'd come this far. From endlessly doodling in church to keep myself entertained and illustrating my own comics to making boring class projects into creative exercises and sewing my first garments in high school, my creativity was nurtured in public schools. In band I was afforded opportunities to be creative. I designed color guard flags, invented choreography for the marching shows, and continued to design and sew uniforms during my undergraduate studies. As a fourth-generation son of a military family, life outside of the known future of enlisting looked possible and showed promise. I am so fortunate that every day, the seemingly blue sky crafts my mother unconditionally encouraged in my childhood became a passion that turned into a major, then a career, and now my life's work.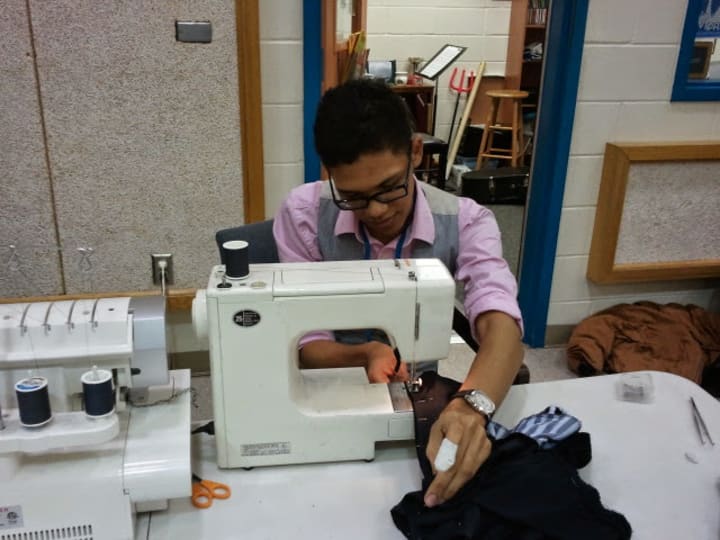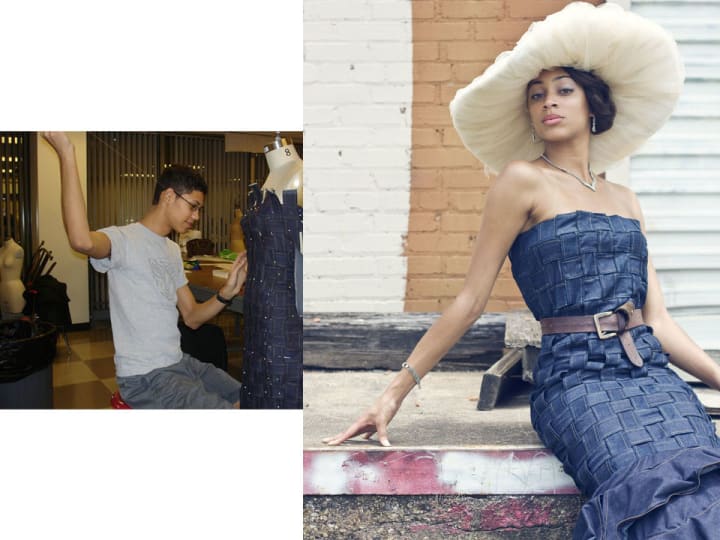 Originally one of eight hundred, the factory is now one of the dwindling two hundred that remain. Although it may not be shiny and new, each cut ticket for the next sample or production order is handed off, and a new opportunity to continue our survival begins. Like the factory, the handles on the shears we use are worn, but the sharpness of the steel blades are true. Its weight reinforces the intentional decision-making of its wielders. And what a capable team that is.
I hand off the envelope with a cut ticket that lists the fabrics assigning their uses to the "face", lining, and fusible. I provide any trims and notions of elastic, buttons, drawstrings, or hook-and-eyes. Unlike the larger brands that produce here, I am often needed to be present when cutting takes place – it feels like a test under the scrutinizing eye of the sexagenarian, Mr. Chen, one half of the couple that owns the factory. In a rough and tumble crude exchange of broken English and pointing, questions are answered, and construction is clarified with the demonstrative actions of "walking" patterns that share seams.
If there is any confusion, Charlene, his wife (the bookkeeper), will translate. Transcending four languages, two dialects, and three generations, we build clear and concise consensus not unlike the decisions to advance in battle I have read from Sun Tzu. Making clothes is like forging machinery, the tools may be different, but its all engineering and strategy.
Mr. Chen's discerning eye knows how to make each decisive cut. He is a master of efficiency bringing 40 years of experience that began in mainland China. His expertise followed and fate introduced me to he and Charlene as an intern from one of their clients. Today, we are partners. I diversify their client portfolio with new brands seeking access to manufacturing. They empower me to grow my brand by executing my vision with their resources.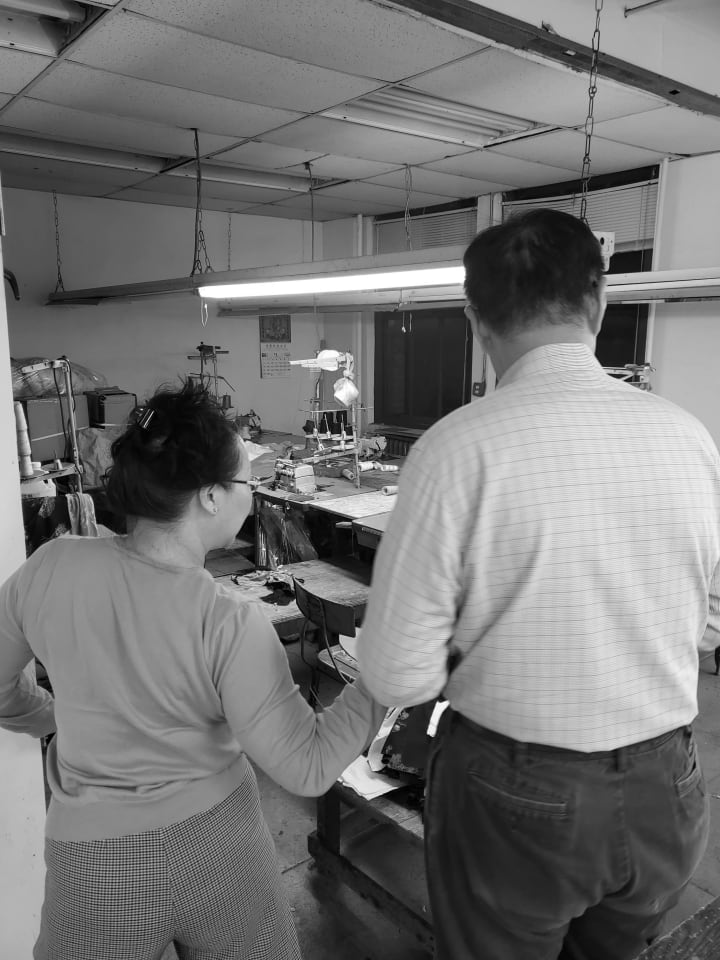 His assessment of the patterns confirms we both successfully understand and can instruct the sample maker how to construct. In this shrinking market where the work is sparce, they are willing to bring me on their lifeboat, but only if my maturing post-grad design school skills and knowledge do not slow their practical application down. In this industry, life preservers are a rarity.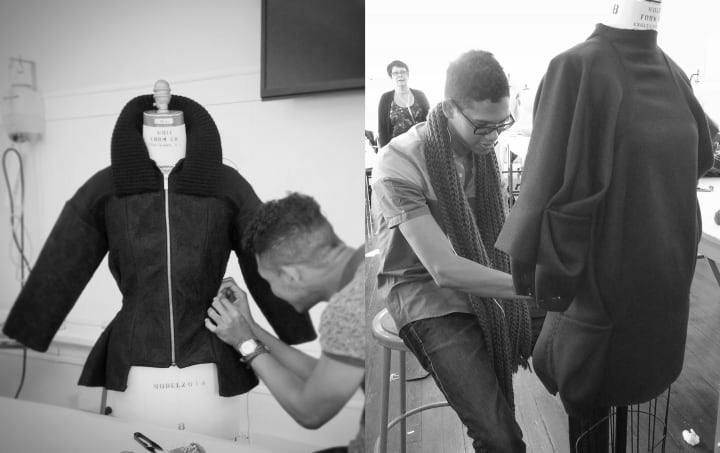 From the outside, fashion is oversimplified into a frivolous career pursuit. But what many view as a hobby (even my own family) is livelihood for others. Real businesses, jobs, brick-and-mortar store fronts, direct-to-consumer channels; People and their families are heavily invested in seeing brands succeed. Success is harder to discern these days amidst the evolving conversation of sustainability and labor rights. However, it does not diminish the laborious and uncompromising attention to quality and detail demanded in every cut and stitch.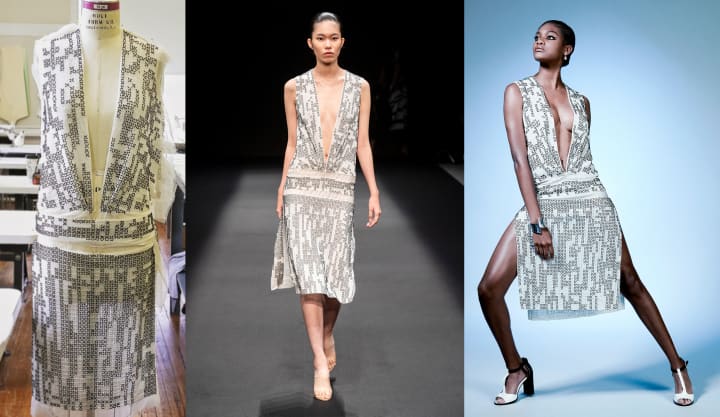 Tissue paper and fabric are unfurled together. Patterns are placed into a layout with the most efficient consumption of the yardage. The two dimensional is cut. Facings are fused. Collars and cuffs reinforced. The pieces are bundled and handed off to a sample maker. Industrial machines whir winding bobbins in color-matched thread. 3000-plus stitches per minute attach the seams. Eight to ten hours a day, 5 or 6 days a week, a team of twelve function and fire like pistons on an engine. They are a vehicle driven by six pairs of feet at the sewing machines capable of producing thousands of units of the same garment to perfection in a way automation can never and will never replace. These humble unknown hands have even dressed first ladies and literal princesses who will never be the wiser beyond the label in the lining as to who really made the clothes they saw fit to don on their place in history.
A designer's passion is undoubtedly necessary to will a design into reality, but prudent forethought of the wardrobes it will join, the lives it will get to live, go beyond satisfying a client or customer who we hope savors its use. I do not make my clothing alone, and that is more reason why the seriousness of successful design goes beyond all that is surface and superficial.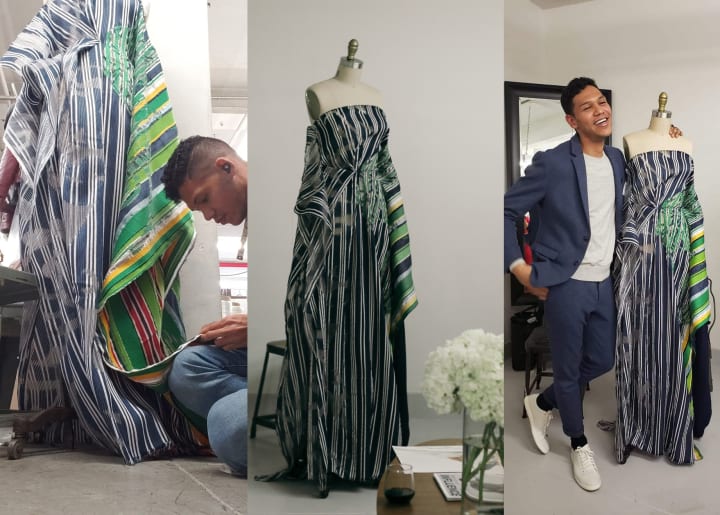 We might be enthralled by all that is pretty and captures the eye, but fashion cannot just be beautiful. It must be better; Purposeful aesthetics that consider the finite resources of the planet and labor. It is less about the outward projection and more about the internal and intimate experience we have in our relationship to what we wear. If fashion is a language, then garment workers are the scribes that built its alphabet. Communication interpreted and mostly nonverbal, but always measured with an even, intentional tempo of restraint that only advances ideas with every fabric, thread, and price tag cut. Indeed, it is a constant pursuit of happiness.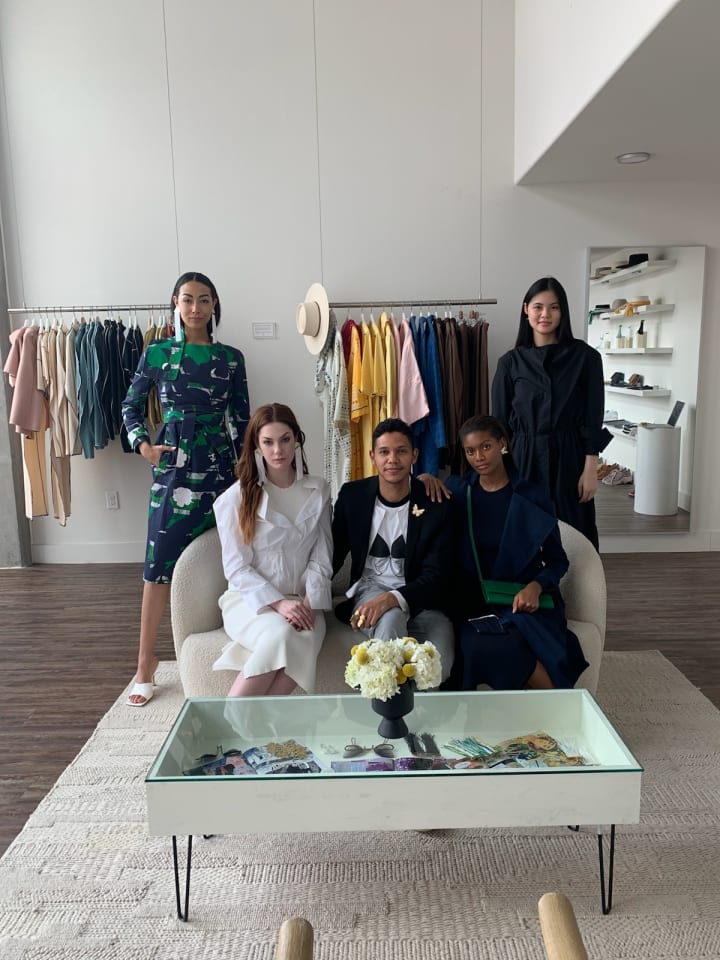 Johnathan Hayden
Johnathan Hayden explores the intersection of fashion, art, and
technology having shown work at The Metropolitan Museum
of Art and Tokyo Fashion Week. He enjoys writing about fashion from his POV as a designer within the industry.
See all posts by Johnathan Hayden →